Fantasy Football Diary 2020/21
More hits than Elvis
I can't lie to you it's not been a great four weeks, either in life nor FPL. Lockdown is back, the rain has been incessant it seems, and my FPL performance and mindset has been amateur at best, as you will soon discover. Still I've found a new friend in a heron, discovered Elvis and hopefully lost Trump….and also taken the biggest hit I've ever done in FPL.
Monday 5 – Sunday 11 October
International break. Nothing much exciting happened. The highlight was discovering a new love for Elvis. I've never been much of a fan but he appeared on a playlist and I loved it. Another sign of age maybe. I sold Sterling and bought Son for obvious reasons plus everyone said Son's price would be rising, so may as well jump on. I'm caught in a trap.
Monday 12 October
Son's price still hasn't risen. New lockdown measures are imminent here – all because of the bloody university. I don't know anyone with Covid (jinxed that one, you wait), I look out to the river, hills, fields, trees, cows and a heron every so often and live much closer to Wiltshire than I do Bath, but all indications are that BtB (Boris the Buffoon) is going to lock us away again.
With the mrs at work and the kids at school I have the house to myself. I found myself talking to myself just now, it was a proper conversation, I actually asked myself a question and then answered it, all out loud. Working from home is doing strange things to me. First Elvis, now this.
Tuesday 13 – Friday 16 October
Nothing much interesting has happened these past few days in all honesty. Son's price finally rose. I have been proposed to join the committee of the rugby club where William plays, apparently the current committee is too old and lethargic. I'll take my Elvis playlist to my first meeting, they'll love 'love me tender' immediately. William's parents' evening went as expected – 'he's a pleasure to have in class, does everything at 90mph and if he could remember his times tables as well as the Premier League results he'll go far'!! That's my boy. Father pleased, mother not so.
Pep's Friday presser reveals KdB is out – so I should have sold him instead of Sterling. Can anything else go wrong this season? Don't really know what to do – Salah, Mane, Pulisic, Grealish are all decent options but I had hoped to deal with other matters with my other free transfer. I think opening a bottle of red will help me decide.
Saturday 17 October GW5
Waking up slightly groggy I logged onto FPL and sold KdB for Salah and for good measure bought Ollie Watkins and gave up on Che Adams. I was loyal for so long and he has looked like scoring on a few occasions but it just wasn't to be.
Ran William's cricket coaching in the morning and once back and showered I see that Pickford has taken Van Dijk out and all hell has broken loose. Hahahaha. All the scousers have gone mad, while Pickford is now a hunted man on Merseyside and we all know how that normally ends. My new recruit Salah gets a goal and Robbo gets an assist to prove my pre-season observation that he was a better shout than TAA. I talk a good game at least.
I have to head into Bath for an eye test and measure up for my new specs. While I'm waiting to see someone Werner scores. Kerrching. He then scores again. Jubbly. The optician explains as nicely as he possibly can that I'm an old git and need varifocals. I feel that life may have passed me by and it's a moment of sad reflection as I walk out of the opticians to see that Che Adams has scored and assisted.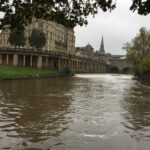 Avoiding the temptation to throw myself in the Avon I go home and watch Sterling score the only goal of the game vs Arsenal. FML is what the kids say.
The later evening game sees United beat Newcastle with Rashford producing 15pts for William.
Sunday 18 October
All those Sundays spent in Morrisons car park listening to Son score for William and now I'm onboard. I even drive to Morrisons so as not to jinx things. Sure enough, my new recruit scores and assists and brings me 26pts as captain. Job done.
Villa keep a clean sheet at Leicester but Watkins does nothing, nor does Harvey Barnes.
Monday 19 October
Mrs is at work, kids at school, house to myself. The evening match and the last one of the game-week sees Jiménez score though I have left Saiss on my bench which costs me 7pts.
However I end the week on 81pts and jump over a million places. The comeback is well and truly on.
Tuesday 20 – Friday 23 October GW6
It's a very uneventful week. Apart from my court case. Ah I haven't told you about that have I?
To cut a long story short I got caught speeding in August 2019 on the M5 and attended the Speed Awareness Course. I received a letter this August saying I owe £800 for not only a speeding offence but failing to produce my details! First I knew about it. I go backwards and forwards with the court trying to find out what this is all about and it turns out I committed another offence days after the original one but wasn't notified.
After much to-ing and fro-ing I just want to put an end to any court case and so decide to plead guilty (by post) to the speeding and not giving details, but with extenuating circumstances given that I was never informed.
If I go quiet, I've been sent inside at Her Majesty's pleasure.
Friday comes and with everyone out I work hard, watch the heron come and go and listen to a FPL podcast before popping into Bath to choose my new glasses. Can you spot the heron below?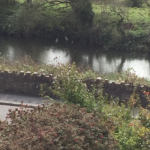 What happens next, I can't offer any sort of logical explanation. I look at my team – Van Dijk has to go after his sad demise at the hands of Agent Pickford and then things kind of steamroller. Into a 20pt hit. I know, I know. Well it went like this. I watched Grealish the other night and thought he looked great vs Leicester and with a Friday evening game at home to Leeds I want him in. But I already have 3 Villa (Martinez, Steer & Watkins). So I sell Steer and get that turd Button. Lamptey comes in for Van Dead. Kane has to come in cos he's scoring for fun, so Jiménez has to go, Podence departs for Grealish. The little FPL hit man in my head then convinces me that the best way to get the 20pt hit back is to get Agueroooooo so I lose Werner for Kun. Like that wasn't enough I get Fulham's Lookman, cos they have Palace and West Brom at home and so why the f** not – in for a penny and all that.
A 20pt hit. Utter madness. FPL stupidity at its finest. If Init was next to me he'd knock me out, if Kop were here he'd just walk off and call me a prick.
Yet having pressed the button to confirm the ridiculous moves, I felt good. Not regretful at all.
Villa vs Leeds, bring it on. Martinez, Grealish and Watkins. C'MON!!!
Grealish had a shot cleared off the line and could have had a penalty, both in the first half. In the second he ran the length of the pitch only to be denied by the keeper. Leeds win 3-0.
My three Villains score my 6pts. Not each. In total. Heavily owned Bamford scores a hat-trick. Ooooops.
Saturday 24 October
With no FPL to ruin I log onto my Fanteam and sort that out.
The lunch time match sees Kun play at West Ham. City are awful in the first half and as I check twitter I read, 'Foden's on at half time. Kun off'. No. No, no, no, no, please no. It's true.
Get the hit back? I'll be lucky to score 20pts in total, I may even be net negative at the end of this sh1tsh0w.
William has a party in the afternoon so I take him into Bath and then listen to Fulham (Lookman) vs Palace. Lookman hits the post twice in the first half. F.M.L. This is Grealish all over again and indeed so it proves as Palace win.
I have benched James vs United and he produces a clean sheet and 2bps. Cosmic.
It's ok though, I've still got captain Salah vs Sheff United to come. I mean I know everyone has captained him but at least I'll have some points to my name.
No sir. Salah blanks.
Sunday 25 October
Having drunk/cried myself to sleep the night before I can't really expect too much from today. As so it proves, the battering continues as Che Adams scores again as does Jiménez. I'm a prick but at least I know it, so if I booked into therapy at least I can face up to my failings.
Monday 26 October
Kane and Son produce 16pts for me at Burnley and I end the week on 39pts. The average was 48. Take my hit off and I scored net 19. My GW rank is 5,617,929. I lose 1.4mln places and now sit at 4,432,800.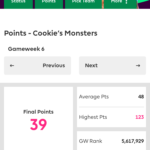 Tuesday 27 – Thursday 29 November
A pretty quiet week all in all. It's half term week and I have the week off work but the weather is shite. We do stuff, local stuff, not exciting stuff, just stuff. The kids are happy though. They are at the stage where they giggle at the words 'bottom, bum, goolies, willy' etc. So at least we're on a similar level.
I go to the local on Tuesday with a couple of the dads from school and after getting kicked out at 10pm they come back to mine and drain us of red wine, gin and beer. I feel horrendous the next day. We head to McDonalds and by 4pm I'm sort of better. Just tired.
I tell the writing team to say I'm captaining Lookman for the Captain article. Obviously I'm joking but it's a change from everyone saying Salah, Kane or Son.
I need to replace Kun. I buy Ings. I'm bored with FPL. I know what it is. It's having one game after another and if I don't have the player(s) performing I get moody and want them. If all the games were at the same time like they used to be, I'd be ok. I have no patience nor discipline.
Someone in a work mini-league messages me to say he has read the FF247 Captain article and reckons my Lookman capo choice is genius. Clearly the sensible reaction here is to realise I'm being puffed in and change to Salah, Kane etc. But no, I love the craic.
I keep my captain on Lookman home to West Brom on Monday evening. Another one for my psychiatrist.
Friday 30 November GW7
The Friday match sees Wolves beat Palace 2-0 and my old mate Saiss is benched. Cosmic start. But at least Jiménez doesn't score again.
Rumours abound that Boris is going to put us into lockdown again. I do what comes naturally and head for the bottle.
Saturday 31 October Halloween
I've never got Halloween at all. The whole idea seems a huge waste of time. But my Mrs loves it and so therefore do the kids.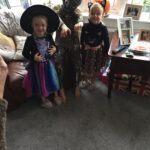 Chelsea keep a clean sheet at Burnley and finally I get some James points. Woohoo.
Salah scores vs West Ham but it's just the one. Good news for us Lookman captainers. 'Us'?
Saturday is a strange day. Sean Connery has died, Boris confirms the lockdown rumours and England win the Six Nations. Almost like they're trying to chuck some good news with the bad.
Sunday 1 November
I wake up sad and slightly depressed re lockdown. I feel for our kids who are missing out on so much.
On a lighter note I go into Bath to collect my pensioner glasses. And while I do Ings scores, Watkins scores and then Grealish scores, to add to his two assists. Things are looking up. I'm back. Kane scores vs Brighton…..and so does Lamptey who will come off my bench for the soon-to-be-sold Saiss. Kane scores just the one and Son blanks…..great news for us Lookman captainers.
Monday 2 November
The girls are back at pre-school, the wife is at work, so it's just William and I at home. I'm meant to be working but don't get a lot done and we spend much of the day playing Subbuteo. Every player I flick is Ademola Lookman and the excitement for my inspired captaincy choice grows ahead of the game this evening.
Ok…..so the Lookman punt didn't pay off but you know? The build-up and expectation was fun and that's the way I like to play the game. It likely means I'll never finish with consistently great ranks like other more conservative and disciplined people, but I can live with that. It's a game.
I end GW7 on 65pts and a weekly rank of 1,294,945. My overall rank is now 3,898,241.
William scored 53pts this week and is 6pts ahead of me. I don't want to destroy him here, I want it to be close and maybe my reckless capo punts reflect this.
Tuesday 3 – Thursday 5 November
Another fairly dull week all things considered. It's William's birthday on Sunday and he's pretty gutted he can't have party and see his mates. Lockdown has begun, the US election rumbles on in controversy and I see that Lamptey is a doubt for tonight and Ings is out for a few weeks. FFS I don't half jinx these strikers – first Kun, now Ings.
This new lockdown seems harder than the first. I don't feel that happy or myself, think I need a few changes. Don't worry, lifestyle ones, not just FPL hits!
I've stopped looking at my phone at bedtime and instead have started reading Des Lynam's autobiography, which I'm enjoying. Bit of a cheeky man, loves a bit of a flirt. Can't imagine why it appeals.
Friday 6 November GW8
Another day to myself, stuck in my bedroom – work have now told us to expect to be like this until at least March. It feels like I'm in an open prison. Have had to make my own entertainment so I raided the kids Halloween buckets and contacted 'Park chick' just to try and provoke some sort of excitement to my day. Turns out her name is Robyn. I'd like to be Rob.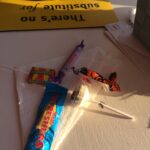 I digress and should move on very swiftly. I've taken another hit. A -8 hit, but I'm sure you'll agree they're good moves. Ings had to go and with Lookman not really performing and Mitchell injured, James unlikely to play and Saiss dropped I had to do something. Saiss, Lookman and Ings out for Chilwell, Fornals (great fixtures) and DCL, the DCL move just to piss off the other 4,187,856 managers who own him when he either blanks or dies this weekend.
Don't worry about my hitting, I'm not losing the plot, but I'm not really finding a whole load of joy in FPL right now so I'm just having a bit of a giggle which in turn ensures that I stay quite close to William. He'll get annoyed if he trails behind – he'll be 8 on Sunday and losing is not really a viable option at the moment.
I think we have a mole in the garden, by the way. This is what my life has turned into. Moles, herons and park chicks. Probably get more action from the mole or heron. It turns out park chick is bored with lockdown already, she is heading to Morrisons. I resist the temptation to accidentally bump trollies and stay at home.
The game-week gets off to a decent start with Lamptey starting and he goes on to keep a clean sheet, although according to the commentary he has a whisker away from a goal and an assist. But 6pts it is and it's a start. Meanwhile, later on that evening Che Adams scores again. Lordy, lordy, lordy I have made some errors this season.
Saturday 7 November
The mrs is a bit moody so I offer to clean the bathroom – she refuses the request saying she could do it better. I spend the rest of the day whistling my favourite Carly Simon tune. The irony is lost but it keeps me amused
We have to pop into Morrison's. I stay in the car and play I-Spy with the kids and quickly realise M for Milf is not a good idea as one of the girls keeps repeating it. It takes the chewiest sweet imaginable to shut her up and get the word out of her head before M for Mummy returns and commits M for Murder.
United beat Everton 3-1 – my new recruit DCL is given an assist so that's ok. 11 from 2. I take William and a mate to play footy as it looks as if his birthday will be washed out. The girls come to and fortunately for me satisfy themselves with playing with a couple of ladybirds for an hour or so.
The early evening game sees another new recruit, Chilwell, score vs Sheff Utd – this would be fantastic if the clean sheet had not already been erased. My last new recruit Fornals fails to score at home to Fulham, the loser. William has Soucek and Masuaku and is very pleased the next morning. Luckily for me Lookman misses a last gasp penalty!
Sunday 8 November
William's birthday. Sadly it's raining, as expected and with lockdown preventing a party, the inlaws come round for Sunday lunch. Poor lad. He opens his presents – lucky lad has a new cricket bat, rugby ball, goalie's gloves, baseball bat and ball and can't play with any of them due to the rain. Mrs is a tad moody with me so I go and bring the wet washing in and actually get a smile and a 'thanks'. It must be that joyous time of the month where husbands and boyfriends turn into punchbags.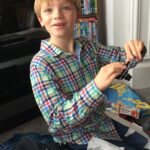 William and I have both captained Kane and a late winner makes us both smile. Well, William smiled and celebrated until he remembered I too captained Big Nose. He also has Dier and is killing me this week. This would be ok if it was a one-off for his birthday.
Salah scores for us both vs City. And in the evening game – Villa at Arsenal – we both own Watkins but I also own Grealish and Martinez. I'm not expecting much from the game, but am pleasantly surprised with a clean sheet for Martinez, an assist for Grealish and we both are delighted with a brace from Ollie Boy.
We end the week on 79pts each (71 net for me but don't tell the lad that, I'll claim the draw).
My GW rank of 289,684 sees an overall rank rise of 700k to 3,193,330. Far from ideal and I am bottom of any mini-league I care about but there's a long way to go. William is 14pts ahead of me and goes to sleep a happy lad.
A boring 2-week international break follows which will stall my Biden-like momentum. That's my excuse and I'm sticking to it!
See you soon.
Thanks for reading Fantasy Football Diary 2020/21. This article was written by Cookie.
VOTE ON THIS WEEK'S CAPTAIN POLL GW9
FPL FIXTURE TRACKER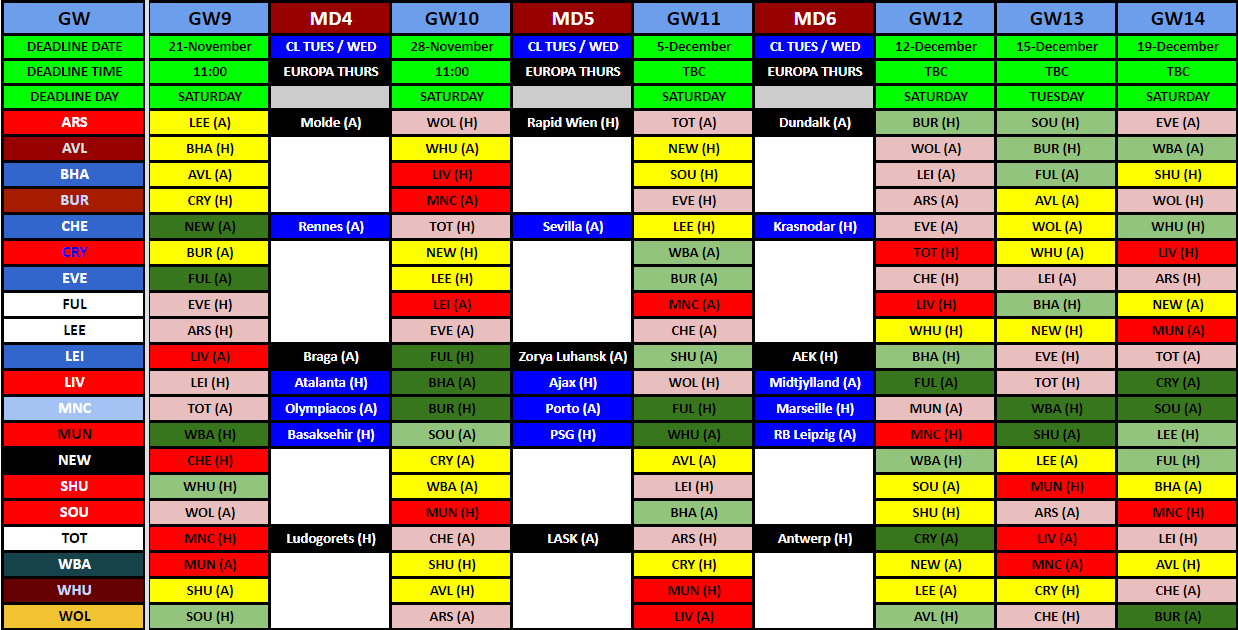 FIXTURE TRACKER LINK
For those who want their own tracker to play with, just make a copy using the link below;
Fantasy Football 247 League Codes:
All prizes must be claimed within 30 days of the final GW.