Fantasy Football Diary – GW's 35 – 38.
Welcome to Cookie's Fantasy Football Diary. We made it! Congrats to you all for your FPL season and thank you for taking this trip with me. We of course began this journey in Monaco last August and have experienced so much since.
The final four weeks of an FPL season should never be dull and so it proved.
The final diary episode features birthday party flirting, Duffygate, a DGW, batting, batting for the opposition, an inspiring captain choice, back seat drunken fumbling, a final week Bench Boost, captain failure and a goodbye appearance from Fritzl and Lady Gin.
Game-week 35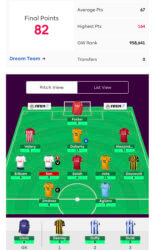 The plan was to Bench Boost this week but Deeney's suspension means I would have to either play both Dunk & Duffy away to Wolves & Spurs or take a hit to remove one of them. The alternatives didn't look great and I predicted D&D will return next to nothing after last week's horror show DGW at home to Bournemouth & Cardiff.
Therefore I held my transfer and played 3-5-2 with D, D & D on the bench.
Jiménez is my DGW captain – he should smash Brighton and hopefully do something vs Arsenal.
A solitary Aguero assist was my only success in the early game but if I thought that was bad there was worse to come. Much worse.
My capo blanked vs Brighton. As did Jota. As did the rest of the pack of Wolves. Clean sheets for Duffy & Dunk. No, no, no, no. However there was hope as Valery didn't even make the bench for Southampton. As long as he misses out in the week I'll get Duffy's points.
Sunday was Easter Sunday and the mrs had, for reasons only be known to herself, invited Fritzl & Lady Gin around for Sunday lunch. Luckily fate had played an unlikely but helpful hand as William had his best mate's birthday party that afternoon at the Leisure Centre. I'm not sure who organises a birthday party for Easter Day but I wasn't complaining.
The mrs asked me the night before if I was happy to take William to the party. 'Of course' I replied trying to keep a straight face.
We arrived at the party and the kids were whisked off to the trampoline room and the parents were left to fend for ourselves. There was only one other Dad there so we got involved in a couple of beers. The door opened and guess who walked in…..CMM! Happy Easter! She ordered one of those small bottle of wines.
Let's just say she's not the world's greatest drinker

Nothing naughty happened obviously – it was the afternoon after all. Not that things would be any different in the evening. Oh shite, I'm digging a massive hole here….
……Assists for Salah and TAA helped a bit but I was having a small shocker if truth be told. FPL wise anyway. The party was great fun. 😉
The second round of DGW matches began on the Tuesday and this time Valery made the bench.
The events of that evening are the kind of memories that remain for a while. First up Foster lost his clean sheet in 7 seconds! Great start.
However surely Eriksen & Son would tear Dunk & Duffy a new one. Surely. Errr did no-one read the script?
Half time and it's 0-0 at Spurs. Valery has to stay on the bench. Two clean sheets for Brighton? Unthinkable. And they're on my bench. At the moment.
Not knowing what the hell to cheer for I poured myself a glass of red and tried to mend William's remote-control car which he had driven into a wall a few too many times.
The scores stayed the same for what seemed like eternity. Saints had already made two substitutions when the commentator took my breath away as he announced 'Valery will be coming on for Shane Long'.
No, no, no. A 12 minute one point cameo while the first player on my bench, last week's captain, who conceded seven goals at home to Bournemouth & Cardiff is about to record two DGW clean sheets at Wolves & Spurs. 'WHERE IS THE LOGIC????'
Luckily with just two minutes to go, Eriksen, my Eriksen, scored for Spurs to lift my gloom. How I laughed. I was still worse off and should have bench boosted but two further clean sheets for my benched defenders was at least averted.
The following night was less dramatic of course. Captain Jiménez failed to score vs Arsenal but Doherty & Jota made up for it at least with a goal each.
I finished on 82pts and a red arrow took me down to 54,351.
Game-week 36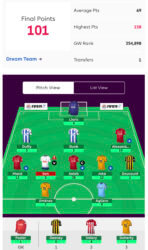 With just three game-weeks to go it feels like the season is petering out and after being nicely placed with my Free Hit, Wildcard and Bench Boost to play I have made virtually no ground with just the Bench Boost left.
Should I play it in GW36 or GW38? Valery's place seems less secure and Deeney remains suspended plus I want Mané in this week so BB in 36 would involve a hit or take a chance on Valery and my 2 Brighton bums at home to Newcastle.
I decide to leave it and play it in GW38. It means hoping to get lucky with team sheets but so be it.
I bought in Mané for Eriksen and captained Salah for Liverpool's early kick off home to Huddersfield.
A Friday night treat for myself and millions of others as Liverpool romped it like they were always going to. How I wished I still had my Triple Captain. Many did and gave it to Salah or Mané and were richly rewarded.
I did ok, scoring 61pts from my trio. Not as good as some but better than many. Mustn't be greedy. Just reflective. I have wasted every chip so far.
The first WC I held on for far too long. The TC bummed on Salah at Fulham. Free Hit was a disaster as was my 2nd Wildcard.
Lessons learned. But will they be remembered?
Mrs C was working on Saturday so I enjoyed quality time with the little'uns. Soft play in the morning, home for a 'pizza and a film afternoon' while outside it was wet and windy. Pleasant.
19pts from Jota and Doherty were the highlight of the afternoon before Duffer & Dunk had a chance to build some bridges in our relationship. Naturally they failed by conceding early at home to Toon. Tossers.
Saturday night is curry night so my lucky mrs and I sat down to Chicken Madras & Hot Chicken Tikka Massala plus the trimmings before I fell asleep in front of MOTD.
Sunday was spent wandering around Bath looking for a suit to hire for a wedding in London next week. We're leaving the kids with Fritzl & Lady Gin, poor little blighters.
Damn Vardy scored two late late goals which won't have helped my ranking but it was Kun's goal and subsequent bonus points that got me over the 100 mark. Just.
A satisfying week that saw a decent green arrow propelling me up to 42,529 overall.
Game-week 37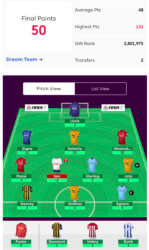 With 2 free transfers to use and Bench Boost to be used in GW38 I had some planning to do. I really want Hazard this week but then I really, really want Sterling for GW38. Taking the sensible option for once I bought Sterling – purely on the basis that if I bought Hazard this week and Sterling next, a four point hit would be needed and I'm trying to avoid that if possible. Salah was sold.
My other transfer was to finally get rid of one of those Brighton Duffers. Shaw was always my intended target. However when writing the site's Captain article this week I was tempted by Digne – not only his stats and Everton's recent form, but also the lure of the Friday night fixture.
So I bought Digne purely so I could have some interest in the early game!
For once I was rewarded. Digne assisted early, kept a clean sheet and took maximum bonus points for a 12pt start to the GW. Happy days.
Saturday morning and the mrs and I are off to London for a wedding. We are leaving the children with Fritzl & Lady Gin. My poor kids. We are staying at a friend's house in south London – luckily they are away this weekend so we won't wake them at whatever time we rock in tonight.
Halfway down the M4 and the journey is going ok. The mrs has her eyes shut, the traffic is fine, I'm listening to Talk Sport, the phone is on charge. The phone vibrates. A message. The mrs perks up and looks at my phone. Its CMM. Awkward. Fortunately she's only asking a question about the boys' cricket next week.
Naturally the mrs wants to know why she is texting me and not her.
The rest of the journey follows in a bit of a stoney silence. The Bournemouth vs Spurs game starts and I listen to a goalless half hour.
We arrive at our friends – they are off camping this weekend so we say a quick 'hi' before they leave.
Son is sent off just before half time. Nob. Looks like all my luck was used up on Digne.
We have to travel to the Ned Hotel in the heart of the City of London. After leaving the house the mrs realises she has forgotten her phone. Dumb arse. So I have to run back in my tails and waistcoat – it's a posh wedding. We're going to be late.
Having collected her phone we restart the walk to the tube station. I check my phone. Still 0-0, Spurs down to 9 men, Lloris hanging onto his cs and possible bps. 5mins to go.
I try to buy a ticket and the machine doesn't accept cards. In this day and age. WTF?
There's a cash point 2mins away. I check the score. 1-0 Bournemouth. Nooooooo. ******* Spurs being Spursy again.
We run(ish) down the escalator and see the tube pulling away. Fck. We're really going to be late. This is my Hugh Grant moment. Fckity fck fck.
Finally we are on our way. We disembark at Bank Station at 2.56pm for a 3pm wedding. Staircase to staircase to escalator in a waistcoat that's too tight. Wonderful.
Lucky the hotel is 30 metres from the station. We run it. Just outside a woman right in front of me stops and bends down to tie her shoe. I resist the temptation to boot her into the road and instead perform a Messi-like body swerve at full pace.
Its past 3pm. The concierge is helpful and escorts us into a lift with the reassuring words, 'don't worry you're fine. The bride has only just gone up.' Whatttt?? Shite.
As per tradition the bride is in a room somewhere doing something for 10mins (the mind boggles) just so she can be late. This strikes me as about the only part of a wedding that a lady takes into the marriage. I keep the thought to myself.
We are seated, waiting for the wedding to start. I cheekily check to see If Doherty, Jota or Jiménez have scored vs Fulham yet. They haven't but Jota has been booked. Cosmic.
The ceremony finally starts and runs smoothly and we all head to the terrace for drinks.
I don't know many people here apart from the bride and groom, the best man and his mrs, a couple of friends of my mrs and her ex-boyfriend. Well, one of them. I get talking to him, nice chap – obviously Fritzl & LG don't like him but to be honest they don't like their own shadows.
Ex-boyfriend tells me that he and his mrs have split up. I jokingly ask if he wants his ex back. I possibly made the joke too soon in proceedings as he just looked at me. This could be an interesting day.
I get introduced to Tom and Olivia – nice couple. Tom wanders off and I chat to Olivia. She looks at me in horror when I ask how long she and Tom have been together – 'I'm a lesbian' she answered, 'never sucked a d*** in my life'.
Momentarily lost for words I recovered slightly and offered the most acceptable response I could think of given the circumstances – 'Nope, nor me'. It sort of broke some ice and we both laughed.
Reminds me of a dear old Uncle of mine who at a very boring family wedding years ago taught me to play his favourite wedding game of 'Spot the lesbian'.
I digress.
Slightly taken aback by her admission I checked my phone to see how my pack of Wolves were faring. The answer was Doherty had assisted and was on for max bps if they kept the clean sheet but the other two numpties had done diddly squat.
We moved inside for speeches and dinner and Mrs C and I had been sat with old family friends of the bride. He turned out to be a Spurs fan from Essex and his wife had quite tremendous cleavage.
We got on well, very well in fact. I ended up spending most of the evening at the bar with the Spurs fan while his wife said the mrs and I could share their room if we fancied staying over. I'm still trying to work out if she meant it the way I took it.
Meanwhile TAA assisted twice for me vs Toon but annoyingly Salah scored and even more annoyingly Liverpool won.
I spotted the mrs dancing with my new lesbian friend at one point – I say dancing, they were on the dance floor together but a man can but dream.
The wedding ended with the bride and groom escorting a few guests to the public bar. I got the mrs into a taxi where things got a tad frisky 😉
Back at the house we ended the night 'lovingly' though afterwards the mrs was a pest and refused to go to sleep. I made some daft excuse, grabbed my phone and went downstairs to check FPL. A pleasing green arrow waved at me.
Ten minutes later I crept upstairs and sure enough she was heavy breathing. In her sleep, you saucy buggers!
Sunday saw very little action in every sense. We made our way home via a stop at Reading services for the worst full English I've ever had. The afternoon saw Hazard assist twice damnit, Shaw concede (wasn't sure whether to laugh or cry) and Arsenal draw with Brighton.
Monday evening saw Capo Kun and new recruit Sterling appear vs Leicester. Both blanked, pair of useless knobs. My lack of City defence and Laporte in particular saw me lose a few places from earlier in the game-week.
I ended on 50pts vs an average of 48. Should have backed myself and got Hazard in hindsight.
Overall on the week I moved up 2k places to 40,330. My bad chip usage has cost me a finish close to 10k.
Game-week 38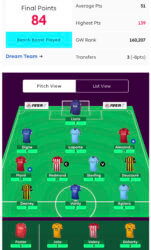 Bench Boost week!
I spent all week agonising on transfers. Son had to go and I had still had Dunk to dispose of. So I was facing at least a 4pt hit before I tackled the problem of 3 Watford & 3 Wolves.
I love the last day of the season – the doubt over team line-ups, all games starting at the same time, mini-leagues being decided, one off punts and outrageous captain selections.
Despite us not having Sky Sports anymore I would arrange to be at home and have the action on the radio.
I am working Saturday morning and the mrs Saturday afternoon. We need the pennies right now.
And then on Wednesday evening she hit me with it. 'Mum and Dad have invited us around for an early Sunday dinner.' I nearly spat out my wine. For the second time in a number of days I was momentarily gob smacked.
'No way' I replied, 'we have one day together as a family and I'm not spending it with them'.
She countered, 'I think they're miserable just the two of them'. I laughed before replying, 'they were pretty f***ing miserable when we were there. Now they're miserable when we're not there. Face facts, they're f***ing miserable full stop'. Probably not the most diplomatic of answers but I had to go on the offensive here. She went outside for another Bacardi and Coke.
Thursday passed without incident or discussion. Lovely jubbly.
I'm definitely buying Laporte for Dunk and I have a feeling for Redmond for Son but won't move until Saturday at the earliest.
Friday night is fish and chip night. While waiting for dinner to cook I was sat in the lounge chatting on site and the mrs was outside with her two best mates, Bacardi & Coke. She strolled in and said, 'I have to give Mum & Dad an answer about Sunday'. FFS.
'Kir, I'm not going round there – they don't like me, they've made that very clear over the last few months. My answer hasn't and won't be changing. Plus it's the last day of the footy season. They hate football and they hate people on their phones. You go if you really want to'.
She stood in the door smiling at me. She agreed with me I could tell but was now placed in the middle of a tricky situation. 'I'm not changing my mind, I'd assumed you had dealt with this already'.
She scuppered off outside, presumably to consult with her two mates.
Back to life, back to reality and should I hit out Jimenez for a better striker for GW38? Everyone is talking about a goal fest between Palace & Bournemouth (and how right they were) and in-form Vardy vs a tired and makeshift Chelsea defence. I asked on site, 'Wilson or Vardy' and the unanimous answer was the toothless fox. Hmmmm, wasn't convinced but I'll go with the answer to the question I asked.
Saturday night after a great curry I made my transfers – Dunk, Son & Jimenez out, Laporte, Redmond & Vardy in. An 8pt hit.
Bench Boost is on.
We woke Sunday to a beautiful morning, the sun rising over Solsbury Hill. A good omen I hoped. It was an early, slightly fraught start to the day as William was starting All Stars Criket at Lansdown Cricket Club, where Viv Richards played when he first arrived in England. No pressure, son!
Sadly, CMM wasn't there but William's best buddy was so all was well.
On return to home, my gardener neighbour was planting trees in the grassy knoll at the front of our houses. William went in their house to play.
I checked my team one last time. The devil in my head suggested more hits but I ignored him, confirmed my Bench Boost and captained Redmond. C'mon it's GW38!
Later the mrs made lunch, a lovely bacon baguette. Having taken my first bite there was a tap on the front door. Cheeky bugger, he'd obviously smelt the bacon from next door. I opened the door and there they stood. Fritzl and Lady Gin.
He smiled at me in a 'Here's Johnny' kind of way. Can they not leave us alone? They'd bought us a soap dish. As if we needed a soap dish. No doubt checking we were busy after declining the offer of Sunday lunch.
My head screamed, 'Can't you just **** off?' but my mouth produced 'Come in'.
They stayed for 10mins. I forgot about my bacon baguette. They had scuppered me one more time. As I was about to shut the door he turned and said, 'We'll see you soon', Lecter-like. It was as if he was talking to you lot. At least that's how I interpreted it 😉
After devouring my cold bacon baguette behind closed and double locked doors I put the girls to bed and helped with the tree planting. 'Helped' may be generous.
3pm kick off. I made my excuses to Phil the gardener in the guise that I needed to get the girls up otherwise they'll be a nightmare to get to sleep later.
Of course all I wanted to do is turn on the radio, check Twitter, check the scores like an impatient child on Christmas morning.
It was a mixed half – Digne, Foster, Laporte & Doherty had already lost their clean sheets but Mané, Aguero and new recruits Laporte and Captain Redmond had scored while TAA had assisted Mané.
The second half was a tad uneventful truth be told though TAA assisted Mané once more.
Redmond claimed maximum bonus points as had TAA while Mané collected 2. 84pts was the final gross total, 76 with the -8 hit.
My bench of Foster, Doherty, Jota and Valery mustered 6pts between them.
Another chip not utilised effectively. Oh what could have been.
My closing rank is 31,487. Certainly not a nightmare, but definitely not 'wow' either.
The way I play the game with à somewhat carefree attitude dictates that a really strong rank (top 1k) is hugely unlikely – I don't possess the necessary discipline and I talk myself into weird punts and left field (or left back

) captaincy choices.
For example, the season I finished 555th I was thoroughly bored

But I have fun along the way. I had my Redmond moment in GW38 and Duffygate too – I enjoy those moments more, win or lose, rather than run of the mill selections. But that's just me, we're all different.
The Final Chapter
All that is left to say is a massive 'thank you' to you all for living this past nine months or so with me. It was very much forced upon you and for that I apologise and extend my gratitude. But I hope it's been some light relief for you in times of FPL boredom.
Two final things – c'mon you know by now I love to waffle. Remember FPL is a game. It's a game played by over 6mln people and it's a game we all take seriously and spend a lot of our time planning for. But never let it get where it runs your life or take you away from what is really important in life. Try the MOTD one week and look back at how much you enjoyed watching the highlights and what you got done during the day by not checking your phone every 2mins!
Please enjoy your summer – recharge your FPL batteries so you're ready to go again in August.
Thank you once again. It's been fun. And you've been a great audience

Cookie xx
Thanks for reading Fantasy Football Diary – Game-weeks 35 – 38. This article was written by Cookie