Fantasy Football Diary – Pre-season and the big kick off
A Year in Provence – not quite. A year in Monaco – nearer, but ultimately it won't be. Will explain later. Instead welcome to the first instalment of my FPL diary as we journey through my thought process, or lack of it, and rollercoaster through the emotions of FPL life – the highs and the lows and the impact it has on everyday life….and vice versa!
Pre-season
The lead up to GW1. I can't help myself, as soon as FPL was launched I began to tinker. Everyday. Until I just realised that I was changing my mind, everyday. I'll be honest I had 3 'musts' that I absolutely wanted and would have, unless injury intervened – these were Salah, Robertson and Mendy. I um'd and ah'd over the keeper position….DDG or Ederson? Two rotating 4.5s? Or a 4.5mln and a bum? Chelsea to buy Schmeichel – a Chelsea keeper for 5mln…hmmm like a bit of that. Surely Firmino looks great value with those opening fixtures? Everyone is banging on about Wolves and OOP Jota. Richarlison joins Everton and look at their fixtures! Hang on KDB is only 10mln? That's amazing value. All these headaches. A good start is vital. I need to get this right.
And then life turned upside down. Work kicked me in the teeth, or at least management did. The result is we have to move back to the UK after 11 years living in the Cote d'Azur. My son will be devastated, my wife moody(er), our young twins won't understand or even care – this is going to create a whole load of stress….just what I don't need leading into GW1. We have to find a new school for our son…good luck with that in August. Jeez, this is too much. I spend the afternoon and evening in the Irish bar drinking Guinness with a couple of colleagues.
Back to FPL. My head is screwed. I write an article about Richarlison and Maddison. Both look good value, Richarlison so good that my last line of his section says, 'he will almost certainly be in my GW1 line-up.' I deleted it pre-edit because I know not to trust myself with such sweeping statements pre-season. But for now, Richarlison is in. Alongside Jota, KDB & Salah. I like that midfield.
Friday 10th August. Deadline day for GW1 and the season is just hours away. Behind the scenes we have finished producing Team News for the site. Everyone is making last minute changes to their teams. Man United vs Leicester is tonight's curtain raiser and speculation drifts in that Pogba may start vs a weakened Foxes team. Hmmmm, I fancy a bit of that…and I have the cash in the bank to upgrade Jota or Richarlison. 10mins before deadline, all the United reporters say that Pogba will not only start but captain the team. Should I? YES! The bloke has just won the World Cup, is on a high and being a United fan what a great way to kickstart the season. I sold Richarlison. Don't ask me why. His ownership was massive compared to Jota. He had the fixtures over Jota. Why oh why?
I also own KDB. Amazing value. 'He's trained since Monday and looks great', says Pep. Get him in. Set and forget they say. Should I not buy Mane (home to Brighton) this week and get KDB in for Huddersfield at home next week? Planning transfers Is not good, say the experts.
Ok, we're good to go. Pogba is in, Richarlison had gone. KDB stays, Salah is captain. Off we go. The deadline bell rings.
Game-week 1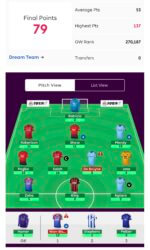 2mins in, United get a penalty. Pogba strides up. Alexis wants to take it. Pogba holds the ball like a protective 10 year old. Steps up. Pleeeeease don't miss this. BOOM. 1-0. United winning. Pogba scores. What a start. FPL doesn't get any better than this. I am genius! To cap off a great night, Shaw scores his first ever goal. Like ever! And the massively owned DDG lose his clean sheet. 21pts from 2 players. It's truly never been this good.
Saturday evening brings me back down to earth. Everton are at Wolves. Jota vs Richarlison time. As the game kicks off I'm just on the way home with the kids. There is a boat that sails from one side of the port to the other. The kids love it. We'll get on that as it takes us near home. The man has let William drive the boat, a nice Frenchman, ther is hope. The girls are whinging. They want snacks. OK, OK. All I want to do is update Twitter. I get the snacks, the girls are quiet, William is steering the boat, bless him. I check Twitter. My heart sinks. Richarlison has scored. His ownership is going to destroy me. Damnit. I get back home and feed and bath the kids. Still updating Twitter. Jota has nicked an assist. Hmmm, maybe it'll be ok. The wife asks why I am constantly on my phone. 'Who are you messaging?' Stupid woman. She goes back to the kitchen to heat the girls' milk. I check Twitter. No. no, no, no, no. Richarlison has scored again. I'm grumpy. Nevertheless, I smile at the girls as I get them ready for bed. Through gritted teeth. What an idiot I am.
Sunday is better in terms of Salah and Robertson, though Salah could and should have done more. KdB is named on the bench. Thanks Pep. However, he comes on after 60mins and has half an hour….a chance of an assist at least, hopefully. Sadly not. Kun refused to pass to him for what would have been an open goal and a goal and assist for me. Great. Mendy does well though, 2 assists, a clean sheet and 3bps – can't really argue I suppose. Mendy is a beast and a season keeper.
I end GW1 with 79pts, some touched 100 or at least got close. If only I'd kept Richarlison. Annoyed at that, but it's a solid start to GW1.
Game-week 2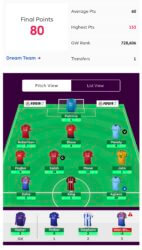 I'm not as focused on FPL as I should be. This move back to the UK is tricky, we can't get hold of schools still, the Mrs is stressed anyway, I just want to start packing up the apartment. She is threatening to fly the inlaws out to help pack up. Hmmm. This doesn't bode well.
News breaks that KdB has suffered a bad knee injury in training. Jeez. I should have brought Mane. He only scored 2 in GW1. Bollox. He and Richarlison would have been a 25pt swing in GW1. Should've, would've, could've. So who to buy for KDB? Mane or Richarlison I guess. Both offer good cases. I buy Mane.
No Friday FPL deadlines this week, so Team News is a bit more relaxed. Friday evening arrives and the name Jamie Jackson assumes celebrity status as he claims that Pep will 'drop' Aguero and play Jesus home to Huddersfield. FFS. My captain on the bench. I make Salah captain. The site team has Kun as capo.
Saturday arrives. An hour to deadline. I suggest to the site team committee that we should change capo to Salah as the 'Kun bench' story gathers pace. After all, who doesn't love a Monday captain? We vote, Salah wins.
I have 3 players playing today. Patricio, Jota and King. They score a point each. That's 3 points. Between them. Jota gets taken off at half time. King gets booked. Patricio is not the 4.5mln keeper to own. And Richarlison has scored again. Goddamnit. Even Maddison scored. Arnie scores. Kane scores in August. Steve Cook scores! There's a bloke called Steve Cook and I don't own him. Never have done. What sort of dick am I?
I rage transfer Jota out while the Chelsea vs Arsenal game is going on. I am now a Richarlison owner. I couldn't wait any longer. Within 10mins, Mkhitaryan has scored and assisted for the Gooners and he suddenly looks great value, especially with their fixtures. Maybe I should have waited.
All I see on site and on twitter is comments such as 'I'm a bit grumpy with 23pts from 4 players'. Oh you poor thing. I have 3. THREE. Come the end of Saturday my global weekly rank is north of 5mln. Hahaha. Ok, let's get this slightly in perspective – I am heavily invested in the Mancs on Sunday and have four playing Monday evening. But 5mln….it doesn't look good.
I spend Sunday morning packing up books, cd's and dvds. The boy helps me. The girls are having a nap. The mrs is sunbathing. We have an apartment to pack. Still she is quiet and giving me no grief, so I bite my tongue and pack away. Six boxes later she comes in and asks why I am packing so 'haphazardly'. Excuse me?? Idiot. Thanks for your help. We take the kids to the beach for the afternoon. I check Twitter. Kun starts. Oh lordy. This is bad on so many levels. The beach is great, the kids love it and have ice creams walking home. Kun has scored 20pts. I don't want an ice cream. I want to meet Jamie Jackson.
United then proceed to lose to Brighton. 'Jose out' trends social media. All I can think of is Kun. The United result makes me grumpier but Pogba's last minute penalty softens the blow to an extent. I end the day on 43pts, an improvement. But it should be 63. Mendy is again a star with two more assists. I'm not happy though. 20pts lost for both my team and the site team. I have a massive row with the mrs and drive to Italy – this is not as extreme as it would appear, as the border is just 20mins away. I have 9 missed calls on my phone and 5 stupid Whatsapp messages. She's still up when I get home. I go to bed.
The end of the gameweek sees Liverpool play Palace and Salah (c), Mane, Robertson and Zaha have some work to do. The mrs and I are still not talking. I've had to spend the day writing a business plan and my cv and then she accuses me of wasting time and not being focused. She's had too much sun, clearly. I don't say that. Well, not to her face. The old phrase, 'If it floats, flies or fcks, rent it' springs to mind. Single men, take note.
Zaha lets me down but my Liverpool trio do me proud with 35pts between them. The mrs and I are sort of talking, but it involved me not watching the last 30mins of Monday night footy so I miss Mane's last minute goal.
I end the week on 80pts. A recovery of sorts. Back on track, live and learn, avoid the site team committee for as long as possible for they won't forget.
I wake up to green arrows and with United in the middle of a civil war I am contemplating selling Pogba and buying Mikhi for a hit. I should log off.
Thanks for reading Fantasy Football Diary – Pre-season and the big kick off. This article was written by Cookie
FPL FIXTURE TRACKER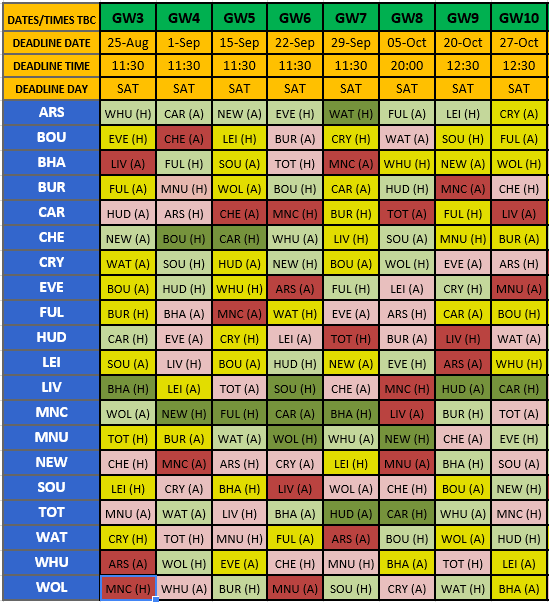 FIXTURE TRACKER LINK
Welcome to our Fantasy Football leagues section.
The League Codes for FF247 for the 2018/19 season are as follows –