Fantasy Football Fixture Analysis Gameweek 1
We've spent the last few weeks studying the promoted teams and new transfers but now it's time to get down to the business end and prepare for GW1 and beyond with the Fixtures article. As we are all aware, a positive flying start to the FPL season can stand us in good stead for the rest of the season, whereas falling behind early doors can lead to a long campaign of chasing points and rank. So preparation is key, knowledge is power as they say. In that regard let's kick off the build up to GW1 with a look at who has a favourable start to the season and who may be better off avoided for now.
Favourable Fixtures

Liverpool – West Ham (H), Crystal Palace (a), Brighton (H)
Pre-season seems to have gone well for Klopp and his disciples. Midfielders Keita and Fabinho have had a few friendlies to find their feet and settle in, Salah has recovered from his shoulder injury, Shaqiri has joined and scored already, Karius has become a distant memory, even Sturridge is knocking on the door begging for a game again. So all is positive in the camp and they get to kick off with two home games in the first three with a trip to Palace sandwiched in the middle. Nothing really to fear for Liverpool it would seem – sure the Hammers have spent a few bob and may not be the limp opposition they were so often last season but the Reds should have too much with their confidence brimming. Liverpool have scored four goals in each of the past three meetings with the Hammers and while Arnie may have been in good scoring form during pre-season I don't see him doing much to stop Salah, Firmino, Mane and co strutting their stuff at the other end.
A trip to Selhurst Park may, for some, rekindle nightmare memories of devastating defeats under the lights, but the reality is Liverpool have won the last three meetings in South London, scoring eight goals in the process. With Palace playing some better stuff under Woy and with the likes of Sakho and Benteke also facing a reunion with their old employer, the match should provide an entertaining Monday end to GW2. Goals should be forthcoming but one would expect Liverpool to overpower the Eagles.
Liverpool then return to Anfield to welcome Brighton and will hope to continue their recent form over the Seagulls which has seen them win the last five clashes between the two, scoring the small matter of 20 goals in those five wins. Last season saw the Reds win 4-0 and 5-1 and Brighton will be fearful of another hammering if they cannot tame the Liverpool attacking machine.
In their final pre-season friendly, Liverpool smashed 5 past Napoli with no reply. The goals were shared around, even Milner and Moreno scored. Salah got his customary goal. A sign of things to come? Probably.
The signs therefore indicate that Liverpool coverage is necessary from the start, it's just how many you can fit in!

Man City – Arsenal (a), Huddersfield (H), Wolves (a)
A trip to the Emirates may take on a slightly new meaning now Unai Emery is in situ, but City will still feel they can and should win and come away with the three points as they look to make a flying start to the defence of the league. The one concern for Pep will be that many of his World Cup stars have only arrived back in the last fortnight and have had limited playing time in front of GW1 and Arsenal will of course look to take advantage of that. However, we'd expect Pep to have enough of his squad prepared and ready for the task ahead and they'll be looking to continue their good form of three successive wins vs Arsenal, scoring 3 goals in each win.
Life then becomes seemingly more straightforward for City as they return to the Etihad to host Huddersfield. With another week of training and build up for his World Cup superstars, City will be looking to unleash against their local rivals, but Pep will be mindful that his team failed to break down The Terriers when they met at the Etihad in May. However, a home win will be on most people's coupons with City having more attacking options than ever before – it could be a long afternoon for the Huddersfield defenders.
City then take the trip south to newly promoted Wolves. This one is slightly harder to predict bearing in mind that Wolves are a bit of an unknown quantity at this stage. The two teams did meet in the League Cup last season with the game ending 0-0 before City won on penalties. The City side that evening included Kun, Jesus and Sterling so clearly Wolves can be organised and hard to penetrate and with them splashing the cash over the summer, don't expect City to have things their own way – however you don't win the league and collect 100pts without finding more than one way to win a game and like the Huddersfield match, City should have enough.
The good run of fixtures doesn't stop here with Newcastle, Fulham and Brighton all set to visit the Etihad in 3 of the next 4 game-weeks. Just like Liverpool above, coverage is vital, if we could just work out who Pep is planning to play!

Bournemouth – Cardiff (H), West Ham (a), Everton (H)
As surprised as you may be to see AFC Bournemouth in the favourable fixtures section, bear with me here and refer back to the intro above where we discussed how important it is to get off to a good start. Bournemouth's modus operandi under Eddie Howe has been to play good football, entertain the fans and score goals and that will not be changing this season. While their opening fixtures look good on paper, I'm not going to sit here and try and persuade you to buy Asmir Begovic or a defender, but possibly one of their strikers or attacking midfielders may just be one of the differentials that results in a positive start to your season.
The Cherries kick off their campaign by welcoming newly promoted Cardiff to the Vitality Stadium which offers an immediate chance to see if they can bring their scoring form from pre-season into the real thing. Cardiff will of course have something to say about that, but better sides than them have succumbed to the threats of Defoe, Wilson and King etc.
Then comes a trip to West Ham and a fixture that in recent seasons has seen plenty of goals – since the Cherries gained entry to the top flight, the six meetings with the Hammers has seen a total of 25 goals. So again, goals seem likely and clean sheets not.
GW3 sees Everton visit the Vitality and yes you've guessed it, goals, goals and goals are the order of the day, for this fixture matches Cherries vs Hammers in terms of 25 goals scored in six PL matches. Add in the fact that Bournemouth have never lost a Premier League home fixture vs the Toffees, I maintain my prediction that a Bournemouth attacker or midfielder may well pay early dividends and the Cherries justify their privileged position in the favourable section of this article.
To add to their appeal, Bournemouth's only match in the first ten game-weeks vs the perceived top 6 is a trip to Chelsea in GW4.
Saturday's 5-2 thrashing of Marseille epitomised Bournemouth perfectly – some great attacking play, plenty of goals, 2 goals conceded! For the record the standout performers vs Marseille were Josh King and Ryan Fraser while defender Adam Smith also chipped in with a goal.
Unfavorable Fixtures

Newcastle – Spurs (H), Cardiff (a), Chelsea (H)
A different season but the same old issues at Newcastle as owner Mike Ashley continues to frustrate the hell out of fans and manager alike by keeping his short hands in his deep pockets. Following his side's pre-season 4-0 thrashing by Braga, Rafa unleashed: ""The fans need to be concerned. Things are not going well off the pitch and you can see a reflection of that on the pitch. You see the teams that have been promoted, the money they are spending. Put it all together and you understand why the fans need to be concerned."
Rafa says the club needs 3-4 new signings but adds, "how are we supposed to do in 10 days what we couldn't do in two months." Ouch!
Just to make things even worse the fixture computer has stuck two fingers up at Newcastle by ensuring that a Saturday lunchtime in Cardiff in GW2 is about as good as it gets until mid-October.
GW1 sees Spurs arrive and the hope for Rafa is that Kane, Alli, Trippier and co are not as ready as they hope to be and Newcastle can then catch Tottenham on an off-day. Well there's nothing like being a glass half full kind of guy and for Newcastle fans let's hope they're right. However, Spurs completed the double vs the Toon last season and for sure it'll be a tough opening day for the local faithful especially if a couple of new signings have not emerged to lift the gloom.
GW2 sees that trip to Cardiff and who knows how that will turn out, but what we can be sure is that Cardiff will want to perform on their first home game back in the top flight.
Chelsea then visit Newcastle in GW3 and Sarri will have all his troops fit by then but he'll need to manage to break Chelsea's Toon hoodoo which has seen them fail to win at SJP in any of their last five visits, losing four of those. So maybe Toon have a chance here, they'll certainly be talking up their record vs the Blues, Sarri will of course have other ideas, either way, the opening fixtures could certainly have been kinder.
Saturday's 1-0 home loss to Augsburg will have only increased the pessimism around the place.

Arsenal – Man City (H), Chelsea (a), West Ham (H)
The King is dead, long live the King. No more Wenger, how we're going to miss that zip. Unai Emery is in and look what the Premier League has afforded them….a visit from the runaway Champions in GW1. 'ave that! At least Emery has had much of his squad around to prepare for the opening day but as indicated above, the Gooners' record vs City is not great and it's a tough an opening fixture as you can fear for.
Things don't get much better in GW2 as Emery and co head west to visit Chelsea. When Emery met Sarri has a nice ring to it. Sadly for Emery, his adopted troop have won just one of their last 13 Premier League matches vs Chelsea. Sarri has appeared to have organised his new team well if pre-season is anything to go by and the Gooners will need to be at their best to get anything out of the game.
Another London derby follows in GW3 and this one has more optimism around it as West Ham are the visitors to the Emirates and the Hammers have won just one of their last 20 clashes with the Gooners. By then though Emery may be feeling the pressure of a tough couple of opening matches which could add more tension to the home crowd. Get the man a zip!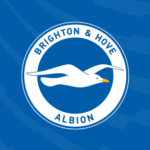 Brighton – Watford (a), Man Utd (H), Liverpool (a)
It won't be all plan sailing down on the south coast either as Brighton face a tricky start to the season. If it's not bad enough that they face Man Utd and Liverpool in the first 3GWs, they have 2 away trips in that time and if last season is anything to by, Brighton aren't the best travellers for they won just twice on the road and drew 5. And lost 12. They also failed to score to score in 12 of these matches.
The trip to Watford in GW1 is therefore not ideal but at least the Seagulls managed a point there last season so all is maybe not lost! The problems arise obviously in GWs 2 and 3 – United come to town in GW2 and will have all their World Cup contingent back and firing, maybe even fresh and happy, you never know. The Albion actually beat United last season so again, there is optimism there, but it'll be a tough ask.
And then it's the trip to Anfield as we have discussed above. Fortunately for Brighton they then experience a couple of weeks of relative respite until they then face Spurs and Man City in GWs 6 and 7.
Thanks for reading Fantasy Football Fixture Analysis Gameweek 1. This article was written by Cookie
HELPFUL LINKS –
PRE-SEASON FRIENDLIES
Usually we run an article and ask people to get involved and cover the friendlies with any info they can gather. And it's usually fun but in all honesty it's usually also a bit messy and difficult to refer back to. This season we have one link that you will need need for all such info, courtesy of Mito –
Here you will find all the pre-season info you could ever wish for in one place – line-ups, scorers, assists, match info, sarcastic comments…
SET-PIECE TAKERS LIST
This is a work in progress as we make our way through pre-season but again Mito is all over it as it's an invaluable resource and can be found here
FPL FIXTURE TRACKER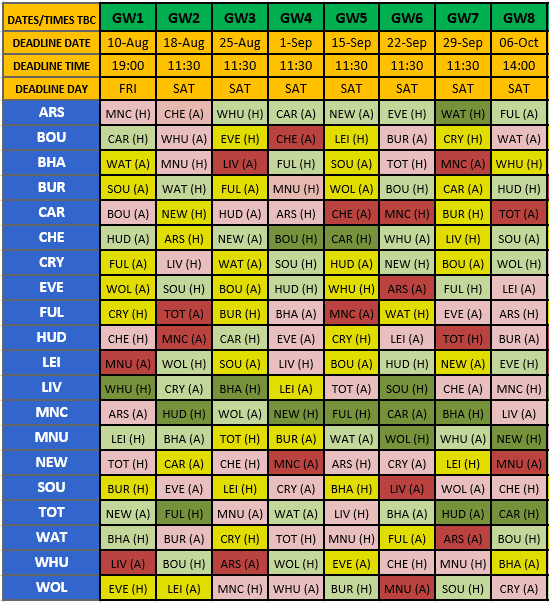 FIXTURE TRACKER LINK
Welcome to our Fantasy Football leagues section.
The League Codes for FF247 for the 2018/19 season are as follows –
Thanks to our friends Follow @ff_surgery and please give them a follow.