Fantasy Football Fixture Analysis Gameweek 30
No amount of hand sanitiser, reassurance from any scientists or, particularly, loads of loo roll can bring you back from the panic. No, not a certain virus, I mean when Mane brings in the points and you don't have him in your team – but those around you in your respective leagues do. Or when Chelsea tear Everton apart and there isn't a single blue shirt in your starting XI. Or when everyone is bringing in Aubameyang ahead of the gameweek and you realise you can't afford him. OK, the last one is still out with the jury at the moment, especially as Leicester versus Aston Villa is actually the decider of whether I get a green arrow or not. Do I want the Foxes trio in my squad to run riot, so I can keep those top 10k dreams alive, or do I want Dean Smith's lads to bring a performance like they did in the League Cup in a bid to still be a Premier League outfit next season? OK, FPL is important, but you have to remember other things! I'm sure there's a Bill Shankly quote there.
Anyway, whilst Swirly FC has been more like the SS Titanic, I hope you've been on the same boat as a certain Kop Warrior on the choppy seas of fantasy football as, this gameweek, he's not just cruised through, he's lifted out the water and flown up the rankings. Indeed, this crazy ocean, in which we try to keep our heads above the water, will get that bit stormier with Gameweek 31 featuring just eight of the possible 20 teams. With that in mind, the fixtures below are based on Gameweeks 30, 32 and 33 as the blank provides an option for you to go wild with that free hit chip – though other articles on here nearer the time will give those four matches greater focus.
Of course there's Liverpool, as the likes of Mane and co. will face a side who conceded four at Chelsea and then play against Crystal Palace as the other teams have a weekend off from the Premier League, but there are eight other players you need in a team. So, without further ado, let's see which other teams you should look at and those you should give a wide berth.
FPL FIXTURE TRACKER
But first up that all important Fixture Tracker itself…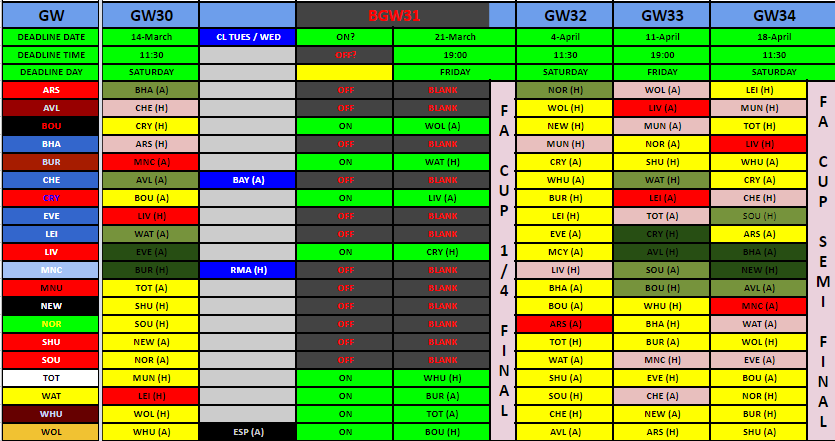 FIXTURE TRACKER LINK
Favourable Fixtures
Arsenal (BHA A, BLANK, NOR H, WOL A)


Whilst we are half way through the Gunners' double gameweek, as they huffed and puffed to get past a West Ham side that has been more resilient recently, Mikel Arteta's men are worth a thought once they have played Man City. That'll no doubt be music to the ears of those who brought in Aubameyang – if he doesn't bring you the points you hoped for in Gameweek 29, I'm sure there are a few opportunities in the coming weeks.
First up is a side that I actually think will be joining Villa and Norwich in the Championship next season, Brighton. The Seagulls have shocked a good few of the big teams numerous times, however Arsenal are not one of them, as the south coast side have only won one in the five meetings since they were most recently promoted. That was the first time they played each other in the league for 34 years and, since then, it has finished 2-1, 1-1, 1-1 and 2-1. Once the North Londoners have played Sheffield United in the FA Cup quarter final, it's the turn of Norwich to play at the Emirates in a fixture that follows seven straight meetings where the Canaries haven't won. In that time, 15 goals have been put past them too. See what I mean about the Aubameyang points potential?!
The trip to Molineux wraps up this section and it is certainly the trickiest of the three. The Gunners can, however, be buoyed by the fact they have only lost there once in the last 40 years – though that did happen to be the last occasion!
Wolves (WHU A, BOU H, AVL A, ARS H)


Nuno Espírito Santo and his squad heading to the London Stadium on Sunday isn't really a game that gets most people excited but, in the case of the visiting fans, there is hope as they are in the midst of a run of great results. The last time the lads in gold and black lost in the league was on 23 January to Liverpool and it's been three draws and two victories since that game, picking up four clean sheets and finding the back of the net six times. And half of those are from Jota alone. Their last trio of ties against the Hammers have been big fat Ws, as half a dozen goals were scored and Patricio didn't once have to pick up the ball from the back of the net.
Whilst there is a focus on games surrounding the blank of Gameweek 31, Wolves do in fact play that weekend and the fact that they have Bournemouth at home means, from an FPL squad perspective, it wouldn't be a bad idea to bring in or keep the Black Country boys. The Cherries may not have conceded as many as the two teams below them in the league, however they are in that position for a reason – especially when you consider only four teams have scored fewer than their 29 from as many fixtures. The trip to Villa afterwards then carries with it potential – even if the last four trips down the M6 and A38(M) haven't seen a win for the visitors – although Arsenal's visit back at Molineux is a chance for the likes of Raul Jimenez and co. to bring what they usually do against the larger teams.
Chelsea (AVL A, BLANK, WHU A, WAT H)


After Bayern Munich showed Chelsea how football is really played with a harsh 3-0 lesson in the Stamford Bridge classroom, the homework since seems to have done the trick as they have found the back of the net eight times in the following three games.
Frank Lampard's men now go to Aston Villa who, at the time of writing, are equal with Southampton and Norwich in the amount of goals conceded. Although the Villans have played two fewer games than the Saints and Canaries, that number of 52 still works out as 1.93 put past them per game. That's before the aforementioned Leicester match, too. Anyway, back to the lads from West London and the last 10 meetings between them and Dean Smith's side have seen nine wins in their favour, netting a staggering 29 in that time. Quick maths and that's 2.9 per tie, even worse than that 1.93 figure.
But enough about the massacre that may take place at Villa Park – let's look to West Ham, next in line for Mason Mount and co once they have again faced Bayern Munich in the Champions League and tried to make it to the semi finals of the FA Cup by getting past Leicester. David Moyes' men have put in big shifts against the likes of Arsenal and Liverpool, having also beaten Southampton 3-1 and only conceded two against Man City in a match many thought would be a Sergio Aguero goal fest. Indeed, the mixed results between the Hammers and the Blues, where the West of London won four, the East triumphed in four and there were three draws, suggest an unpredictable outcome. However, the Watford game a week later could well be a return to winning ways as the Hornets and Nigel Pearson continue to find it tough to move away from the relegation zone, even with that 3-0 triumph over Liverpool.
Unfavourable Fixtures
Everton (LIV H, BLANK, LEI H, TOT A)


It could be said that losing 4-0 on an away day to Chelsea isn't the best way to prepare yourself for the noisy neighbours to make the trip across Stanley Park just eight days later. Everton have shown themselves to be unafraid of finding the back of the net against the likes of Arsenal and Man United, but the Stamford Bridge result saw the likes of Calvert-Lewin only pick up a couple more points than his defensive colleagues. Liverpool have suddenly found themselves leaking in goals – even if Callum Wilson's was rather contentious – however it is unlikely the Toffees will be the team to keep the Reds' title-winning champagne on ice a bit longer. After the blank, Leicester could admittedly be a game that does bring potential, however the trip to Spurs – a side they haven't beaten in the most recent 14 attempts – could be rather tricky.
Brighton (ARS H, BLANK, MUN H, NOR A)


The 0-0 draw away at Molineux, where each side only had one shot on goal, may have been a bore fest and killed a fair few accumulators at the same, but it was a valuable point for Brighton. So, if they are to stay up, the next two games could well be damage limitation in advance of the huge game away at Norwich in Gameweek 33. As previously mentioned, Arsenal have a good record against the Seagulls and Man United are showing themselves to be quite the formidable side since Bruno Ferndandes showed up. That said, I'll just add that the last 10 times across all competitions that Graham Potter's team has faced the Canaries, it's been seven defeats, one draw and two wins. So even that doesn't look great.
Aston Villa (CHE H, BLANK, WOL H, LIV A)


The performance in the League Cup final, coupled with the fact there are two games in hand over their nearest neighbours in the league, provides hope for the Villans as one win in those two missing could then propel the side up to 16th. Then you remember the fact those are against Sheffield United and Newcastle United. And then there are the games they are scheduled to play in the meantime. I'll save you from the boredom of me repeating the head-to-head statistics Chelsea and Wolves have with Aston Villa, not to mention how many goals the Midlanders have conceded. After all that, it's then a trip to Anfield in Gameweek 33. Brilliant.
Thanks for reading Fantasy Football Fixture Analysis Gameweek 30. This article was written by Swirly
Fantasy Football 247 League Codes: