Fantasy Football Fixture Analysis Gameweek 34
Welcome to Fantasy Football 247 Fixtures Gameweek 34. Firstly, I'll pose the question: Did you have Hazard or Vardy in your team in Gameweek 32? Well done, if so – and massive congratulations if you had both and captained one of them! It's very much the theme looking ahead as we look to match the promising players with double fixtures, ensuring others who have recently been on form aren't chucked away with a big pile of remorse. And you don't want that when we're so close to the finish line.
So, with wildcards being played and dozens of versions of teams flying around, I'll just take it upon myself to remind you that there are other fixtures first; Liverpool, Man City, Man United, Spurs, Arsenal and Chelsea will all be playing in Europe before the weekend. As much as price changes could go crazy, don't lose a player with lots of value built up to then risk bringing in someone who quickly becomes a doubt.
On the presumption that the players you like make it through to the weekend and beyond – in a fitness sense, obviously – below are the teams we'll no doubt be looking at when it comes to choosing personnel for our wildcards, or simply otherwise.
DGWilicious
Brighton (BOU H & CAR H, WOL A & TOT A, NEW H)


This is a team I just had to create its own section for, as they have a pretty busy time ahead of them – five games between now and the end of April, in fact. It'll be a crucial time for the Seagulls, with the spectre of relegation far too close for comfort. At least the FA Cup isn't a distraction now after the 1-0 loss in the day out to Wembley.
First up are a couple of teams who are in the same area of the league, as Bournemouth have five more points – but have played two more games – and Cardiff sit the same distance behind. These are two teams who have conceded 61 goals so far, however the Bluebirds have netted just 28, compared to the Cherries' 44. Only Huddersfield have a worse record, with only 19. The next week will consist of a duo of away days, as trips to Molineux and the brand-spanking-new Tottenham Hotspur Stadium beckon, which could prove to be a bit more difficult to defend. But two games are better than one… most of the time!
Great
Spurs (HUD H, MNC A & BHA H, WHU H)


Let's all get on the Spurs bus! Sorry, to fans of Arsenal – and most other London teams. With three of the next four games lying ahead being very favourable indeed, there is bound to be some points potential, especially within attack. You may remember Harry Kane likes to come out of the woodwork at this time of year, as many who had him at the end of the 2016-17 season in particular would attest when he scored a hat trick in the 7-1 win at Hull.
Only Fulham have conceded more goals than already-relegated Huddersfield and, with the last three meetings between the North Londoners and Terriers ending 4-0, 2-0 and 2-0 there's every possibility a couple of goals with a clean sheet could replicate the match against Crystal Palace, but with less fanfare. A trip to the Etihad is never going to be a prospect to relish as the last time Pochettino's men travelled there, it finished in a 4-1 defeat, a run of four consecutive games against the Cityzens without a win. Things do then return to their bright self, as Brighton and then West Ham take in the new facilities.
Wolves (SOU A, BHA H & ARS H, WAT A)


Denied a place in the FA Cup final, my next team is Wolves, who will be looking to use their extra fixture to take over Leicester and lie top of the mini league that lies outside the top six. A very much rotated side lost 2-0 to Burnley, as they started their own resurgence to move away from relegation; however that followed the team's recent unpredictable theme of losing to sides lower down and beating the likes of Man United twice.
So, this unpredictability then makes the next four games difficult to call, however one thing for sure is that the league is all the squad have to concentrate on now. Theoretically, there should be less rotation and a certain Mexican may wish to don his wrestling mask a few more times before the season is done. The Saints have been a good team to play for the lads in gold and black, as they have been victorious in all four of the last attempts, whilst the visit of the Gunners could end up like Man City, Chelsea or the aforementioned Red Devils, where at least one league point is secured.
Watford (ARS H, HUD A & SOU H, WOL H)


My final pick for the 'great' section is the team that knocked Nuno Espírito Santo's men out of the FA Cup. Jose Holebas limping off in the aforementioned FA Cup game is not ideal, but that's as bad as it gets, as they now look forward to another Wembley game along with a host of good fixtures.
Arsenal's poor away form could very well rear its head in the tie at Vicarage Road this gameweek, whilst a trip to Huddersfield will be where the Hornets will no doubt eagerly try to copy Leicester's exploits. They easily could do, too, as the players have discovered a newly-found fire power going forward, with 10 goals scored in the last four across all competitions. The next match in the team's double is Southampton – who have admittedly played better since Ralph Hasenhüttl came onto the scene, but are still susceptible – and then Wolves come to town, no doubt looking for revenge, in Gameweek 35.
Good
Arsenal (WAT A, CRY H & WOL A, LEI A)


Whilst the Gunners, a top five team, do indeed have a good few fixtures ahead of them, it's worth remembering that they don't have as many games at home compared to the majority of other DGW teams. That's particularly significant when you think Emeri's lads would be third in the table if it was based on home ties, but would languish down in 10th on the basis of away games with a -2 goal difference. In fact, it's still the case they haven't kept a clean sheet on the road all season.
Looking to bounce back from their 1-0 defeat at Goodison Park, Arsenal can assure their coach driver they have a shorter distance to drive. Just up the M1 to Vicarage Road, the home of Watford, a ground they lost at the last time of asking, though that was the first time in 30 years. Crystal Palace, Wolves and Leicester all have firepower within their ranks – or a certain penalty taker in the case of Palace, anyway – and so the lack of clean sheets could continue, meaning attacking players may be the way to go here.
Man United (WHU H, EVE A & MCI H, CHE H)


Ole's at the wheel, but the car has been choking and spluttering since that night in Paris where they defied the odds. The 2-1 victory against Watford has been their only positive result, though the 2-0 loss against Arsenal was the only game that they did not score in over that time.
Looking ahead, the Red Devils have got West Ham coming to town, a team who are no stranger to conceding goals and would, arguably, have to put up with shipping more if it wasn't for Fabianski between the sticks. In the past five games, the Pole has had to pick up the ball from the back of the net a whopping nine times. After that, the trip to Everton and then visits of Man City and Chelsea will be among the most difficult of the DGW squads and so, like Arsenal, an attacking choice rather than a defensive one may fare better. Especially when you consider the last time Ole's men kept a clean sheet was in the 0-0 draw with Liverpool back at the end of February.
Southampton (WOL H, NEW A & WAT A, BOU H)


Though these guys have won three and lost three in the last six – of which the victories were against Brighton, Spurs and Fulham – they could be in an even more precarious position if Mark Hughes was still in charge. In order to cement their place as a Premier League side for next season, the Saints will need to look to win more than just one of the next four and that wouldn't be an impossible ask now Ralph Hasenhüttl has steadied the ship.
You have to look back to 2007 for the last time they were victorious against Wolves, however Southampton have a better record ahead of the long trip up to Newcastle as they have beaten them four of the last eight meetings, with three draws along the way. Both Watford and Bournemouth, meanwhile, have only beaten the Saints once in the last 10 years and so history very much favours this side, though the cheap defence looks more tempting than attack, as only five teams have scored fewer so far this season.
Man City (CRY A, TOT H & MUN A, BUR A)


Whilst Pep's roulette may be going into hyperdrive as the Champion's League reaches the quarter finals and the FA Cup final awaits at the end of the season, it's still not a team to ignore as there's the small matter of fighting for the Premier League too. The Cityzens have been painfully clinical across all competitions as they haven't conceded a goal since the 3-2 win at Swansea in the FA Cup and you have to look back to January 29th for the last time they didn't win a game when they went 2-1 down to Newcastle.
This week they face a team who have managed to keep two clean sheets in the last six, though that was admittedly against Newcastle and Huddersfield who are slightly different to City. Funnily enough, however, the last time Roy and Pep met next to the pitch was a 3-2 win in the South Londoners' favour. Indeed, the lads in blue have only scored six in the last half-dozen league games at Selhurst Park, too, so it may not be a walk over. Next in line are Tottenham and Man United which, from legendary matches in the past, could end either way, followed by a trip to Turf Moor which has been a more productive location, shall we say. In all competitions, the away team have scored a total of 13 goals in just five matches.
Don't forget
Liverpool (CHE H, CAR A, HUD H)


You could argue fans of teams with a rivalry to Liverpool couldn't possibly forget the Reds at the moment as there is the danger, as they would see it at least, of them winning the Premier League title for the first time in almost 30 years. Whilst they do not have the kind of squad depth that Man City do, hope among the supporters can very much still live on with two of the three fixtures coming up that are also friendly to FPL managers, even though there is no DGW.
First up is Chelsea, a fixture where THAT slip incident took place, of course, almost five years ago to the day. Since then, the Reds have won just twice out of 12 against the Blues, with six draws along the way. On the plus side, Liverpool have scored 13 in that time and so, by the law of averages, there's at least one goal to look forward to if you decide to keep any of their players. Not great, admittedly, so let me convince you to keep at least a few Liverpool players when you read the fact they have scored 13 in the last three meetings against Cardiff, whilst the same amount of ties against Huddersfield have seen seven netted.
Bonus Section – Champions League Fantasy Football


As if you didn't have enough to contend with the Champions League returns tomorrow. And things are heating up in the official FF247 League as you will see below.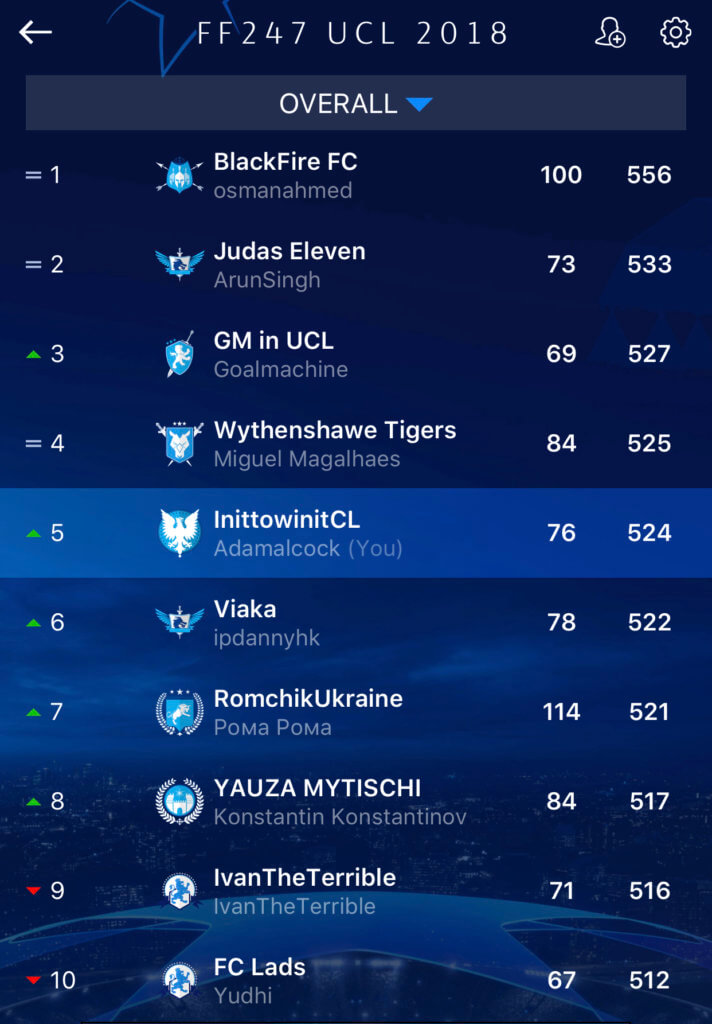 This section is simply a reminder that you need to make your changes and of a few key points;
The deadline is Tuesday 9th April at 8pm
You have 5 free transfers ahead of the deadline.
You then get another 3 free transfers ahead of the 2nd legs which begin next Tuesday (16th April at 8pm).
The fixtures themselves are as follows, beginning with those on Tuesday;


FPL FIXTURE TRACKER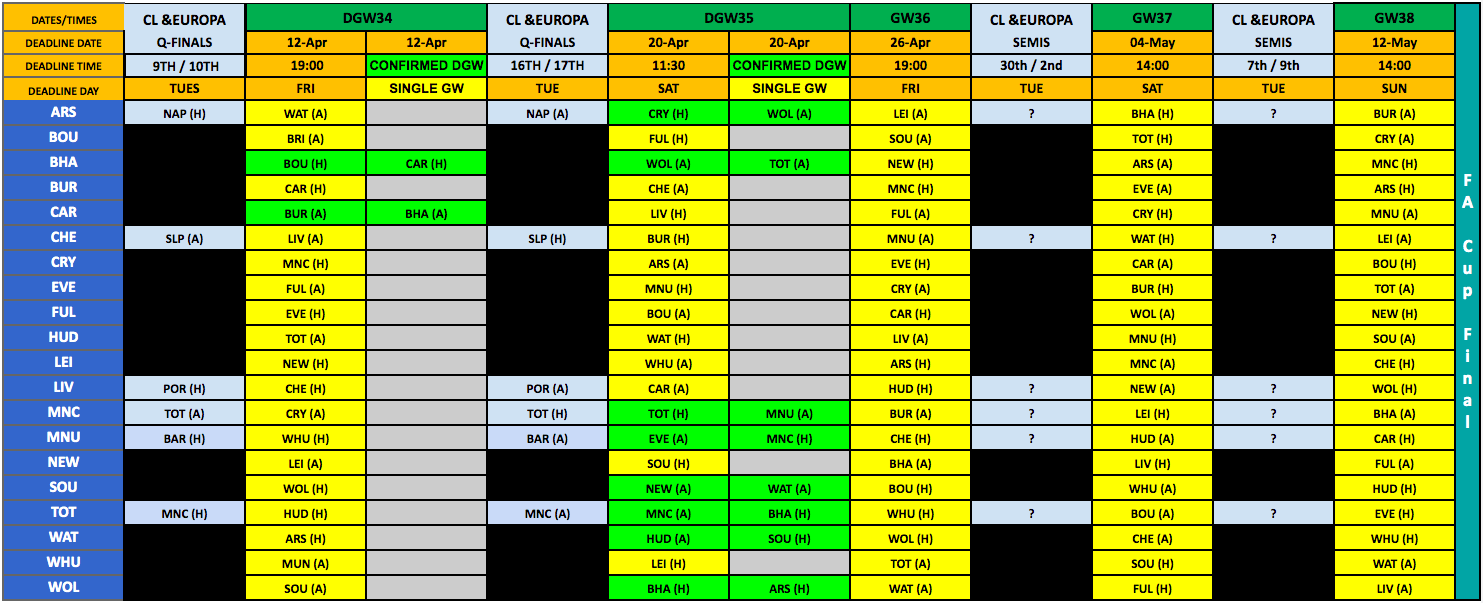 FIXTURE TRACKER LINK
Thanks for reading Fantasy Football Fixture Analysis Gameweek 34. This article was written by the swirly.
Welcome to our Fantasy Football leagues section.
The League Codes for FF247 for the 2018/19 season are as follows –