Fantasy Football Fixture Analysis Gameweek 9
Welcome to Fantasy Football Fixture Analysis Gameweek 9. Thank God the international break is over! I don't know anyone that actually likes the break as it is mostly a load of boring games and matches like Armenia vs Gibraltar but this two week break just seemed to be the worst for me. It went on forever, the matches were mostly 0-0 or 1-0, there was zero excitement in any games I watched at all! England played in front of an empty stadium and boy was that one of the most boring, dull, excruciatingly painful games to watch and listen to! There was more excitement in traveling to my local football ground and watching the Ireland U19 team play, at least they know how to score! Well the Premier League is back this week and offers up some lovely ties for us with Man United vs Chelsea to welcome us back after the break. Now this will hopefully see goals and excitement but it's Jose so it could be a park the bus and hope Hazard doesn't plough through it moment! I will take you through what I think are the best fixtures, the bad fixtures and the absolutely terrible fixtures. So without further ado…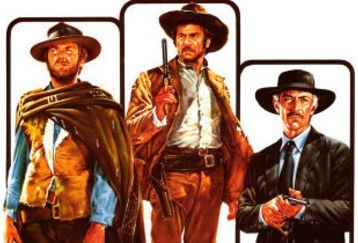 The Good,



Bournemouth – Southampton (H), Fulham (A), Man Utd (H)
The Cherries come back after the international break with some nice winnable fixtures. The previous game saw Eddie Howe's side smash 4 past Watford and Howe will hope his team can hold onto that form against fellow seasiders, Southampton. The Saints have been on a bit of a (seemingly perpetual) slide this season with 1 win and only 5 points. They have let in 14 goals so far so Callum Wilson, Josh King and Ryan Fraser will be relishing a chance to get at this backline. After the home game against Southampton, Bournemouth travel to London to face Fulham and it could be another great game for the Cherry strikers as Fulham have been very leaky at the back as they seem to be very confused about what Slaviša Jokanović wants from them.
Bournemouth against Man Utd would usually have been a terrible fixture but with the trouble that is plaguing Old Trafford and Carrington right now I would not be surprised to see Bournemouth either claim a big scalp or at least cause some more problems for Jose Mourinho's men.
Brighton – Newcastle (A), Wolves (H), Everton (A)


Brighton have an absolute peach of match schedules for the next few weeks. They look to be improving week by week and the next few fixtures will only help that so some sort of cover would be preferable. The Seagulls return after the break off the back of a win against West Ham. The first game back will either be a 2-1 win or a 0-0 draw if our resident Geordie Rosco is to be trusted so Brighton should get something out of this game and it will spur them on for what will be some tougher tests in the next two.
Wolves and Everton are next up for Brighton who play at home first and then travel to Merseyside. These games could prove a tough challenge for Brighton as Wolves are playing some brilliant football this season and Everton seem to have remembered how to play football. I would say the Wolves game could be a very tight one for the Seagulls but Glenn Murray will still fancy his chances. The old man will then come up against an Everton side who don't have the greatest defensive record conceding 12 goals this season so this game could be an open ended match with Richarlison, Walcott and Siggy attacking Matt Ryan's goal.
Fulham – Cardiff (A), Bournemouth (H), Huddersfield (A)


Looking at Fulham's next three fixtures makes Schurrle and Mitrovic very enticing options as they come up against two of this season's struggling sides, Cardiff and Huddersfield. Whereas Brighton and Bournemouth would not have wanted the International Break to have come this week after their wins; the break couldn't have come at a better time for the London team. Fulham got absolutely torn apart by Arsenal who really exploited their weaknesses at the back. Cardiff and Huddersfield do not have the quality that Arsenal do so Fulham won't fear another 5-1 drubbing. Put both of these teams goals scored this season together and it only adds up to 8 goals! That means on average both teams have only scored a goal between them each week so far this season. These fixtures will be the perfect time for Fulham's shaky defence to gain some confidence and possibly some clean sheets.
Sandwiched between the two relatively easy games for the Fulham defence could be a tough game against Bournemouth, which I have mentioned above, but the attackers are who we would want from Fulham as Huddersfield and Cardiff have let in 33 goals between them and Bournemouth have let in 12 this season which all points to the fact Fulham should score over the next three and if you want to take a risk and grab a defender then these next few fixtures are your best chance!
The Bad,
Leicester – Arsenal (A), West Ham (H), Cardiff (A)


I've separated this article into the ol' trio of The Good, The Bad and The Ugly mainly due to the fact I see different levels of 'bad' fixtures this week. I really like Leicester's fixtures for the next month or two but the next few weeks could see them struggle. First up is a trip to the Emirates where they play a rapid-fire, slick-moving, brand new Arsenal. Ramsey's goal against Fulham was a thing of beauty and reminded me of Arsenal's golden years when they had Henry, Pires and Ljungberg, so perhaps gone are the past few seasons where Arsenal were stale and boring under Arsene. This could be a trashing for the Vardy party so I would steer clear for this game.
The next two games for Leicester are much easier in comparison but I still put them in the 'bad' section as West Ham seem to be picking up some steam, a 3-1 win over Everton, a 3-1 win over United and a 0-0 draw against Chelsea in their last four games could mean the summer signings by the Hammers have finally gelled. Leicester will have to be wary of Arnautovic, Felipe Anderson and Yarmolenko but they could have enough in Slabhead and co. to keep them out. The last of these three fixtures sees what should be an easy game away against Cardiff. I have mentioned above how poor Cardiff have been so far this season and I don't see Leicester having too much trouble breaking them down and winning the game. Another reason I have added Leicester into this category is they come into some games that could go either way with Burnley, Brighton and Watford all on the horizon but it still wouldn't put me off the Foxes.
Man Utd – Chelsea (A), Everton (H), Bournemouth (A)


Nothing is going right for Man United right now and I'll be honest I'm enjoying every second of it! I'm going to say I don't blame Mourinho for everything; the players are lazy as hell and just won't play but Mourinho doesn't help with his lovely, bubbly attitude. Woodward is a massive problem too and a complete knob, sack Ed and keep Jose I say! Well now onto the matches that could spell the end of Mourinho's reign, first up is a trip to one of the table toppers, Chelsea. Mourinho returns to the Bridge and every game could be his last right now so he will be hoping his old team will be kind and let him win but I don't see that happening. Chelsea and Hazard are flying high at the moment so should relish coming up against this United side that can barely tie their shoes!
If Mourinho is still in charge after the Chelsea game then he has two games United should be winning hands down in years gone by but now anything can happen. I have already stated why I think the Bournemouth game could be a banana peel for the Red Devils but Everton's front three could also cause trouble for whatever United defenders actually play as this team have conceded 14 goals and only kept 1 clean sheet. After these three fixtures is the Manchester Derby, add two games against Juventus in there and we could be seeing the last of Jose's sour puss very soon.
And the Downright Ugly
Palace – Everton (A), Arsenal (H), Chelsea (A)


At the start of this season nearly everyone had a Palace player of some sort be it Zaha, PVA, Tomkins or the Jedi, Obi Wan. This was largely due to the brilliant run of fixtures they had to start the season… well now the honeymoon is over! Palace are about to embark on a terrible run of fixtures starting with an away trip to Everton. I have spoken about why I think Everton could be a mixed kettle of fish for teams above and that does not change here so I will move on to the real reason I have placed Palace in the Downright Ugly section.
After the trip to Everton, Palace have two London derbies one at home to Arsenal and then one away to Chelsea. These are two teams flying high at the moment and I can't see any hope for Roy Hodgson's men in grabbing anything from these games. Palace have a terrible record against Arsenal only beating them on 4 occasions, drawing 11 and losing 28 and I don't see a 5th win on the horizon for the Eagles. Palace do have a much better record against Chelsea winning 12, drawing 15 and losing 25; I still feel Chelsea will have too much for Palace no matter what history says.
Just as a forewarning after these three games Palace go on to play another derby in Spurs and then Man Utd so I would recommend you to sell, sell, SELL!
The all important FPL FIXTURE TRACKER itself…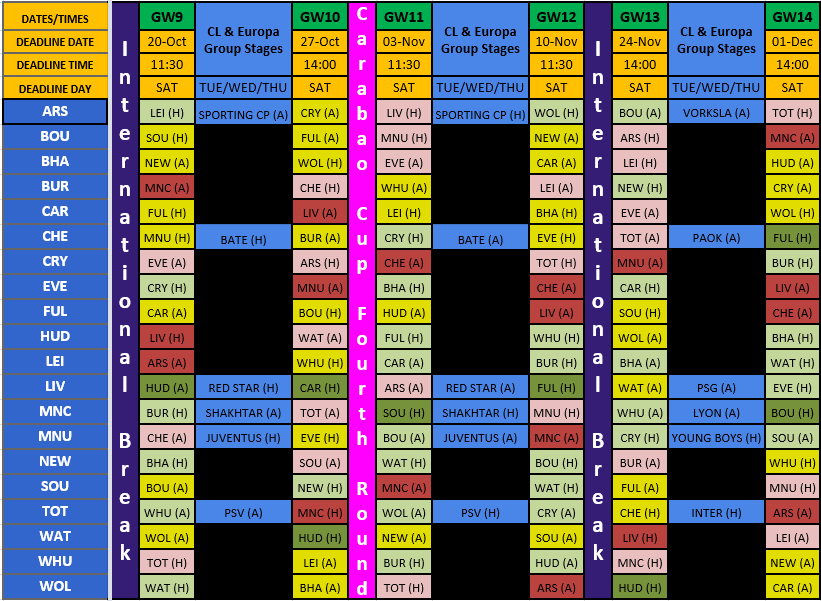 Thanks for reading Fantasy Football Fixture Analysis Gameweek 9. This article was written by MattX
Welcome to our Fantasy Football leagues section.
The League Codes for FF247 for the 2018/19 season are as follows –
Thanks to our friends Follow @ff_surgery and please give them a follow.