Fantasy Football Fixtures Gameweek GW7
Welcome to Fantasy Football Fixtures Gameweek GW7
On the face of it this may seem like a bit of an odd week to roll out a fixtures article as we are about to have a break for the internationals but GW7 always felt like a bit of a turning point as quite a few teams see a change in their fixture fortune from this point in time.
How much stock you put in the fixtures themselves is up to you, as we all know an in-form player can sometimes make a mockery of them. Sometimes…
More often than not though it pays to be informed so that you can target the next big thing. Or quite simply bring in the obvious thing (player) at the correct time.
Our usual format here is to examine the good vs the bad, except that when we sat down and attempted to split the teams accordingly it soon became apparent that the tried and tested formula was somewhat challenged. Outside of Chelsea, and perhaps Leeds, it was difficult to find many others with a definitive split either way. As such we have decided to take a look at the aforementioned pair and then take a look at a select handful of relevant teams. Relevant being those that contain 'players of interest'. Which is sort of like 'persons of interest', only remarkably different. It also makes this article some hybrid of Fixtures and Tips, only unremarkably different.
The Good…
Chelsea – Southampton (H), Brentford (a), Norwich (H)

GW7 onwards has long since been considered Chelsea Avenue. And with good reason. The City result aside they are looking in fine fettle, without really hitting any heights, but the ceiling is high and with the right fixtures there is a feeling that they could find some cohesion.
The next three games look like they may provide that opportunity. And if you are especially convinced enough to over-endulge in them then worry not as their games after the above three are Newcastle and Burnley. A finer set of fixtures you would struggle to find. Lukaku could be a set and forget Captain for this period. We wouldn't be adverse to grabbing the odd defender or two also.
Leeds – Watford (H), Southampton (a), Wolves (H)

We said perhaps above when referring to Leeds as it seems strange to be bigging up a team who are winless in 6, have only scored 6, conceded 14 and are nestled in the relegation zone. Their key players have still been providing returns though – and by that we mean Raphina and Bamford. Cetainly the former is beginning to show that he can build on last seasons promise and now has 3 goals in 6 games. The above fixtures look good for more returns for him and they are followed by Norwich. We'd just give their defence a swerve for a bit as that's where the issues appear to be.
The Debatable…
Given that the likes of Villa and Brentford keep upsetting our apple carts it has become more difficult to pigeon-hole a lot of teams. Let's just examine their propsects regardless…
Arsenal – Brighton (a), Palace (H), Villa (H)

And there I was doing the hoovering, with one eye on the game and one on the Dyson, with the sound drowned out on the match a bit when I swear I faintly heard 'Arsenaaaaaal, Arsenaaaaal FC, by far the greatest team the world have ever seen'. I just had to tune in, as I thought I had mis-heard. But no, those fans who wanted Arteta sacked and said they were getting relegated only 3 weeks ago were now getting a tad carried away. But it was a derby game, and they were smashing Spurs, so we can forgive them for their enthusiasm. They've certainly not had anything much to shout about recently.
Does one game maketh a team? Of course not, but at least they are now making some strides in the right direction.
Would we get carried away and start filling up with Gooners? Not really, but at least the likes of Saka, Smith-Rowe and Ben White may offer some credible budget alternatives. Their fixtures are middling to decent but are also the sort that could see things go either way.
Watford – Leeds (a), Liverpool (H), Everton (a)

Watford epitomise our 'Talking Points' piece here; they are worth talking about as they are relevant, but the fixtures suggest that they may be vulnerble. We'd certainly keep any attacking assets (Sarr!) vs Leeds and there is perhaps also an argument to be had for seeing them (him) through the Merseysiders as both have proven they are penetrable as of late. They are also likely to concede a fair few in these games so defenders are not recommended.
Liverpool – Man City (H), Watford (a), Man Utd (a)

Quietly returning to their swhashbuckling best but uncharateristically shipping more than is ideal. The latter trend cost them dearly at the weekend and perhaps TAA isn't quite the same player without that guaranteed CS to add to any attacking returns.
Salah looks like he is back to his best though so if you somehow left him out you may be as well just swallowing that pride and bringing him back as he's looking lethal once more.
West Ham – Brentford (H), Everton (a), Spurs (H)

Approaching fixture proof status, well ok, maybe not against the elite just yet, but the next three are against teams outside of that bracket and you wouldn't be suprised to see Antonio continue his recent fine form and rack up a good few points against this lot. Benhrama too. Again though just igmore their defence as they are likely to concede a few here too.
The Questionable…
Man United – Everton (H), Leicester (a), Liverpool (H)

Give that the above games are followed by Spurs and Man City we felt that it may be right to examine Ronaldo's recent credentials against such teams. It was felt by some that he may have become a flat-track bully and that these tougher fixtures may be a bit beyond him now?
The only real recent and relevant evidence we can call upon is last season in Serie A. It's not quite apples for apples but if we look at how he fared versus the eventual top 5 (4 other teams as Juve finished 4th) we can see a bit of a pattern. And not a particularly pretty one. In 8 league games vs Inter, Milan, Atalanta and Napoli he (they) lost 4, won 3 and drew 1. Not too shabby but ultimately that probably cost them any shot at the title. And he only scored 2 goals in those 8 and 1 of those was in an end of season dead rubber vs Inter. So 1 in 7 in meaningful games against top teams and yet he was the overall top scorer in the league… Hmmmmmmm. When do those fixtures ease up again?!
Spurs – Villa (H), Newcastle (a), West Ham (a)

Guv'nor Dan Levy may run a tight ship, so tight that Alcatraz is jealous, but as Harry Kane looks on bereft from behind his prison bars all he can see right now is that Man City, fresh from dispatching title challengers Chelsea, are prepping to face PSG in the Champions League on Tuesday. Poor Harry's next port of call? A home game vs Mura in the Europa thing. No, not that one, the 2nd division of it.
We aren't quite sure why we decided to include Spurs in here, in all honesty, other than to perhaps say that you may be best advised to avoid them for a while. See, there was a bad one in there after all!
FPL FIXTURE TRACKER
But first up that all important Fixture Tracker itself…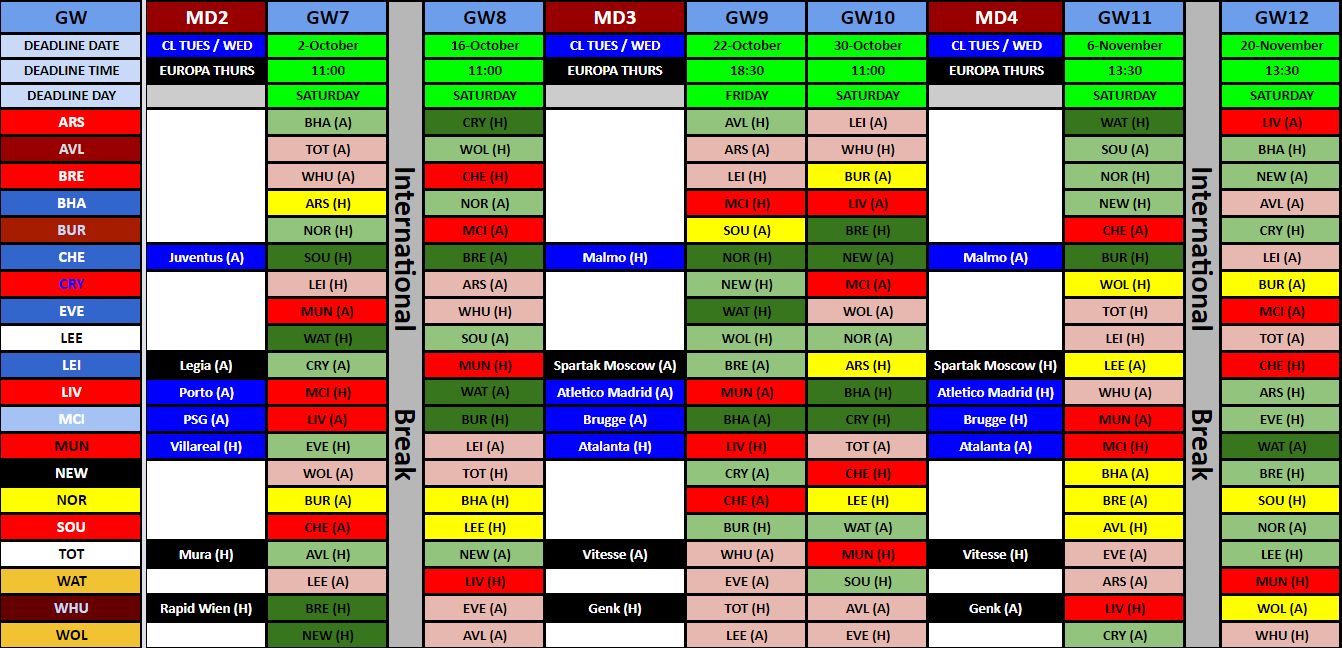 FIXTURE TRACKER LINK
Thanks for reading Fantasy Football Fixtures Gameweek GW7. This article was written by Inittowinit.
VOTE ON THIS WEEK'S CAPTAIN POLL GW7
FF247 LEAGUES FOR 2021/22
Fantasy Football 247 League Codes:
Both leagues will be shut to new entrants as of 01/01/22.