Fantasy Football Inside The Mind Of An FPL Player Gameweek 12 Part 2
We are back with Part 2 of our look ahead to GW12 with some of our writing team. If you missed it then Part 1 is here. There are a couple of newbies on this one, namely Ivan and Horse and we welcome them along.
Just in case you have been asleep and missed it, this is a relatively new feature and the lowdown is explained below –
So, what it's all about? Well, in essence, each week a selection of our contributors will bring to you their FPL team for the gameweek ahead. They'll start by giving a quick recap on the previous game week, what went well – and of course what went not so well! Then they'll look forward to the gameweek ahead and outline what their initial thoughts are with regards to their starting 11, captaincy and, of course, prospective or confirmed transfers.
It should be noted that the teams shown may not always end up being the final teams; players get injured, plans change. What it will give you is an insight into a variety of different playing and transfer styles – some go early, some go late. When possible, we will post in the comments if plans significantly change.
IVAN – TEAM LINK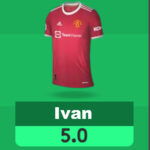 GW11 points: 53
Total Points: 672
Overall Rank: 647,459
Rank Change: Green arrow: 49K
Free transfers: 2
Money In the bank: £2.7
Chips: First Wildcard used
Season so far…
The usual season so far with all the ups and downs. I have made two colossal mistakes which cost me 37 points and obviously the reflection is in the ranking.
In GW7 I captained Antonio who did nothing at home against Brentford while Salah had a goal and assist vs Man City, add the 3 baps and that was 13 points loss. One would say, lesson learned. Not me, went to repeat it in GW 9. Put the armband on Havertz thinking that this will be the big moment, at home against Norwich. Yes, it was big for Chelsea, 7 -0, and he wasn't involved in any of them. Yet again, Salah ended with a hatty and an assist. Another 24 points loss.
GW11 Review
The good:
Two consecutive weeks with green arrows which total 237K up is not bad. Happy that patience paid off and finally got some return from Havertz, it doesn't mean that he is off the hook. Also pleased with the fact that I resisted temptation and carried the FT, which gives me a bit more flexibility for the upcoming gameweek, always useful after an IB.
The bad:
As many times in the past, I missed the Vardy train and since he landed in my team, all I got is 3 points in 3 GWs. My only transfer last time was Toney for Antonio, no loss or gain there but both are becoming liabilities as of late. Not happy with Jimenez either, he keeps blowing hot and cold.
The ugly:
Sadly, I was part of the large crowd which played Sanchez and benched Foster. Well, can't complain much, many others were in the same boat and nobody could have predicted that outcome with both good and bad luck striking these two particular goalkeepers in the same round while they were in most of the FPL teams.
GW12 Preview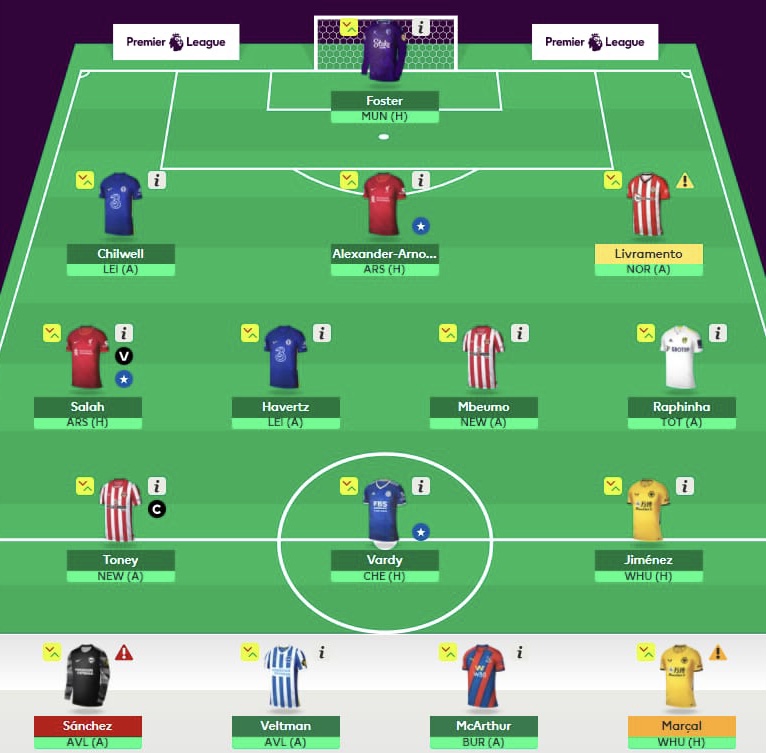 Transfer plans
Still haven't decided whether to use the 2 FT or just one. The first to go is Vardy, next on the chopping board will be Havertz. Have the cash to bring either Kane or Ronaldo, that's to be decided too. The early bird.. and all that, not missing another train. At the moment I am leaning towards the former. The next four are against LEE/BUR/BRE/NOR/, you rarely get such a streak of fixtures. Ronaldo's fixtures are not bad either but he could easily replace Harry in GW 16 when another long stretch of appealing games for Man U starts.
Jimi can stay for now. If he doesn't get anything at home against WHU this week, surely there will be a goal or two next vs Norwich and Burnley.
I can afford to get either Gallagher or ESR for Havertz but not entirely sure yet as chasing points from the past is not my style and maybe I am already late for those trains.
Transfer summary:
Vardy out and Kane in. Possibly Foden/Gallaher/ESR for Havertz.
Captain for GW12: Kane
(Not inspired by the 7 goals during the IB, it has been in the pipe for a while)
Some will say, you're doing it again. Yes, that is the only way. Only a bit of gambling can help, otherwise I will be floating for the rest of the season at the same level.
ROSCO – TEAM LINK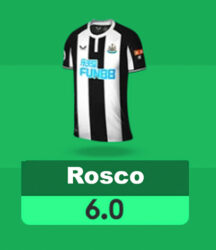 GW11 points: 102
Total Points: 807
Overall Rank: 475
Rank Change: Green arrow 10k
Free transfers: 2
Money In the bank: £1.2m
Chips: First Wildcard and Bench Boost used
GW11 Review
The good:
I always play my chips in blanks and doubles. A BB of 4pts in a DGW last season and 7pts the previous year and I had grown to hate the chip. This season I decided to not be so rigid in my approach. This week looked like a good week to play it, so I did.
Live FPL (which discounts hits) lists my game week rank as 6. Yup, mind blown. So what happened?
6pts from Livramento got my Bb off to a solid start. A lacklustre 2 from new boy Mbeumo on Saturday and it looked like my BB would be average at best. Elsewhere Cancelo delivered a 14-pointer and James proved to be the Chelsea defender of choice for the second week on the bounce. So far so good.
On Sunday I went carpet shopping. I missed the Arsenal match and when I checked the score I was stunned. My bench keeper Foster saves a penalty and takes max bonus. ESR scores, assisted by my bench defender White. BB score – 27pts. I love this chip!!
By the time West Ham and Liverpool drew to a close my rank was firmly locked in the top 500, 465 when the dust settled. I've never had a rank this high, the only way is surely down so I'll enjoy my moment in the sun!!
The bad:
I was so close to getting Trossard over Mbeumo, but can I really complain?
The ugly:
Carpet shopping and missing that Foster penalty save in real-time!!
GW12 Preview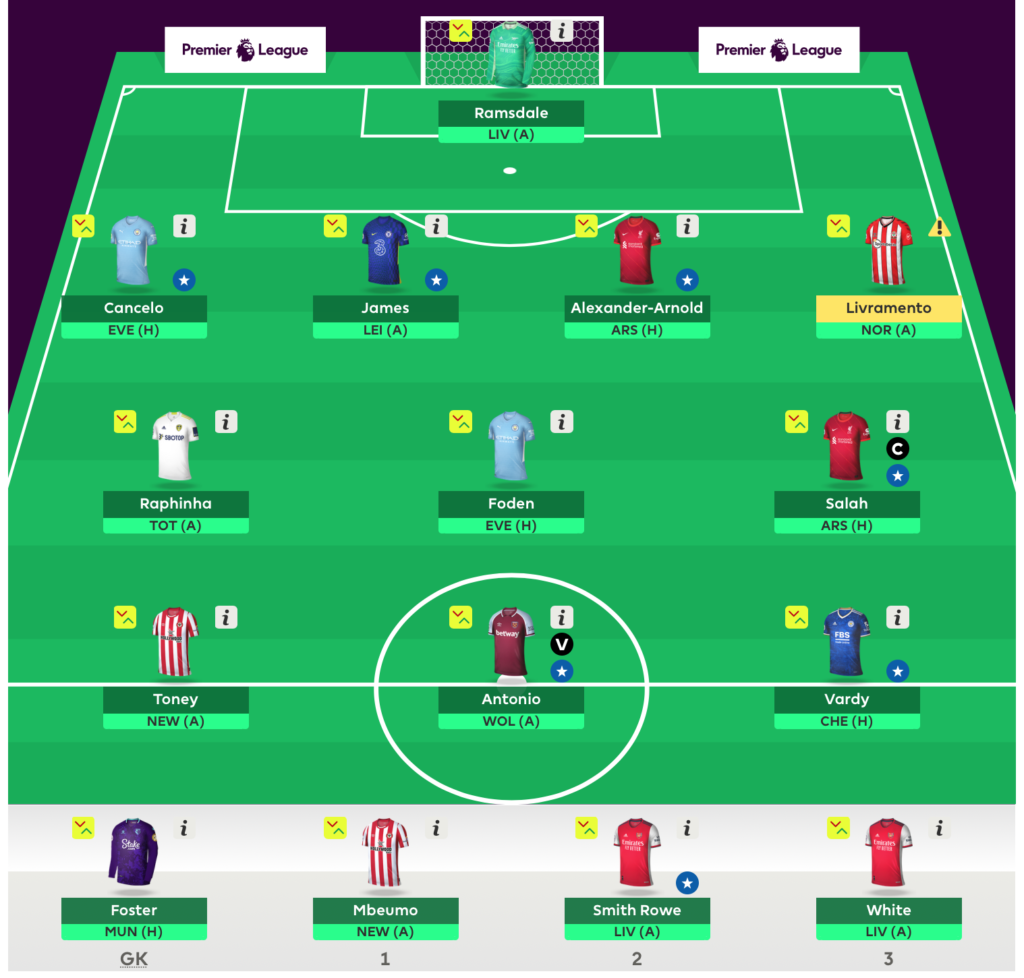 Transfer plans
2 free transfers and a little voice in my head 'don't f@ck it up'.
Kane and Son are still at the front of mind. To buy either this week requires a leap of faith, but then that's how you make gains in this game. Pre-International break I'd have gone with Son, but damn, 7 goals have a way of turning your head. Yes, a few were penalties, but if there were any fears Kane was done, he ain't. Will that form translate to the White of Spurs? Who knows. You would think so, but does it need time? That's the dilemma I'm weighing up. Of the two, Kane makes the most sense from a structural point of view, with one eye on an easy acquisition of Christiano Ronaldo in GW16. That doesn't mean I've ruled out Son though. Let's not forget he's 2 million cheaper and has more points than Kane thus far.
If I decide to hold off on Spurs for another week, then I may take another leap of faith and throw my support behind new manager Eddie Howe. I've given Ivan Toney 11 weeks, I don't feel he's given me a whole lot back in that time. Every time I watch Callum Wilson in person, I feel like he's going to score, when he does I'm annoyed I don't own him. He's started 4 home games this season, he's scored in 3 of those. I'm not one of those Geordies who puts blind faith in Newcastle players, I usually swerve them in FPL altogether, but with just over 2% ownership, Callum is the kind of player that could be a real rank booster should he do well.
Transfer summary:
A leap of faith on either Kane, Son or Wilson
Captain for GW12:Salah
KOP – TEAM LINK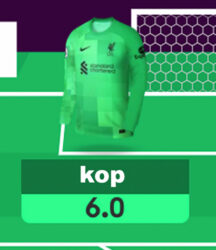 GW11 points: 67
Total Points: 728
Overall Rank: 105,065
Rank Change: Green arrow 56k
Free transfers: 2
Money In the bank: £0.2m
Chips: None used
GW10 Review
The good:
On the whole, it was a relatively decent gameweek as my 67pts was 25 above the average. The defence certainly take the plaudits this week with Cancelo, TAA & White responsible for 50% of my points. Raphina and to a lesser extent Salah did their thing.
Last week I included Kai Havertz under 'The Bad' as he had only produced one assist while Chelsea scored 10. I'm moving him up to 'The Good' this week. This is not necessarily because he scored but primarily as it shows that patience is often rewarded. The easy thing to do after he blanked against Norwich would have been to ditch him but I held him in the hope that would come good. A goal and assist from his two subsequent games is not fantastic but I doubt his replacement would have bettered his return.
The bad:
My forward line! The three of them combined returned a miserable 5pts. I won't be too hard on Antonio, as despite him blanking when West Ham scored three, I didn't expect a return from him against Liverpool. With Toney & Vardy facing off against Norwich & Leeds, I certainly did expect a return from them!
Benching Livramento's 6pts was frustrating. However had I played him I would have benched White. I appreciate that some will say that I should have played Livramento ahead of Antonio, but in such cases, I will always play the forward.
The ugly:
My forward line!! The three of them combined have registered one goal over the last three gameweeks. To be honest, I regretted bringing Toney in as soon as I hit the confirm button.
GW11 Preview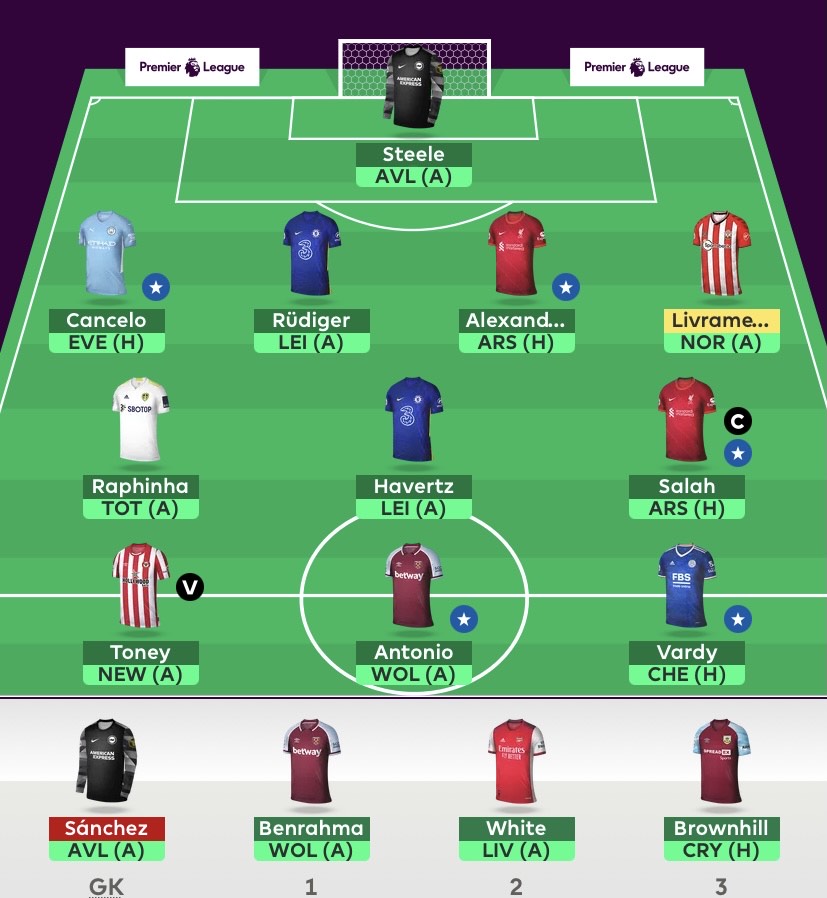 Transfer plans
I really need to do something about my forward line but I also want to get Reece James. No matter which route I go I will need to raise cash and Havertz is likely to be the fall guy. The problem is, I kind of like Havertz for the coming gameweek. Truth be told… I have no plans.
Transfer summary:
A last minute decision on Saturday morning.
Captain for GW12: Mo Salah
HORSE – TEAM LINK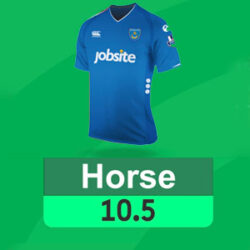 GW11 points: 55
Total Points: 751
Overall Rank: 32,449
Rank Change: Red arrow 10k
Free transfers: 2
Money In the bank: £0.3m
Chips: None used
Season so Far
The season started really well with a stellar 111 in GW1, placing me in the top 43K. I felt like a marathon runner, who unexpectedly found himself near the front after the first mile. I feared that I set off too quickly and it was only a matter of time before the hoards overtook me. These fears have so far proved unfounded and am handily placed at 35K.
This season reminds me of 2018/9; the Year of the Wing Backs. Then we had DRAMA at the back, namely Doherty, Robertson, Alonso, Mendy and Aaron Wan Bissaka. Then like now, there were 3 attacking defenders from Liverpool, Man City and Chelsea plus a bargain 4m defender. AWB played for Palace then and started the season at 4m. This season we have Trent, Cancelo and James/Chilwell and Livramento. If memory serves, 442 was very much in vogue. We will see how things unfold this time around.
GW11 Review
The good:
Raphinha (9) scored, captain Mo assisted (10), Trent (12) did both. White (8) and Livramento (6) both kept clean sheets.
The bad:
Like everyone else's, my forwards did very little this GW. Indeed, Livramento, who cost me 4m scored the same amount of points as Vardy, Jiminez and Antonio did, who cost me nearly 26m in total.
The ugly:
I have played fairly cautiously and avoided early transfers, preferring to wait for more information. The downside of this approach hit me hard this GW. In the last International Break in GW8, I could have gone very early and bought Cancelo but I chose to bide my time and, in the end, got priced out and had to settle for Dias. Cancelo has massively outscored his teammate ever since. To add salt to my wounds, I benched Dias for his first return since joining my side for Rudiger.
GW12 Preview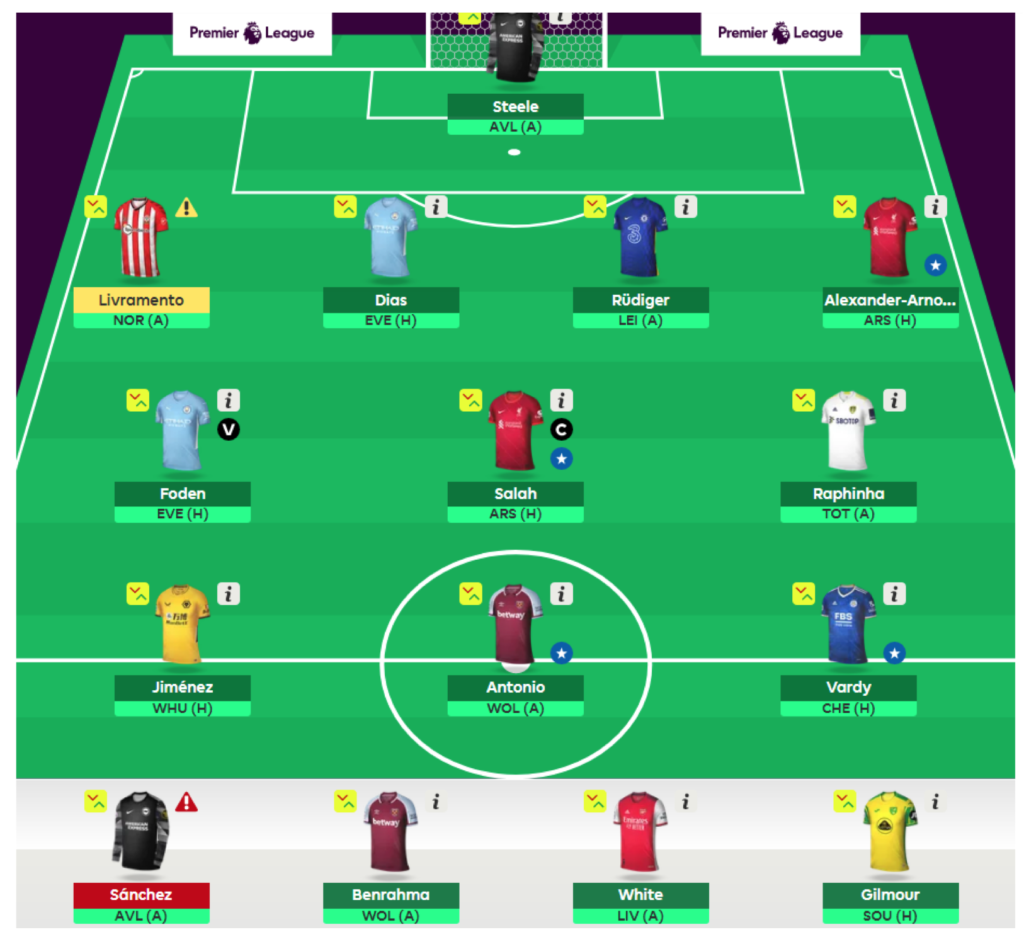 Transfer plans
I have 2FTs and a wildcard burning a hole in my pocket.
A rough plan is to use my WC in either GW15 or GW16.
Man City, Liverpool, Man Utd and West Ham all have a strong run of fixtures from then. I will be able to have a big clear out. My team has more deadwood than the Mary Rose as we say in Portsmouth.
Truthfully, I am not sure what to do this GW. I have a few ideas for this GW.
The first one is to get Cancelo in. I am short of funds with just 0.3 in the bank. I can sell Benrahma for Gallagher and buy Cancelo for Rudiger but I may get priced out if I wait too long (again).
My second idea is to be more aggressive and to attack short term fixtures and at the same time get rid of the underperforming Vardy.
Newcastle (Wilson) and Spurs both have great short-term fixtures.
At the time of writing, Robertson is injured but we do not know how long he is out. If it is around 4GWs, I can bring in Tsimikas for White and that would free enough cash to sell Benrahma and Vardy for Son and Wilson for a hit.
News has literally just broken that Firmino is out until mid-December.
So, I could combine the two ideas and sell Vardy, Benrahma and White for Wilson, Jota and Cancelo for a hit.
Possibly Vardy, Benrahma and White for Wilson, Jota and Cancelo (-4)
Captain for GW12: Salah
KRALIN – TEAM LINK

GW11 points: 61
Total Points: 707
Overall Rank: 232,820
Rank Change: Green arrow 60k
Free transfers: 2
Money In the bank: £1.3m
Chips: First Wildcard used
GW11 Review
Mustn't grumble. I see a score of >50 as being an ok week so 61 was fine by me.
The good:
Havertz and Cancelo.
The bad:
Goalie being sent off.
The ugly:
My front line.
GW12 Preview

Transfer plans
Liverpool can now chill out a bit in Europe so I'm looking at adding another of their players to my side. James of Chelsea is very appealing, after Leicester maybe. Another cheapo Arsenal – Smith-Rowe probably – may come in after the Liverpool game. I have a short-term goalkeeper crisis.
Transfer summary:
Jota for Havertz looking probable. I may get the Palace goalie in.
Captain for GW12: Salah.
Thanks for reading Fantasy Football Inside The Mind Of An FPL Player Gameweek 12 Part 2. This article was written by Ivan, Rosco, Kop, Horse and Kralin
VOTE ON THIS WEEK'S CAPTAIN POLL GW12
FPL FIXTURE TRACKER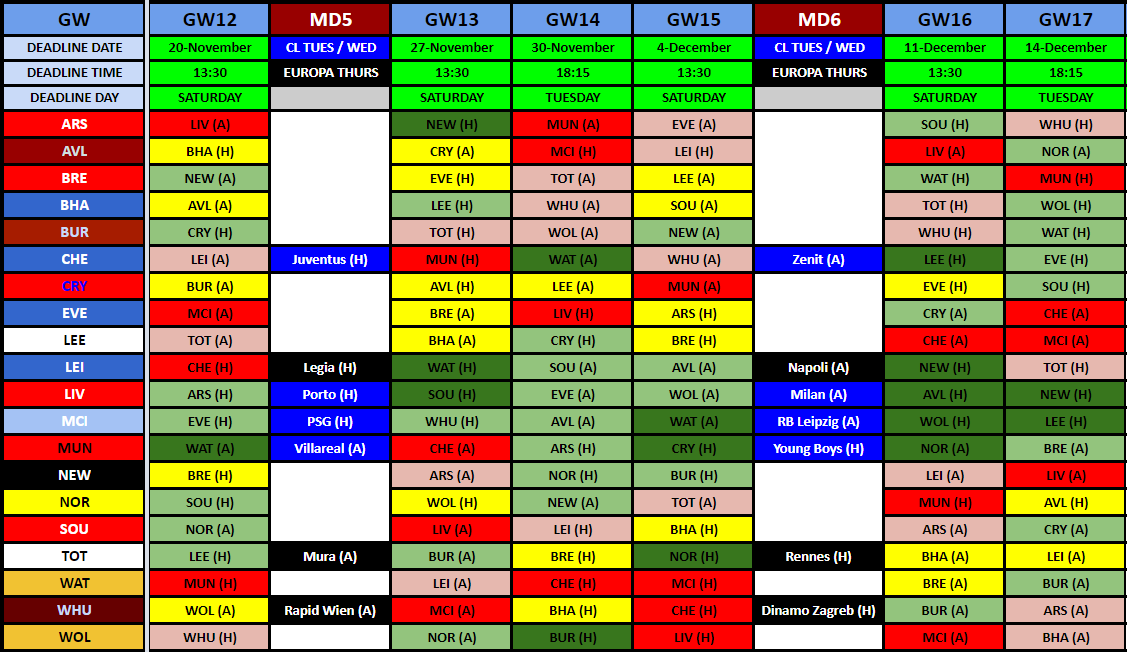 FIXTURE TRACKER LINK
SET-PIECE TAKERS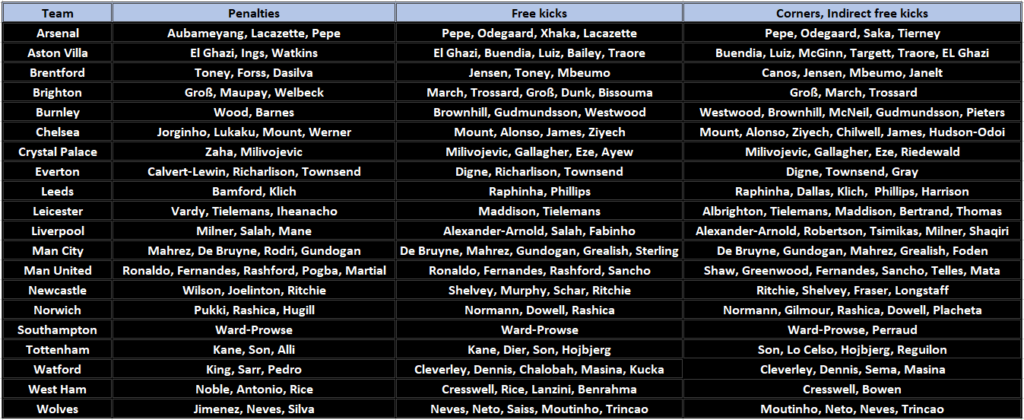 Predicted Line-Ups FPL 2021/22
You can access our Live feed to these here.
FF247 LEAGUES FOR 2021/22
Fantasy Football 247 League Codes:
Both leagues will be shut to new entrants as of 01/01/22.