Fantasy Football Inside The Mind Of An FPL Player Gameweek 13
Once more we delve into the personal lives FPL minds of our wonderful team of writers…
So, what exactly is this all about? Well, in essence, each week a selection of our contributors bring to you their FPL team for the gameweek ahead. They'll start by giving a quick recap on the previous gameweek, what went well, and of course what went not so well! Then they look forward to the gameweek ahead and outline what their initial thoughts are with regards to their starting 11, captaincy, and of course prospective or confirmed transfers.
It should be noted that the teams shown may not always end up being the final teams, players get injured, plans change. What it will give you though is an insight into a variety of different playing and transfer styles (some go early, some go late). When possible, we will post in the comments if plans significantly change.
ROSCO – TEAM LINK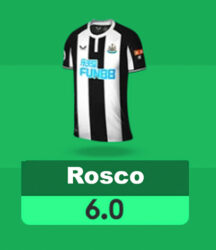 GW12 points: 69
Total Points: 876
Overall Rank: 842
Rank Change: Red arrow 367
Free transfers: 1
Money In the bank: £0.6m
Chips: First Wildcard and Bench Boost used
GW12 Review
The good:
Edit – Smash pointed out that I come across as angry in the below, which I'm not! So if I seem angry, I'm definitely not and more than happy with my progress thus far!
From a team perspective, there was nothing good. Now that may seem like a glib statement and given my overall rank it may come across as petty or even a sore loser but that's not the case and I'm actually not too upset about my red arrow. Disappointed, yes, but not downbeat, after all, being in the top 1k at such an early stage is more than I could have hoped for. No, what I mean by nothing good, is that nothing that happened in my team had any real benefit to help me climb.
Effective ownership. If you're aware of it, it can be a good thing, but it also sadly sucks a lot of fun out of my game weeks. I've added my GW12 team taken from the excellent Live FPL site. If you're not familiar with effective ownership, in essence, it shows you how high the ownership is for any of your players at your particular rank. The key is to have enough of the highly owned players to ensure you don't lose rank should they do well, but to have a sprinkling of players with low effective ownership to help propel you up the ranks (should they perform well).
So, why does effective ownership suck the fun out of my game week? Well, if you look at my team you can clearly see that of the 5 players who did well for me this week, three of them (Cancelo, TAA and Salah) all have an EO (effective ownership) of almost 100%. Salah comes in at almost 200% given that almost everybody captained him. So what does this mean? Well, it means that the benefit of their points is negligible. So if I want to climb the ranks I really need my low-owned players to deliver. They didn't. I end up on a red arrow.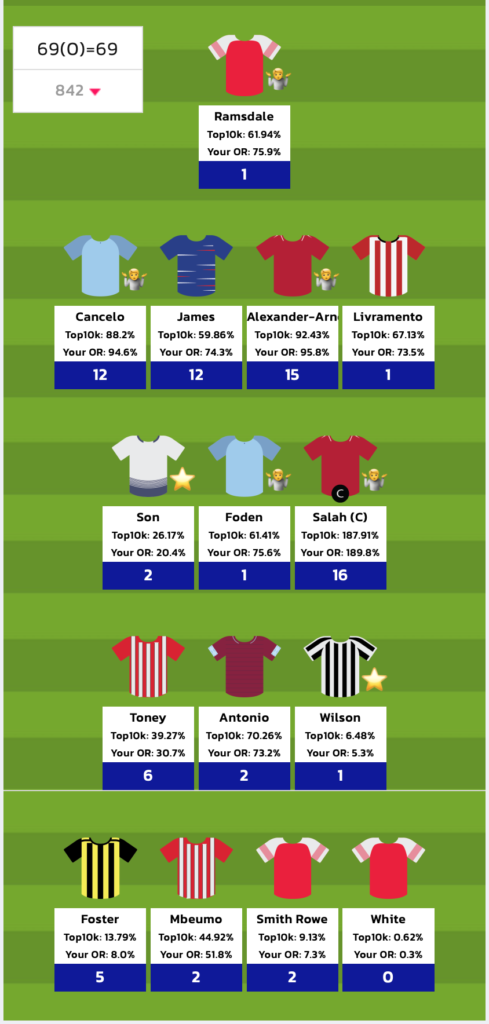 The bad:
If I was to stand any chance of a green arrow I needed my low owned players Wilson (5.3% EO), Toney (30.7% EO) and Son (20.4% EO) to do something. Only Toney delivered, but sadly his paltry 6pts did little to combat the huge volume of players rocking double Chelsea defence. I've put off buying Chilwell for weeks now, this week he continued to punish me. I wasn't hugely convinced that Son was the right transfer this week, I should have gone with Jota in hindsight. As it was my game week score of 69 was not enough to prevent a red arrow of -77%. But as I said, I'm still inside the top 1k, it's not the end of the world.
The ugly:
In a game week where I needed every point I could get, the last thing I needed was Foden to go off early. He didn't even make the 60-minute mark; a 57th-minute substitution meant he was just 3 minutes off an additional 2pts and had he stayed on, who knows.
GW13 Preview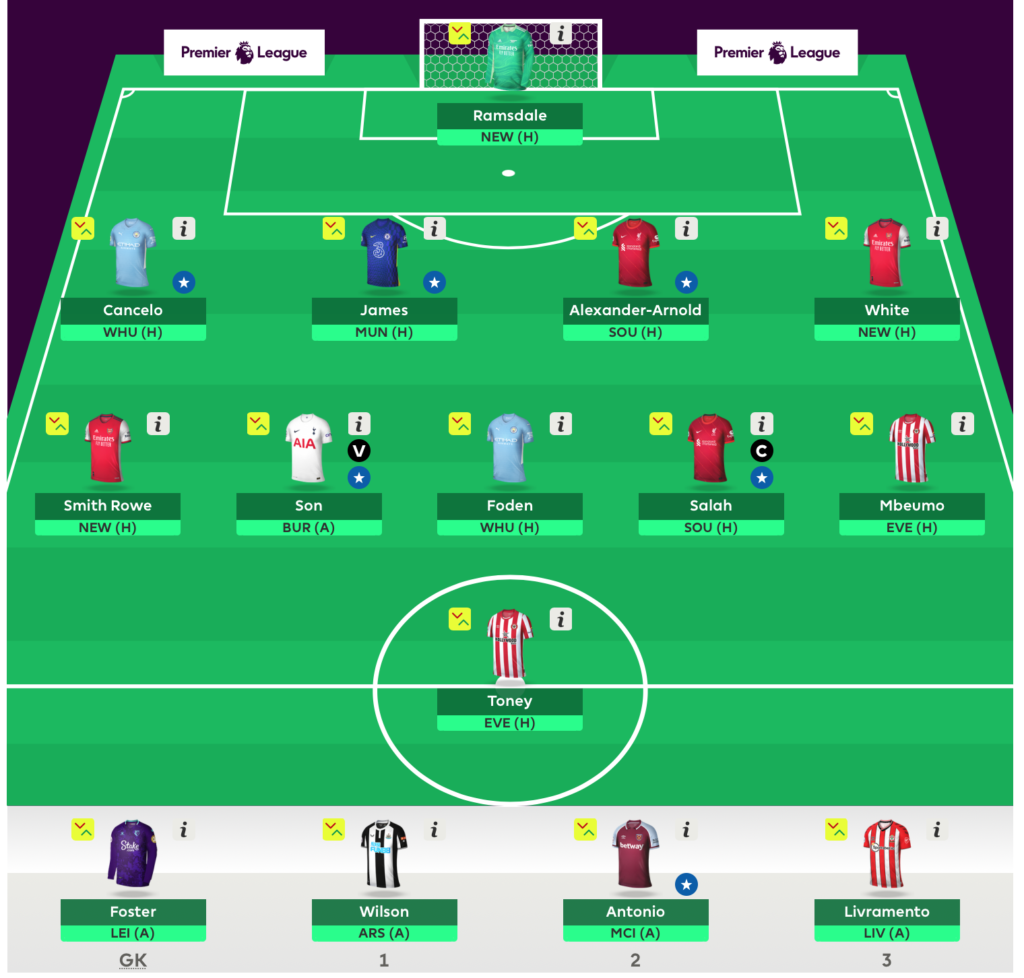 Transfer plans
Moving forward my team looks well set for the weekend. Toney and Mbuemo are on the chopping block but with a home game against an out-of-sorts Everton, this is not the week to sell. My plan was to roll my transfer and finally get Chilwell in for the mid-week GW14 fixture with either of the aforementioned Brentford boys making way. However, with Chilwell now an injury concern my plans may have to change, or if of course, Alonso looks likely to have a run in the Chelsea side then he is an able-bodied alternative and my moves will still look very similar.
It feels strange benching both Wilson and Antonio, but I think it's the correct play given the fixtures of my current 'bus team'. My captain as ever stays with Salah, Son takes the VC should Salah get an unexpected rest ahead of what is going to be a very busy festive period.
Transfer summary: Rolling
Captain for GW13: Salah
KOP – TEAM LINK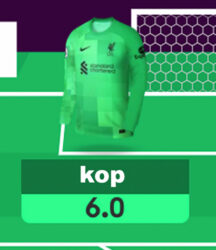 GW12 points: 77
Total Points: 805
Overall Rank: 85,094
Rank Change: Green arrow 10k
Free transfers: 1
Money In the bank: £0.9m
Chips: None used
GW12 Review
The good:
4 green arrows in a row and into the top 100k meant it was another relatively decent gameweek. The stars of the show were unquestionably Messrs Rudiger, Cancelo & Alexander-Arnold whom between them accounted for 53% of my total points.
Having sold Havertz and Vardy it was good to see them both blank. Their replacements? Gallagher chipped in with an assist. I'll deal with Harry Kane below!!
The bad:
Raphinha missing the Spurs game due to illness was a disappointment. I realise Spurs won the game but they were terrible for large parts of it and I'm confident that had Raphinha played that he would have scored or assisted.
When Norwich scored twice against Southampton on Saturday I was pretty smug, as I'd benched Livramento while many had started him. My smugness came back to haunt me on Sunday as Livramento came off my bench to replace the absent Raphina.
The ugly:
Harry Kane. I fell into the trap. When it was suggested last week that the site team buy Kane my reply was "Is Kane playing against a team of window cleaners this weekend?" I should have listened to myself. Since the game on Sunday, I've seen people claim that Kane took up a more advanced position than in previous games. If that the case, I must've been watching a different game. He was hopeless. Here's hoping he does better over the weeks ahead…
GW13 Preview
Transfer plans
Reece James is a must. Getting him is going to require a hit. I haven't yet decided if James will replace White or Livramento. How do I raise the cash? Looking at the fixtures it will probably involve me selling one of my West Ham assets, with Antonio being the more likely of the two to depart. I'd actually prefer to hold Antonio over Benrahma but I'd only have £5.3m to spend on a midfield replacement and the options at that price aren't worth considering.
I've just had a look at getting Alonso rather than James. This would give me £5.8 to spend on a midfielder, but again the options aren't great. Therefore, it looks as though it will be adios Michail.
The next question is, whom do I replace Antonio with? I'll have £7.0m and I haven't even looked at my options.
Transfer summary:
White/Livramento to James and Antonio to ?
Captain for GW13: Mo
INIT – TEAM LINK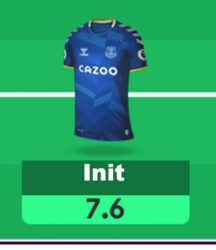 GW12 points: 71
Total Points: 747
Overall Rank: 522,466
Rank Change: Green arrow 68k
Free transfers: 1
Money In the bank: £1.3m
Chips: First Wildcard used
GW12 Review
I finally used my first WC last week and it seems to have paid off immediately. I say finally because with hindsight I probably should have used it around about GW8, and the drop off in rank in the meantime bears that out somewhat. The problem was that there was nothing intrinsically wrong with my team each week but I was also probably being a bit stubborn and holding on to one or two players that little bit too long in the hope that they would begin to repay that initial faith once more. I'm looking at you Toney and you Sarr – both of whom scored this week, naturally!
Had I not used it last week I would have finished up with about 30 points less, so hopefully that is a sign of things to come with the new look team.
The good:
The new defenders. James and TAA were two of the main reasons I decided to play it and they paid off handsomely. They are also two of the reasons I have plummeted recently so it was still a little bitter sweet.
The bad:
Probably harshly it was Guaita but he was always going to be a regret as I really didn't want him but he was the best of a bad bunch from what I had left to spend. Ideally I wanted a double up on either Chelsea or Man City.
The ugly:
Undoubtedly the new forward line of Kane and Wilson but it wasn't exactly a vintage week for forwards all round – well, apart from Ivan Toney…
GW13 Preview
Transfer plans
Looking at the above I will definitely be sticking with what I have as even if the likes of Raphinha don't make it I have a decent enough bench to cope with that, as you'd expect one week into a WC.
Transfer summary:
Sticking this week
Captain for GW13: Salah
SMASH – TEAM LINK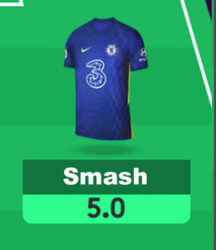 GW12 points: 85
Total Points: 822
Overall Rank: 37,397
Rank Change: Green arrow
Free transfers: 1
Money In the bank: Bugger all
Chips: First Wildcard used
GW12 Review
The good:
I had a great GW scoring 85 points and I am now inside the top 50k. I am pretty settled with my team and I like my current structure. Big at the back continues to be working for me, 48 points from my four defenders is quite extraordinary. TAA, Cancelo and the Chelsea wing-backs are just so attacking they seem to be the main source of attacking returns for their teams. I took a hit which surprisingly worked as I got Jota who scored in for Foden who blanked. Kane in for Vardy was less successful. I was really reluctant to lose Foden but I needed the cash to fund Kane. Captaining Salah this year is a no brainier most weeks. Going for the likes of Kane is like turning up for a gunfight with a knife. It just won't cut it. I am happy Toney returned too as there are not many alternatives at his price point. I continued to bench Livramento and he actually blanked which makes a change.
The bad:
There was massive hype around Harry Kane and Spurs this week. Following his seven goals on international duty, it just shows that Spurs are just a lot weaker than the English National side. Me being desperate to get rid of Vardy jumped on the Kane train which ended in disappointment. However, I thought he looked ok and really should have returned some FPL points so fingers crossed he finds his shooting boots soon enough. Mbeumo hit the post again and blanked he's fast becoming a bit of a problem but there are not loads of options around the 5.5 mark. Gallagher and ESR turned out to be the ones that got away but now I can't reach them easily.
The ugly:
Antonio is starting to look really ugly in my team right now. He just keeps blanking and he faces City this week. However, his fixtures turn soon enough and I can bench him this week. I don't see too many major issues with my team. The Brentford duo is perhaps a concern but they are cheap at the end of the day. I think Kane will come good but I do have one eye on Ronaldo when his fixtures turn good if he fails to fire.
GW13 Preview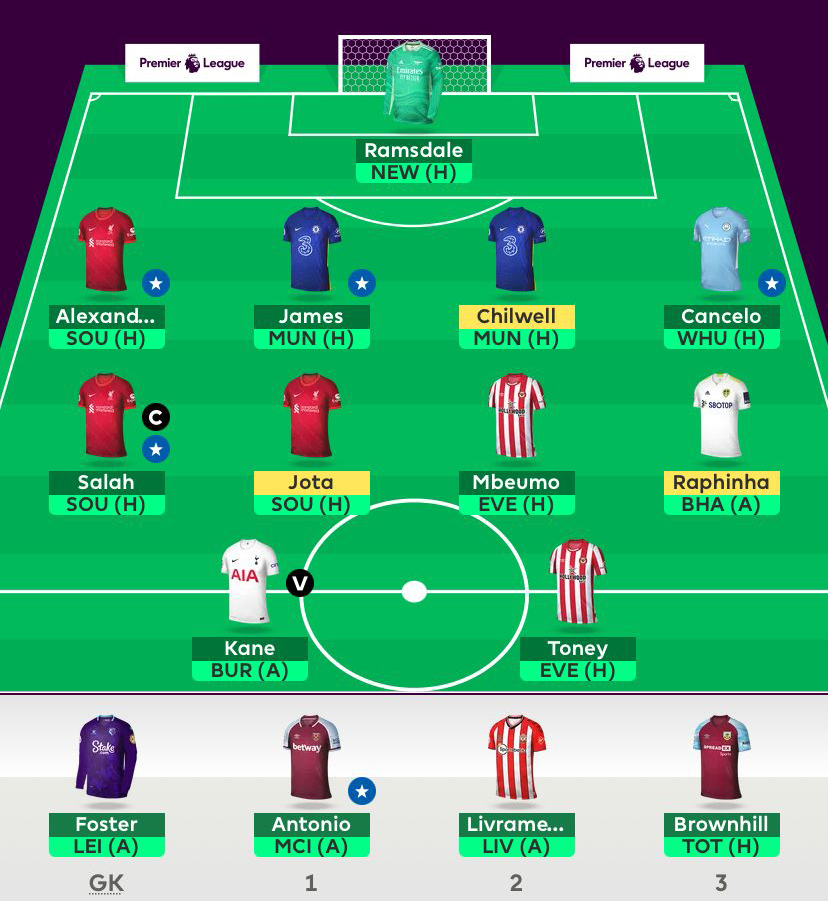 My team looks good on paper this week again. Antonio has City away and Livramento plays Liverpool away this week so the benching decisions are pretty straightforward. Stats show that Everton has the worst defence in recent weeks so I am more than happy to play my two Brentford attackers. I was all set to save my transfer this week and reassess next week but Chilwell got injured in the Champions League so I am expecting to have to deal with this for my transfer. I have value tied up in Chilwell and he's was on fire so it's a bit of a pain to replace him. However, the solution is pretty simple once I hear confirmation of the injury I will bring in Marcus Alonso. This keeps my structure and even saves me some money. Alonso potentially has a bigger goal threat than Chilwell and will be pretty nailed for the rest of the season, at 5.6 this seems like a no brainier transfer.
Transfer summary: Alonso for Chilly
Captain for GW13: Salah
KRALIN – TEAM LINK

GW12 points: 71
Total Points: 778
Overall Rank: 221,567
Rank Change: Green arrow 11k
Free transfers: 2
Money In the bank: £1.2m
Chips: First Wildcard used
GW12 Review
71 points is better than a poke in the eye with a sharp stick.
The good:
My defenders saved me this week. My defenders and Salah(c) have saved me most weeks, frankly.
The bad:
My side would be frightening if my forwards ever join the party.
The ugly:
Vardy I suppose.
GW13 Preview
After using the transfer in GW11 and 12 on fiddling round with my main and second goalkeeper I may have to engage my brain and try to flog some life into my dormant front line. The 4/3/3 formation looks like the way I'm going to play things for the time being

Transfer plans
I have two vague plans. First is Havertz to Smith Rowe and then White to James. Second is repeat plan a but take a hit too and bring in Jiminez for Antonio.
Transfer summary:
Given that White has an ok fixture I may just bring in Smith Rowe and Jiminez. All this may be rendered academic if there is carnage in Europe. Late note: if Chilwell's injury is as bad as supposed then he'll be replaced by James. White will get a reprieve.
Captain for GW13: محمد مخطئ.
Thanks for reading Fantasy Football Inside The Mind Of An FPL Player Gameweek 13. This article was written by Rosco, Kop, Init, Smash and Kralin
VOTE ON THIS WEEK'S CAPTAIN POLL GW13
FPL FIXTURE TRACKER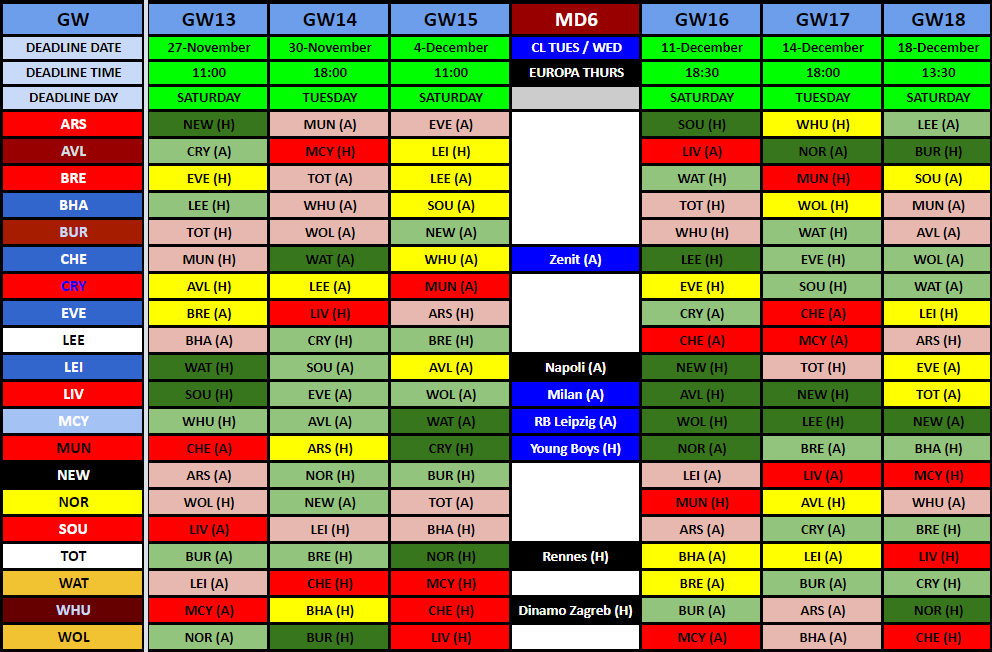 FIXTURE TRACKER LINK
SET-PIECE TAKERS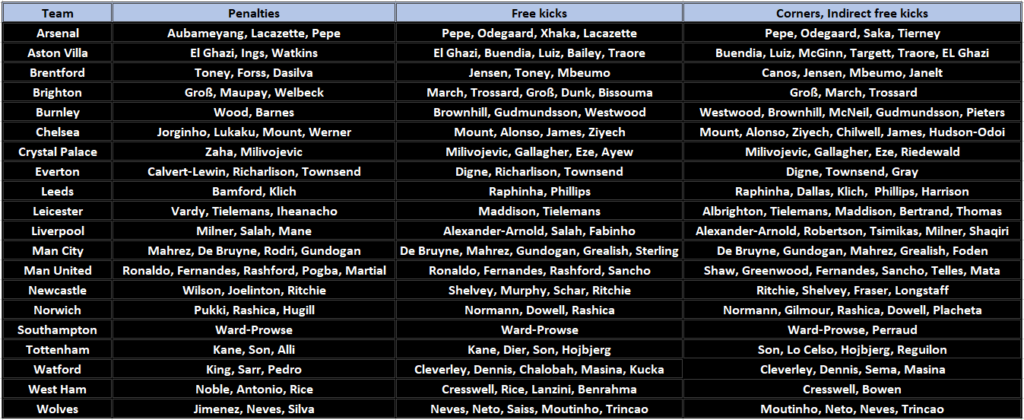 Predicted Line-Ups FPL 2021/22
You can access our Live feed to these here.
FF247 LEAGUES FOR 2021/22
Fantasy Football 247 League Codes:
Both leagues will be shut to new entrants as of 01/01/22.