Fantasy Football Live Match Chat and FF247 Site Team Gameweek 32+ #YNWA
Welcome to Fantasy Football Live Match Chat Gameweek 32+.
GW32+ Deadline; Saturday 27th June 11:30am GMT
I concur…
We really can't start anywhere else this week other than simply congratulating our new League Champions Liverpool! What a magnificent season it has been for them and it is truly deserved. None of that Jose / Chelsea nonsense of limping over the line, they did it in style and that was typified by their crushing of Palace on Wednesday night. #YNWA
Which leads us nicely back into GW31+. And quite frankly, Liverpool aside, it was fairly turgid! As has been most of the football so far, apart from a couple of Man City performances and the Arnie wannabe over there at Wolves.
Man Utd, or more accurately Martial, had a day in the sun too. But to sum up last week, if you take out them and Liverpool the other 8 games produced 14 goals between the 16 teams.
Fun fact, apropos nothing (sort of); less than 200,000 people tuned in to Newcastle v Aston Villa live on TV.
Onto GW32+…
It's probably worth noting that there are FA Cup games this weekend and by some quirk of fate all four ties are filled by PL teams. Normally this would mean a blank weekend of fixtures for Norwich, Man Utd, Sheffield Utd, Arsenal, Leicester, Chelsea, Newcastle and Man City. And of course all of their PL opponents. But that's not so in our brave new world of trying to see how many players we can injure in the shortest space of time possible. All of the aforementioned will then gallop into GW32+ action at some point prior to Thursday.
It does mean a tepid start to the game-week with just one game each day between Saturday and Tuesday before we finish with a flurry on Wednesday and Thursday.
As always we shall endeavour to post the line-ups prior to each phase of the relevant GW and our usual FPL Countdown Timer (to be found above the latest comments section) will once again be active.
Tips will be dispensed in the chat below but feel free to get involved in said chat, whether that's asking for advice or answering others.
FF247 SITE TEAM GW32+
This is where LMC takes a slight twist. Given the lack of opportunity to post any full or meaningful articles it is our intention to simply post our weekly transfer and Captain choice on here prior to each deadline. As a result this article will be posted way in advance of when it usually is, probably not long after any given GW ends.
Our GW31+ Result…
On Wednesday evening we were looking a bit ropey with just 62 on the board, even though that still represented a 5k jump in rank. Fortunately we had a Burnley double clean sheet on Thursday and also KDB doing what he does which meant we finished on a respectable, if not spectacular 86 points. This resulted in an overall rise of 28,598 places to 113,358th.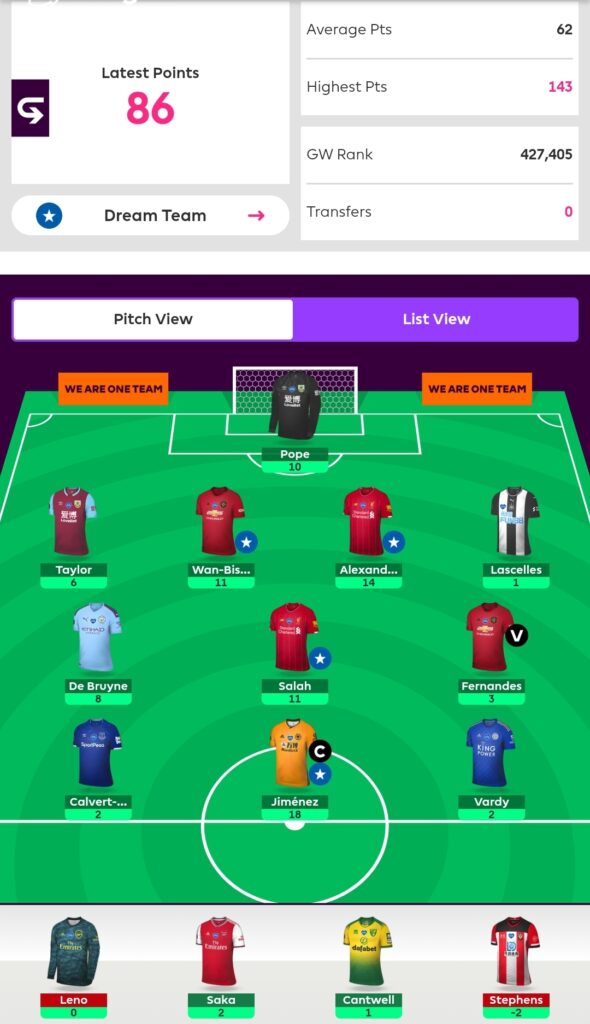 GW32+ TRANSFER
We have SOLD Jamie Vardy and Jack Stephens and have BOUGHT Marcus Rashford and Matt Doherty. These transfers are a bit of a one week punt although it can be said that both players also feel like good long term investments. We say one week punt, because as of now our plan is to attack this GW and play our wildcard the next. So we wanted two players who felt like they could pay immediate dividends and you never know, if they do well enough they could easily stay in our side once we iron out our wildcard side next GW. One of our committee members came out for attacking the GW hard and the group turned excited, but then he suggested that we get Martinez for Leno with one of our two freebies. I tell you, sometimes you can't make this stuff up. It's ok though once he recovered from a quick :punish: and a little ridicule he suggested the above and there was unanimous consent on the two moves. Which is really unusual for our lot.
GW32+ CAPTAIN
Our Captain for GW32+ will be RAÚL JIMÉNEZ
We are sticking with Mr Consistent. His pick probably just about sums up the FF247 approach to FPL; he feels safe, the pick itself looks and feels sensible, renegade it isn't but that's not what we do. We'll take his '7 point goals' every week and move along steadily thank you very much.
Our Vice-Captain, should we need him, will be Marcus Rashford.
Our GW32+ team in full…
Should you wish to follow the FF247 Site Team's progress you can do so here.
The games in full…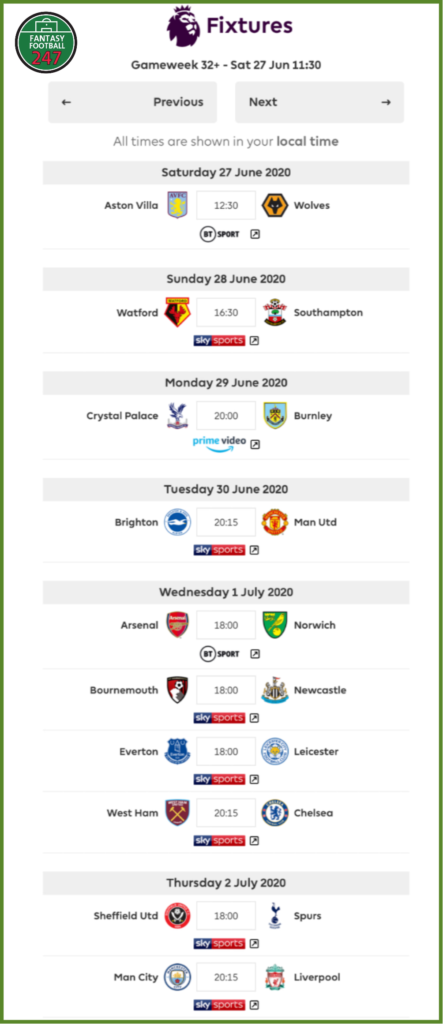 Keep track of all the action, the goals, the talking points, right here at FF247 Live Match Chat, an interactive chat which encourages you to keep involved and share your thoughts and emotions as the matches take place.
CAPTAIN POLL GW32+
Good luck to absolutely everyone for Gameweek 32+ from all at FF247!
Thanks for reading Fantasy Football Live Match Chat and FF247 Site Team Gameweek 32+.
FPL FIXTURE TRACKER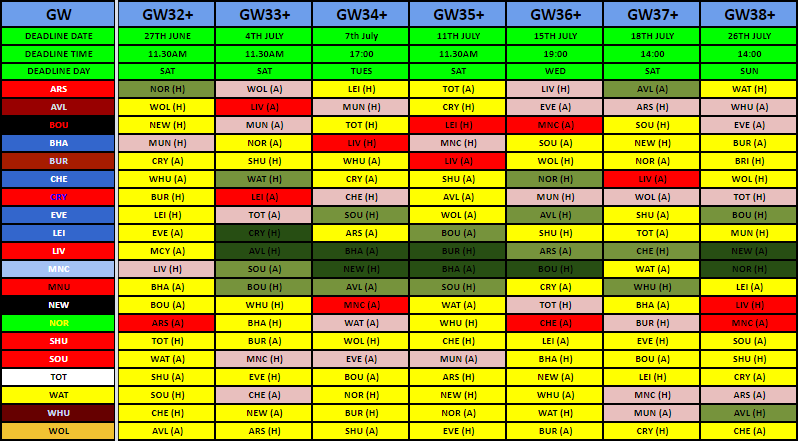 FIXTURE TRACKER LINK
Fantasy Football 247 League Codes: