Fantasy Football Live Match Chat and FF247 Site Team Gameweek 33+
Welcome to Fantasy Football Live Match Chat Gameweek 33+.
GW33+ Deadline; Saturday 4th July 11:30am GMT
Fickle, much?
And on we go again! We hope you enjoyed your one day break from football. Or at least your spouse / better / worse half did. But fear not if you were having withdrawal symptoms as this weekend will certainly make up for it. Technically speaking you can watch football on Saturday from about noon until 10pm (and then stick MOTD on), and then again on Sunday it's likewise but sadly only up until 9pm, (MOTD 2 will probably follow).
There's then just the one game on Monday but don't panic as GW34 then gets underway on Tuesday!
As always we shall endeavour to post the line-ups prior to each phase of the relevant GW and our usual FPL Countdown Timer (to be found above the latest comments section) is once again active should you need a timely reminder.
Tips will be dispensed in the chat below but feel free to get involved in said chat, whether that's asking for advice or answering others.
FF247 SITE TEAM GW33+
This is where LMC takes a slight twist. Given the lack of opportunity to post any full or meaningful articles it is our intention to simply post our weekly transfer and Captain choice on here prior to each deadline. As a result this article has been posted way in advance of when it usually is.
Our GW32+ Result…
Last week (was it, sort of?) we spoke about a couple of one-week punts and we have to say they both disappointed a bit. Doherty got his clean sheet but nothing more and the less said about Rashford the better.
Our double Burnley defence (we lie somewhat, Taylor came off the bench!) did us proud as usual with 16 points between them. Elsewhere in defence Wan-B waved his wand and got us 10. We'll forgive TAA, both an off night and apparently a week on the ale.
KDB and Bruno were our other linchpins with a total of 29 between them.
DCL and Salah can go sit with Rashford in the deuce dunce corner.
Had we nailed our Captain we would have probably been looking at a very good GW. As it was we went 'safe' with Jimenez. Safe got us 4 points…
We did still manage to get 71 points which saw us register our 3rd straight post-lockdown green arrow which puts us up about 13,280 places to 100,078th.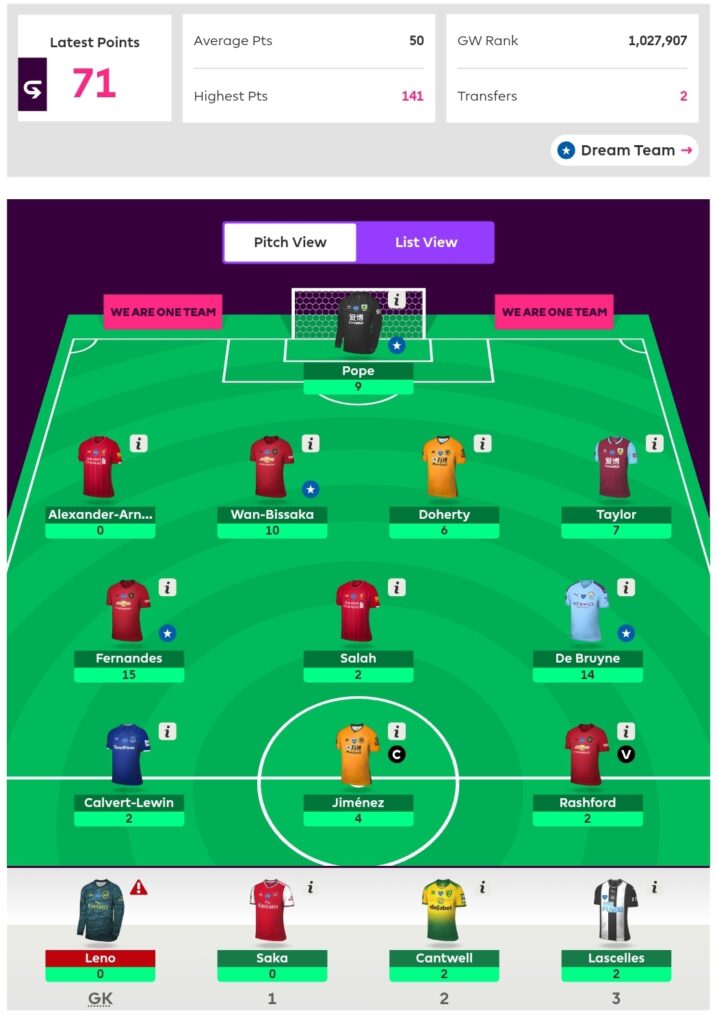 GW33+ TRANSFER
We have WILDCARDED!
We mentioned last week that we had identified GW's 33 and 34 as being a good combo for two of our remaining 'chips' (technically the WC isn't a chip but you know what we mean) and our intention was to WC in this one with a view the Bench Boosting next week. And for once we have told the truth!
The new squad itself is in the picture below but we won't go through it in minute detail as it is pretty self-explanatory. In short, we have had to include a couple of cheapies in the likes of Foden and Greenwood in order to afford the rest of the usual suspects, all with a view to that BB next week. Our two youngsters have however both been getting good minutes and crucially also producing point returns. We've kept our Liverpool duo in the hope that they sobre up a bit before a plum game against Villa (in theory). The rest either have good fixtures or are in such good form that we couldn't ignore them.
GW33+ CAPTAIN
Our Captain for GW33+ will be BRUNO FERNANDES
Our Vice-Captain will be Salah.
Salah had this in the bag. Until we saw him and his drunk-mates on Thursday night! And then the fickleness struck. Before City's 4th had even been conceived we had a full house of twitchers and Bruno emergered from the shadows. We've decided to take the in-form Fernandes who still has something to play for over the lacklustre looking Salah, who doesn't.
Our GW33+ team in full…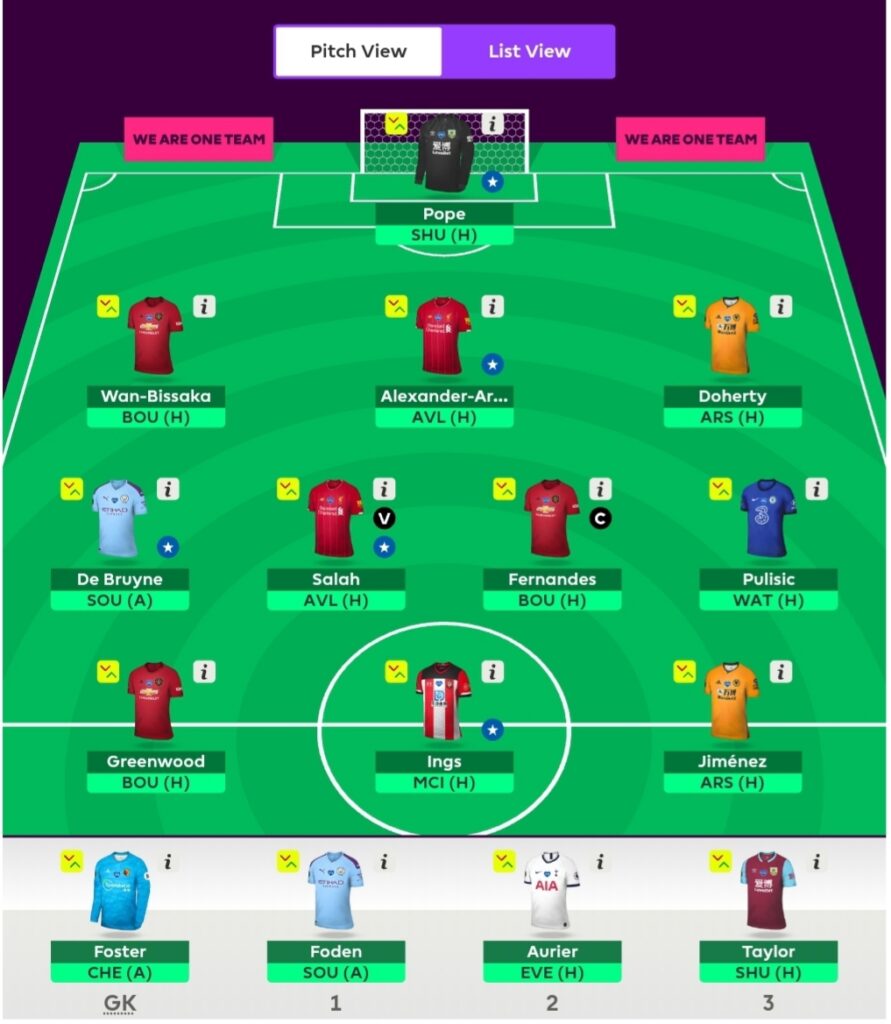 Should you wish to follow the FF247 Site Team's progress you can do so here.
The games in full…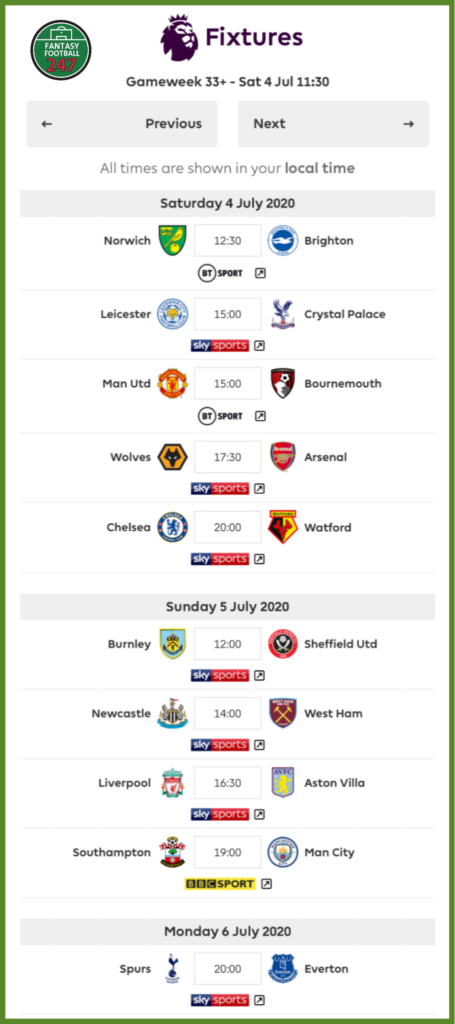 Keep track of all the action, the goals, the talking points, right here at FF247 Live Match Chat, an interactive chat which encourages you to keep involved and share your thoughts and emotions as the matches take place.
CAPTAIN POLL GW33+
Good luck to absolutely everyone for Gameweek 33+ from all at FF247!
Thanks for reading Fantasy Football Live Match Chat and FF247 Site Team Gameweek 33+.
FPL FIXTURE TRACKER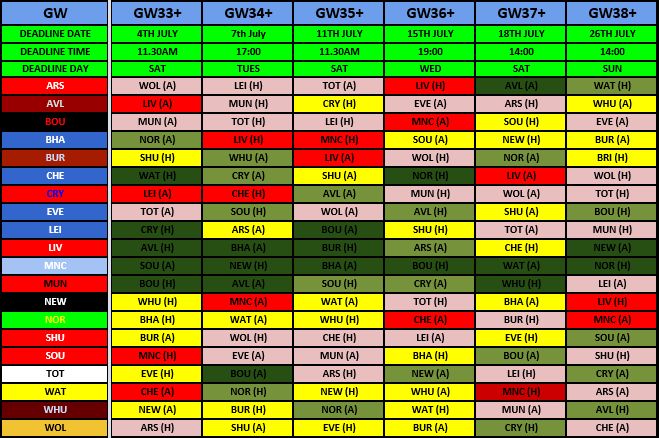 FIXTURE TRACKER LINK
Fantasy Football 247 League Codes: