Fantasy Football Live Match Chat and FF247 Site Team Gameweek 34+
Welcome to Fantasy Football Live Match Chat Gameweek 34+.
GW34+ Deadline; Tuesday 7th July 5:00pm GMT
A game of two halves
WAKEY WAKEY FOLKS! GW 34+ is upon us, about 14 hours after the last one finished. And we are back as ever with the latest LMC and FF247 Site Team news.
Finally it looks like some of the players and teams are warming up nicely and perhaps those balmy yet boring evenings of bore draws and friendly pre-season type games are behind us. This particular one spans three days over Tuesday, Wednesday and Thursday before we have the now usual break on Friday ahead of getting going again with GW35+ on Saturday. It's Christmas on steroids.
As always we shall endeavour to post the line-ups prior to each phase of the relevant GW and our usual FPL Countdown Timer (to be found above the latest comments section) is active should you need any quick help keeping up.
Tips will be dispensed in the chat below but feel free to get involved in said chat, whether that's asking for advice or answering others.
FF247 SITE TEAM GW34+
This is where LMC takes a slight twist. Given the lack of opportunity to post any full or meaningful articles it is our intention to simply post our weekly transfer and Captain choice on here prior to each deadline. As a result this article is now posted way in advance of when it usually is.
Our GW33+ Result…
Our GW (and WC) got off to a flier with Captain Bruno of the Good Ship Ole hauling 30 points. His mate Mason grabbed two goals and his performance probably deserved more than the meagre 13 that it brought in. The new Mbappe anyone? Either way enjoy him at £4.4m as he'll be a damn sight more next season. Wan-B was our other United asset but Bournemouth unexpectedly p*ssed on our CS chips.
Doherty and Jimenez were suprisingly quiet against Arsenal but Pulisic rounded our Saturday off nicely with an assist and a great performance which gives us hope that he will keep his spot in Frank's team. The new Hazard anyone?
If Saturday was good then Sunday was a different beast as it began poorly with Pope conceding a late goal and the feckin eejit didn't even make enough saves to garner a bonus. He's been told. Must try harder.
Things did improve marginally with Salah grabbing a late assist and TAA managing an inevitable CS, but nothing more. Not quite what we expected from either at home to Villa. KDB was then benched, as was Foden who would have been his replacement for us. Both emerged for fruitless 30 minute cameos. The only surprise was that Foden didn't score to compound our Sunday misery.
We finished the week on 71 points. That left us with another green arrow and a rise of 13,150 places up to 86,928TH.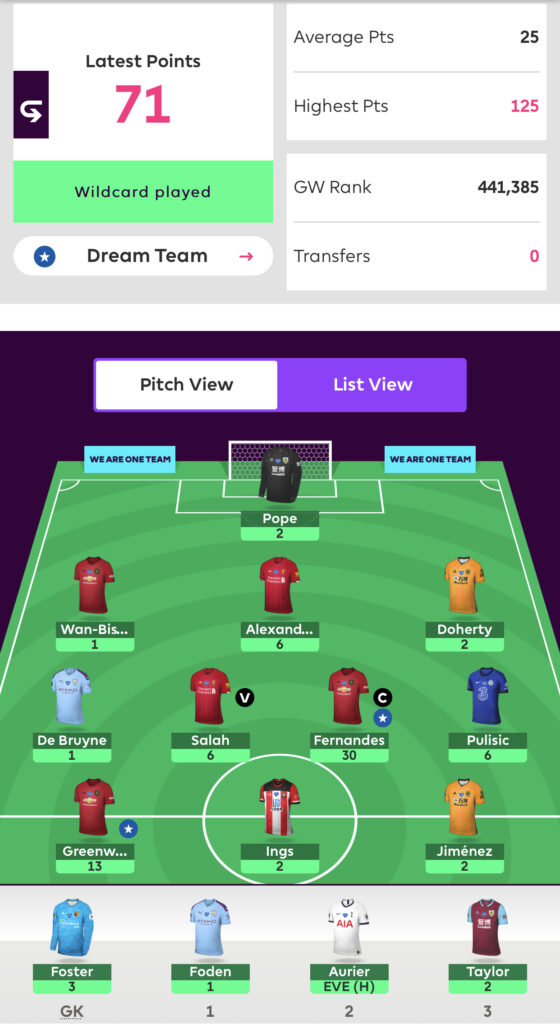 GW34+ TRANSFER
We have SOLD and BOUGHT……eh? Not sure? So a day or two ago we were all for selling Salah and buying Son. Then we watched Spurs play a bit and started thinking maybe that was not so wise. The problem though is we had no consensus on what to actually do. Someone said Sterling, the other said just keep Salah. Kop is still drunk and one of our other committee members never appeared. So basically the decision was left to the person finishing up this article and if you leave the decision to a lazy person don't be shocked when he makes the lazy (not necessarily wrong) decision. So we did nothing or did we? Well, if we do change our mind in the morning we will be sure to update this article and post it on the chat, well someone will, but it won't be this lazy ass, my work here is done!!
We have played our BENCH BOOST
Yep, we're going chip crazy here. In fact this is our last. We played our WC last week with the intention of following through with the BB as we had identified this week and last as a good combo for doing so. Part 1 went well ish, let's see how Part 2 pans out…
GW34+ CAPTAIN
Our Captain for GW34+ will be Kevin De Bruyne.
Ironically his benching at Saints helped us along nicely to this decision, for obvious reasons. Although he did look a little off colour when he came on. Probably just needs a shave.
Our Vice-Captain will be our new signing Bruno Fernandes.
Our GW34+ team in full…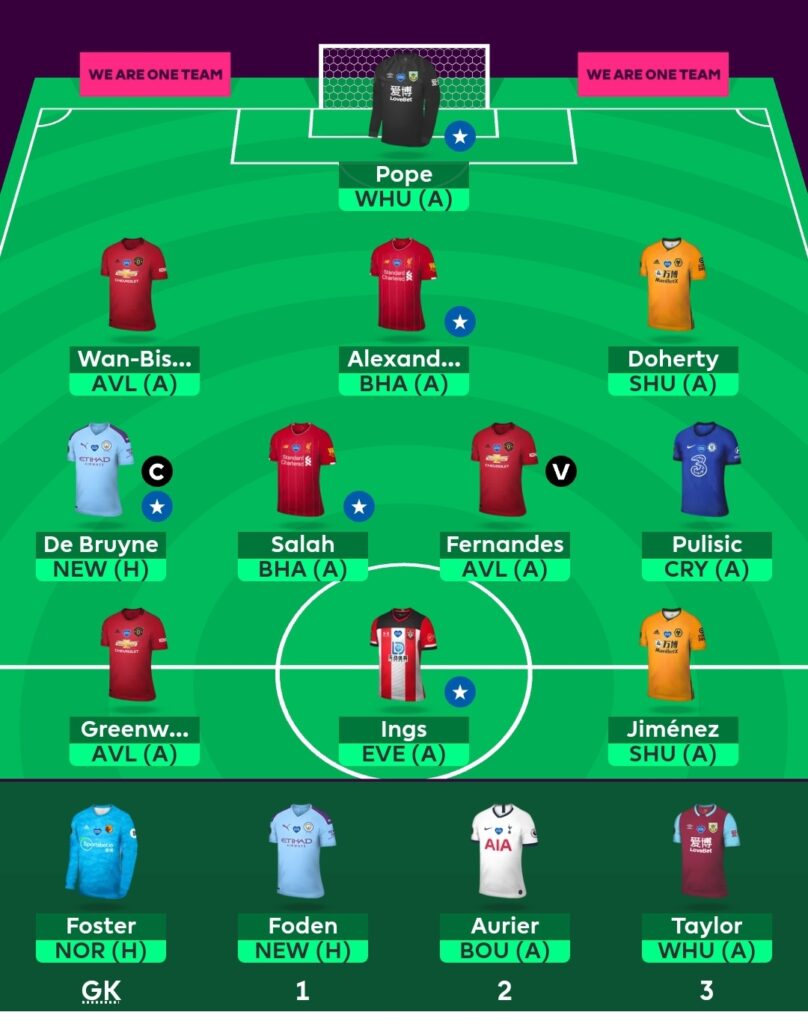 Should you wish to follow the FF247 Site Team's progress you can do so here.
The games in full…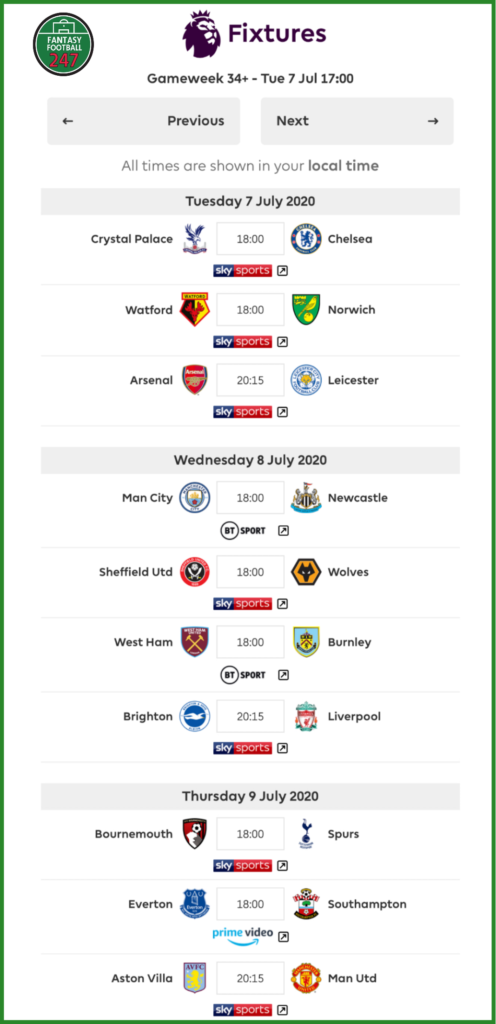 Keep track of all the action, the goals, the talking points, right here at FF247 Live Match Chat, an interactive chat which encourages you to keep involved and share your thoughts and emotions as the matches take place.
CAPTAIN POLL GW34+
Good luck to absolutely everyone for Gameweek 34+ from all at FF247!
Thanks for reading Fantasy Football Live Match Chat and FF247 Site Team Gameweek 34+.
FPL FIXTURE TRACKER

FIXTURE TRACKER LINK
Fantasy Football 247 League Codes: