Fantasy Football Live Match Chat and FF247 Site Team Gameweek 36+
GW36+ Deadline; Tuesday 14th July 7.15pm GMT
These game-weeks are turning up more often than a Trump gaffe but unlike the illustrious leader we have your best interests at heart.
So take note of this week's deadline…. 7.15pm on TUESDAY. We had FF247's very own Rosco joining Raz's 'Forgot the deadline club' in GW35+ so be warned it can happen to the best (or sleepiest) of us.
GW36+ is a 4-day Tuesday-Friday game-week starting in West London and ending with a Friday night knees up in the East End.
Loads of opportunities for big hauls with Chelsea hosting Norwich, City toying with the Cherries (but who will Pep rest?), Everton having a pop at that Villa defence, the United scoring tour stopping off at Palace, Ings looking to do a Raheem to the Brighton defence and Antonio owners praying for a déjà vu.
As always we shall endeavour to post the line-ups prior to each phase of the relevant GW and our usual FPL Countdown Timer (to be found above the latest comments section) is once again active.
Tips will be dispensed in the chat below but feel free to get involved in said chat, whether that's asking for advice or answering others.
FF247 SITE TEAM GW36+
Our GW35+ Result…
Saturday started off well with our new acquisition Cresswell getting a clean sheet. Unfortunately things went downhill from there! Foster inevitably conceded and then TAA was benched. Salah, KDB and Pulisic may as well as have been too for all they did. 17 points from 6 was looking a far way from our 114 heroics only a few days ago.
Our Sunday interest was limited to our other new acquisition Vardy. He duly delivered too, with a goal in a 4-1 hammering. Unfortunately it was the wrong way round, so much for chasing Bournemouth!
Monday saw us out with our treble Man Utd coverage and Ings. For the most part they had the same luck as the rest of the team. Ings, Greenwood and Wan-Bi combined for 4 points. Bruno at least got an assist and since he was our captain that gave us 10, not great, but compared to most of his mates, it was freaking awesome. This left us with a final tally of 38.
This bad GW led us to dropping 16,724 places and left us in 50,146th place in the overall rankings.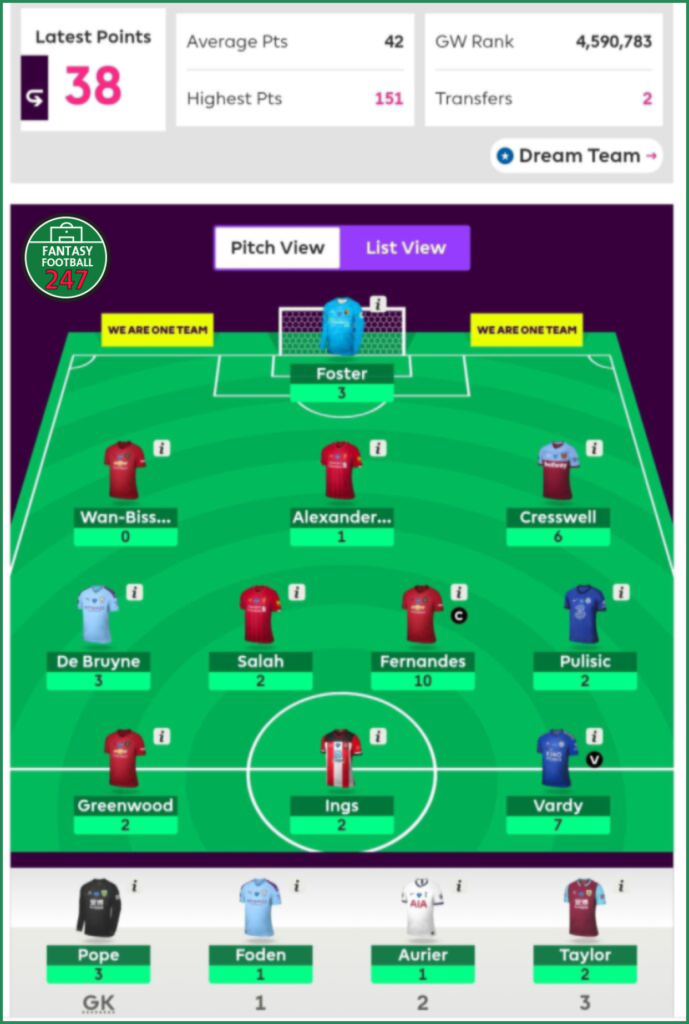 GW36+ TRANSFER
We have sold KDB and bought David Silva.
The transfer decision this week was painful, drawn out and not really concluded in an satisfactory manner, but this is what makes it fun and never boring. This week's matches come just before the FA Cup semi-finals and as such we were led by Pep's comments that he will make 5/6 changes to the midweek starting XI at home to Bournemouth. Cue the clamour to get in David Silva who has been in such sparkling form when he plays, but of course can't play three games in a week. Home matches vs Bournemouth and Norwich seem the perfect opportunity to end his City career in a blaze of glory. Fair. But then from behind the curtain came the cry, 'Vardy to Giroud' as Chelsea host the hapless Norwich. It was an incessant cry that droned on and on before the committee could hear no more. 'FCK GIROUD'. Which is a bit bizarre given this site's infatuation with l'Adonis.
Onto the transfer decision and if we got Silva, who would go? Salah and KDB were mooted. 'Vardy to Giroud' echoed round the chambers. Again. And again. Foden to Silva? Couldn't afford that. Unless we errrrm sold Vardy for… Giroud. However as you know this committee hates hits. Well 60% of them do. In the end our Giroud lover sulked off never to be seen again (for now) and he left with the strop, 'I won't be around tomorrow to write or publish. Do what you like, nobheads.'
Finally we plumped to sell KDB. It's not a move we would have made if there was more of the season left and who's to say we won't yet buy him back for GW38? But for now Pep's priority is the Cup semi-final so we are going with the belief that KDB will see reduced (hopefully zero) minutes vs Bournemouth and likewise at Watford just 72 hours later.
Cue the KDB masterclass. And Giroud hatty no doubt.
Our only issue then was whether to bench Greenwood or Vardy. Greenwood got the call up, given he plays vs Palace who look like they lost interest months ago.
GW36+ CAPTAIN
Our Captain for GW36+ will be David Silva.
It wasn't enough to be KdB's replacement. No sir. The committee have gone all maverick and captained Silva. It could be gold! Let's hope so. Just in case we've called Pep-tation all wrong, Bruno is our vice-captain.
Our GW36+ team in full…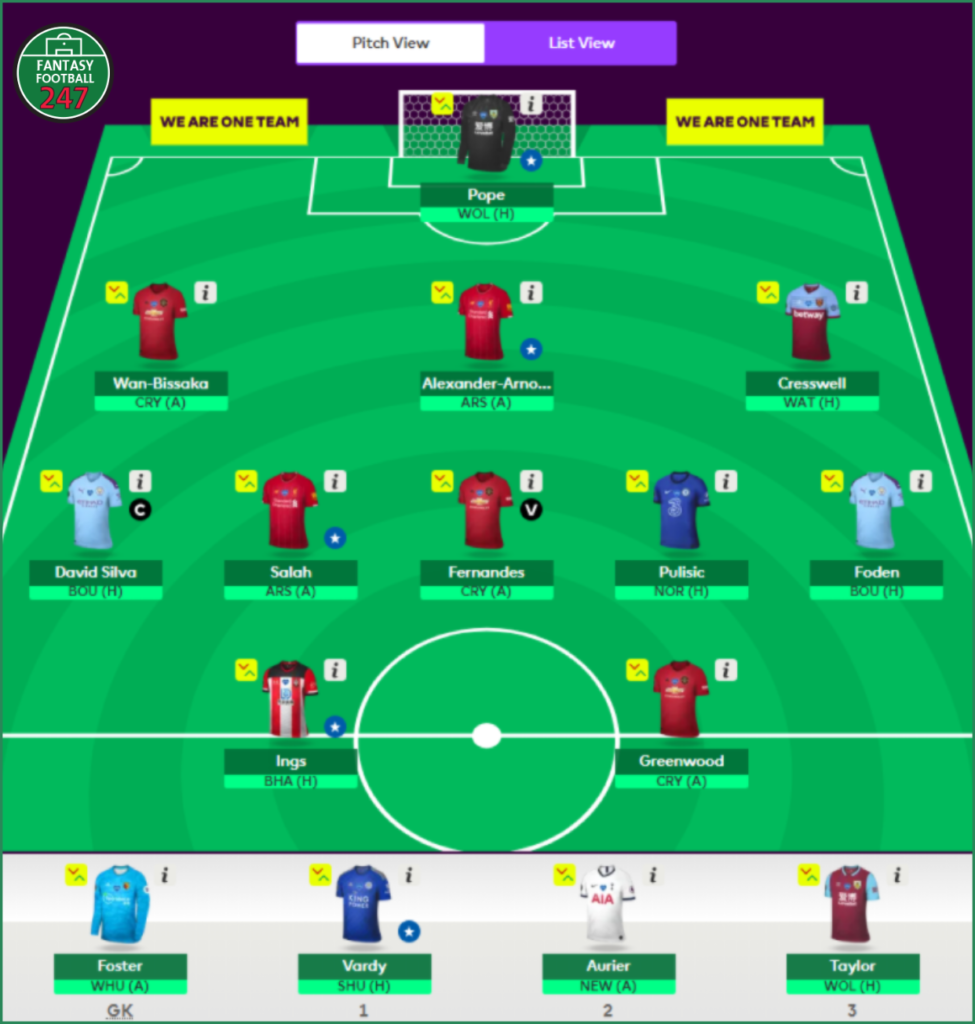 Should you wish to follow the FF247 Site Team's progress you can do so here.
The games in full…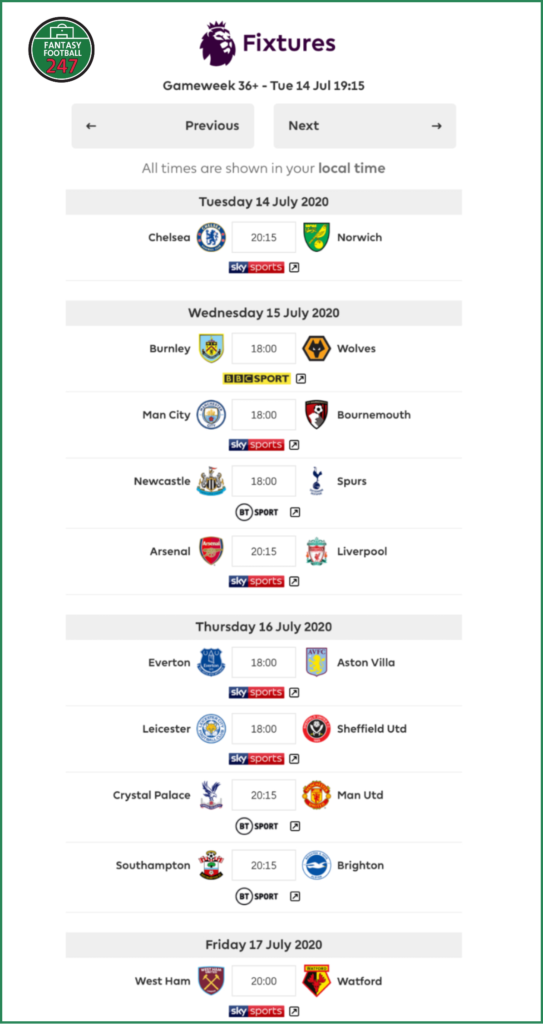 Keep track of all the action, the goals, the talking points, right here at FF247 Live Match Chat, an interactive chat which encourages you to keep involved and share your thoughts and emotions as the matches take place.
CAPTAIN POLL GW36+
Good luck to absolutely everyone for Gameweek 36+ from all at FF247!
Thanks for reading Fantasy Football Live Match Chat and FF247 Site Team Gameweek 36+.
FPL FIXTURE TRACKER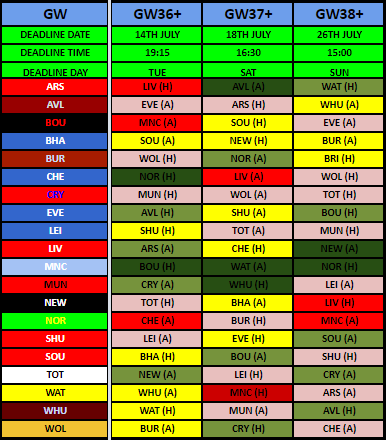 FIXTURE TRACKER LINK
Fantasy Football 247 League Codes: