Fantasy Football Live Match Chat and FF247 Site Team Gameweek 38+
Welcome to Fantasy Football Live Match Chat Gameweek and FF247 Site Team 38+.
What could possibly go wrong………………………………?
GW38+ Deadline; Sunday 26th July 3pm GMT
We've finally come to the end of what was ultimately a bizarre yet memorable season. Possibly for all the wrong reasons but it is what it is. Or was what it was, hopefully.
We can't let it go without handing out more than a few 'thanks' though. We feel like we do this every season, and we do, but that doesn't mean any of it is less heartfelt. Let's go view everybody's end of year school (FF247) report…
The Writing Team
Outstanding. We have a team of about 15 writers all told, give or take. And each and every one is a pleasure to work with. Whenever you have 'employees' that is probably box 1 ticked. Box 2 is whether they are actually up to the job. And our writers certainly are. Their body of work speaks for itself. It is consistently brilliant, and we can't thank them all enough for it.
IT
Much maligned and forever blamed. For everything. But our IT team is to 'blame' for us even having a website in the first place, maintaining it, improving it (whenever Init shouts), and generally keeping us online. It's a thankless task which goes unnoticed most of the time. And for that we thank them. We think…
Social Media
Masks off, Swirly posts our articles and a few other choice bits on Twitter, anything you see on there that is somewhat approaching controversial will be from Mito. Init oversees the lot filling in the gaps and dealing with the fallout from Mito's posts!
Matt 'runs' Facebook, although we think he may have forgotten that he does…
Site Members
By this we mean those who comment regularly. The main reason we do the work we do is you guys. We see other fantsay football sites who have little or no interaction in their comments and we wonder why they continue or where their motivation comes from as a result. You are our motivation. And we thank you all. Each and every comment keeps our pecker up and is appreciated.
Readers
To those who simply read we say thank you too. We know you are out there as we see the stats and they are staggeringly good so we know you read even if you don't interact with us. And that's fine too. Thank you.
As for GW38+ itself all the games begin at 4pm on Sunday and we shall not bother you with any needless waffle about them, they are as follows:
The games in full…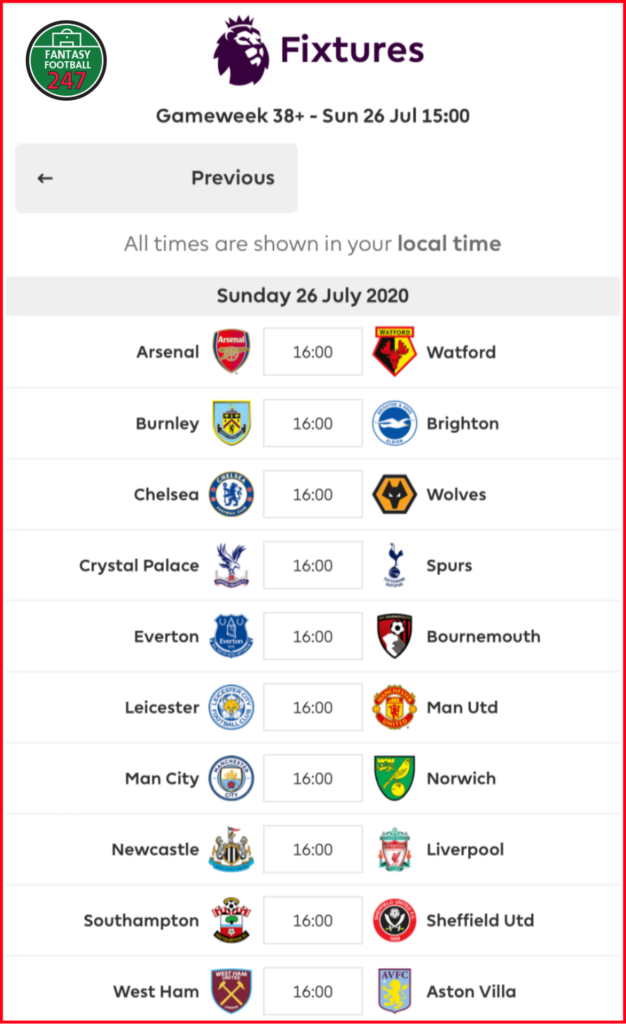 Keep track of all the action, the goals, the talking points, right here at FF247 Live Match Chat, an interactive chat which encourages you to keep involved and share your thoughts and emotions as the matches take place.
What Next?
Plenty, as it happens, so don't go away for too long.
We intend to pick up where the Champions League left off and that one begins again on August 7th so look out for our preview prior to that with a reminder about where we left it in terms of the Regs League, what the craic is going forward with transfers and the new look layout for it in terms of the fixture schedule.
GP has made a gallant attempt to get us to play Fantasy Football Scotland so if you wish to do that check out his post here . We are lead to believe there will also be articles on it. Can't wait.
Beyond that the plan for the 2020/21 season seems to be to resume on the 12th September so no doubt we shall gallop from the CL straight into our usual pre-season articles with info on the newly promoted teams and the like.
For now though enjoy GW38, and we shall see you soon!
FF247 Site Team GW38+
Our GW37+ Result…
Saturday began with an inevitable clean sheet for Pope. Sunday brought us an unexpected one from Aurier. That was after Ings had both delighted and disappointed in equal measure.
We then had to wait until Tuesday for our next involvement. Which was predominantly the City lot and new signing Auba. And what a bunch of flops the lot were! Granted, Foden got us a welcome goal but Dilva was a no show and Auba may as well have been too.
Wednesday needed to be better or we would be staring down the barrel of a huge red gun arrow. TAA did his best for us, Greenwood brought a goal and Salah an assist but Wan-B not starting was a blow and our Captain Bruno just looked spent. Pulisic was probably our surprise highlight / bonus given that he he didn't even start!
All in all we landed on 65 points which despite being 12 above the average still saw us take home a small red'un, stumbling down 2k to 41,931st.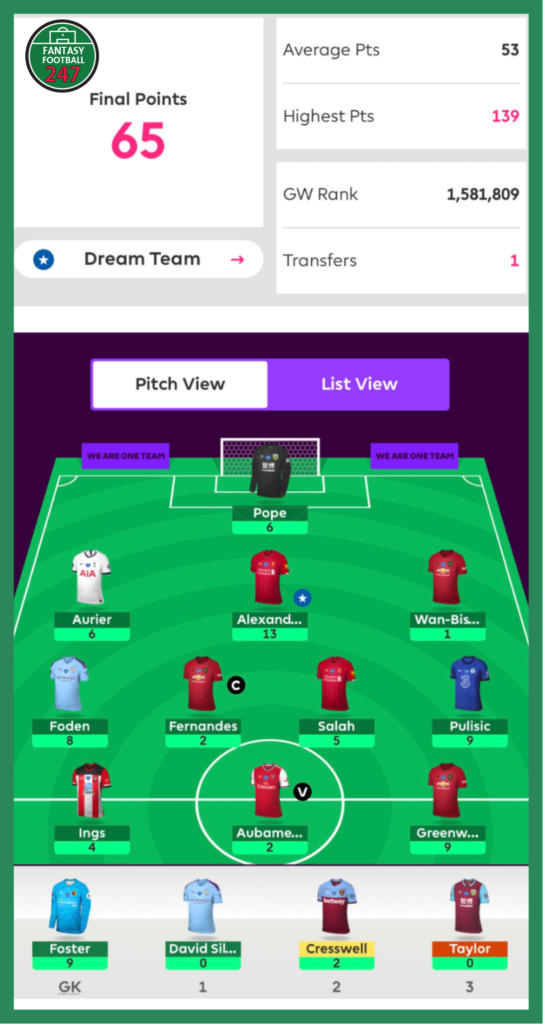 GW38+ TRANSFER
We have (n't yet) SOLD Auba and (have not yet) BOUGHT Kane
Confused?
Basically this is a proposal. In a bold move we have decided to wait until the last minute for once, in the hope of some early Man City team news. In the absence of any we shall proceed with the Kane move.
The alternatives are Salah to Sterling or KDB to Sterling. Or anyone else to Sterling… Essentially we are waiting on Mr St. Tropez.
So what could possibly go wrong… well, we have left our IT department (Floydeth) in charge of executing this transfer as he was the only one who put his hand up as being 'definitely available' for the task. Gulp.
GW38+ CAPTAIN
Our Captain for GW38+ wil be DAVID SILVA
Our Vice-Captain will (may) be HARRY KANE
Our intention is to captain David Silva and that probably won't alter unless we hear he is unexpectantly benched, which he almost certainly won't be.
Our vice is up for grabs but Kane will get it, if he gets to grace our team. Only time (or IT) wil tell…
Good luck to absolutely everyone for Gameweek 38+ from all at FF247!
Our team in full, in theory…
We shall post on site tomorrow to confirm either way.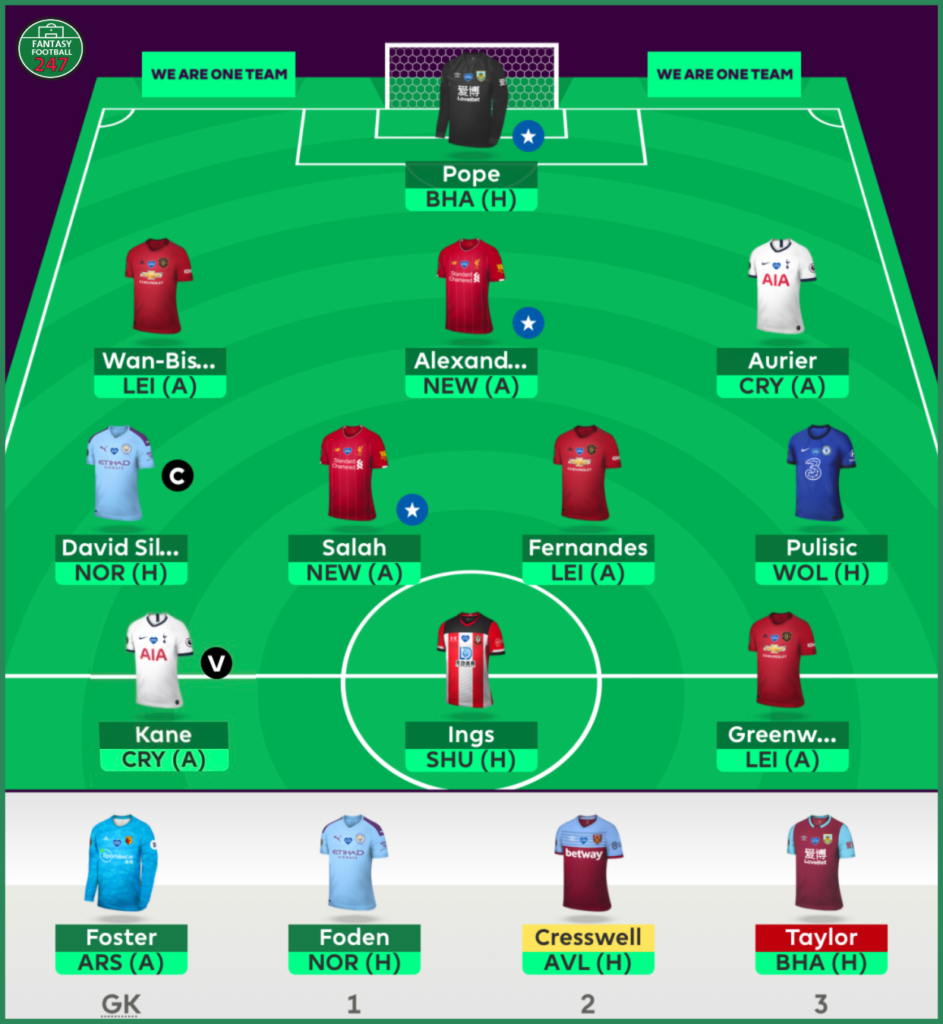 Thanks for reading Fantasy Football Live Match Chat Gameweek and FF247 Site Team 38+
FPL FIXTURE TRACKER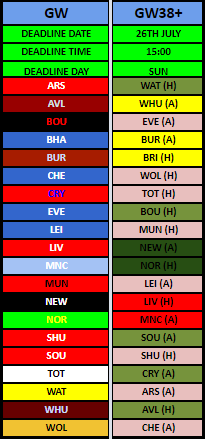 FIXTURE TRACKER LINK
Fantasy Football 247 League Codes: