Fantasy Football Live Match Chat Gameweek 13
Welcome to Fantasy Football Live Match Chat Gameweek 13. We're back to live FPL and fantasy action, finally. You've had two full weeks to mull over your key transfer and captain decisions, which is sometimes a good thing, but sometimes not! Whatever you landed on it's time to see if it was worth the wait and there's a fair chance that many of your questions will be answered straight away as we begin with a bumper bunch at 3pm with no less than six games going at once. It almost feels nostalgic.
The six said games see Brighton host Leicester with Dunk hoping for 3 in 3, Everton hoping Warnock is in his usual laissez-faire mood, Fulham hoping Ranieri has packed his magic lamp against Hughes' Saints, Woy hoping that Jose et al get stuck in traffic as usual and finally miss a home game, Watford hoping that Salah doesn't do a repeat on them and West Ham simply hoping to keep the score down to something respectable against the Pep machine.
The 5.30pm game on Saturday should be a cracker, regardless of any fantasy interest, as Spurs host Chelsea.
Sunday sees us with just the two games as Bournemouth host Arsenal at 1.30pm before Wolves and Huddersfield play out Sky's premium game of the weekend… yeah, we know #pass
But don't worry if you fell asleep during that last one as Monday night will be… oh, hang on… Who the hell schedules these TV games?! Go back to sleep, it's Burnley v Newcastle… #zzzz
The games in full…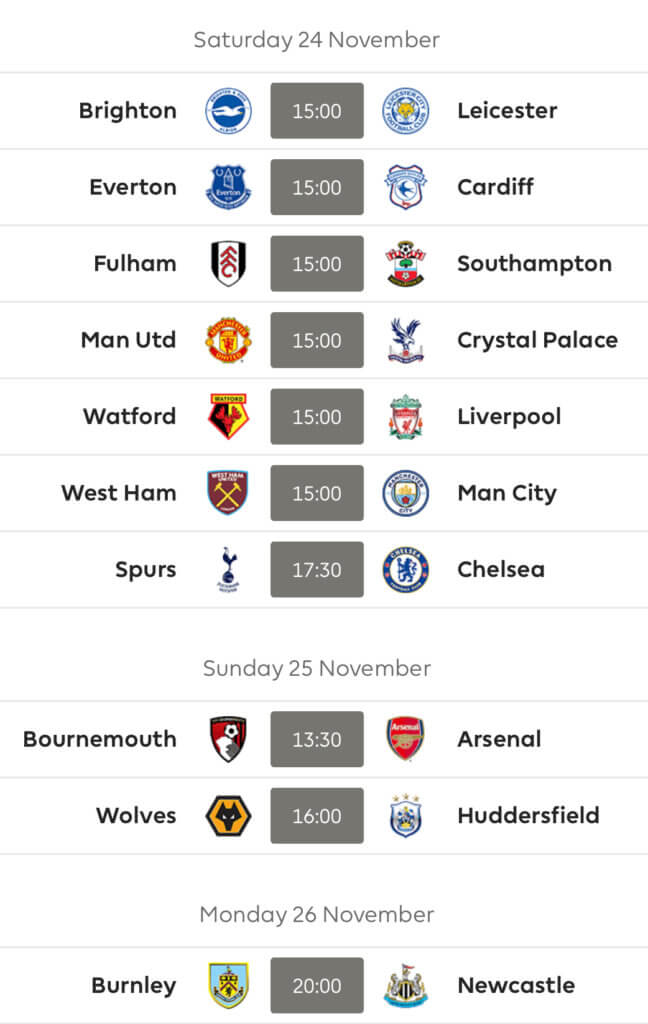 Keep track of all the action, the goals, the talking points, right here at FF247 Live Match Chat, an interactive chat which encourages you to keep involved and share your thoughts and emotions as the matches take place.
Gameweek 13 is brought to you with the help of EsportsBonusCode, a website that gathers offers and bonuses for esports websites. Fantasy Football's enthusiats can now bet on FIFA, Fortnite, CS:GO, Dota 2 or other popular games. Find out more about esports betting and the available markets on their website.
Good luck to absolutely everyone for Gameweek 13 from all at FF247!
Thanks for reading Fantasy Football Live Match Chat Gameweek 13.
FPL FIXTURE TRACKER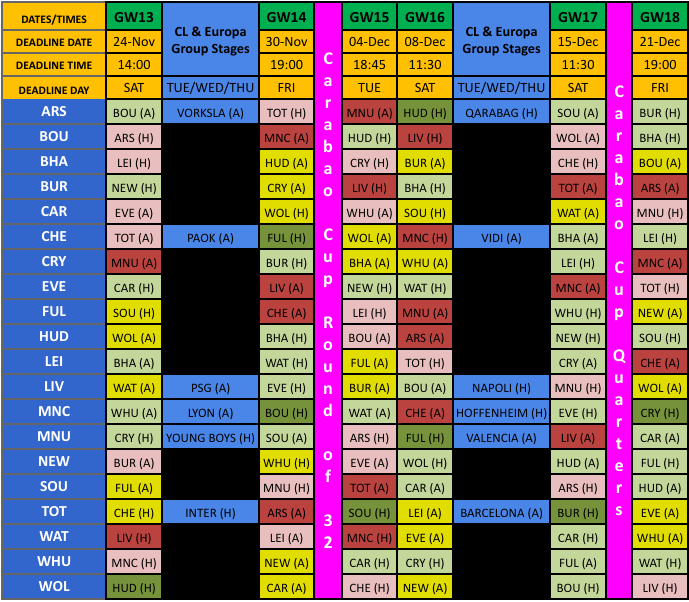 FIXTURE TRACKER LINK
Welcome to our Fantasy Football leagues section.
The League Codes for FF247 for the 2018/19 season are as follows –