Fantasy Football Live Match Chat Gameweek 34
Days of yore
Back to a relatively bog standard GW, certainly in so much as there are 10 games and every team features just once. Albeit one after the other in this new endless procession of games that we have to endure to please TV audiences. Surely there wouldn't be an outcrying of grief, even from the woke crowd, if just occasionally they lumped a few together at 3pm on Saturday for old times sake?! Just take a game involving a couple of crap teams who even their own supporters would be glad of a break from and sneak it un untelevised. Newcastle vs Arsenal springs to mind!
But we digress… GW 34 begins on Friday as Saints attempt to exorcise their (one of now many) 9-0 demons vs Leicester.
Man City kick Saturday off for us by no doubt going yet another win closer to the title when they visit Palace at 12:30pm. Brighton & Leeds get the prime 'Stelling (Jeff)' spot at 3pm before fellow CL rotatinaires (new word alert!) Chelsea host Fulham at 5:30pm. Everton and Villa see us out at 8pm.
There may or may not be a game on Sunday at 2pm, depending on how quickly we can get ourselves appointed to the PL Fixtures Committee. Man Utd and Liverpool do battle at 4:30pm, in a tribute to by-gone-days, before Spurs attempt to kill off most peoples GW by labouring against an already relegated Sheffield Utd at 7.15pm.
West Brom will seek to find new ways to throw after the safety rope vs Wolves at 6pm on Monday and then Burnley will attempt to see to Moyes' CL dream at 8.15.
The games in full…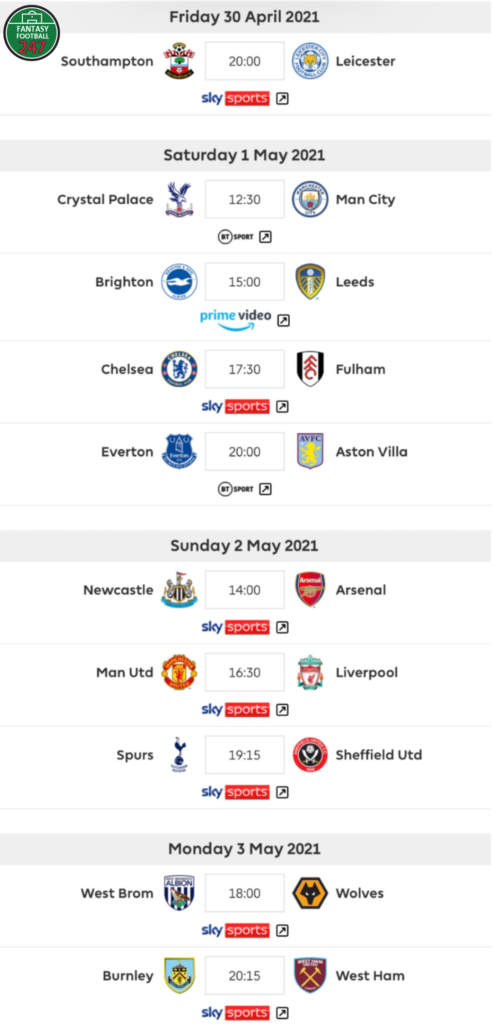 Keep track of all the action, the goals, the talking points, right here at FF247 Live Match Chat, an interactive chat which encourages you to keep involved and share your thoughts and emotions as the matches take place.
Good luck to absolutely everyone for Gameweek 34 from all at FF247!
Thanks for reading Fantasy Football Live Match Chat Gameweek 34.
FPL FIXTURE TRACKER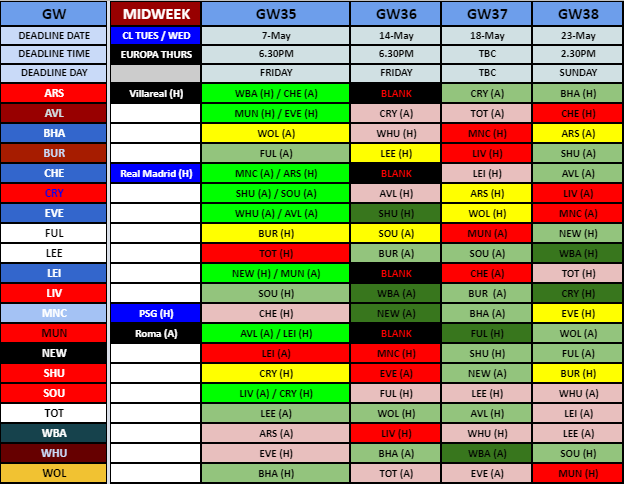 FIXTURE TRACKER LINK