Fantasy Football Live Match Chat Gameweek 8
Welcome to Fantasy Football Live Match Chat Gameweek 8. It's an early start this GW with a Friday kick-off and as ever with these things we hope you don't join us for Live Match Chat with that sinking feeling of 'why on earth have they posted Live Match Chat on a Friday night…'. And if you do (looking at you Raz!), don't say we didn't try to remind you as it was posted on each and every article this week at some point. Whether you made it in tact or not let's crack on with the games.
Brighton have the early pleasure of a very much in-form West Ham coming to town on Friday evening. Saturday then sees us with five 3pm games beginning with a resurgent Burnley hoping to build on momentum at home to a struggling Huddersfield. Palace host Wolves in what should be an entertaining and close encounter, as should Leicester vs Everton. Spurs host Cardiff in what should by rights be a shellacking, or at least any Kane captainers will hope to be the case. Watford vs Bournemouth looks another one that is hard to call. Saturday evening may be the straw that finally breaks Jose's back, and oh the irony if it is indeed Rafa who gets to waft it. Some stories you just can't write… #here's hoping
Sunday sees three games beginning with Mitro testing out Arsenal's defensive resolve, followed by Saints trying and (probably) failing to blunt Hazard and co. Then it's the game of the week at 4:30pm as Pep tries to exorcise his one real demon in English football thus far: Klopp.
THE GAMES IN FULL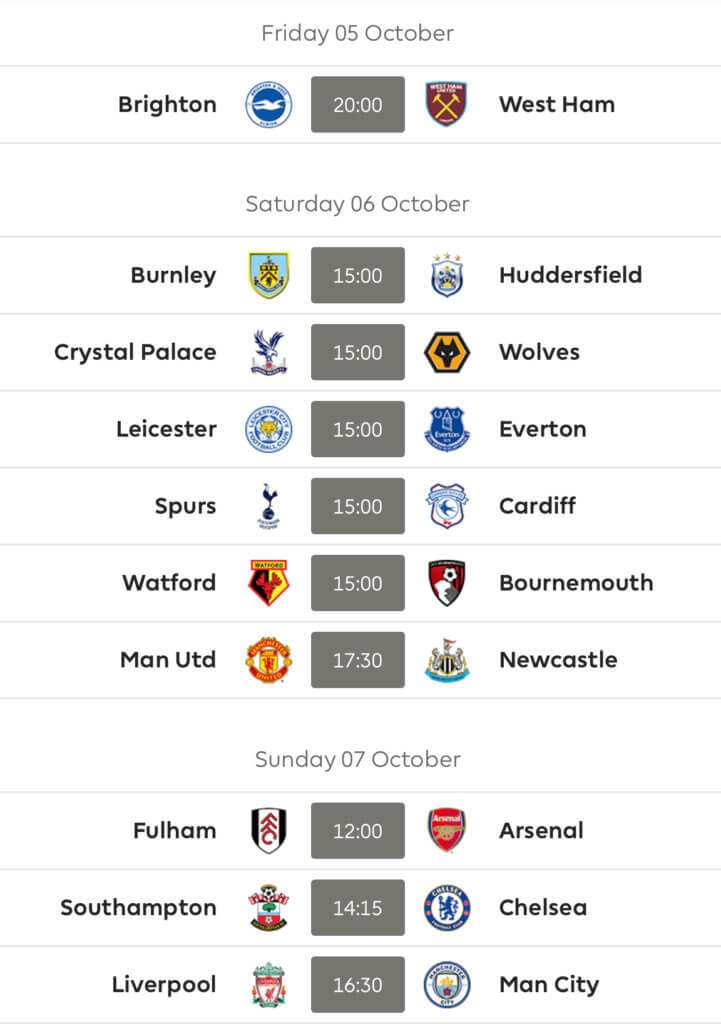 Keep track of all the action, the goals, the talking points, right here at FF247 Live Match Chat, an interactive chat which encourages you to keep involved and share your thoughts and emotions as the matches take place.
Good luck to absolutely everyone for Gameweek 8 from all at FF247!
Thanks for reading Fantasy Football Live Match Chat Gameweek 8.
FPL FIXTURE TRACKER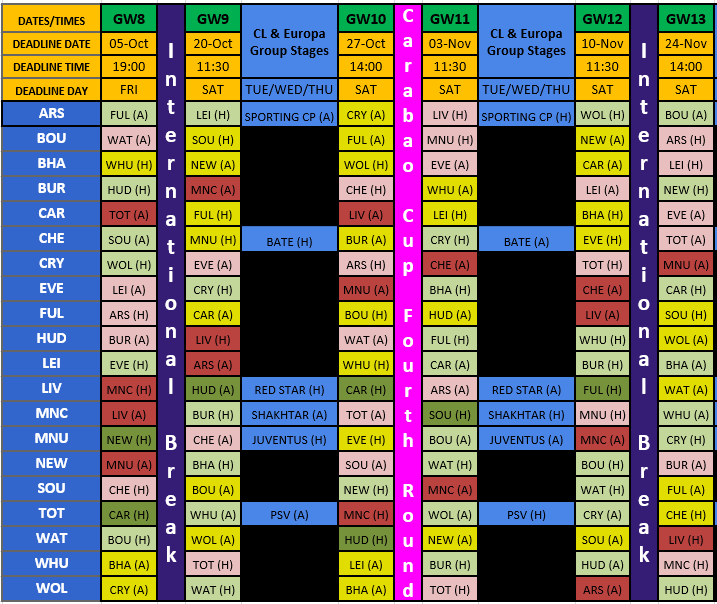 FIXTURE TRACKER LINK
Welcome to our Fantasy Football leagues section.
The League Codes for FF247 for the 2018/19 season are as follows –