Fantasy Football Press Conference and Team News GW1
Welcome to Fantasy Football Press Conference and Team News GW1. Sometimes change is needed and not because you want to make it, simply because the current situation becomes untenable. This is the case for Predicted Line-ups. We know the line-ups themselves were a popular addition but in all honesty it was stretching us to a limit on a Friday. It also meant many key personnel hiding behind a computer screen for hours on end on the busiest day of the week trying to figure out such useful things as how Huddersfield would line up. Time best spent? We think not too. We'd much rather they be out and about getting involved in the chat and helping in that way.
Facts and figures wise we stacked up as we were 76.3% accurate overall last season, which is ahead of the industry average of 64.1%. Even so, do the math, it's still hardly worth hanging your hat on…
However we did still want to get the team news out in some fashion. So what we are hoping to do is cover all the pressers on the boards, be it us or any site member who wants to jump in and lend a helping hand. Snippets, quotes, pictures and tweets all can be included. Now, this is not set in stone, this is what we are going to try to begin with, but we will adjust the format where we see fit and as long as it is something we are able to cover. We don't mind any suggestions, in fact we welcome them, put them out there, could be that your idea is something we can do and works well for site members.
There will be a Hot Topic set up for all 10 games each week. The aim is much like what we do with the pre-season stuff; click on that Topic and it will take you to that particular thread. And then post away. The result will be that anyone can come on site, wanting to know the 'Team News' for a particular game and it will be a click away.
Let's see how it works anyway…
As for the games themselves let's get over to GW1;
The almost champions Liverpool get the Premier League started when they face off vs that bird that Suarez loved to munch on, the Canaries. That Friday night fixture is followed by six Saturday match-ups. City gets the Hammers for lunch, be the hammer not the nail, be the hammer not the nail. Well expect this hammer to get his arse kicked by the nail. That bit of carpentry sees four 3pm kick-offs follow right after. And it is a who's who of…eh, well just 8 teams who could be anywhere from really bad to ok. Bournemouth takes on Sheffield U's, Burnley battles with Southampton to a boring draw, Palace tangle with an Everton who may have to outscore everyone to win and Watford vs the supposedly more attacking Seagulls. The late game sees Harry Kane score a hatty vs Aston Villa.
Sunday brings us our last three fixtures. An intriguing battle between Foxes and Wolves with many interested FPL owners watching closely. Simultaneously, we have another interesting game when the ever frugal Toon, battle the fake frugal Arsenal. The game-week is closed out by 'buy anyone who will come here' Man United vs 'can't buy anyone' Chelsea.
Thanks for reading Fantasy Football Press Conference and Team News GW1. This article was written by like all of us.
FPL FIXTURE TRACKER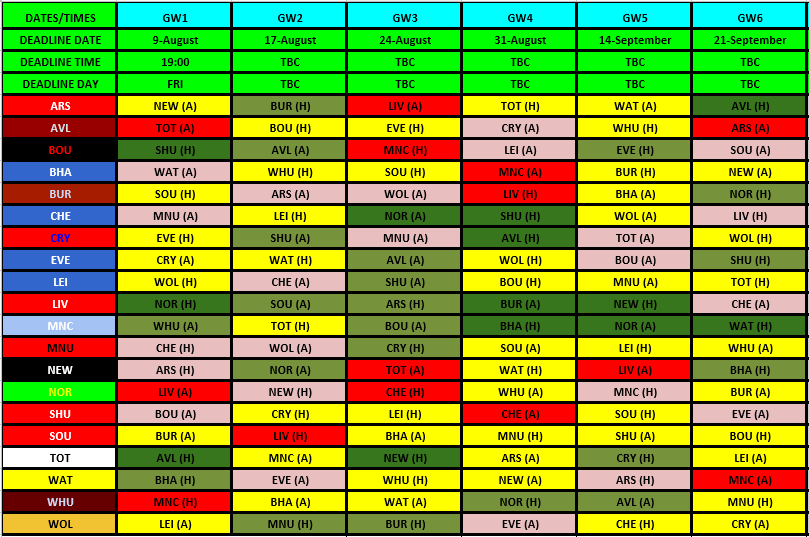 FIXTURE TRACKER LINK
Fantasy Football 247 League Codes: