Fantasy Football Press Conference and Team News GW13
Welcome to Fantasy Football Press Conference and Team News GW13
Make sure to check all the Team News before the deadline and see what each manager had to say before their corresponding fixture. Best of luck this for this gameweek and may your ranking reflect the effort you put in.
Click on the Team Badge above or scroll down to find the team news you want
Arsenal
Last Updated: Thursday 21st November
Unai on team news: "Pepe, arrived late because his travel was long. He didn't train today with the group, but he trained after our work, inside. Tomorrow I think he's going to be ready for Saturday. Some players – Kolasinac, Bukayo and Rob Holding – didn't train this morning because they have some small, small injuries. Not important injuries. Maybe tomorrow they could be ready for training and to be ready for Saturday, but we are going to wait until tomorrow morning and the last training."
Emery seems to be concerned about Southampton and I agree, because if you lose to them at home, you will be joining Poch at a London bar to watch next week's fixtures.
Ceballos is out as he continues his recovery from being loaned to Arsenal.
Emery had this to say on Xhaka "He is feeling better and also feeling that his team is Arsenal now." Ahhhh, that's why he looked like he was helping the other team in games, he didn't know he was playing for Arsenal.
Aston Villa
Last Updated: Friday 22nd November
Jack Grealish has trained this week but Smith was reluctant to confirm he would play: "Jack's been training with us, but I am a bit ill-at-ease to say he's been available because I've said it the last couple of weeks and he's not played, such has been his calf injury…But he's trained with us for the last week so I have no doubts he will be there and in his happy place at Villa Park playing in front of the fans."
Sounds like Tom Heaton will return between the sticks: "Tom has been out on the grass today, and he'll be training tomorrow and Sunday, ahead of the game on Monday."
Jed Steer will miss the remainder of the year due to a partial tear of his achilles.
All players who went on international duty have returned fit and well.
Both Matt Targett and Bjorn Engels are expected to be fit.
Brighton & Hove Albion
Last Updated: Thursday 21st November
Potter had some team news for us saying "Aaron Connolly will miss the game this weekend with the same groin problem from the Manchester United game, hopefully he'll be back for next weekend."
Graham also added "Bernardo has been back in training this week but the weekend is too soon for him."
The gaffer commented on a couple of other players saying "Leandro Trossard rolled his ankle while he was away – it was more precautionary that he was left out. He's trained with us and he's fine for the weekend. Shane Duffy and Davy Propper are also back fine. Alzate got back late last night but he's okay too."
Adam Webster could be fit for the weekend, however Dunk is ruled out due to suspension and Jose Izquierdo is still out…forever apparently.
Brighton have won their last three home fixtures and will look to turn off the lights on the Vardy party this gameweek.
Bournemouth
Last Updated: Friday 22nd November
Howe on King "It's a big blow to lose Joshua. It's a very minor hamstring strain, so it's difficult to judge how long he'll be out, but it may keep him out for a couple of weeks."
Eddie also mentioned Brooks "David Brooks still isn't training with us out on the grass," said Howe. "Until we see that he won't be involved with the matchday squad."
The gaffer also provided us with updates on two internationals saying "We'll make a late call on Ryan Fraser, looking at his injury and see how he is ahead of the game." And also mentioned Lerma who is back from suspension mentioning "He's okay, he's fine," said the manager of Lerma's re-arrival. "It was a long journey back for him but he's fit and healthy."
Stanislas and Daniels remain out, Gosling got minutes on Tuesday away at Reading and is nearing a return. Surman was not mentioned who has been on the mend from a knee problem and Kelly could be available.
Burnley
Last Updated: Thursday 21st November
Burnley team news: Vydra is likely out with a hip problem. Gudmundsson is progressing well but still with the physio. Drinkwater still working towards full fitness.
Dyche said "we had a few knocks( from the Internationals), but nothing major."
The Clarets have only garnered 3 points from a possible 18 when playing away, having said that, Watford have only managed 3 points from 18 possible at home, so this should be a battle a very movable object vs completely stoppable one.
Chelsea
Last Updated: Friday 22nd November
Unsurprisingly Lampard some time answering questions about Jose's appointment as Spurs manager. We won't bore you with everything he had to say, but did insist that he will never manage Spurs, "I can firmly say no, and you can replay that in 10 years. It wouldn't happen." Someone else said something very similar!
Lampard on Pulisic injury: "He didn't go and we had full on comms with the States, manager Greg and their medical team. They want their players and top games. He had a problem going into Palace. He has trained this week." Expect the American to start.
Callum Hudson-Odoi has an issue with his hamstring and is unlikely to make the game.
Lampard on selection problems with Jorginho, Kovacic, Mount and Kante all available for Sat: "We have done pretty well in having a bit of rotation, fluidity and not pinning people down. I hope that can carry on and bring the best out of the midfielders."
Crystal Palace
Last Updated: Friday 22nd November
Hodgson on injuries "We have no injuries and a full squad to choose from, which is incredible. To have every player to choose from is fantastic."
The gaffer did expand a little on Zaha saying "Wilf's fine. The injury that forced him out of the Ivory Coast game is fine and he should be in the squad tomorrow."
Roy on Salah and Robertson possibly missing: "I'll believe that when I see it." Liverpool is the boy who cried wolf on these two injuries, every week they give us the same song and dance and they always play anyways, so we with you Roy.
When talking about their plan against LFC, Roy said "There's no way we're going to sit back and help Liverpool win the title. We don't go into the game with any inferiority complex whatsoever." Right….
Everton
Last Updated: Friday 22nd November
Both Fabian Delph and Bernard are big doubts for tomorrow's games.
Silva on Andre Gomes: "Step by step. Be really patient with him. He has come here more often doing his rehabilitation, it will be a slow recovery."
Silva confirmed that Cenk Tosun is fit and available.
Silva on Kean: "He wants to play more but we have to look for him, all of our games and the number of games he has played. We are not talking about one player who didn't play at all."
Silva went on to say that Kean will be in the squad tomorrow. Don't expect him to start though!
Leicester City
Last Updated: Thursday 21st November
Rodgers on Maddison "James is fine," said Brendan "He's trained the last few days so he's okay."
The gaffer said this about his Internationals "They've come through two games for their countries," he added. "We just gave them a lighter day today, but they're fit and fine."
Matty James is back in training but Rodgers said he doesn't want to put a "specific time" on his possible return. Brendan then went on and on about how gifted James was before saying he might loan him out. Hehehe
No word on Evans who missed out due to illness midweek, but guessing he is ok.
The Foxes have won six of seven and currently sit in second in the PL, they did however lose to Man United this season, so no matter what their season is tainted.
Liverpool
Last Updated: Friday 22nd November
Klopp confirmed that van Dijk is "100% available" but was none committal on everyone else. "I cannot say 100% for the others" – Salah, Robertson, Gomez.
Klopp on Salah: "Yesterday he trained, he's trained the whole time since he's here but only the things we wanted him to do. Today, another important session to see how it looks and then we can make the decision."
Klopp on those returning from international duty: "Fabinho, Bobby, Ali, Gini all played Tuesday. We will see how they react. Nobody came back injured."
Joel Matip has yet to return to training.
Klopp on Shaqiri; "He just has to train, nothing else. Five weeks out? Maybe longer. He needs match fitness, but it takes time. Apart from that he should be fine, no reason to rush him. It's good to have him back but he needs to get used to the intensity."
Klopp on Palace: Palace enjoy defending compact. They know they are a proper threat on the counter-attack and that makes it really tough. First one is Zaha, then Ayew, very difficult to defend. We have to find solutions. It will be interesting.
Klopp on the dreaded R word: "There will be moments when you play Wednesday-Saturday, or even worse in late-December, when you have to think about something like this. But that's not in the moment."
Manchester City
Last Updated: Friday 22nd November
Pep on Ederson "He has been training the last two or three days without pain."
Bernardo Silva will be serving a one match suspension. Guardiola felt it was a bit unfair saying "If they want to pick up someone to show something, he is not the right person. He needs to be more careful on social media." We all knew that Mendy's social media account or interaction with it would eventually get someone in trouble. 😉
Pep on Sterling "He is good. I spoke to him, he's fine, he says Joe is an excellent guy and they have a good relationship." No word on if Raheem will be forced to cut his nails.
No fresh injury concerns for City, Sane and Laporte remain out.
Guardiola on the PL title race "A few weeks ago, there were two contenders and now we have four so maybe there will be six in a few days. We are in November, there is a long way to play!" No, we only have one, that four or six horse race is for second.
And because basically every manager was asked about Jose, here is what Pep had to say "You know him better than me. He was many years here in different clubs. An incredible manager and I'm pretty sure he'll do a good job." Oh, so now they barely know each other. Funny though, there is years (about a decade) of quotes and not so nice exchanges between the two, but hey who is counting.
Manchester United
Last Updated: Friday 22nd November
Ole provided us some updates "Scotty hurt his ankle and will be out for a couple of weeks," Solskjaer said. "We've lost Rojo, he's injured. Paul is still injured, but we've got Axel, Luke and Nemanja back in training, so we're looking better, getting numbers back. Maybe not match-fit – Axel, Luke and Nemanja have been out for a long time. But numbers in training, we're stronger."
He also addressed the fitness of a couple of others saying "Tim (Fosu-Mensah) and Eric (Bailly) have had knee injuries and been out for a long time. They've stepped up their recovery, not joined with team but not far away."
Tuanzebe, Shaw and Matic returned to training this week but may not feature at Sheffield United on Sunday due to a lack of match fitness. Diogo Dalot is still three weeks away.
A little more on Pogba "Did I say last press conference, we don't play basketball. I don't see many basketball players tackling ankles, twisting and turning with studs. He's not ready to train, no." Just know Paulie, at Real Madrid they have a great basketball team for you to train with on the side.
More Pogba "He was in a cast for about for six or seven weeks – you do lose loads of muscle, so he's gradually now just stepping up, walking on the treadmill, biking with a free ankle. It'll still be a few weeks. We hope to see him in 2019, yeah" Just in time to sell him in January.
Newcastle United
Last Updated: Thursday 21st November
Brucey on injuries: "Florian Lejeune and Fabian Schar available to play vs Aston Villa but Ciaran Clark (not necessarily ruled out) picked up a knock on international duty with Ireland. Jamaal Lascelles has fracture of tibia but his knee ligaments are OK. Matt Ritchie is still out and went to see a specialist yesterday."
A little more on Ritchie "Matt Ritchie has gone to see a specialist yesterday – 'he was very close, joined in training but had a reaction – very disappointing."
The gaffer was asked about Almiron (lack of goals) and he had this to say 'It'll happen,' says Bruce on Miguel Almiron. Feels his last performance was 'sensational', and praises his running statistics. In an unrelated note, Eliud Kipchoge has announced that he is switching his profession to football and trying out for Newcastle.
Toon will look to add a third straight win vs Villa after grabbing six points in their last two Premier League outings.
Sean Longstaff remains suspended for his sending off.
Norwich City
Last Updated: Friday 22nd November
Grant Hanley hasn't trained this week. Farke is hoping he will return to training soon.
Josip Drmic is set to be sidelined for around eight weeks. He suffered a muscle fibre injury against Watford.
Jamal Lewis picked up an injury while on international duty so is unavailable tomorrow.
Farke did have some good news! Christoph Zimmermann and Kenny McLean have recovered from injury and are available although Farke believes it is "optimistic" to think Zimmermann will start.
Farke confirmed that Teemu Pukki is available after limping off for Finland in midweek.
Sheffield United
Last Updated: Friday 22nd November
Wilder on Egan "Yeah he has a chance – we're going to leave it to the last minute but we've got replacements if needed. If John isn't fit Phil (Jagielka) will slot in there and his experience in big games will be huge."
Dean Henderson is unavailable due to facing his parent club.
Wilder on Simon Moore being in goal this weekend "The players know how good Simon is and so do the fans. He won't let anyone down."
The gaffer on a contract for Lundy "The meeting I had with the owners, that was part of that. John and his contract… John is someone that we want to get tied down." This one year FPL hero deserves whatever he wants as far as we are concerned.
Southampton
Last Updated: Thursday 21st November
Hasenhüttl has a full squad to pick from saying "Everyone is back fit"
That would usually be good news, but is not like he has actual talent to pick from.
Unfortunately for Ryan Bertrand he is now back from suspension after giving himself a couple of weeks off.
Ralph on International break success "Jan Bednarek qualified, Pierre-Emile Højbjerg is qualified (both for EURO 2020) and a few others have scored, so they come back with some positive experiences and that's good for us." Happy for them boys, now they have to wait until March before the next international break, so hope they enjoyed their only good moment on a pitch for a while.
Saints have grabbed one point from a possible twenty one in their last seven outings.
Tottenham Hotspur
Last Updated: Thursday 21st November
Spurs team news: Lamela (hamstring) & Hugo Lloris (elbow) are continuing rehabilitation and are unavailable this weekend. Vorm (calf) Sustained a calf strain in training on Monday and is expected to return to training next month.
Ndombele and Vertonghen are training and will be assessed ahead of Saturday's game.
Jose has this to say "What can I promise? Passion, real passion. Passion for my job, but also passion for my Club, that's the way I have been all my career and I want to try, obviously, everything to bring happiness to everyone who loves the Club." Think most fpl managers will settle for Jose just making Harry Kane a striker again.
Jose had this to say on playing young players "There is not one manager in the world who does not like to play young players and help young players to evolve, there is not one." Well…I can think of one, but that's none of my business.
No word on if Jose will be able to stop the regression of Dele Alli into Jesse Lingard.
Watford
Last Updated: Thursday 21st November
QSF confirmed that Troy Deeney and Ismaila Sarr both took part in full training this week and could be named together in the same squad for the first time this weekend.
Domingos Quina (groin), Tom Cleverley (heel), Daniel Bachmann (hamstring), Danny Welbeck (hamstring), Sebastian Prödl (knee) and Roberto Pereyra (hamstring) are all out while Christian Kabasele is suspended.
West Ham United
Last Updated: Thursday 21st November
Pellegrini on some team news "Yes, both of them (Noble & Antonio) worked the whole week without any problem so they will be involved in the game on Saturday. Most of them [the team] will be able to play."
There wasn't a whole lot more from Manuel in terms of injuries, although we do know that Lanzini (shoulder) and Fabianski (thigh) remain out. Wilshere is fit, if there is such a thing as him being fit.
Roberto will still get the nod in goal. "Every player when they are in a bad moment needs the confidence of us behind them. He has a lot of experience in a lot of countries. He knows it's not his best performance in the last game, but I think that all of us must be behind him."
The gaffer had this to say on Jose "Everyone has his option to play football the way they want, to say what they want to say. He's not my friend, but he's not my enemy. We have different ways of thinking about football." This little spat goes back to some words that Jose said after he took over for Pellegrini at Real Madrid where he wasn't very kind.
Wolverhampton Wanderers
Last Updated: Friday 22nd November
Nuno confirmed that everyone returned healthy from international duty: "We've had a lot of players involved with their countries, achieving qualifications. They came healthy, that's the most important thing."
However, Nuno then threw this spanner into the works: "Raul was the last one to join us but, again, we have to assess him because there is not a lot of time to train and we will decide tomorrow." Expect him to start.
Adama Traore will be assessed ahead of the game while Nuno says that Bennett is 'getting better'.
Nuno on Bournemouth: "They're a very good team. It's going to be very, very tough tomorrow. We have to compete well. The work of Eddie is fantastic. I respect him a lot."
Thanks for reading Fantasy Football Press Conference and Team News GW13
FPL FIXTURE TRACKER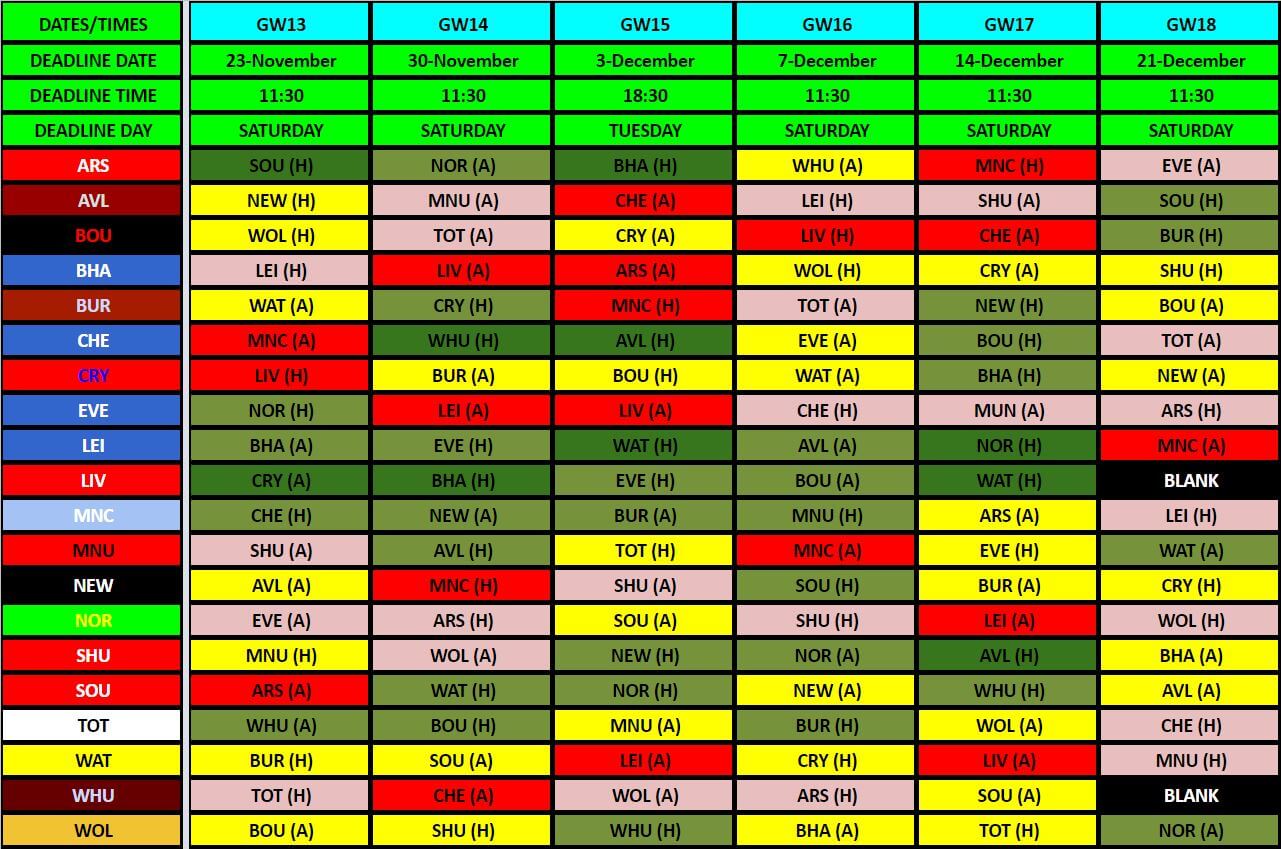 FIXTURE TRACKER LINK
Fantasy Football 247 League Codes: