Fantasy Football Press Conference and Team News GW3
Welcome to Fantasy Football Press Conference and Team News GW3. Friday gets the game-week rolling with the forever losing Aston Villa hosting Everton and ends with 3 fixtures on Sunday. Sandwiched in between there we get 6 games on Saturday including the demolition of Arsenal by the champions to be Liverpool. Also among them Saturday games, we will get to see if Pukki mania is for real and the fpl Loons for Lundstram will celebrate another double digit performance. Before any of that happens though let us see what the managers had to say before the GW gets rolling.
Click on the Team Badge above or scroll down to find the team news you want
Arsenal
Last Updated: Thursday 22nd August 2019
Unai on the availability of Ozil and Xhaka "Today they trained, but really I need tomorrow, I don't want to decide today or say to you how we are. Tomorrow is the last training."
As far as other players go: Tierney, Mavropanos and Bellerin are looking to participate if full training sometime in October, Rowe and Holding are very close to being back, but neither player will be part of the squad at Anfield.
Emery speaking about Pepe "The most important thing is to help him and his family feel comfortable. He is now three weeks working with us. Progressively he's feeling better, getting better individual performances. He is ready to have more minutes." Considering that Pepe played a half last time out, could mean a start for the new signee then.
The gaffer on the opportunity before them "It's a very big challenge and a very big opportunity for us to do something." How about, just don't get embarrassed like you did last season?
Aston Villa
Last Updated: Thursday 22nd August 2019
Smith says that Chester (thigh) is not back yet, that Kodija is jogging now but that "this game will be too early for him".
Smith also mentioned Kortney Hause bascically saying that he "is back".
When asked if there was some frustration with Wesley and his lack of goal scoring, Smith said "he is one goal behind Mo Salah at the moment". I am not a reporter, but since he wants to be funny, ask him that mid-season and see if he is still as funny.
Brighton & Hove Albion
Last Updated: Thursday 22nd August 2019
Potter confirmed there are no fresh injury concerns for this weekend's game at the Amex, with Jose Izquierdo, Yves Bissouma and Ezequiel Schelotto the three absentees for the visit of Southampton.
Graham had this to say on Trossard "Leandro responded to a few setbacks before scoring last weekend. We saw what he was about and he's settled well." Just start him and we will have no issues.
The gaffer says "I think it will be our toughest game so far, this weekend." just another manager proving that they will say anything. They face a Saints side that has lost both games and they played two teams who are easily more talented than Southampton in their first two games.
In the last 4 PL meetings versus Saints, Brighton has three draws and a loss.
Bournemouth
Last Updated: Friday 23rd August 2019
Howe had this to say on Lewis Cook "He trained with us for the first time fully a couple of days ago and it will be a big boost for us when he comes back. He needs more time with us, more time in training and more matches, but he's getting closer."
I love Eddie, he is master of talking a lot but saying nothing "You have to adapt," he said of the injury list. "We have a slight hangover from last season and the players who had long-term injuries and during pre-season we picked up a few more." Almost any week anyone could be out or anyone could be back and Howe be like "surprise suckers".
Let us assume that Brooks, Gosling and Francis are still out.
Stanislas is probably safe to assume is also not back as he has been out since April, but they did say four months and it has been four, so maybe we get a surprise.
Kelly could be back or maybe not, but Howe did say this last week "Lloyd won't be too long hopefully, but [he] will miss this game."
As far as Groeneveld goes, he is in the same boat as Kelly, could be available, could be out.
Burnley
Last Updated: Friday 23rd August 2019
Not a fat lot to report from Dyche so expect a similar line-up to last week.
Robbie Brady is still definitely out.
Danny Drinkwater still lacks match fitness and so will more than likely play in the Milk Cup in midweek.
Steven Defour is back in light training
Charlie Taylor made the bench last week but Dyche has previously said that pieters 'has the shirt'.
Chelsea
Last Updated: Friday 23rd August 2019
Frank had this to say on his smiling holding mid "N'Golo Kante has got an injury he has carried all week," said Lampard. "We are going to assess that over the next 24 hours to see if he's fit. It's an ankle sprain."
Lampard mentioned Antonio also saying "Rudiger is not fit yet, hopefully not next week"
He also provided us with an update on the rest of the team and in particular Pedro mentioning "Those (Kante and Rudiger) are the only changes from where we were last week. Pedro missed open training on Tuesday as he has contributed a lot physically during a busy week with three games, and had a couple of small aches. It was a precaution taking him out for a couple of days but he has trained the last two days."
Hudson-Odoi is training and along with Reece James could be back once the International break ends.
Ruben Loftus-Cheek remains out.
Crystal Palace
Last Updated: Thursday 22nd August 2019
Roy on injuries "We don't have any problems other than the ones we've been wrestling with, with Mamadou Sakho and James Tomkins. Apart from that, we're okay."
When pressed on a timescale for his Centre backs he added this "They're working at it. It's difficult to put a timescale on. Both are getting closer and are working hard every day. The doctors would be upset with me if I talk timescales," Hodgson joked, "they'll be rapping my knuckles."
When Hodgson was asked about a possible Cahill debut "Any place is a good place for an experienced player like Gary Cahill, but I won't be giving you the team here." bastard!!
Asked about Wan-Bissaka, Roy had this to say "We know how good he is from his time here." hehehe
Roy on social media "I don't know enough about it, but when you open an account you are at the mercy of people who want to contact you. I don't feel that I need that in my life. And how do you know who you are speaking to, because there are often more than one person with that name." love to see the old boy on social media talking to boring James Milner.
Everton
Last Updated: Thursday 22nd August 2019
Silva confirms that Digne is available for selection.
Marco also states that Leighton Baines is good to go, Delph however is still not ready.
The gaffer had this to say on Iwobi "He started really late, just now it's his second week working with the team. We have to take care with the situation, giving him enough time to get fitter. He's getting better and if I decide, he'll be ready to help."
Silva on Kean: "I think it's a normal process. He's working hard, trying to show his quality for me and his teammates. He's trying to settle as fast as he can on and off the pitch. If he will start or not, it's up to me to decide."
Marco also mentioned Sidibe "His situation is a little bit different. When he arrived, his physical condition was really good. It's just a matter of him understanding our idea." Coleman owners will be hoping he is a slow learner.
Leicester City
Last Updated: Thursday 22nd August 2019
Rodgers on Chilwell "Ben had an injection last week, he will join in the training, we will see how he is for the weekend, but (he is) more than likely to be available next week for Leicester." Fuchs me.
Other than Ben, looks like Brendan has a fully fit squad.
No word on if Ayoze Perez will score this season.
Liverpool
Last Updated: Friday 23rd August 2019
There are no fresh injury concerns for Klopp ahead of the Anfield clash with Arsenal.
Alisson remains out so Adrian will continue to deputise. Klopp wouldn't be drawn on a time-frame although he did say he had had lunch with him, quipping 'so at least (I know) he can eat'. Bizarre.
Maby Keita remains out.
Manchester City
Last Updated: Friday 23rd August 2019
Pep had this to say on his new signing Cancelo "He can play. He is ready. He see's what we want in training, meetings and analysis. Tomorrow, he can play. After the international break, everyone will be involved. He's an incredible professional." Going to be so much fun having City assets and trying to guess who plays.
Good news for Zinchenko owners "He is fit. It was cramp. He trained perfectly. It was a demanding game against Tottenham." doesn't mean he won't be rotated though, this is Pep we are talking about here.
Not good news for John Stones owners though "No. Stones is not fit for the weekend. We will see [for next weekend]."
Pep on Peptation. "I said before, when all the squad is fit, I will be asked why this player over that. I believe for that game, it [was] better. David Silva can play all the games, and Riyad Mahrez. It is what it is."
Sane remains out and Mendy continues to build up fitness in between his social media posts.
Manchester United
Last Updated: Friday 23rd August 2019
Ole on who will take the pens I'm sure you're gonna see Paul Pogba score a pen for Manchester United again, definitely. We're practising pens still and Marcus and Paul are still on them."
Solskjaer mentioned Dalot "He'll be out for a little while, he's had the problem for a couple of weeks."
Fosu-Mensah and Bailly remain out with long term injuries.
Solskjær on Alexis Sanchez: "There are still talks with some clubs but he played in that game and played well, he's working hard and let's see in September what's going to happen." Guessing they are probably talking to mls clubs, Alexis looks ready to retire.
As far as the rest of the team goes "It is more or less the same (squad)," Solskjaer told the United App ahead of Saturday's clash with Crystal Palace."
Newcastle United
Last Updated: Friday 23rd August 2019
"The Michael Chopra thing was blown out of all proportion. It's laughable, really." says Steve Bruce. Not sure what Chopra said, but I can only imagine him saying that Toon's South American strike force (Joelinton & Almiron) would be prolific this season.
Bruce also had this to say about his critics "It's not for me to comment on what's been said but there's often a storm in Newcastle. It's two games & I just want it to be fair & responsible. I know the only way I can shut people up is by winning games & I know the quicker the better." This season is going to be fun.
The gaffer "It's new for Joe – it's new for four or five players. Given time, we hope they can forge some sort of relationship. For Almirón, we're working on getting him higher up the pitch and into a goalscoring position." Too bad to score it requires shooting, otherwise I think Almiron be a great fpl choice.
On why Sean Longstaff was not in the xi last weekend "I detected he was a bit ginger with his knee, which was understandable. I had a conversation, it's normal to miss a game or two to make sure he's ready. When he came on, he had an immediate influence; we were much better."
On other injury news Bruce had this to say "We hope that Allan Saint-Maximin is going to be OK. It's still too early for Andy Carroll or Dwight Gayle, but Christian Atsu has been on the pitch this week. It was good to see him and see what he'll offer us. Joelinton is fine."
This game comes too soon for Gayle and Carroll. Yedlin and Lejeune remain out.
Norwich City
Last Updated: Friday 23rd August 2019
Farke addressed some injury concerns for us saying "Onel had surgery and he is out for three months. Zimmermann is not available tomorrow but is back involved. Could be a topic for the West Ham game."
The gaffer also added "Timm Klose is available for tomorrow. Perhaps not a topic for the starting line-up, but he's back in training and available. Not chance with Josip Drmic though. He's only doing individual stuff."
Rest of the squad should be good, Lewis was removed last weekend due to a cramp so he is available.
Pukki means vagina in the Malay language, not sure why that matters, but I thought you should all know.
Sheffield United
Last Updated: Thursday 22nd August 2019
Wilder speaking about injuries "We've a doubt about John Fleck but Callum has trained all week, we'll give John that time to recover"
With Fleck looking unlikely this could mean a start for Luke Freeman who came on for him in the 29th minute last weekend.
The gaffer talked about the versatility of his side "Luke, Ben, Bash and John Lundstram can play in a number of positions" that sounds like sweet music to all Lundstram owners.
When speaking about Ravel Morrison, yes that Ravel Morrison, the skipper had this to say "There's competition to get onto the bench. Rav has a big part to play. He's ready, like the others. There's obviously a cup game to go at (vs Blackburn) and we will utilise all the squad in that game."
Southampton
Last Updated: Thursday 22nd August 2019
Hasenhuttl on injuries "At the moment, we don't have any injuries. Alex (McCarthy) had a little problem last week, but now he is fit again. We have a lot of options for a few positions."
On Ings the gaffer had this to say "I think he had a good game, impacting the game like all the substitutes so far" although he didn't let on much, Ings should be back in contention to start after scoring last week off the bench.
Should be a slightly more attacking side this game-week after putting out a very defensive side and formation vs Liverpool last time out.
Tottenham Hotspur
Last Updated: Friday 23rd August 2019
Alli has been training with the first team, perhaps a start from the bench is the most likely scenario. When asked, Poch had this to say "I think we have one training session more and then we decide."
Son is back from his 3 match suspension and he should get some minutes, remains to be seen if Poch puts him straight into the xi or slowly works him in.
Foyth and Sessegnon are continuing rehabilitation.
Ndombele sustained a minor injury in training and will be unavailable this weekend.
The Pochster held nothing back on some of his players saying this about his fellow Argentinian "Lo Celso is a situation that is not going to be easy. Was in extended holidays after the Copa America, he didn't have a proper pre-season and didn't train much. Then signed for us after a week without training. He's training well but is so far away from what we expect from him. We need to give him time and we won't expect too much from him." Sounds like Lo Celso might be a fantasy option in January.
If Lo Celso needs a partner to shed a tear with, perhaps Victor Wanyama might be in the mood after the gaffer went in on him also, saying "Football is not about yesterday. It's about today and you need to show every day. Victor was injured and others stepped up." also adding "We are not a charity, not in this case about Victor, but we have a lot of options to play different players and sometimes players are lucky, some are unlucky." ouch
Watford
Last Updated: Thursday 22nd August 2019
Watford have been dealt a few blows this week.
The first and most major one being that Troy Deeney will be absent for a few weeks have undergone a knee operation this week.
Roberto Pereyra is also struggling with a thigh problem.
Whilst Abdoulaye Doucoure has an issue with his ankle.
Neither Pereyra or Doucoure are currently training and Gracia says both are doubtful but that they will have to 'see in the next few days'.
Danny Welbeck may well be in line to start in place of Deeney having come off the bench vs Everton in what would be his first start since November. Odds on it being his last until next November?! Their other major summer signing Ismaila Sarr could replace Pereyra
West Ham United
Last Updated: Thursday 22nd August 2019
Pellegrini had this to say "Injuries for this week – we have just Winston Reid. Everyone else is fit."
The gaffer also had this to say "Jack Wilshere is coming back from a long injury and his minutes will be managed. The same with Carlos Sanchez and Andriy Yarmolenko. We hope, with every game, [they] will improve."
Applause for Manuel Pellegrini, thank you for making it so easy.
Haller, Felipe Anderson and Mark Noble are now available by the looks of it. Noble from the bench, Felipe straight back in and Haller in a battle with last week's scorer (Chicha) for the XI is my best guess.
Wolverhampton Wanderers
Last Updated: Friday 23rd August 2019
No official presser from Nuno so we can only go off his post match Europa comments and our own common sense observations.
As such Jonny, Bennett and Neves were all given the night off and so should start vs Burnley.
Matt Doherty was rested too but his involvement is more of a puzzle after he went off at half-time on Monday with 'an illness'.
Adama Troare is Doherty's likely deputy should he not make it.
Jimenez and Jota got an early breather vs Torino and so both should be fine to start.
Thanks for reading Fantasy Football Press Conference and Team News GW3
FPL FIXTURE TRACKER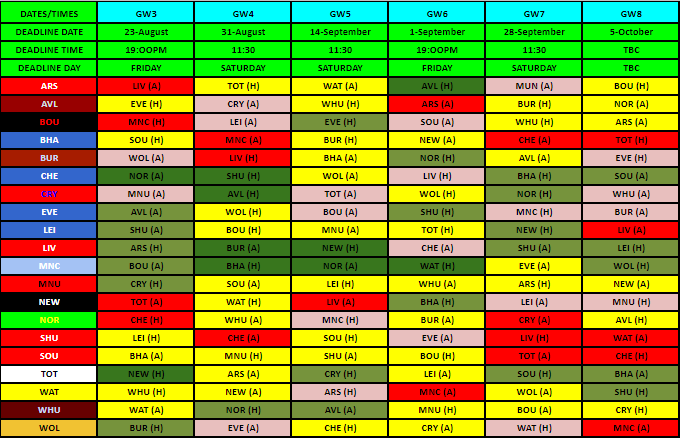 FIXTURE TRACKER LINK
Fantasy Football 247 League Codes: