Fantasy Football Press Conference and Team News GW6
Welcome to Fantasy Football Press Conference and Team News GW6.
Make sure to check all the Team News before the deadline and see what each manager had to say before their corresponding fixture. Best of luck this for this gameweek and may your ranking reflect the effort you put in.
Click on the Team Badge above or scroll down to find the team news you want
Arsenal
Last Updated: Friday September 20th 2019
Only four 'regulars' kept their places on Thursday night in the Europa, those being Luiz, Kolasinac, Xhaka and Aubameyang. Quite why you'd ever voluntarily play Xhaka we don't know but that's another matter…
Out of those Kolasinac was the only one to emerge with anything like an injury, but Emery said he expected him to be fine.
Emery said that both Bellerin and Tierney would feature for the U23's on Friday night.
Aston Villa
Last Updated: Friday September 20th 2019
Having sent us all into an induced coma on Monday night Villa resume with a tough away trip to the Emirates on Sunday.
There were no fresh injuries to report and so we expect a similar team to last week.
Striker Jonathan Kodjia is still 2-3 weeks away from a return after fracturing his cheekbone.
Matt Targett is back in contention for Sunday having recovered from a hamstring strain.
James Chester is till a bit away but only really needs to build his fitness back up.
Brighton & Hove Albion
Last Updated: Thursday September 19th 2019
Potter confirmed Martin Montoya is available for selection after missing last weekend's game through illness, but Leandro Trossard, Alireza Jahanbakhsh and Leon Balogun will miss out due to injuries.
Bernardo has an outside chance of featuring at St James' Park, and although Ezequiel Schelotto is making good progress, Saturday comes too soon for the full-back.
On Shelotto, Potter said "You can see the energy he gives, he's desperate to play but we need to take our time with him and build his training load up – but he's doing really well."
Graham did mention Leandro saying "It's as you were on the injury front, the likes of Leandro Trossard are making good progress." Guess that means he is still out.
Izquierdo, Balogun and Jahanbakhsh are still out.
Bournemouth
Last Updated: Thursday September 19th 2019
Howe on his team's injuries "We're pretty much in the same place but added by the returns of Francis and Kelly in the week, it's great to see them back after so long. The squad is getting stronger."
Francis and Kelly are working their way back and both played 61 minutes with the u21s on Tuesday night.
Brooks, Gosling, Stanislas, Adam Smith and Groeneveld all still remain out.
Burnley
Last Updated: Thursday September 19th 2019
Sean Dyche confirms that Gudmundsson is fit, but a late decision will be made on his inclusion after being out with a calf problem. Danny Drinkwater is back in full training.
Dyche has already said there may be changes for Saturday's game against Norwich City "it was also nice to see the three subs – Hendrick, Jay Rodriguez and the forgotten man Matej Vydra – coming on and doing so well because they've not had much of a chance to show themselves so far this season".
There were no new injuries reported. Dyche "Everyone else is okay." Robbie Brady is ok following his recovery from a rib injury; he was an unused substitute last time out.
Chelsea
Last Updated: Friday September 20th 2019
Kante is back training. Lampard "It is a boost, we know the importance of him. The question is how fit he is. He has played a couple of games, but he missed pre-season. Istanbul was miraculous. Now we have to manage him. I am delighted to work with him and if he can bring a positive for us then I will take it into consideration".
On Mason Mount there is a chance he could play. Lampard "He has got a chance. We saw the image of the tackle made it look bad. We are trying to get him moving today, I will have to make the call before the game. His attitude is good so he will give everything to play. There was a lot of swelling, didn't look the best, if there is proper damage you can't do much. We won't take any risks, there is a bigger picture, we will do our best".
Hudson-Odoi has finally signed that new contract and is nearing a return and played for development side the other night. Lampard "spoke to Callum in pre-season, I made him aware I want him to be part of the plans. The club have worked hard, so has he and it's what everyone wanted. It was away from me slightly but I made it clear I wanted him at the club. Now it's signed this is where the hard work starts. We know the talent he has, I think there is a lot more".
Rudiger missed training on Thursday and Lampard did not provide a further update.
Crystal Palace
Last Updated: Friday September 20th 2019
Roy on injuries "We're looking good at the moment. Connor Wickham will return to training tomorrow or Monday. Everybody else is now with us so we have a full complement".
Hodgson also said "The mood in the squad is good and we have players now returning from long injuries." Now if he can only get Zaha and Benteke to return from long goal droughts.
Looks like Dann, Kelly, Tomkins and McArthur are all available then.
Everton
Last Updated: Friday September 20th 2019
Silva on his possible xi "Competition is high, and I'm here to decide what is the best 11. It's not just because we lose a football game that we change everything. Lets see what my decision is tomorrow."
Silva did confirm that Andre Gomes was out against Sheffield United saying "It is the type of situation we have to see day by day."
Marco also said "And Gbamin is out".
The gaffer talked about mistakes being made "It's hard for us when you feel like something has come from an individual. "But it is more easy to fix when it comes from an individual". When I watch them it looks like they have eleven individual problems on the pitch when they play away.
Leicester City
Last Updated: Thursday September 19th 2019
No fresh injury concerns for the Foxes. Ben Chilwell was not with the group on Thursday morning, but he should be fit to play. Rodgers "He just had a bit of recovery inside. He worked inside, but he's fine."
Brendan Rodgers says he would not swap Jamie Vardy for any other striker. I'm guessing he's not seen Messi or Ronaldo play. Rodgers "He has so much to his game, the ability [and] the hunger to score. I love a striker that has the pace to get in behind". I bet Brendan does! Jamie Vardy has scored 12 goals in 16 games under Rodgers at Leicester to be fair!
Rodgers is hoping Leicester bounce back. On the United loss "I didn't think we deserved to lose the game, there wasn't much in it. It wasn't a great game of football. But for us, over the five games, we have shown a wonderful resilience which is very good going forward. We have been very strong, defensively we haven't conceded many chances and in spells, we have shown a really good level."
Brendan Rodgers is not concerned by interest in his star players the latest being James Maddison this week. "I tend not to worry so much, I just focus on making them the best they can be and if they then move on, that's how it works. But when they're here, they give their best, give everything to the supporters and the club, and we'll see where it takes us."
Liverpool
Last Updated: Friday September 20th 2019
Keita looks like he's back. The Liverpool boss said: "Naby Keita is back in training with the team. Today is first time with the team".
Alisson might be moving closer to a return. Klopp "Alisson is making big progress. A proper session yesterday with John Achterberg. "Not in team training yet, and we take it day by day. We will see. Too early to say. Medical department will tell me".
Klopp also added Origi is "unlikely" to feature on Sunday against Chelsea.
Klopp on the Liverpool defence. "We haven't focused more on defensive things. The goals [against us] happen strangely, like Southampton. It's not exactly what we want but we want to win football games. We have to improve and develop and that's how it is. It's not because we have a different approach".
Manchester City
Last Updated: Friday September 20th 2019
On Jesus and Aguero Pep said "He was involved and maybe involved tomorrow but it's difficult to find in Europe a player like Gabriel and how important he is. His behaviour in training is outstanding he has to fight for his place against a legend in Aguero. Sergio didn't play in the last game and he scored in all of the other games and Sergio fight for the team that's why I'm so delighted with the striker. Gabriel be patient I know when he plays he does absolutely everything like he has done in Ukraine not just for the goal the way he fights and his future at this club is incredible".
On fresh injuries Pep was as helpful as ever "No, we will see how the players feel". When pushed Laporte is out for 6 months. Stones hopefully one month maybe a little bit more".
Phil Foden is over the virus which stopped him travelling to Shakhtar. Benjamin Mendy managed a brief cameo out in the Ukraine, his first competitive minutes since April.
Pep Guardiola on Riyad Mahrez "He is good apart from maybe at first. He's used to counter attack. Here is different his mentality and how competitive he is surprised me. He loves to play football and train. I like this type of player. I like it…" So Pep likes a competitive player who likes to play football. You learn something new every day.
Manchester United
Last Updated: Friday September 20th 2019
Solskjaer on Daniel James who is carrying an injury: "I don't know. He's not trained the last few days. Hopefully, but not sure. We'll have a recovery day with everyone tomorrow and we'll see on Saturday."
Solskjaer on Mason Greenwood: "It's always hard to keep players who perform well out of the team. If he keeps scoring goals when he's on the pitch he'll get more minutes in the Premier League as well, and he'll get his first start soon." Let the Mason Greenwood hype begin, Martial was the new Henry, Rashford became an honorary member of the 92 class after one game, poor Mason.
Pogba, Shaw and Martial are expected to miss out. Solskjaer when asked if Pogba or Martial will be fit: "Not really, no. They've not been training yet so I don't think so. [Luke Shaw] won't be ready."
Newcastle United
Last Updated: Friday September 20th 2019
Steve Bruce on Andy's return 'A fit Andy Carroll will be great for us going forward. We've seen an upturn in training because he's been out there.'
Longstaff will not be involved against Brighton, but Schar, forced off last weekend, is fit to play.
Allan Saint-Maximin set to be named in squad for tomorrow's game.
Ritchie not ready for a return just yet, Gayle is set to be back with the team next month.
Yedlin and Lejeune are also nearing a return.
Norwich City
Last Updated: Friday September 20th 2019
Last weeks press conference sounded like a script reading from Casualty but this week's was more upbeat with players returning gradually. Ironically though most probably won't be needed…
City captain Grant Hanley made the bench last week but is now fit enough to start should he be required.
Moritz Leitner missed out completely but is fit to travel with the squad.
Patrick Roberts is available again having been ineligible to face parent club Man City.
Ralf Fahrmann will miss the trip though having picked up a slight groin problem.
Zimmermann and Klose remain out as does Mario Vrancic but the latter may be back for next week.
The bad news for all those returning though is that their replacements only went and beat Man City, good luck trying to get back in that team this week…
Sheffield United
Last Updated: Thursday September 19th 2019
Sharp is suspended after being sent off last week and Besic can not play versus his parent club.
Wilder says "The players were deeply disappointed we didn't get anything from the game. Their attitude is great. We're looking for that next result". Don't look to hard, think you will find another L headed your way.
For any Callum Robinson owners if they exist that is, Wilder did say "trained really well he's raring to go." so great news I guess.
Prince Abdullah said he would do business with the Bin Laden family. On a separate note, there is a drone now over Abdullah's house.
Southampton
Last Updated: Thursday September 19th 2019
Djenepo is ruled out against Bournemouth after a recurrence of the muscle problem. Hasenhuttl: "Moussa [Djenepo] is out for tomorrow. After a few sessions this week he felt a little bit more his muscle, so we don't want to take this risk, so we keep him out tomorrow".
Redmond is back in training and Hasenhüttl will make a late decision on his involvement. Hasenhuttl: "I don't know if I can grab Nathan for this position, I haven't decided so far. We have one session tomorrow in the morning and then I'll decide."
Hasenhuttl jokes when asked about Pompey on Tuesday in the league cup. "It's hard not to because fans are everywhere making sure you know. I don't think about any rotation to save players for the Tuesday game"
Tottenham Hotspur
Last Updated: Thursday September 19th 2019
Lo Celso is continuing with his on-field rehab.
Sessegnon is monitoring progress and continuing rehab on his hamstring.
Foyth could be back in contention if the team news on Spurs twitter handle is to be believed, but perhaps minutes in the cup next week is the more likely return of Juan.
Their opponent (Leicester) this week has requested match officials to start the game with Spurs up 2-0 after watching highlights of the Arsenal and Olympiacos games vs Tottenham.
Watford
Last Updated: Thursday September 19th 2019
Watford will be without Craig Cathcart (thigh) and Isaac Success (groin) for the match against Manchester City on Saturday. Cathcart is expected to return to training next week.
Troy Deeney remains out injured and is not close to a return.
Sanchez Flores was in an upbeat mood. "The behaviour and performance of the players at the training ground is amazing," he said. "They look really positive. We need good results to change the last bit but we are really positive and understand everything about how they played in the last match and how every match is different". "They look fit. They have a lot of confidence after the last match." City will be another tough test though.
West Ham United
Last Updated: Friday September 20th 2019
Pell had this to say on "The injuries – Winston Reid is recovering from his injury. I hope he will next week starting working with the squad."
Also adding "Manuel Lanzini also has a problem that we will review tomorrow before the game."
Manuel also talked about Reid saying "Probably the first game Winston will play will be with the U23s. It may be next week but it could be one week more."
The gaffer was asked if the Hammers could finish in the top six. He answered "I never set a target for our team before the season. If people have that feeling, maybe it is because the team is demonstrating that they are able to do that. We now have a good test against Manchester United and we will try to beat them." That was long winded, the correct answer is NO!
He was also asked if it was important to keep all his players fit. Who the hell is asking these questions?
With Masuaku suspended expect Cresswell to start.
Wolverhampton Wanderers
Last Updated: Friday September 20th 2019
There appeared to be no fresh injuries after Thursday night's disappointing defeat to Braga.
They made five changes on the night from last week's defeat at Chelsea with Bennett, Boly, Doherty, Gibbs-White and Cutrone coming in and Vallejo, Saiss, Traore, Moutinho and Jota all getting a rest.
It's becoming a bit of a lottery as to who will start with Nuno juggling both the Europa and trying to arrest a slump at the same time.
Thanks for reading Fantasy Football Press Conference and Team News GW6
FPL FIXTURE TRACKER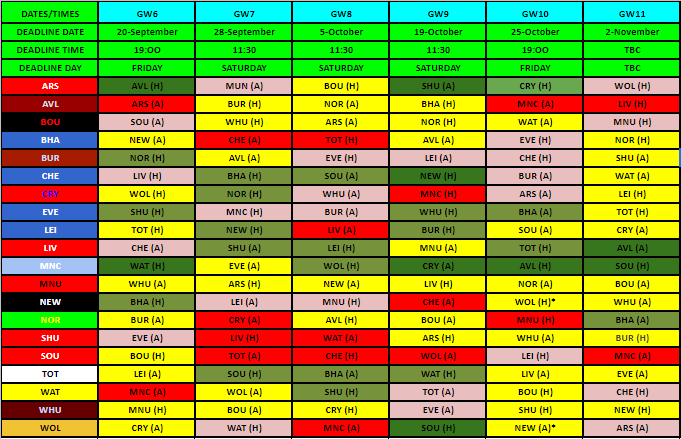 FIXTURE TRACKER LINK
Fantasy Football 247 League Codes: