Fantasy Football Tips Gameweek 11
Welcome to Fantasy Football Tips Gameweek 11.
Over a quarter of the way through the 2019–20 FPL season, yet I sense that many FPL managers are feeling more than three-quarters done with their squads, largely due to strings of relatively low-scoring GWs that have been interspersed with a few anomalous hauls. Very few enjoyed seeing Leicester's trio that comprised Vardy, Pérez and Chilwell outscore the combined weekend point hauls from all 15 of the players who're more popular than Vardy himself…
However, in a positive light, almost 74% of the season's matches are still to be played. No matter how many potential points you've missed out on — regardless of price rises — the figurative boats haven't sailed off. Far from it, actually, as nobody's (quite) broken through the 75-point mark yet; Salah averaged 281 points over his two full Liverpool seasons. Any old tycoon knows that it's never too late to get involved: Bruce Willis and Patrick Stewart spring to mind, not forgetting the late Hugh Hefner, of course. Just as their youthful partners hadn't even been born when they were finding fame, many key FPL players haven't emerged — or perhaps even been signed — yet, so let's return to the continual search for elusive points.
Goalkeepers
Top shelf: David de Gea (£5.5) has conceded 10 goals thus far, which is only two fewer than the best Premier League defences, but he's been flying under the radar. AT has already kindly highlighted that Man United now have both the short- and long-term fixtures to warrant investment. Note, however, that a fully fit Alisson Becker (£5.8) looks primed to provide his 7.1% ownership with even more value. The Bear has a promising schedule too, but as your Liverpool quota may already be full, DdG represents a differential premium alternative.
Mid-price: Rui Patrício (£5.2) has a name ('Rui Pedro dos Santos Patrício ComM') that's longer than my list of inspiring reasons to buy him but, just as GP's own Tips article from last week detailed, Wolves are becoming an increasingly reliable defensive team once more. Kasper Schmeichel (£5.1) boasts appealing fixtures as well — both goalkeepers have risen in price due to their teams' recent upturns in fortune — seeing the British pound sterling symbol being used in this context feels ironically misleading at best…
Bargain basement: Paulo Gazzaniga (£4.4) made 12 saves during his heroics for Spurs against Liverpool's bombardment last weekend. His price, coupled with Lloris' clown injury likely keeping him out for 2019 and beyond, makes this a big opportunity. He nearly assisted a goal when Son struck the crossbar in the 2nd half of that almighty match.
Defenders
Top shelf: Ricardo Pereira (£6.3) has played every Premier League minute so far, scored twice, plays in the joint-best Premier League defence — he's got plenty left in the tank. Tank-ception. I needn't even remind you that Liverpool's pair of potent full-backs are worthy of almost every squad.
Mid-price: Fikayo Tomori (£4.8) has now started 7 consecutive Premier League matches for Chelsea — this will have probably inspired Giroud to take down any salacious bedroom posters of himself and replace them with a "goôorgeousss" Tomori shrine. As for the rest of us, merely investing in him should suffice, given that his fixtures and price have remained equally appealing.
Bargain basement: Jamaal Lascelles (£4.4) scored his first goal of the season last weekend, salvaging a point against Wolves, saving Rosco's blushes. GP and init were presumably ready to pounce. Aside from that, though, Lascelles has more traditional defensive merit: other than away-match defeats to Norwich, Liverpool and Leicester so far, the Newcastle backline has only conceded one goal or fewer in each match. They've got a deceptively tight unit back there. Steve Bruce's real problem? They've not scored multiple times in any of those matches — Lascelles is now their joint-top goalscorer for the season — which contrasts nicely with the following sections! Or so you'd hope.
Midfielders
Top shelf: 'Raheem De Sterling' (£12.1 + £10.2) should really be marketed as a single player. It suddenly feels wrong to have just one. Similar to separating two (albeit ferocious) kittens from the same litter shortly after birth. Or having a public Twitter feud without, say, Coleen's or Rebekah's input. Don't let Mohamed Salah (£12.4) out of your sights either: his goalscoring revival (that Champions League brace notwithstanding) may now be kickstarted by that penalty against Spurs and, as ever, his underlying shot statistics bode very well. Except for his theoretically 'lesser' upcoming teams' defences.
Mid-price: Leicester and Chelsea both boast midfields that are, quite frankly, FPL goldmines. I don't own any representatives, naturally, which explains a lot. Leicester's midfield seems considerably less prone to rotation; Youri Tielemans (£6.5) appears to provide slightly more value than his counterparts right now. His output consistency might be concerning, but he finished the 2018–19 season with a flurry of regular assists and coupled one with a goal in the EFL Cup in midweek, which furthers his prospects. There's a mild temptation to float Anthony Martial (£7.6) as a differential option, with a mere 4.1% ownership, but even Man United's upcoming schedule barely outweighs their utterly toothless attack.
Bargain basement: Adama Traoré (£5.1) destroyed Man City in an away match. What does that mean for the Arsenal defence? Afterwards, several kind fixtures follow, which should allow Adama to convert his raw athleticism and power into points.
Forwards
Top shelf: Jamie Vardy (£9.3) broke my heart. Grudges aside, looking at Leicester's fixtures, there's no reason for the new top-scoring FPL player to relent. How dare he hit such fine form whilst his wife's heavily pregnant. Also, with three sumptuous home matches in his upcoming fixtures, Pierre-Emerick Aubameyang (£11.1) could present his owners with optimal GW13 and GW15 captaincy opportunities if Liverpool falter.
Mid-price: Tammy Abraham (£7.8) continues to dominate this bracket, despite scoring just once since his initial flurry of goals, with The Pukki Party™ transforming from a psychedelic, sweat-inducing, cake-filled mosh pit into what I can only describe now as an unsupervised piñata session for the legally blind. I'd like to suggest Chris Wood (£6.2) as a novel addition to the pack: he'd scored four goals in as many matches before missing last weekend through injury, but even if he doesn't make Sheffield United away, the following few fixtures for Burnley should suit his heading prowess. Keep a look out.
Bargain basement: Aaron Connolly (£4.6) is, at just 19 years old, making my impulsive selection of Gabriel Martinelli (£4.5) look downright foolish. Braces of goals and assists across three matches is impressive for any forward, regardless of price, but especially for some teenager who's gradually helping Brighton to become savages at home. Norwich look primed to be the next victims.
Cheers for persevering with my first attempt at writing a Tips article! Good luck.
Thanks for reading Fantasy Football Tips Gameweek 11. This article was written by jamesimmo.
FPL FIXTURE TRACKER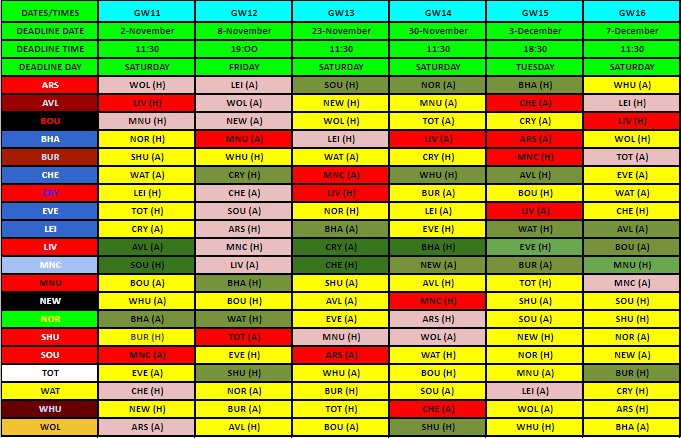 FIXTURE TRACKER LINK
Fantasy Football 247 League Codes: