Fantasy Football Tips Gameweek 13
Welcome to Fantasy Football Tips Gameweek 13
Those who have already cast an eye over their team ahead of GW13 will no doubt be fully aware that this looks like a difficult week ahead, mainly due to the fixture match-ups of many of the top teams. Man City v Liverpool, Spurs v Villa and Newcastle v Chelsea alone tie up a good many FPL assets to difficult looking games, and that's not to mention the likes of Arsenal and Man Utd having less than straight-forward away trips.
As such you may need one or two different options this week, and so here are our picks for each position for GW13.
Goalkeeper – Jose Sa, by Jamie Mc

Fantasy Football has been a bit of a struggle for me these past few game weeks. As a non Haaland owner, I dodged a massive bullet with his half time withdrawal against Bournemouth but was well and truly caught in the cross hairs with his 16 point haul last game week at Chelsea.
It doesn't get any easier for us fantasy managers with European Championship, South American, African and Asia World Cup qualifiers to contend with.
No doubt many of our players would have jettied all over the world representing their respective countries with many only arriving back at their clubs dare I say today.
There is a real risk that there will be some of our players benched which could have a real impact on our ability to have 11 starters for this game week.
Checks squad – I currently have two yellows flags and an orange flag!!!
Furthermore, the fixtures this game week are not kind to us with many of the popular players playing each other (City v Liverpool, Newcastle v Chelsea & Spurs v Aston Villa to name a few).
Anyway, when asked to write an article for this game week then there wasn't in my opinion anyone overly obvious to choose from. Perhaps that is for the best as unearthing a hidden gem / differential can be fun and be the difference in contributing towards a decent game week score or not.
Can I suggest to you Wolverhampton Wanderers goalkeeper Jose Sa (£5.0m with only 1.5% ownership).
As expected, Sa has started all 12 league games this season and currently has 36 points which is a lowly 11th place for all goalkeepers. These 36 points can be broken down as follows: – 24 points for playing all 90 minutes, 4 points for one clean sheet, 11 save points & 4 bonus points (over 2 games) offset by losing 6 points for goals conceded & 1 point for a yellow card.
I acknowledge that the above stats are not overly impressive but Wolves form over the last 7 game weeks has improved with 3 wins, 3 draws and only 1 defeat (but no clean sheets) after a difficult start to their season.
Sa is currently sitting at -83.8% (3,896 further transfers required) in FPL Statistics for a £0.1m price decrease.
At the time of writing, 3,749 managers have transferred Sa into their squad with 3,628 managers deciding to now go without.
Wolvers have ok fixtures over the next 4 game weeks verses Fulham (a), Arsenal (a), Burnley (h) and Nottingham Forest (h).
Not the best write up to tempt you with but since joining the writer's team and offering a player for you to consider then I think my record stands up pretty well (Game Week 4 – Taiwo Awoniyi; 5 points with an assist away to Chelsea. Game Week 5 – Bernd Leno; 6 points with a clean sheet home to Luton Town. Game Week 7 – Jarrod Bowen; 9 points with a goal, clean sheet & bonus point home to Sheffield United. Game Week 11 – Phil Foden; 6 points with a goal in 45 minutes home to Bournemouth).
And at the very very least it is always nice to have a Monday night player if you have Sa in your team for the game week.
Defender – Urrrghhh…
Nope, that's not a new signing who you have simply overlooked. It's the sound of us looking at the fixtures, and the respective defensive options / prospects this week and simply going… well, urrrghhh.
As Jamie says above, Wolves may be one, but their actual defenders don't look too enticing. The top scorer there has 22pts!
Elsewhere West Ham could conceivably blank Burnley, but much like the rest there really are no bankers this week, if indeed there ever is (see Luton v Liverpool as exhibit #1).
If it's a case of burning a transfer rather than losing one then perhaps a one week punt on one of the above may not be the worst idea, but otherwise we'd give them all a swerve, stick with what you have, despite their difficult fixtures, and just put it down as one of those weeks.
Midfielder – Jarrod Bowen, by Inittowinit

He may reside in 30% of teams but that means that there are still 70% of managers who are not taking advantage of Jarrod's ridiculous consistency and current fine run of form and goal scoring. He's now the 3rd top point scorer in midfielders and the 5th top overall with 75pts to his name. These points are mainly down to 8 goals in 12 games. We say mainly, because he only has a solitary assist in there, and his bonus points are a bit on the low side. Like ridiculously low. 8 points in total low. In fact he's only gotten any bonus' at all in 5 games. That oddity aside he is West Ham's top goal scorer by some distance, to the point that he actually played up top alone in the last game vs Forest, as he did vs Olympiacos in the Europa the game before. And as if to prove the point that he can adapt accordingly he scored a 6 yard box header, hardly his usual calling card. He may well be asked to continue up top now too, as Antonio has been sent home from Jamaica duty with a knee issue. This is assuming that Bowen's own knee issue is not a problem. Although Southgate did say that they didn't even bother to check it out. How to may people feel wanted…
This week he faces a trip to bottom club Burnley who have lost all 6 at home, conceding a whopping 18 in the process. West Ham have been mixed on the road but have still scored 10 in their 6. The good news here is that 6 of those away goals have come from Bowen himself.
Beyond this week he has a fairly favorable run of games too, starting with Palace at home next week. Spurs away will be more tricky but that is followed by Fulham (A) and Wolves (H).
Forwards – Taiwo Awoniyi and Dominic Solanke, by Rosco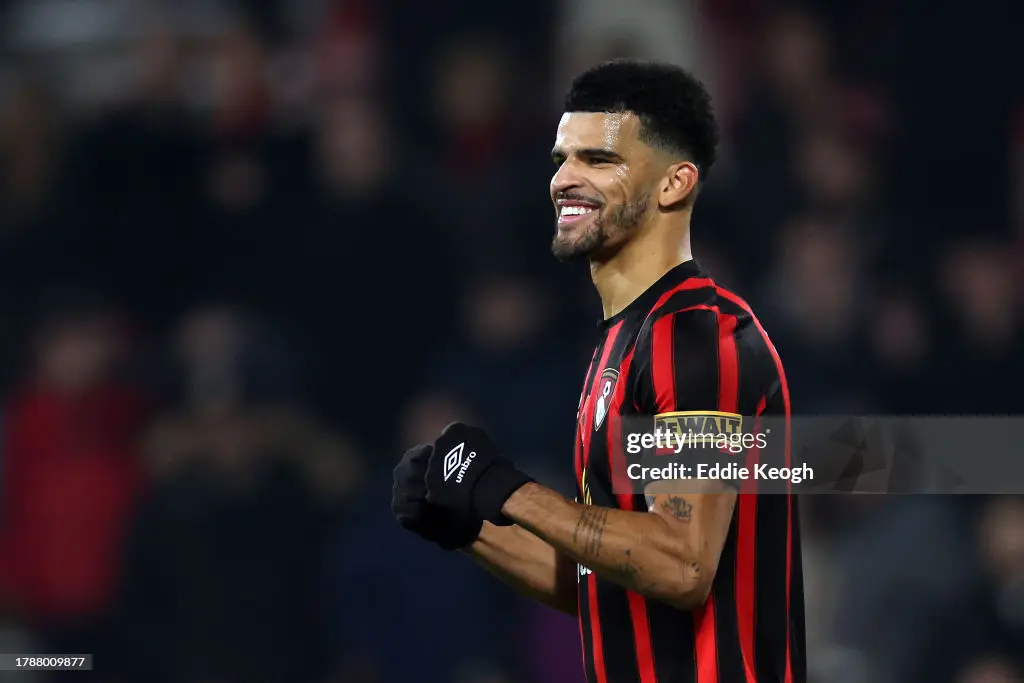 Next up we have two budget forwards who are largely being overlooked, but with favourable stats and fixtures, both could be shrewd picks in the coming weeks.
First up we have Dominic Solanke (£6.4m), who has picked up a few new owners (110k+) on the back of his brace in the Cherries' 2-0 win over the Magpies in GW12 but still sits with just a 3.5% ownership. He's the fourth-highest scoring forward (56pts) with 7 attacking returns (6 goals, 1 assist), tends to play the full 90 and has games against Sheffield, Luton and Forest in his next 6.
At the same price, we have Taiwo Awoniyi (£6.4m). The Forest frontman is returning from injury and whilst his goal against the Hammers in GW12 was his first return in 7 game weeks it should be noted he only started 4 of those. Like Solanke, he has some attractive fixtures on the horizon and I'd expect him to add to his 6 attacking returns (4 goals,2 assists).
The underlying data supports both player's output this season, Solanke comes out on top with a Non-penalty involvement score of 6.17 (against his 7 returns) with Awoniyi not far behind with 4.01, slightly over-performing his 6 attacking returns. However, In the case of both forwards their most attractive asset is their price. As we head into what will likely be a hectic festive period, it could pay dividends to have a fully playing front 8, sure, you can go with Archer, but I think both the above will get you more points and I expect both will see their ownership increase in the coming weeks.
VOTE ON THIS WEEK'S CAPTAIN POLL
FPL FIXTURE TRACKER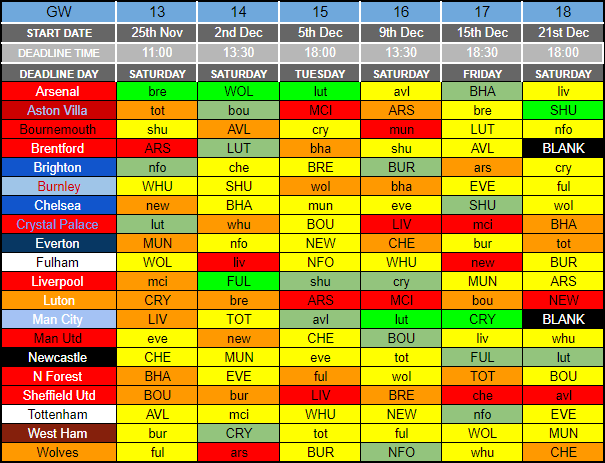 Fantasy Football 247 League Codes:
Both leagues will be shut to new entrants as of 01/01/24.