Fantasy Football Tips Gameweek 17
Welcome to Fantasy Football Tips Gameweek 17
The way FPL has been going for yours truly lately I think I'd rather be talking about Storm Atiyah, Christmas, work, or heaven forbid the General Election tomorrow; all to avoid the tedium of how I've been performing in recent weeks. Since my last decent week (in Gameweek 7!) where I nestled just inside the top 80,000, I've generally being plummeting week on week in the overall rankings with the rot stopping for one week only – and even that wasn't last week! 656,718 for anyone asking.
You don't want to hear about me though, you're here for Tips right?
Firstly, remember, this is the last week you will have access to your Liverpool assets for a short spell as the majority of Liverpool's first team squad travel to Doha for the FIFA Club World Cup and therefore miss Gameweek 18 – with West Ham United as collateral – so you'll have to either sell or bench your Liverpool (and West Ham *no laughing at the back*) assets for this. Many, like me, will have three Reds. I plan to carry a transfer over this week so that I have the flexibility to manoeuvre one out should I wish but I could also bench them all. With Watford at home on Saturday lunchtime, I wouldn't jump in and remove any of them this week – I'm not an ostrich.
The Tips this week comprise a number of players who did score well this past week but also have generally been performing very well before that. So even though it looks like I'm just going for last week's guys, I'm not. Honest.
GOALKEEPERS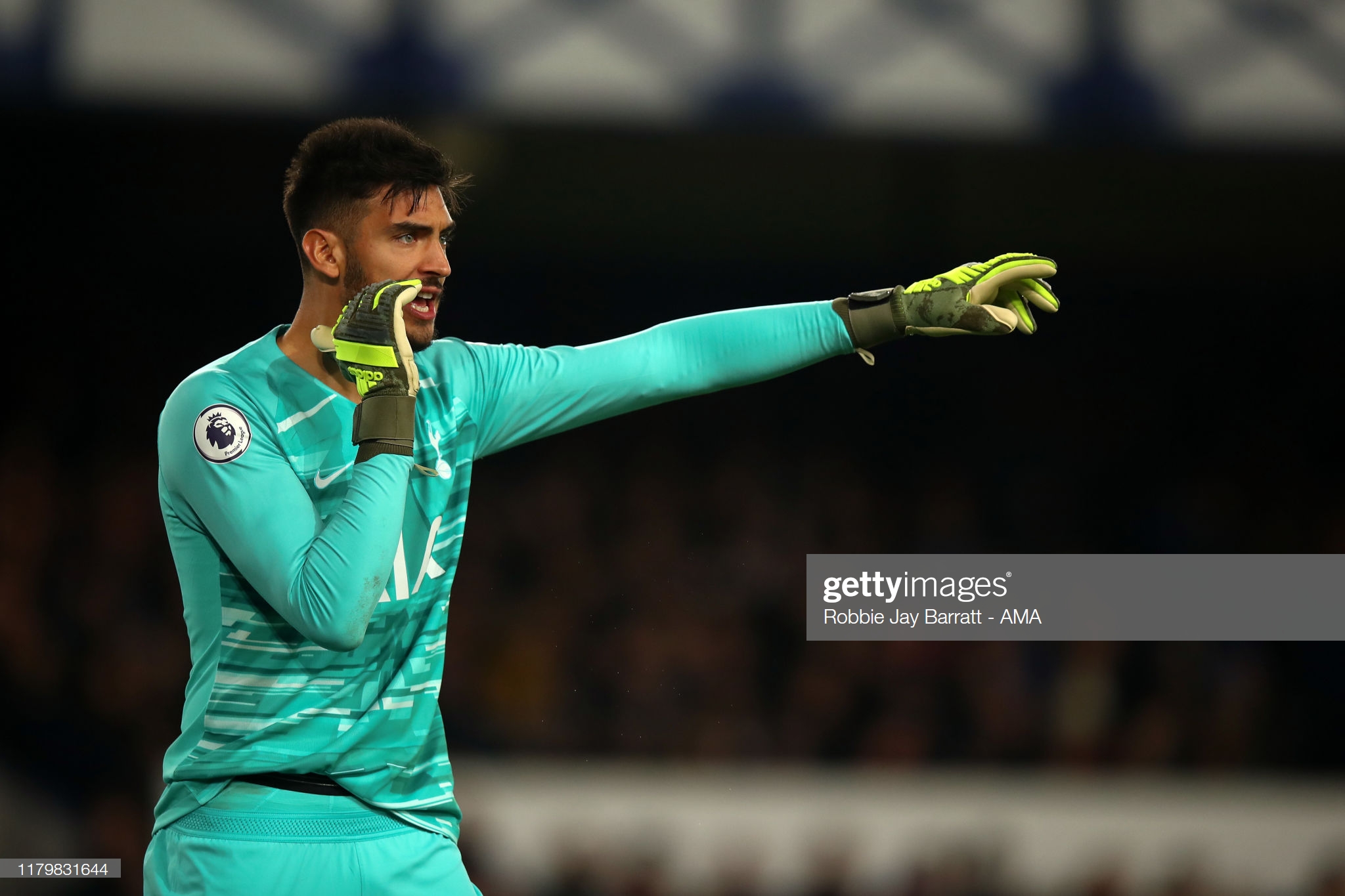 Vicente Guaita (£5.1mln to buy, 2.0% ownership)
BRIGHTON, Newcastle, WEST HAM, Southampton, Norwich (next five fixtures, home games in CAPS)
The Crystal Palace goalkeeper has made the position his own now as he's played the last six games keeping three consecutive clean sheets for the Eagles. This brought his total to six clean sheets in 14 games across the season so far, bettered only by Leicester's Kasper Schmeichel. With a look at the fixtures above, there is surely more to come. Palace look secure with a settled back four playing in front of the Spanish goalkeeper they signed from Getafe last year. Some FPL players wisely/smugly were proactive in their bringing in of the keeper last week and were rewarded instantly with 10 points brought about by the clean sheet, a save point and the maximum bonus. 45,000 FPL managers have brought him in already ahead of GW17. You should too!
Paulo Gazzaniga (£4.6mln, 4.3%)
Wolves, CHELSEA, BRIGHTON, Norwich, Southampton
As the Mourinho era begins to take shape, the Argentine goalkeeper I'm sure would not have had too much attention paid to him personally by the Special One (TM). I'm sure getting Eriksen 'dealt' with, rediscovering Dele Alli and blending him to play perfectly once again with Lucas Moura and Son behind Harry Kane would have taken precedence. So with usual number one goalkeeper Hugo Lloris out until the new year with an elbow injury, Paulo Gazzaniga has been trusted to keep goal for the Whites. It may be dealt with in time with either the signing of an improvement or the return of Hugo, however for now, Gazzaniga presents reasonable entry into the Spurs back-line at just £4.6mln – which is way cheaper than a number of his contemporaries. This transfer looks forward to what Spurs have ahead and the expectation they will improve as time goes on and he is a good swap from the likes of Nick Pope if you need a like for like seeing as the star pick Guaita is noticeably dearer.
DEFENDERS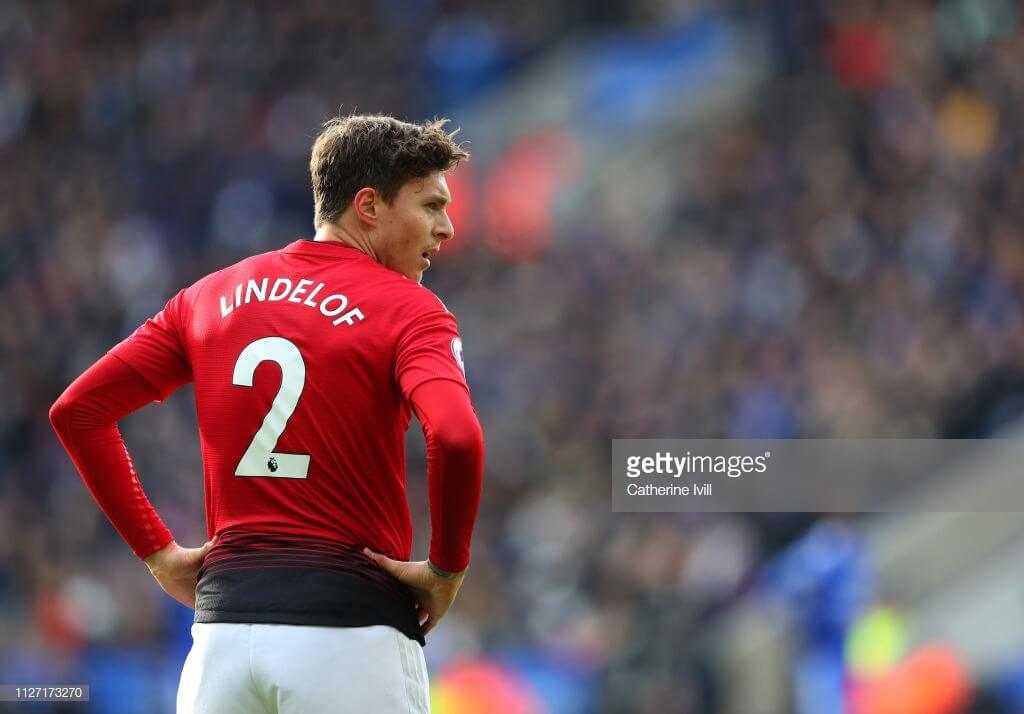 Victor Lindelof (£5.3mln, 1.2%)
EVERTON, Watford, NEWCASTLE, Burnley, Arsenal
The Swedish centreback is United's top scoring defender so far and is the same price as his team mates Harry Maguire and Aaron Wan-Bissaka. It is because of his recent form – where he has picked up a goal against Aston Villa and some commanding performances in defence including 10 recoveries, 4 clearances and no fouls against City in the derby – which has meant that I think he would be my choice of United cover in defence in the matches above. United have only kept one clean sheet so far this season but that should change in the coming weeks. The fact that the defender is also a big threat in the opposition box at set plays and is a fine differential could also sway me into bringing him in this week. Looked very good on the eye against Manchester City.
George Baldock (£4.7mln, 4.8%)
ASTON VILLA, Brighton, WATFORD, Manchester City, Liverpool
The right-sided Sheffield United defender George Baldock is the in-form Sheffield United selection currently (sorry Lundy). He costs just £4.7mln and his form of late has been superb with two goals and two assists in his last five matches bringing up his season average to 4 points per game. United as a unit have kept five clean sheets so far this season with only Leicester and Crystal Palace having a better record and embark upon a reasonable run of fixtures. You may already have Lundstram – 47% of the game does – but bringing in essentially a right winger of the same team can't be a bad idea with his and the Blades record so far. One of the best value players in defence currently.
Matt Doherty (£6.0mln, 4.0%)
TOTTENHAM, Norwich, MANCHESTER CITY, Liverpool, Watford
Speaking of defenders who are right wingers – we have Matt Doherty of the Wolves. Attack these days seems to be the best form of defence and Irishman Doherty helped create that idealogy last season with his 4 goals and seven assists. His pitch play and stats are really impressive and his link with Adama Traore looked good in the draw at Brighton last weekend. I think his performances have caught up with him seeing as he is currently priced at £6.0mln which would ordinarily put some off as he's "only" a Wolves player. Wolves have played 11 more games than most of the league this season due to their European involvement and yet still reside sixth (actually joint-fifth) in the league. Remarkable I think. They are a top side who play good football and although the fixtures appear a little in-and-out, please don't forget that Wolves have beaten City already this season. When Trent/Robbo/VVD are in Qatar, Wolves play Norwich – I'll let you join the dots.
Outsider pick
Djibril Sidibe (£5.3mln, 0.3%)
Manchester United, ARSENAL, BURNLEY, Newcastle, Manchester City
I'm only saying here that the French International has three assists in his last six games. That may be fine if the player was £4.0-£4.5mln but he isn't sadly, however, he does seem to be guaranteed to play given the injury to Seamus Coleman. Will Duncan Ferguson be around for much longer (I hope so) and if he is the 'ball wide and cross into the box' style may continue and so may Sidibe. United and Arsenal are hardly the teams of old and then it's Burnley. I pray Dunc' is still around for the Newcastle game for obvious reasons. Perhaps Sidibe is just for the watchlist but again, a fine differential if that's what you're after.
MIDFIELDERS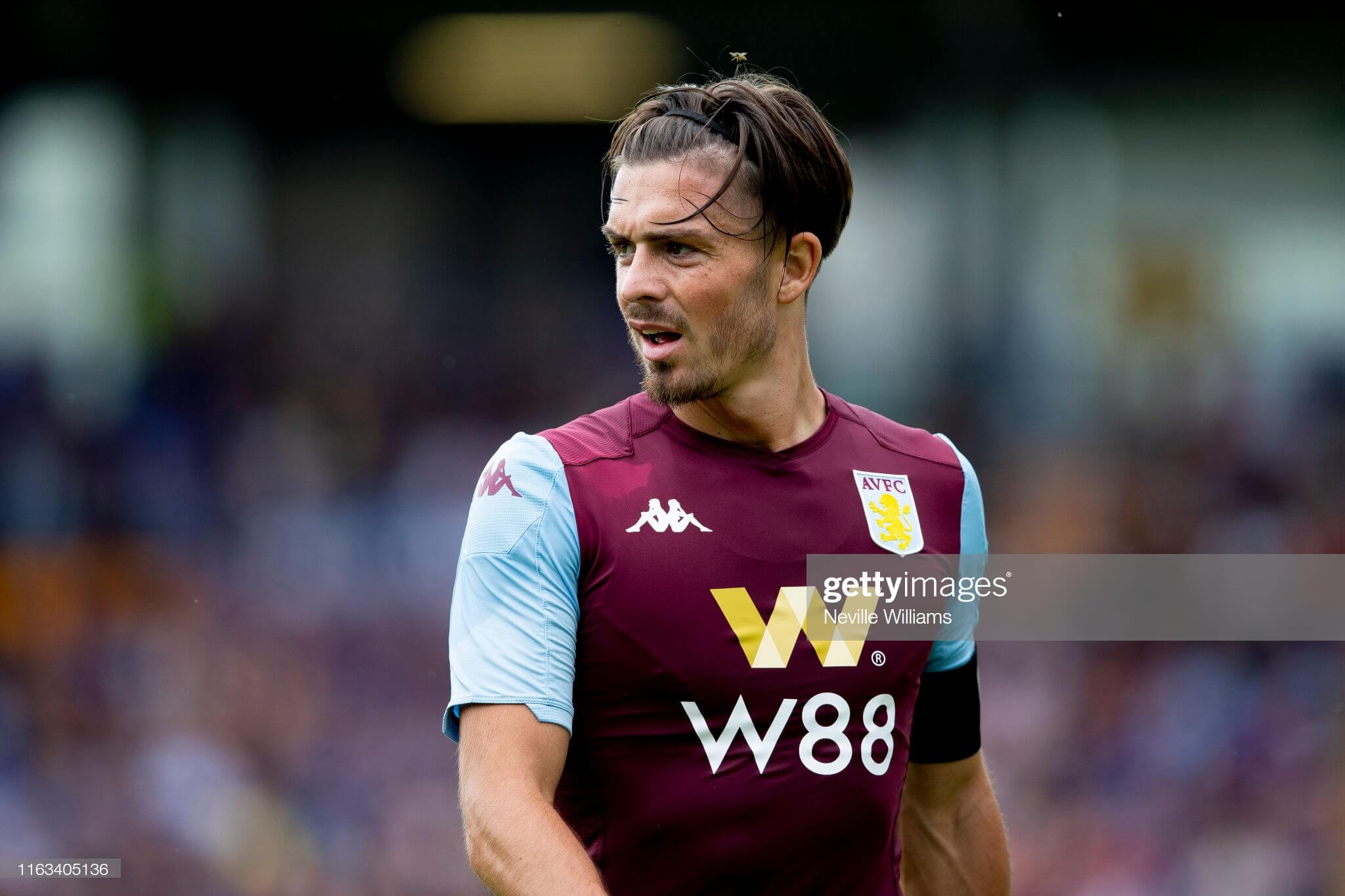 Heung-min Son (£10.0, 19.6%) & Dele Alli (£8.7, 11.7%)
Wolves, CHELSEA, BRIGHTON, Norwich, Southampton
You may already have both and if you don't then I think that's where I would focus attention for the week (unless you have Kane of course and don't, or can't, bring up the Spurs treble). I was between both last week and went Alli. I don't regret it. I regret not grabbing both when it was within reach. As briefly mentioned earlier the blend of the three attackers (sans Eriksen) behind Harry Kane is the Spurs we all know and love (OK, at least acknowledge), so therefore with each of these being charged with bringing in assists and goals, a double up with games against Brighton, Norwich and Southampton appears to be sensible. So far they each have five FPL goals and Son has nine assists to Dele's three. Worth keeping in mind that Son has played almost five more games if you are trying to decide between them.
Jack Grealish (£6.1, 7.0%)
Sheffield Utd, SOUTHAMPTON, NORWICH, Watford, Burnley
So far this season only Kevin De Bruyne, Son, David Silva and the Liverpool full backs have more assists than the Villa midfielder, esteemed company indeed. The local lad, who will very soon I'm sure become a full England International, has so far scored 18 goals in 135 games for his boyhood club. However, for those only interested in the here and now, that tally is made up of two in his last three – both beauties in the matches against Manchester United, a draw, and Leicester City, a defeat thus indicating that even if the results aren't going for Villa just now, Grealish is chipping in with his worth of goals. In total so far he has 4 goals and the same number of assists and has overtaken John McGinn as the villa midfielder of choice for me. I may be going for him as early as this week. Dean Smith's side only sit outside of the relegation zone on goal difference but they must fancy their chances in the next five games where if they do get goals, then there's a chance it will be their skipper leading from the front.
Daniel James (£6.1, 10.7%)
EVERTON, Watford, NEWCASTLE, Burnley, Arsenal
The Welshman created four big chances against Manchester City which was no surprise when you saw how open City were to counter attack in that particular match. James did register an assist in that game taking his total to four for the season. Adding in his 3 goals as well, he must be in consideration for the £6.0mln-range spot. He's reliable as witnessed in him playing every game to date AND only being subbed off three times in those. The fixtures are in place for the Red Devils, however I would stress that City away seemed to suit United down to the ground and Ole got it bang on tactically. A different kettle of fish are Everton, Watford, Newcastle, Burnley et al as I expect them to restrict United and force them to play the game around them not through them but if you are looking for cover then selecting a player playing wide right of a front three who is classed as a midfielder and for the price, then Dan's the Man!
Outsider Pick
Jonjo Shelvey (£5.1mln, 4.7%)
Burnley, CRYSTAL PALACE, Manchester Utd, EVERTON, LEICESTER
I never thought I'd find myself typing this but this game is nothing if not a rollercoaster. Shelvs is back! He is averaging an FPL point every 12 minutes played and has 31 points in his last five gameweeks. He has five goals for the season and only Todd Cantwell has more points than him at his pricepoint. Maybe more tellingly is the following statistic – no red cards and only one yellow so far. I suppose it brings about the question, has the penny finally dropped with him? The current form certainly makes a case for him to be starting as fourth or fifth midfielder. At that tricky price range, it may just make other things happen for you elsewhere.
FORWARDS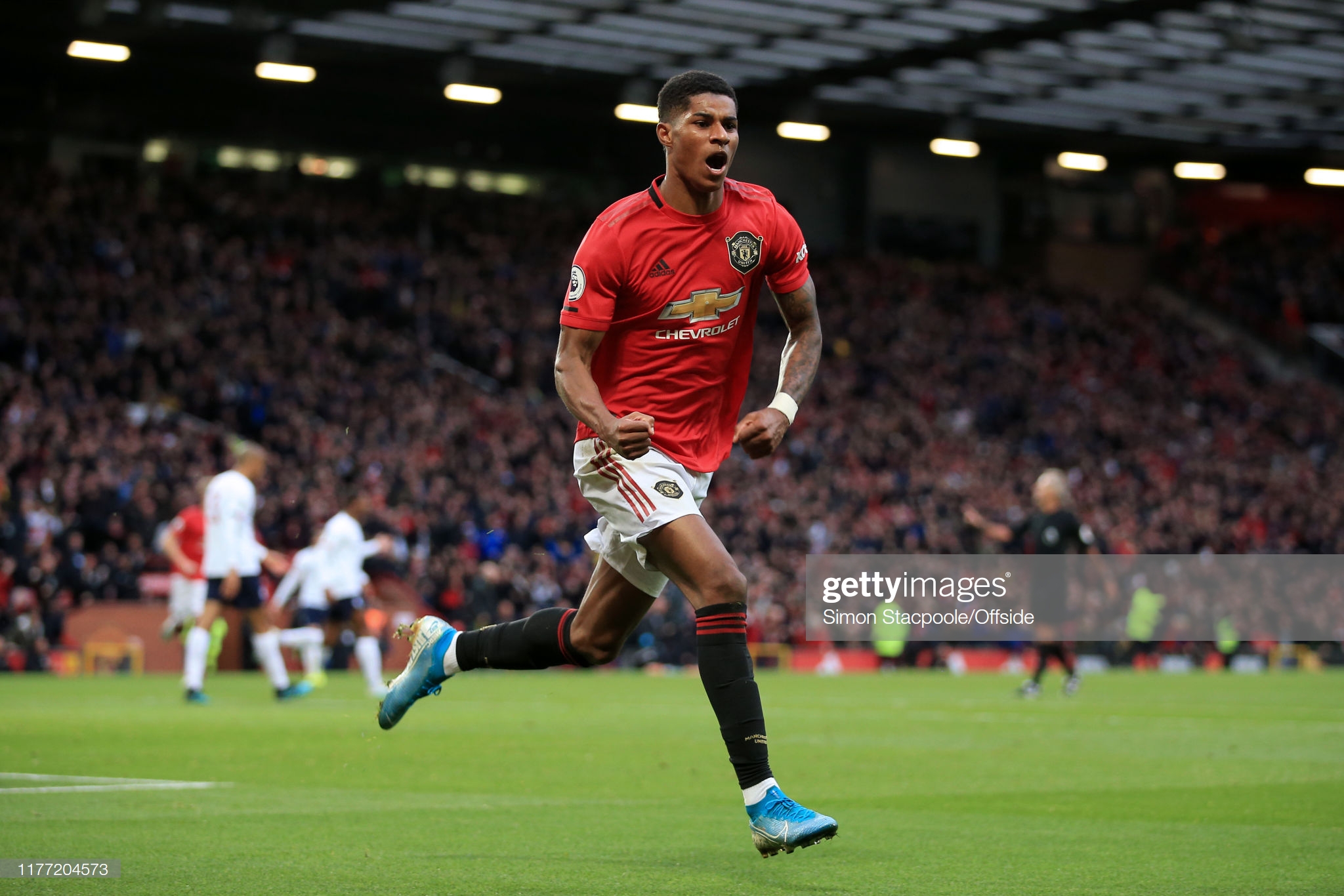 Marcus Rashford (£8.9mln, 23.2%)
EVERTON, Watford, NEWCASTLE, Burnley, Arsenal  
Approaching 270,000 transfers IN at the time of writing this, Marcus Rashford is the most popular transfer this week. As mentioned above, I don't expect a swashbuckling United to tear through every one of the above games but it's more likely that they will face stingy defensive lines who want the game played in front of them. For absolute definite, they won't have the full of the pitch to run into like last Saturday when they had the freedom of the Etihad for most of the game. Nonetheless, I would expect a player who has 6 goals in his last eight matches to find the net somewhere along this line and he probably is still fair value at £8.9mln (at time of writing). Along with Leicester's Jamie Vardy, he is the first of two players to break through the 20 mark on bonus points this season and with his ten goals and 5 assists and the fact he plays almost 90 minutes each week, would also present a viable captaincy option across the next 5 gameweeks. For information, his goals and assists breakdown so far this season is: 7 goals and 1 assist versus the 'Big 6' teams and 3 goals and 4 assists against the rest of the league.
Danny Ings (£6.3mln, 11.3%)
WEST HAM, Aston Villa, Chelsea, CRYSTAL PALACE, TOTTENHAM
I wrote about Ings in my last Tips article and I always knew he would go on and get 8 goals in ten games! Jesting of course, but the two blanks – against Manchester City and Leicester City – were understandable given the opposition, meaning that there is hardly anyone in this league who is Ings-proof. The Southampton striker has West Ham and Aston Villa next and those are two beauties for him. He won't fear Chelsea or Tottenham either seeing as he has goals against both so far this season in the reverse fixtures. Don't fear missing the boat on this man, fear missing the rest of his goals! He has 9 in the league so far, already bettering his tally for last season by two and it's only December. At 13.3 FPL points per million spent, he is, pound for pound, one of the most valuable players in the game so far.
Neal Maupay (£5.8mln, 1.2%)
Crystal Palace, SHEFFIELD UNITED, Tottenham, BOURNEMOUTH, CHELSEA
The Frenchman, signed from Brentford in the summer has so far averaged better than a goal every three games for his new club. Six goals in 16 games, 13 as starter, has shown that the money spent on him was wise. Brighton may now be in the final stages of phasing Glenn Murray out if the France Under-21 crack continues this progress. In the recent draw with Wolves, he had five shots in the match, three of which were on target leading to his one goal (and two bonus points). Looking at a broader sample size, he has had 12 shots in his last four games with half of those being on target leading to two goals. Interestingly, EVERY time he has scored in the league this season it has led to bonus point returns – on two occasions maximum bonus points. At the sub-£6.0mln range, no one has more points.
Outsider Pick
Kelechi Iheanacho (£5.7, 0.4%)
NORWICH, Manchester City, LIVERPOOL, West Ham, Newcastle
This man has waited for his chance and taken it with both hands. He has played just 91 minutes so far this season across two games (subbed on once and subbed off once) and in that short space of time has scored and assisted in both games. When you take both of these goals and assists together with his five bonus points, the Nigerian has averaged an FPL point every FOUR MINUTES. He is also, perhaps unsurprisingly given his time on the pitch, outperforming his expected goals ratio and has a better conversion rate than the likes of Rashford, Ings, Pukki and Abraham, So will he start? Therein is the problem. Against Aston Villa, Rodgers decided to bring in Iheanacho and Dennis Praet for Harvey Barnes and Ayoze Perez. I can't say for sure if this was a rotation for freshness or a signal from the manager that he noted that there was only one return from both Perez and Barnes in the last five matches (a Perez goal against Brighton) and perhaps it was only fair that the fringe players staked a claim. Iheanacho has surely done that now and I would expect to see him start against Norwich at the weekend and then who knows if he continues. It would certainly give City and Liverpool something to think about. This has the air of a 'one-week punt' about it but that's why he's mentioned here and who knows, it may grow to something bigger and you could be on early. . . . 
SUMMARY
That's my lot for 2019 then. Been a pleasure to bring you my thoughts this year and appreciate the feedback and kind comments left in previous articles.
Wish you all a wonderful festive period and profitable FPL returns for the season.
Thanks for reading Fantasy Football Tips Gameweek 17. This article was written by GP.
FPL FIXTURE TRACKER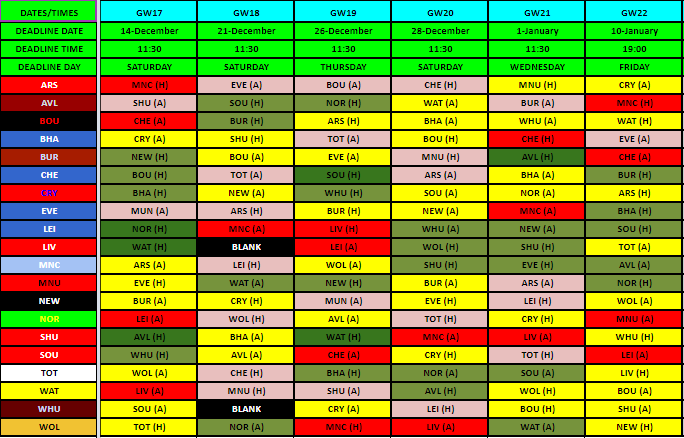 FIXTURE TRACKER LINK
Fantasy Football 247 League Codes: