Fantasy Football Tips Gameweek 22
Welcome to Fantasy Football Tips Gameweek 22. Happy New Year. That was an interesting few weeks. Australia is on fire but apparently, it can't be attributed to global warming! Donald Trump remains a law unto himself! In football, Liverpool became World Champions, while in Manchester Ole remains at the wheel, much to the amusement of everyone outside of Old Trafford! I've just realised that this is fast becoming a poor imitation of Guy's excellent intro to Fixtures. Oh well, I'm not changing it now!
Goalkeepers
Zzzzz…discussing which keepers to pick is so boring! Obviously Alisson should be the first keeper tipped this week but it's highly unlikely that anyone is going to waste a Liverpool spot on Alisson so I'll move on. The fixtures suggest bringing in the Bournemouth keeper might be a good idea but given that they've conceded 11 in their last six games and kept just one clean sheet I'd give them a miss.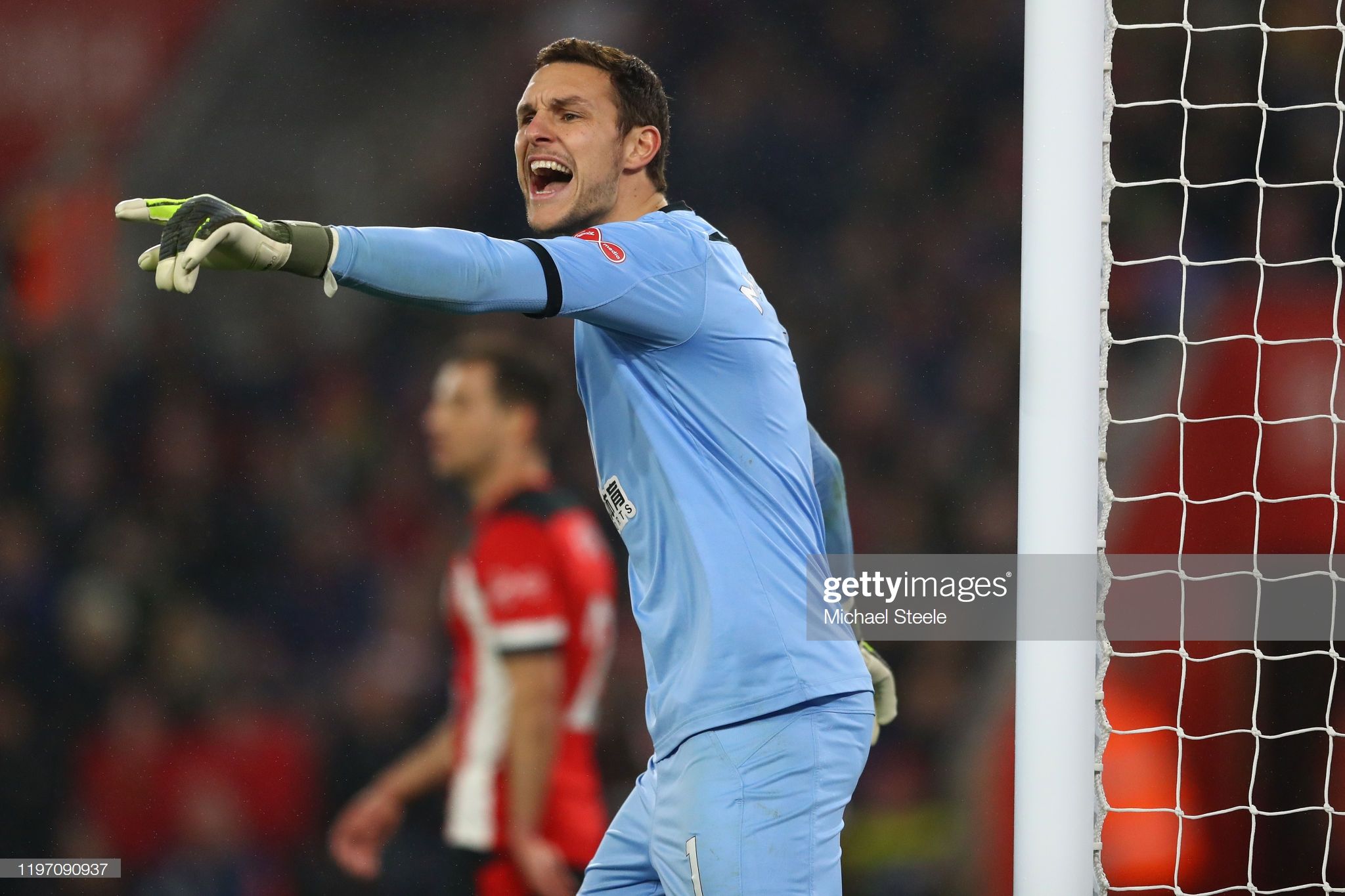 Taking both form and fixtures into account I believe that there are two keepers worth consideration. They are Arsenal's Bernd Leno and Southampton's Alex McCarthy. Arsenal have been an absolute shambles at the back all season, conceding 30 goals and keeping just four clean sheets. However, two of these clean sheets have come in the past four games. Clearly there is a lack of quality available in defence but if his first couple of games are anything to go by Mikel Arteta will ensure that the defence is well organised. Aside from trips to Chelsea & City in game-weeks 24 & 28 Arsenal have a relatively straightforward set of fixtures through to mid-April and a decent haul of clean sheets for Leno is not out of the question.
Alex McCarthy made his first appearance of the season in GW11, the game-week after Southampton conceded nine! Since then they are yet to concede more than two goals in a game. They have the joint 3rd best defence over the past six game-weeks, conceding just five times in this period. Even more encouraging is the fact that McCarthy has two clean sheets in his last three games. Admittedly, Southampton play Leicester this coming game-week and travel to Anfield in GW25 but aside from these fixtures, they have a decent run up to GW30. At just £4.3m, McCarthy could free up some pennies to be invested elsewhere.
For those of you already fixated on DGW24 you may want to turn your attentions towards Lukasz Fabianski. Granted, West Ham face Liverpool & Leicester in the double, and their fixtures after the double are horrid but that won't stop some of you being lured in! In the two games he has played since his return from injury, he has claimed 14pts and with Moyesie back anything is possible.
Defenders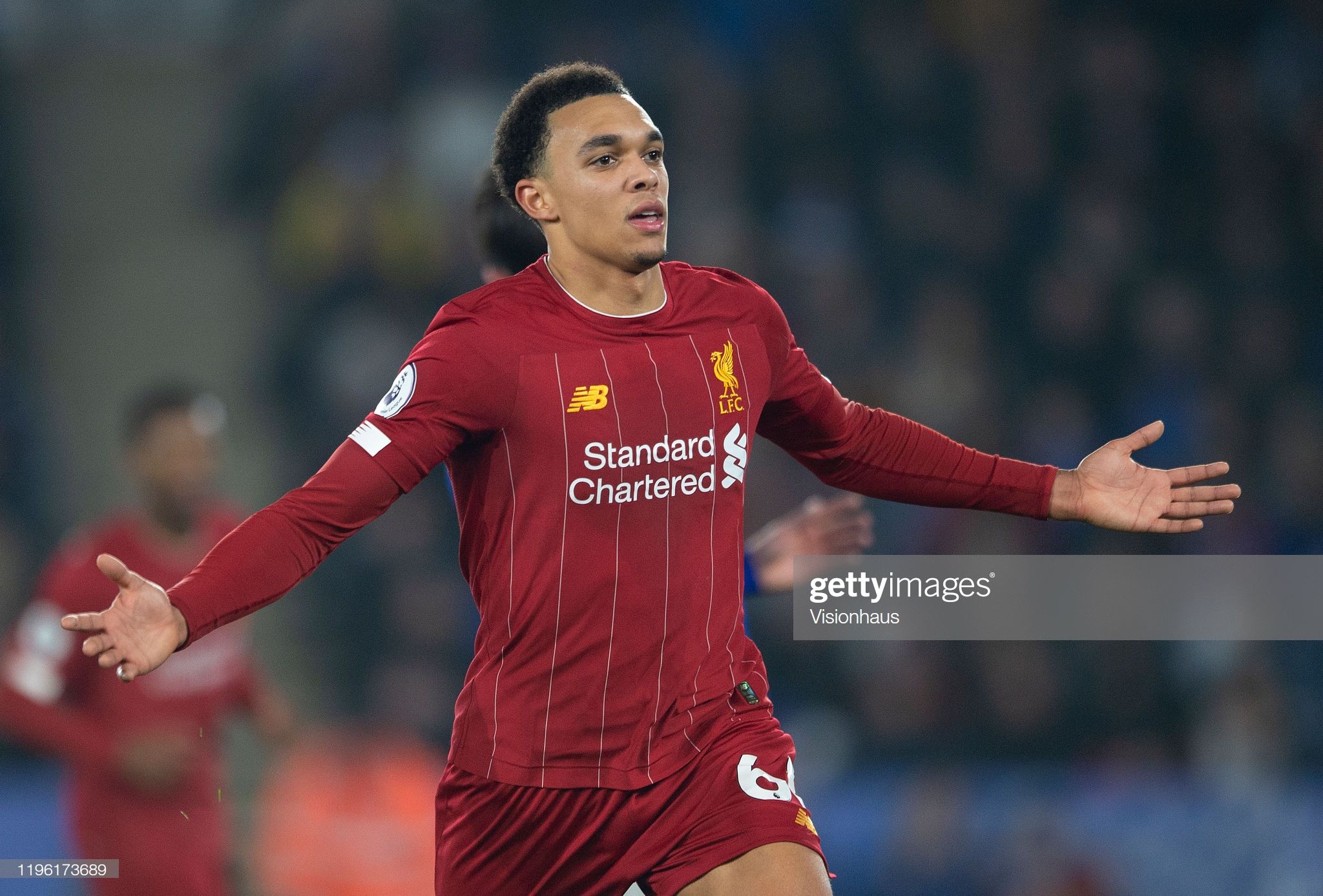 Defensively Liverpool have not been as solid this season as they were last. Despite this they still boast the best defence in the league, conceding just 14 goals in 20 games. Until recently this was not translating into clean sheets as they insisted on giving away a sloppy goal in nearly every game. However, over the past six game-weeks Liverpool lead the way with five clean sheets. Given that they missed GW18 they actually have five clean sheets from their last five league games. I'm loathe to say that anyone is a 'must have' but I think it's now essential that you own a Liverpool defender. But which one?
Trent Alexander-Arnold gets top billing for me. With 10 assists to his name over the course of the season only KdB (14) has more. I may view him through Liverpool tinted glasses but few full-backs, if any, have been able to influence a game in the manner he does. He has the ability to pick up assists from his own half. Bearing in mind that he only played 410 minutes over the past six game-weeks (540mins) he still created more chances than any other defender in the game. In that period he is also joint top for goal attempts, while he's joint 5th for touches in the opposition area. I appreciate he's £0.5m more expensive than the next Liverpool defender and has just 14pts more than Robbo and 20pts more than VVD, but the fact that he's on free-kicks and corners coupled with his ability from open play means he edges out the others.
I could go on and make similar case for the others but I'm going to stick my neck on the block and go for Joe Gomez. Due to the performances of Joel Matip in the early part of the season Gomez had to make do with appearances from the bench as well as a handful of appearances in Europe, and to be honest he was far from impressive when called upon. When Matip got injured, Dejan Lovren was favoured over Gomez. However, an injury to Lovren has seen him start each of the last five league games. Is it a coincidence that Liverpool have kept five clean sheets on the bounce? I don't know! Why am I including Gomez? It's simple really, at just £5.2m, he's considerably cheaper than the rest. Now many will say that he might lose his place if and when either Lovren or Matip return to fitness but I don't believe this to be the case. The spot is his to lose. Looking ahead to DGW24 most of us will have 3 Liverpool players. For those of you who double up at that back I believe Gomez is a great option as you should be able to fit him in without disturbing the balance of your team.
Last Friday I put a list of players together whom I intended to include in this article and one of the first defenders on the list was Djibril Sidibe. Then the Merseyside derby happened! I've decided to ignore that and I expect quite a reaction from Everton over the weeks ahead. Lucas Digne has proven popular this season but despite playing close to 700 minutes more than Sidibe, Digne has accumulated just 9pts more. It remains to be seen whether Carlo Ancelotti persists with three at the back but if he does Sidibe appears to be an enticing prospect at just £5.4m and currently featuring in just 1.7% of teams. Take a look at the last six game-weeks and you'll see that the only defender to create more chances is TAA. Everton's next five fixtures are quite appealing and assuming the Cup defeat doesn't affect them these five games should see Sidibe add to his 51pts. If an Everton defender at £5.4m isn't to your liking you may want to instead consider Mason Holgate at £4.4m. He's unlikely to pick up any attacking returns but a couple of clean sheets over the coming weeks would see him prove value for money.
With many fantasy managers trying to free up cash in an effort to get three Liverpool players into their squads the budget defender is going to become extremely popular. Three to ponder are Brighton's Adam Webster (£4.4m), Southampton's Jack Stephens (£4.3m) and Watford's Kiko Femenia (£4.2m). None of these have any significant stats to back up their inclusion but they're cheap and start each week. Given Brighton's upcoming fixtures, I was going to include Mat Ryan but instead opted for Webster. Brighton have the 8th best defence in the league and given their upcoming fixtures there's every chance they will add to their five clean sheets. It's also worth noting that Webster has found the back of the net on three occasions already this season.
For those of you happy with your keeper situation but tempted by the Southampton rear guard Stephens is the man for you. With a goal, two assists and four bonus points to his name over the past four game-weeks he's clearly in form.
Femenia offers little attacking threat but Watford have picked up three clean sheets in their past six games and he is just £4.2m. At the time of writing he's yellow flagged but we all know that these flags are about as useful as a hog roast at a vegan convention so be sure to check out the pressers on Friday.
Midfielders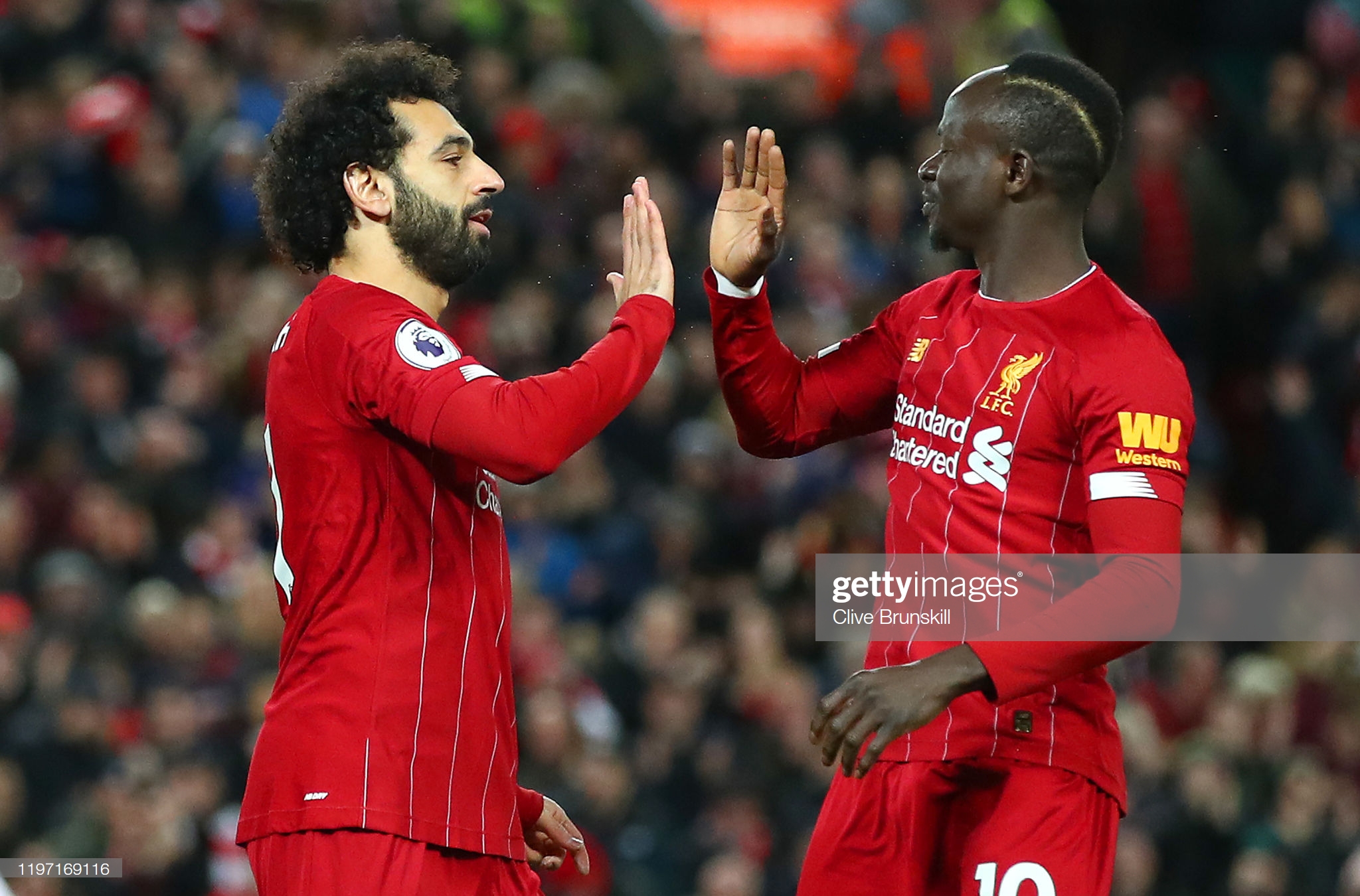 Mo Salah or Sadio Mane? Sadio Mane or Mo Salah? This question is likely to be on the mind of many FPL managers between now and DGW24. I'm not sure if I can give you a definitive answer but one thing is for sure, you'll need to own at least one of them. Over the course of the season, Mane leads Salah by 20pts. Mane has 11 goals compared to Salah's 10 and eight assists compared to Salah's four. Mane also leads the way on bonus points, 18 to 15. Over the past four game-weeks, they have each started three games (Liverpool only played 3). In this period, Mane has two goals and an assist compared to Salah's one goal. Mane has had 27 touches in the opposition area compared to Salah's 24. Salah leads the way on goal attempts, 11 to nine. Both have had five efforts on target. Salah has created seven chances compared to Mane's five. All this has seen Mane pick up 25pts compared to Salah's 16. To be honest, based on these simple stats I believe there is a definitive answer to my original question and the answer is Mane. The fact that both games in the impending double are away from home further swings it in Mane's favour as he has outperformed Salah away from Anfield over the course of the season, 55 points to 35.
This is not to say that Salah should be ignored. Treble Liverpool will be needed for the double and I believe two of those spots should be filled by TAA and Mane. If you can get Salah as well without ruining the balance of your squad, I would do so. It's worth noting that Fantasy Football Fix currently have Salah appearing in just 21% of live teams so he's something of a differential ahead of DGW24.
So much for Kevin de Bruyne being rested over the busy festive period. He has started each of the last six game-weeks, registering three goals, four assists and six bonus points. Over this six week period City have stuttered somewhat, losing two of six games. Despite this, they were still the top scorers over this period with 13 goals. Their upcoming fixtures are relatively benign and to be honest, despite not hitting the heights of last season they still go into nearly every game as favourites. It would appear to be an act of folly to go forward without representation from their attack. Over the past six game-weeks de Bruyne ranks joint 2nd for goal attempts and 4th for chances created, while he also features prominently for touches in the opposition area. I have seen it suggested that some managers might consider dropping KdB in order to squeeze either Mane or Salah into their squad. Personally, I'm not sure if this is a great idea and if this is something you're considering you may be best served looked at alternative options when it comes to Liverpool players ahead of their double.
If Aston Villa somehow manage to stay up this season it will be down to one man, Jack Grealish. I had my doubts as to whether Grealish was good enough to play in the PL but once again, I've been proven wrong. He is without doubt Villa's talisman as with six goals and six assists, he is both their top scorer and most creative player. Over the course of the season, he ranks 3rd for chances created and 10th for goal attempts. If they had a half decent forward you suspect he'd have quite a few more assists. His form of late has been impressive, with three goals and two assists in his last six games. With Wesley set to miss the remainder of the season there is every chance that Grealish may become the designated penalty taker although this could depend on who the club bring in as a replacement for Wesley.
One player who is currently flying under the radar is Watford's Ismaila Sarr. Signed for a club record fee of £30m back in August it has taken him some time to settle into his new surroundings. He has however established himself in the first XI, starting every match since GW14. Over the past six game-weeks he ranks 5th for touches in the area and 4th for goal attempts. There has also been an end product as he has picked up two goals and two assists over the past four game-weeks. Unfortunately, Sarr's price of £6.2m may deter some but given his form and some of Watford's upcoming fixtures he could prove an excellent differential.
For those of you looking for a cheap midfielder who you are happy to bench but will also play from time to time the best option is undoubtedly Todd Cantwell. Currently priced at £4.9m he is the only midfielder (11th) in the top 20 for points scored currently priced at under £5.0m. Adama Traore sits in 13th but at £5.6m I consider him too expensive to be benching on a regular basis. Now that Daniel Farke has a full complement of midfielders to choose from Cantwell has started two of the last six games from the bench but he did come on in each of those games. On a more positive note, he has scored twice in his last six games. Norwich have some horrendous fixtures over the coming weeks but if you're benching him more often than not this should not be an issue.
Forwards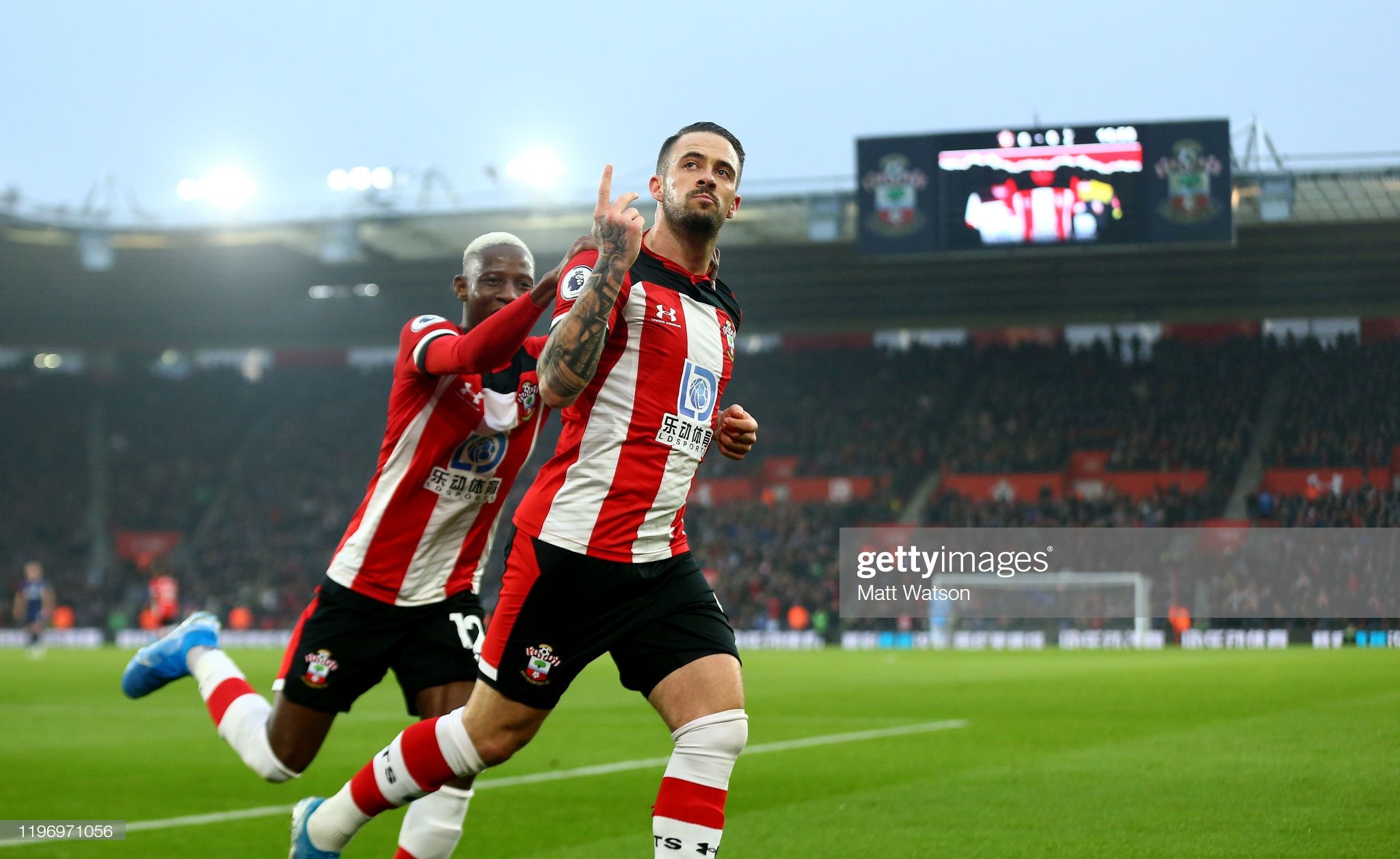 Top of the goal scoring charts over the past six game-weeks are Danny Ings and Dominic Calvert-Lewin with five apiece and as a result they receive top billing this week. Ings has become Mr. Consistent blanking just twice in his last 10 games while he's also become a bonus points machine, picking up maximum bonus points five times over the past eight game-weeks. Calvert-Lewin isn't quite as consistent as he's blanked three times over the past six game-weeks and prior to that he wasn't what could be described as a regular starter. Ings has certainly been clinical over the past six game-weeks, scoring five times from just 14 goal attempts. Calvert-Lewin scored his five from 21 chances. I've just described Ings as clinical but some might say that scoring five times from just 14 attempts is somewhat unsustainable. The same folk will also tell you that it's too late to bring him in. That's just poppycock! If you're in the market for a striker and you don't currently own Ings I would advise you to buy Ings, which is assuming you've £6.7m to spend. DCL doesn't fill me with the same confidence as Ings. I'm not sure why. Perhaps it's because we always knew Danny Ings was this good but he was constantly hampered by injuries. Should you not be able to afford Ings I would have no issue in recommending Calvert-Lewin. His stats over the past six game-weeks are impressive and he clearly knows where the goal is.
Having only scored three goals since GW6 it may come as a surprise to see Roberto Firmino included this week. However, with DGW24 on the horizon he needs to be considered. As I've already alluded to above, doubling up in midfield may prove out of reach for some and if this is the case Firmino may be of interest. The Brazilian has averaged 12 goals per season since joining Liverpool and would anyone bet against him scoring another six times over the remainder of the season to maintain this average? I wouldn't. Firmino is a joy to watch, it's as though he was born to play for Klopp, his intelligence and selflessness is second to none. His stats over the course of the season suggest he should have more than six goals but unfortunately, 'should have' means nothing when it comes to FPL. He may have only scored six times this season but it's worth noting that all six have been scored away from Anfield.
I wouldn't have included Jamie Vardy this week only for he dropped in price. Yes, the league's leading scorer with 17 goals has dropped in price. At the time of writing 237k managers have transferred him out. I appreciate he's missed the last two games due to the birth of his daughter and a problem with his calf but if neither of these had happened he would still have sat out one of the games. Some folk clearly have very short memories as in the 11 games prior to his two game absence he scored 14 times. I won't bother going into his stats because 14 goals in 11 games says enough. As for Leicester's fixtures, Vardy is capable of scoring against any team.
Who else? I really don't know! Marcus Rashford? If you own him, you hold him for the Norwich game but United are so poor I'd consider binning him after that. I certainly couldn't recommend anyone buy him at this stage. Tammy Abraham? Two goals in his last seven games says it all and Chelsea have some tough fixtures on the horizon. Auba? One to keep an eye on but he is not currently doing enough to justify a price tag of £10.8m. Jimenez? Consistent but tough fixtures ahead.
Looking at the fixtures over the next 6/7/8 game-weeks, I think Brighton's Neal Maupay could be an option. His form of late hasn't exactly been electric so this is to a large extent fixtures over form. He has seven goals to date so he's not exactly goal shy. He's an industrious player capable of scoring with his left foot, right foot and his head…it might sound easy enough but not all forwards are capable of doing that. In addition, at £5.8m he's budget friendly.
Thanks for reading Fantasy Football Tips Gameweek 22. This article was written by Kop.
FPL FIXTURE TRACKER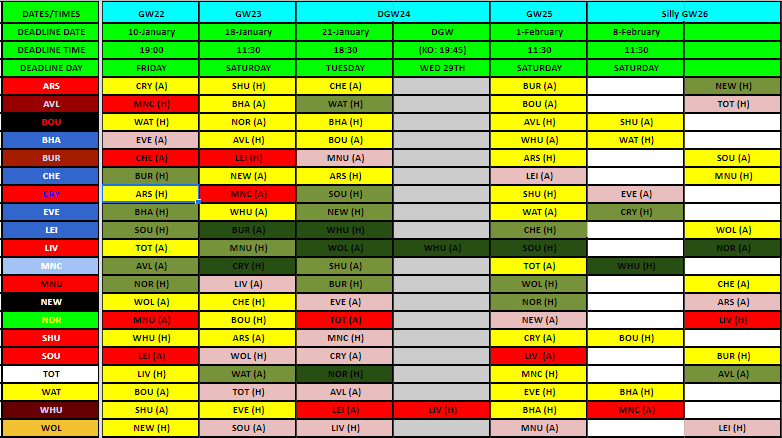 FIXTURE TRACKER LINK
Fantasy Football 247 League Codes: