Fantasy Football Tips Gameweek 22
Welcome to Fantasy Football Tips Gameweek 22 Happy New Year and all that jazz. I'm sure you're all in a positive frame of mind and are all set to achieve your FPL targets this season. But as Jonny Logan once sang,
I've been waiting such a long time,
looking out for you
But you're not here
What's another year?
I've been waking such a long time,
reaching out for you
But you're not near
What's another year?
Sorry. I had planned to keep things positive!! Ignore me, of course you won' have to wait another year to achieve your FPL targets.
I've decided to go back to basics this week and compile a straightforward Tips article. My last two articles have taken a different approach and as a site we haven't had a Tips article since GW18. So back to the old reliable I go. Hope it helps!!
Goalkeepers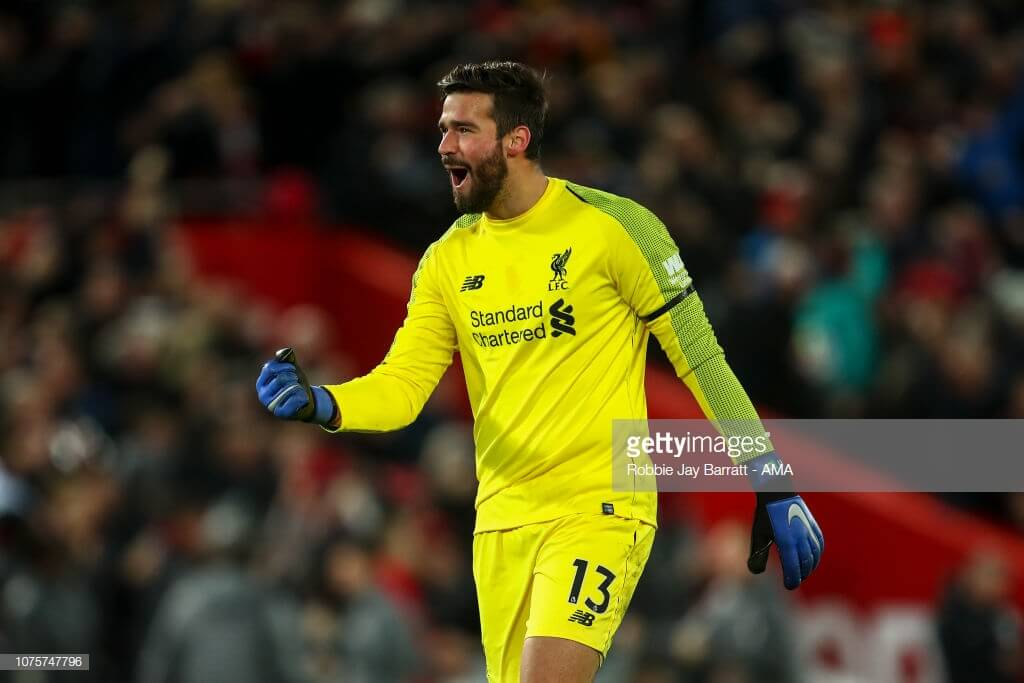 Liverpool won the league in December and then threw it away when they were beaten by City on Thursday last. Whether or not Liverpool wins the league remains to be seen but one thing is for sure they still have the best defence in the league, by some considerable distance. They have conceded just 10 goals to date and have kept a total of 12 clean sheets. Alisson certainly can't take all of the credit for this but had Mignolet or Karius been in goal I suspect they may have conceded an extra goal or two! Their defensive stats dipped a little over the Christmas period but that's hardly a surprise given that they played both Arsenal and City. Obviously none of us can predict how Liverpool will react to their first league of the season but their fixtures would indicate that they will continue to accumulate the clean sheets over the coming weeks.
Most of us love a cheap keeper. And what's better than a cheap keeper? Two cheap keepers. And what's better than two cheap keepers? Two cheap keepers who rotate. That is exactly what we have in Crystal Palace's Vicente Guaita (£4.2m) and Southampton's Angus Gunn (£4.3m). Having joined back in July, Guaita had to wait until mid-December to make his Premier League debut. Palace fans must be wondering what took Roy so long to give him his debut. He's kept three clean sheets in his five appearances, and the games he conceded in were against City & Chelsea. Palace registered some impressive defensive stats over the Christmas period, allowing the opposition just 14 shots (only three teams allowed less) on target and this is despite those games against City and Chelsea. 22 year old Gunn signed from City last summer for a fee in the region of £13.5m and made his PL debut last time out against Chelsea, keeping a clean sheet in a man of the match performance. He also played against Derby in the FA Cup. It remains to be seen whether Gunn keeps his place in the side with Hasenhuttl commenting, "…he is a very talented goalkeeper and I wanted to give him two games". Of the two, Guaita is clearly the safest choice and aside from a trip to Liverpool in GW23 they've got a decent run of fixtures over the coming weeks.
If, and it's a big if, Cardiff stay up this season Neil Etheridge will undoubtedly have played his part. To date he has saved three penalties. Against Newcastle in GW2 the game finished 0-0 as a result of his penalty save and Cardiff beat Leicester 1-0 in GW20 thanks to his stop. As a result of these penalty saves he is the 2nd highest scoring keeper in the game despite only keeping five clean sheets. Obviously he's not going to save a penalty every week but he has made more saves than any other keeper in the league aside from Lukasz Fabianski. On 13 occasions this season he has made three or more saves. Cardiff have some great fixtures over the coming weeks and there's every chance that Etheridge might even pick up a clean sheet or two.
Defenders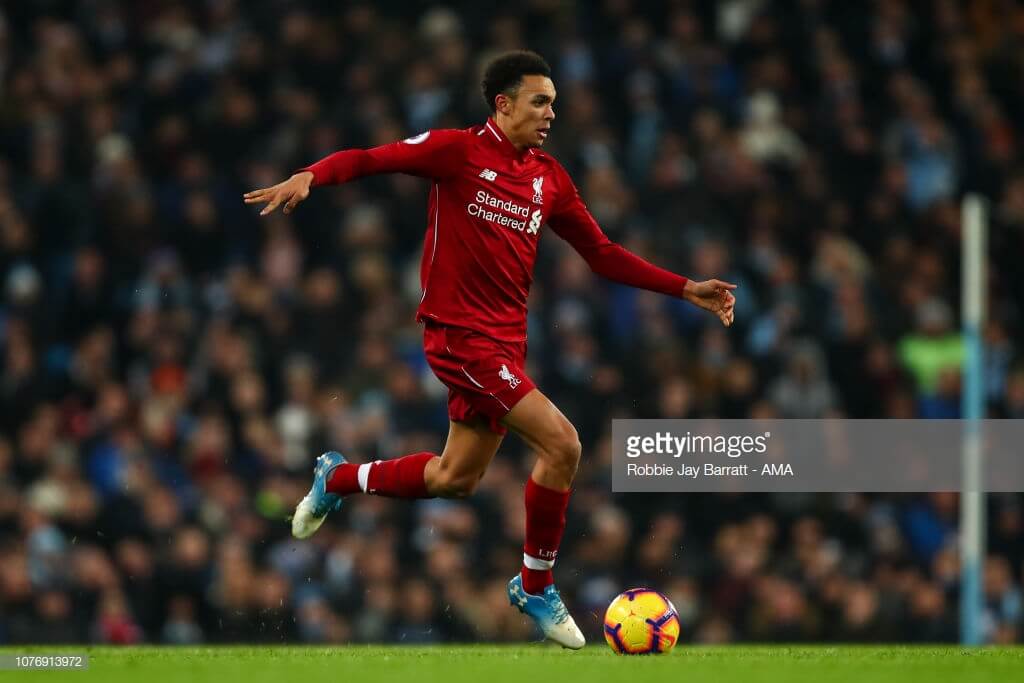 Given Liverpool's defensive stats over the course of the season it will hardly come as a surprise to see that they have three defenders (van Dijk, Robertson & TAA) in the top ten in terms of points scored. In view of their form to date and their upcoming fixtures it would make sense to have at least one of them in your squad, but which one? Robertson has 115pts, van Dijk 106pts and TAA 87pts. Van Dijk has started every league game to date, while Robertson has started 19 of 21 and TAA 15 of 21. If we take a look at their attacking stats over the Christmas period we see that van Dijk had eight touches in the opposition area, TAA had six and Robertson four. Van Dijk had three goal attempts with two on target, TAA had two goal attempts with none on target, while Robertson had zero goal attempts. TAA created five chances, Robertson created three and van Dijk one. It's worth noting that van Dijk and Robertson started each of the four games while TAA sat out one. Over the course of the season there is little to separate the three but with TAA having played less minutes and also the fact that at £5.2m he's considerably cheaper he would be my pick. The one caveat I will add to both TAA and Alisson (above) is that Liverpool's defenders are currently dropping like flies and they are down to the bare bones which might somewhat impact on their solidity.
Clean sheets proved somewhat difficult to come by over the festive period. No team managed more than two clean sheets from their four games. So in the apparent absence of clean sheets we turn our attention towards those defenders with a desire to push forward. I've had a look at penalty area touches, goal attempts and chances created, and those that showed prominently were Matt Doherty, Patrick van Aanholt, Sead Kolasinac and Lucas Digne. In terms of actual attacking returns over the period Digne leads the way with two goals, followed by Kolasinac with two assists, while Doherty and van Aanholt each claimed one assist. Over the course of the season Doherty has clearly been the most attacking of the four and this has seen him register three goals and four assists. PVA has only registered a goal and two assists over the season but it is worth noting that Palace have the best defence of these four teams and this has seen them pick up eight clean sheets. The issue I have with the Dutchman is that he's £0.9m more expensive than AWB but only has 11pts more than the youngster. Digne is not going to score 17pts every week as he did in GW19 and Everton are something of a sieve at the back but he is on certain set pieces. Despite his four assists over the course of the season it's difficult for me to say much that is positive about Kolasinac as Arsenal have kept just three clean sheets to date. I know I'm supposed to be focusing on attacking stats but three clean sheets is pathetic. In terms of upcoming fixtures Everton would appear to have the best run but as was pointed out in Fixtures, this doesn't seem to be a factor when it comes to Everton. Of the four my first choice would be Doherty followed by PVA, assuming that you've had AWB since the beginning and you can bench him as a £4.0m defender. Digne would be 3rd choice and Kola 4th.
If asked to name the four teams with the least goals conceded I'm sure most of you would get the correct answer (Liverpool, Chelsea, City & Spurs). I'm not convinced many of you would guess that Leicester have the 5th best defence, but they do. To date they have kept seven clean sheets and conceded just 23 goals. Ricardo Pereira is currently the games 5th highest scoring defender. As well as the seven clean sheets, he's registered two goals and four assists. His attacking stats do not compare with someone like Doherty but his returns are nonetheless impressive. Given that Leicester face Liverpool, United and Spurs on the spin between game-weeks 24-26 it might be best to consider the Portuguese international as an option from GW27.
For those of you on the hunt for a budget defender Southampton would appear the place to go. Jan Bednarek at £3.9m has started every game (six) since Ralph Hasenhüttl took charge. The Saints have kept just one clean sheet in that period and Bednarek does not appear to offer anything as an attacking threat but for £3.9m all you really expect is a pulse! Yann Valery at £4.0m has also featured in each of these six games and with rumours suggesting that Cedric might be set to exit the club Valery could yet make the right back position his own. Bednarek is certainly the safest option of the two.
Midfielders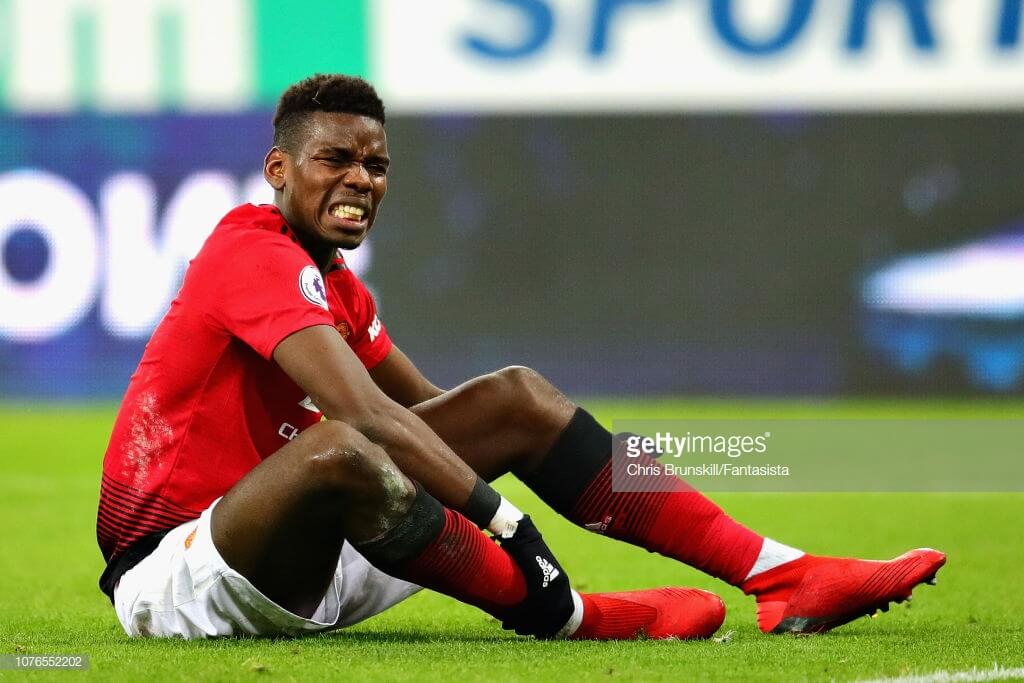 Manchester United have scored a total of 43 league goals to date. 14 of these goals have come in their last four games. Now I'm not here to criticise Jose (come back Jose!), but under him they averaged 1.7 goals per game, while under OGS they're averaging 3.5 goals per game. I appreciate the quality of the opposition in their last four games hasn't been great but they wouldn't have scored 14 goals had Jose still been in charge. Paul Pogba, like him or loathe him, is like a new player since the departure of Jose. He's scored 49pts thanks to four goals, four assists and seven bonus points. The underlying stats are there to suggest that this dramatic upturn in form is no fluke. Granted his penalty area touches (14) are not impressive but this is to be expected. However, he has had more goal attempts (16) than any other midfielder, with 10 of these hitting the target, which is three more than the next best. He's also created 10 chances which is only bettered by Fraser and Hazard. Following a tough trip to Spurs in GW22 United have four great fixtures including back to back home games against Brighton & Burnley. The return of both Lukaku & Sanchez is likely to lead to some rotation in the United attack but Pogba would for now appear to be the least susceptible to any rotation. At the time of writing Pogba has remained in Manchester to receive treatment on a knock while his teammates flew to Dubai for a training camp. However, he is expected to re-join the squad later this week and it is anticipated he will be ready for the game against Spurs on Sunday.
Salah or Mane? Mane or Salah? This question has been the centre of much debate this season. Salah is now close to £4.0m more expensive than Mane and for a large part of the season many argued that Mane + the difference was a better option than Salah. I'm pretty sure I came down on the side of Mane on at least one occasion myself. However, the last number of weeks has in my opinion highlighted the importance of the Egyptian King. Over the past six game-weeks he has on four occasions hit double figures. He hasn't played poorly this season but from an FPL point of view his returns have not equated to what we might expect of the most expensive player in the game. His underlying stats were good but they weren't generating the returns. As a result managers were reluctant to captain him and if you're going to shell out in the region of £13.0m on any player you need to have the confidence to captain him. These last six weeks have undoubtedly changed that. He was well shackled by City but this was, in my opinion, as a result of the three man midfield which Klopp fielded.
Heung-Min Son has been grabbing all the headlines at Spurs with a number of scintillating displays over recent weeks. However, following the game against United the Korean international will be packing his bags as he heads off on international duty. It remains to be seen how his departure will affect Spurs but their fixtures, after the United game, indicate that their assets will continue to prosper. Such has been the form of Son, that Christian Eriksen has somewhat flown under the radar despite claiming four goals and an assist in his last five appearances. The Dane's stats aren't what you would describe as impressive, he's had just six goal attempts in the last six weeks although four of these have found the back of the net. With many reluctant to shell out £12.6m on Harry Kane and Son set to miss up to three games Eriksen is perhaps the best bet for those backing Spurs' fixtures. With an ownership of just 6.2% he could prove an excellent differential over the coming weeks.
The Christmas period was a frustrating time for owners of Richarlison. He picked up an assist in GW18 as Everton were battered 6-2 by Spurs. Unfortunately for his owners he was benched for the trip to Burnley in GW19, a game in which Everton scored 5 although he did come off the bench to grab an assist. He then started the subsequent two games but Everton failed to trouble the opposition goal! As a result he has been transferred out by in excess of 105k managers. So why does he feature this week? His underlying stats over the festive period were actually quite good. He registered 18 (7th) touches in the opposition area and had 11 (6th) goal attempts, unfortunately only three of these hit the target. Their opposition over the coming weeks should also offer up some encouragement. This week they host a Bournemouth side who have conceded 14 goals in their last four away games. They then travel to Southampton & Huddersfield both of whom have been known to give up chances to the opposition.
Patience and FPL do not always go hand in hand. In game-weeks 19, 20 & 21 Raheem Sterling had net transfers of -672859 while the figure for Leory Sane was -470858. Obviously individual managers had their own reasons for offloading their City assets. I suspect the form of the likes of Son & Pogba had a lot to do with it. City were beaten in game-weeks 18 & 19 with both Sterling and Sane having dips in form. But were FPL managers a little hasty? City's performance against Liverpool would suggest the answer is yes. Having beaten Liverpool to narrow the gap at the top of the table I now expect City to go on a winning run and their next three fixtures could potentially see an avalanche of goals. Due to their dip in form I don't have any stats to back up their inclusion, this one is more of a gut feeling. Of the two I'm going for Leroy Sane solely because he's £1.5m cheaper. I've had a look at their respective stats over the past number of weeks and there's little to separate them. With an ownership of just 10%, thanks to the fire sale, Sane is now a decent differential. Yes Pep will rotate over the coming weeks but that is something we need to accept. Since writing this piece on Sane, Pep has thrown a spanner in the works with the news that Benjamin Mendy could return in 2-3 weeks. This is highly likely to have an adverse effect on Sane's game time. Short-term I still believe Sane is your best bet but long-term Sterling appears the better option.
A couple of slightly cheaper midfielders who warrant a mention this week are Nathan Redmond (£5.2m) and Victor Camarasa (£4.6m). Ralph Hasenhüttl has been in charge of Southampton for six league games and in that time Redmond has registered two goals and two assists, he also scored twice in the Cup at the weekend. He didn't register a single attacking return under previous manager, Mark Hughes! Only six midfielders have had more shots on target than Redmond over the past four game-weeks. At £4.6m Camarasa is, for me, the ideal 5th midfielder particularly for those who opt for a 4 man midfield. He starts every week and is on nearly all set-pieces for Cardiff.
Forwards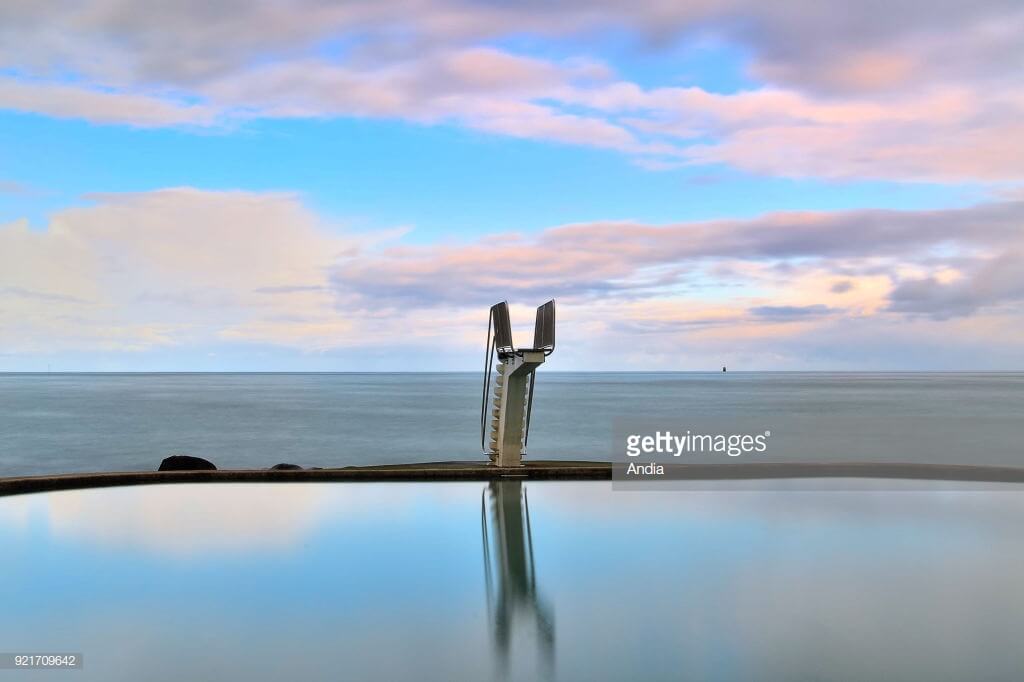 Harry Kane (£12.6m) v Pierre-Emerick Aubameyang(Auba) (£11.4m) v Sergio Aguero (£11.2m). Historically most managers would have tried to accommodate two premium forwards into their squads but given the form of the big hitting midfielders this season most managers can only afford one premium forward. Auba is the games highest scoring forward with 132pts, Kane is a close 2nd on 130pts with Aguero back in 5th on 98pts. It should of course be noted that Aguero has seen considerably less pitch time than the other two. Of the three Kane enjoyed the most productive festive period with five goals and an assist, Auba scored four with Kun picking up two goals and an assist. Looking at their underlying stats over this period we see that Auba had 24 penalty area touches, Aguero 23 and Kane 20. Kane had 17 goals attempts (6 on target), Auba 14 (7 on target) and Kun 11 (4 on target). In terms of chances created Kane made six, Auba four and Aguero just the one. Looking at both the returns and the stats of the three Kane would appear the standout option followed by Auba and then Kun. Again, it's worth noting that Kun started three games with the other two starting all four. In terms of fixtures City's next three are very appealing. However, two of the three are away from home and Kun has only scored twice on his travels this season compared to eight at home. Nevertheless, City and in particular Kun looked razor sharp against Liverpool so it may not matter where they're playing. Following this week's game against a rejuvenated United, Spurs have five fixtures which on paper are easy. The problem here is that we don't know how the departure of Son will affect Kane. There's also the fact that three of the five games are at Wembley and Kane has actually done better on his travels. Arsenal have a mixed bag over the next few weeks and while they're likely to struggle against the likes of Chelsea & City, they should do well against West Ham and Cardiff. Aguero at £1.4m cheaper than Kane is very tempting but for now I'll opt for Kane over the other two, but be prepared to jump on Kun very soon.
We've known for some time that Marcus Rashford has talent. Even under Jose there were flashes of that talent but it appeared as though he wasn't given the opportunity to express that talent on a regular basis. That has all changed under OGS and along with the likes of Pogba he has flourished, with three goals and two assists in those four games. The youngster was substituted early in GW20 with an apparent hamstring issue and it was though that Lukaku would start against Newcastle in GW21, particularly as he had scored when replacing Rashford from the bench in GW20. However, Rashford started and Lukaku was once again on the bench. This suggests, certainly to me, that for now Rashford is first choice to lead the line. The great thing about Rashford is that even if and when Lukaku does start, he has the ability to play out on either wing. This flexibility is likely to mean Rashford is close to being an ever present in the side. He had more shots on target than any other forward over the Christmas period while he also ranked joint 2nd amongst forwards for chances created. Given his current price of £7.3m and United's fixtures after the Spurs game I reckon he has the potential to offer the best value for money amongst all forwards over the coming weeks.
In my humble opinion the best 'cheap' forward currently in the game is Raul Jimenez at £6.4m. Bournemouth's Callum Wilson has 10pts more than the Mexican and is only £0.3 more expensive but given the fixtures for both clubs over the coming weeks Jimenez edges it. His stats over the past four game-weeks don't set the world alight but his performance against Spurs in GW20 caught the eye, while he also impressed against Liverpool in the FA Cup. Over the course of the season his stats, when compared against those priced at £7.0m and less, do stand out. He ranks 2nd for penalty area touches, 2nd for goal attempts, 2nd for attempts on target and 4th for chances created.
For those of you looking at budget forwards my two suggestions are Ashley Barnes (£5.6m) and Aboubakar Kamara (£4.5m). Burnley have won their last two games which has lifted them out of the relegation zone and they have a couple of games over the coming weeks which they will be targeting. Barnes has two goals and an assist in his last four games. For those of you playing 3-5-2 Kamara is the perfect 3rd striker. He doesn't always start but has featured in each of Fulham's last nine games, meaning he's nearly always good for at least a point if you ever need him. Just don't expect him to be taking any penalties in the near future!
Thanks for reading Fantasy Football Tips Gameweek 22. This article was written by Kop
FPL FIXTURE TRACKER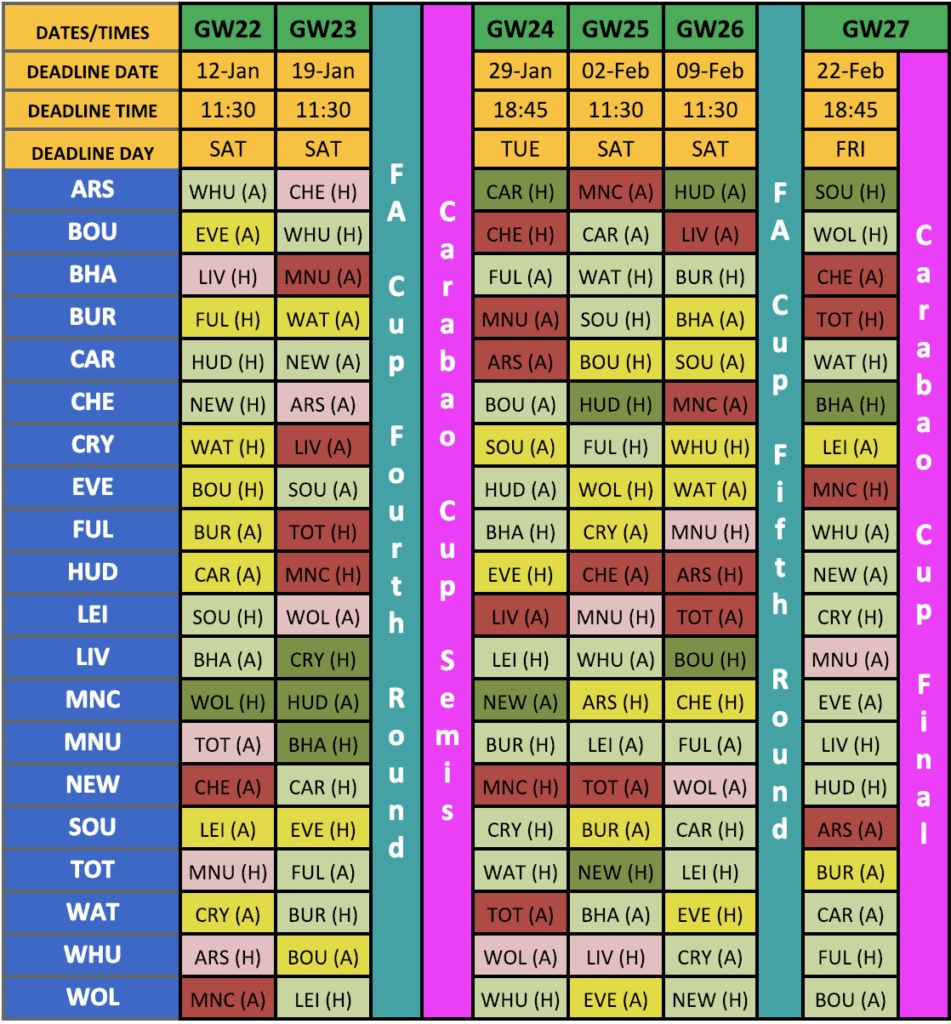 FIXTURE TRACKER LINK
Welcome to our Fantasy Football leagues section.
The League Codes for FF247 for the 2018/19 season are as follows –
Thanks to our friends Follow @ff_surgery and please give them a follow.