Fantasy Football Tips Gameweek 24
Welcome to Fantasy Football Tips Gameweek 24. We're in the midst of the longest most boring game week in living memory. It's only natural we turn our attention to the plethora of potential double-gameweeks on the horizon, fixture swings and for those who still have them (i.e. not me) Wildcards.
I've pulled together a comprehensive list of players I think are worthy of your consideration and tried my damnedest to make a solid case for each and every one of them. Let's get into it eh?
Keepers
The Man Utd defence may not be what it once was (5 clean sheets this season) but thankfully for their truthfully challenged manager, Dave saves. Dave de Gea (£5.2m) has made more saves (83) than any other keeper – if he keeps a clean sheet he could also hit double digits (as he has done twice this season already) and if he lets one in, don't be surprised to see him still walk away with 4 or 5 points. Good fixtures in the next 4 and one double already confirmed for GW25.
The Wolves defence has been quietly going about their business, and seemingly under the radar. Jose Sa (£5.2m) has let just 4 goals get past him since GW11 making 68 saves along the way. With 96 points he now shares the highest scoring keeper spot with Ederson but is substantially cheaper. Mixed fixtures that I wouldn't be put off by, two potential doubles on the horizon.
Sitting just 4 points behind Ederson and Sa with an impressive 92 points is this season's £4.5 keeper of choice. Aaron Ramsdale (£5.1m) has 10 clean sheets under his belt, a tally only topped by Ederson (12). Whilst his 56 saves are nice to have, it's bonus points where the former Bournemouth stopper makes his bread and butter. No other keeper has more than the 10 Ramsdale has thus far and it's no surprise he's the highest owned keeper (18.9%) in the game. Blanks in GW25 & GW27, good fixtures pretty much right through and a whopping 4 potential doubles on the horizon.
The fixtures are not great, the form has been iffy, but at the weekend there was a glimmer that the Nick Pope (£5.4m) of old is still in there somewhere. 10pts at home to Arsenal will have been an unexpected treat for his 2.3% owners and with 4 potential doubles to come, he could prove a reliable (although expensive) second keeper for those with a Bench Boost chip burning a hole in their pockets.
If you like your keepers unspectacular then Robert Sanchez (£4.6m) is your man. Most of us started with the Seagulls' stopper, he has not set the world on fire, nor has he disappointed. 6 clean sheets, 73 points, 60 saves, 6 bonus points. Canny. Still very nicely priced, if you have an extra £0.5m then he could be the best option as your back-up keeper, and with kind fixtures in the short-term and 2 potential doubles (one confirmed), he's a decent shout for the aforementioned bench-boosters.
Defenders
Trent Alexander-Arnold (£8.5m) and Joao Cancelo (£7.1m) should be in your team, if they are not then you're either brave, stupid or both. That leaves us with 3 spots to fill.
Whilst we have all been on Diogo Jota, it seems that those who opted for the Liverpool defensive double up of yesteryear (TAA and Robertson) were the real winners. Indeed, despite playing 2 games less than his teammates, Andrew Robertson (£7.1m) has amassed 66points in Liverpool's last 10 fixtures which compares more than favourably to both TAA (65pts) and Jota (55pts). There's no denying that Jota provides real value, but with the return of teammates Salah and Mane in the coming weeks, you may be better switching your Reds assets up and getting the Scot in over the Portuguese.
Talking of double-ups, if you're going to double up on any defence it should be the team with the best one. Manchester City just pips Liverpool for that accolade and with Joao Cancello's high ownership you would be wise to add in another to actually benefit from those City shutouts. Ruben Dias (£6.3m) still carries the highest ownership outside of teammate Cancelo, but it's Aymeric Laporte (£5.7m) who has amassed more minutes, points and attacking returns in recent weeks. Laporte it appears is last year's John Stones (who himself was the previous years Aymeric Laporte). It's hard to keep up with Pep, but when he decides he likes something (as shown with the previously often rotated Cancelo) he tends to stick with it.
Moving down in price Lucas Digne (£5.1m) reminded us at the weekend how easy it is for him to grab a 12-pointer. The new Villa man will once again have the shackles off, throw in the fact he's now playing for a better team (sorry Toffee's fans) with favourable fixtures and 2 potentially excellent doubles and he seems a no-brainer for those using Wildcards or just looking to wisely use their free transfers.
Similarly priced Kieran Tierney (£5.0m) sits top of the form table with 4 attacking returns (1 goal, 3 assists) in his last 7 matches which also saw him notch 3 double-digit returns thanks to an equally impressive 5 clean sheets. Like Digne, this one feels like a no-brainer. The only caveat being that the Gunners blank in GW25 & GW27, but as mentioned previously, they do have 4 potential doubles although it should be noted the opposition in those includes trips to both Chelsea and Spurs as well as a home game against Liverpool.
If you can't stretch to £5.0m then you could do a lot worse than Tierney's teammate Ben White (£4.5m). He doesn't carry the same attacking threat, but as long as he's fit he's nailed on and is the cheapest way into an Arsenal side that seems to know how to keep it tight at the back.
For all the reasons mentioned for Jose Sa, a Wolves defender will serve you well. Conor Coady (£4.7m) and Max Kilman (£4.5m) are the safe picks having played 90 minutes in every match this season, and they are both likely to pop up with a goal or an assist from time to time. Should you want more bang for your buck then Nelson Semedo (£5.0m) is an option but it's Rayan Ait Nouri (£4.3m) who stands out because of both his price and his ability to get above and beyond the standard clean-sheet points. With that price comes the risk of rotation, but if he's your 5th defender it may just be a risk worth taking.
Midfielders
Mo Salah (£12.7m) is highly likely to return in GW24. If you're brave there are arguments to hold off a few weeks before getting him back for a potential double in GW26 (more on that later). However, we all know what it feels like to not own Mo Salah. You have been warned.
If there is an argument to hold off on Salah's return to your FPL team then it mainly comes in the shape of Bruno Fernandes (£11.7M). Bruno brought joy and broke hearts in equal measure in DGW22 and it'll be difficult for those who own him to part company. Man Utd double in GW25 in the shape of Southampton and Brighton, both at Old Trafford. There is no easy answer here, you must make your decision and make it wisely.
As if things were not complicated enough, the return to form of Keven De Bruyne (£12.2m) with his own set of favourable fixtures is going to give FPL managers a genuine conundrum when it comes to picking which heavy hitters make the cut, be it on a wildcard or not. KDB feels slightly over-priced this season, but when City have good fixtures (which they do) then he seems the safest pick for game-time security, attacking returns and Bonus points. 5 attacking returns in his last 7, throw in 2 double-digit returns and all of a sudden he's looking like a genuine captain option.
If you want a City midfielder with a more frugal outlay then you have a lot of options. With each one comes their own unique risk and reward. Poor form and unreliable minutes take Gundogan and Grealish off the table. Raheem Sterling (£10.8m) will get you an occasional double-digit return, but at such a high financial outlay, his rotation risk is simply not worth it in my opinion. Bernardo (£7.5m) is the vanilla option, and there's nothing wrong with vanilla. Given his security of starts it's highly likely that come the end of the season, Bernardo will be the highest scoring City midfielder, but it's hard to justify his inclusion when you can probably attain more points for less elsewhere. So that leaves us with Phil Foden (£8.0m) and Riyad Mahrez (£8.6m). Foden will be the one most flock to, he's a reasonable price, always involved and seems a little more game-time secure than say Mahrez. He'll get the occasional benching, but if you have a decent squad, you'll live. For the brave amongst you then Mahrez is your man. You never know when he's going to start, but when he does, he can be lethal. He played 4/5 in game weeks 17 through 21, he grabbed 7 attacking returns (4 goals, 3 assists) and scored 44pts – an average of 11pts per game is no joke.
Heung-Min Son (£10.6m) is due to return in the coming weeks. Prior to his injury he picked up an attacking return in his last 6 games on the bounce and whilst many FPL managers will be trying to work out which premiums they should include, they should remember that Son can in all likelihood do what Kevin and Bruno do – for less. Mixed fixtures and form for Spurs, but Son seems to have a knack to pop up with a goal regardless of the opposition. With potentially 3 doubles to come, don't forget about Heung-Min.
James Maddison (£7.0m) is a player I've somehow never owned in FPL. He seems something of a streaky player but he's one of those who can pop up with a double-digit return any given week. Indeed, if you owned him from GW13 through 19 you'll have been more than happy with scores of 16,10,1,16,10. Leicester have a few tricky fixtures followed by a blank in GW27, but following that, they have a sea of green and potentially 4 doubles to come. Hell, we may even get a treble game week for the Foxes at this rate.
Another player I have somehow never owned is Mason Mount (£7.7m). With 3 blanks in the next 4 Chelsea are a huge swerve, but take a quick look at Chelsea's fixtures from GW28
Diogo Jota (£8.4m), Raphinha (£6.6m) and Jarrod Bowen (£6.8m). We all know what these players can do, many FPL managers will have all 3, I'd recommend at least one of them. Maybe two. All three could arguably be kept for the rest of the season, there are of course arguments to diversify, but all three will serve you well.
If you are looking to mix things up, then some of the following may just tempt you.
An Arsenal midfielder. Not right away (they blank in GW25 and GW27 remember), but following that, by all means, get one in. Which one? Well, all four of ESR (£5.9m), Odegaard (£5.6m), Saka (£6.4m) and Martinelli (£5.4m) started against Burnley at the weekend, but that won't happen every week. If you have the money then Saka seems the most likely to start, Odegaard and ESR will both get solid minutes but the occasional benching will frustrate. I do think ESR will get his place back, he's too good not to, but it's hard to ignore the value represented by Martinelli. Pick your poison, in a few weeks.
With an excellent fixture run that I've already touched upon, not to mention a potential 2 doubles (again excellent fixtures) then I will not persuade you from considering a Villa midfielder, if not this week, then certainly very soon. The standout choices for me are Jacob Ramsay (£4.6m) and Philippe Coutinho (£7.0m). Don't overlook Ramsay. He's a £6.0m playing with a budget price tag. He won't be this cheap come next season. He's far and away the best '£4.5m' 5th midfielder, and if you wish to spend your cash elsewhere, he's not a bad fourth mid option either. Coutinho, we know all about, he's had limited game time thus far but popped up with a goal on his debut and given the fixtures and doubles he has and will likely get, I think he will serve you more than well.
Don't ignore the players who have been doing well all season. Another player I'm yet to own but seems to dent my rank every other week is Connor Gallagher (£6.1m). He's the 7th highest scoring midfielder in the game thanks to his 5 goals and 7 assists. Palace will do well to keep him beyond his current loan deal. When Palace do well, Conor usually does too. The Eagles have excellent short term fixtures and with just 3 games against the 'big 6' from now till the end of the season, there is every chance that Gallagher may well push himself into the top 5 scoring midfielders come the end of the season.
The final two midfielders whom I think warrant inclusion are both undoubted talents in their own right but both carry caveats. First up we have Michael Olise (£5.4m). He's not yet managed to nail down a spot in manager Patrick Viera's first choice 11, but when he has got on the pitch he's delivered. 5 attacking returns in under 500 minutes is impressive, his price is the obvious draw, but with the likes of Martinelli potentially offering more game time security, its perhaps a 'wait and see' for this one.Maxwell Cornet (£5.9m) looks to be an exceptional player. He'll return from AFCON and be expected to carry the Claret's attack following the departure of Chris Wood. He's played just 607 minutes this season, but he's scored 6 goals including 2 double-digit returns. Burnley are struggling, but they do have more fixtures to play than any other team. An OOP Cornet may just be the player to drag them to safety, if he does, he might just sneak into a few FPL teams before the season is out.
Forwards
The big three. Harry Kane (£12.3m), Cristiano Ronaldo (£12.5m) and Romelu Lukaku (£11.5m). Are they worth the money? For me, it's a very decisive no. I think for any player to be worth their premium price you have to captain frequently. A lot of managers moved to perma-captaining Salah prior to his departure to AFCON. Don't be surprised if most move back to that. So, do these players carry any value? I don't think they do. But you might. In Lukaku's case, he's an obvious swerve till GW28. Those fixtures from 28 sure do look tempting though. There's no denying that Lukaku has the ability, but he's being used in a system that compliments the team over the individual. I think it's going to have to be a wait and see with Big Rom. If you're going to own Ronaldo, then now would be the time to do it given the fixtures. I just think your money could be better spent elsewhere, however, with a very appealing double in GW25 it's hard to argue against his inclusion, although Bruno illustrated in GW22 that again, your money might be better placed elsewhere. Of the three Kane is the one who interests me the most. He could have had a hat-full against Leicester in GW22 and an 11-point return could be the sign of things to come. The fixtures up next for Antonio Conte's men are a mixed bag, but with 3 potential doubles on the horizon, it will be hard to ignore Harry if he starts finding the back of the net on the regular.
So where do we spend our money if it's not on premiums? Well, if you're looking for the most in-form strikers you can drop down to the sub-£7m-bracket. With Odsonne Edouard (£6.4m) and Allan Saint-Maximin (6.7m) both 'doing bits' for their respective clubs. In the case of Edouard, he seems to have adapted well to the EPL. 10 attacking returns (6 goals, 4 assists) in just over 1156 minutes is a decent return. That he has grabbed 7 of those returns in his last 6 games shows he's starting to show signs of consistency. Palace have very good fixtures through to the end of the season, Edouard is a good shout. I know all about ASM having the pleasure (and frustration) of watching him all season. He does seem to perform better when Callum Wilson is injured (which he is) which is no surprise. I'd usually advise people to swerve Newcastle players, but given that we seem to be trying to buy every player under the sun right now, it could be a very different NUFC that we see on the other side of the January transfer window. Will that make ASM a better or worse prospect? Only time will tell.
If you're not going to go with a premium a mid-priced striker seems a sensible play, right? Hmmm. Which one though. Bamford is injured, DCL might as well be and whilst Antonio (£7.9m) sits top of the points table for forwards (100) he's hardly been prolific of late. If you're brave I'd ditch him, but he could (and probably will) punish you at some point such is his high ownership. He's not a sell, but if you don't own him, he's maybe one you could risk going without.
If you do go without (or even if you go with depending on how you spend money elsewhere) then Ollie Watkins (£7.7m) is worth a gamble. It's back to those fixtures (and doubles) I keep banging on about. Although he hasn't scored in his last 4, it does feel more of a case of when and not if. With Digne and Coutinho in the side, the Villians certainly look more potent. Watkins 23 attacking return last season proved he has the ability, whilst his 5 goals and 2 assists this season are some way short of that tally, Villa all of a sudden looks a different prospect. Did I mention they have good fixtures?
Another player in the mid-priced bracket is Patson Daka (£7.0m). As with teammate Maddison, you can hold off those Leicester assets until GW28, but when that swings around, we should have a better idea if Daka has managed to cement his place in the Foxes first choice 11. His 3 goals and 2 assists in his last 4 outings won't have done his cause any harm.
What to do with our Watford Strikers? I owned King when I should have owned Dennis, now I own both and I don't really like it. But if we play the game sensibly then we know that Dennis (£6.2m) has been scoring for fun all season, King (£5.9m) has proved ok value and whilst owning two may be overkill in the long term, keeping one isn't the worst idea in the world. Watford potentially double again in GW25, and whilst I certainly don't recommend captaining them (yes I captained Dennis), I would say hold them unless you're on WC, and even then, I'd probably keep one.
Another player who has no doubt frustrated more than a few managers is Ivan Toney (£6.6m). He may not have been the striker we all hoped he would be at the start of the season, but that has more to do with his team than Toney himself. Toney is a player who over the season will prove good value. You have to be there for his 2 pointers or you don't deserve his 12 – there's a gif in there somewhere. I digress, Brentford has some nice fixtures coming up, I wouldn't rule him out entirely.
My final pick is one I know many will have earmarked for the FPL squad. Armando Broja (£5.2m) is cheap, and when he plays he looks very good. The problem is that he doesn't play every game, and when he does he's still playing for Southampton. I jest of course. The Saints have good fixtures from GW27 and a potential double against Newcastle (they got very angry about us having this one postponed apparently) and given the Broja's price, he seems a perfect pick for those of you (us) considering a move to a formation that doesn't include picking up 3 x 2pts every week from a lacklustre front-three.
That's your lot folks. Hopefully, I've helped a few of you with transfers and Wildcards. Good luck next game week… if it ever gets here!
Thanks for reading Fantasy Football Tips Gameweek 24. This article was written by Rosco.
FPL FIXTURE TRACKER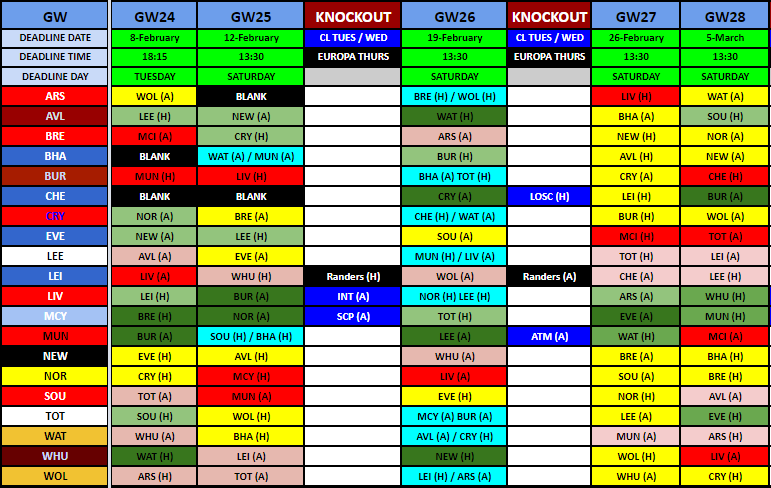 FIXTURE TRACKER LINK
SET-PIECE TAKERS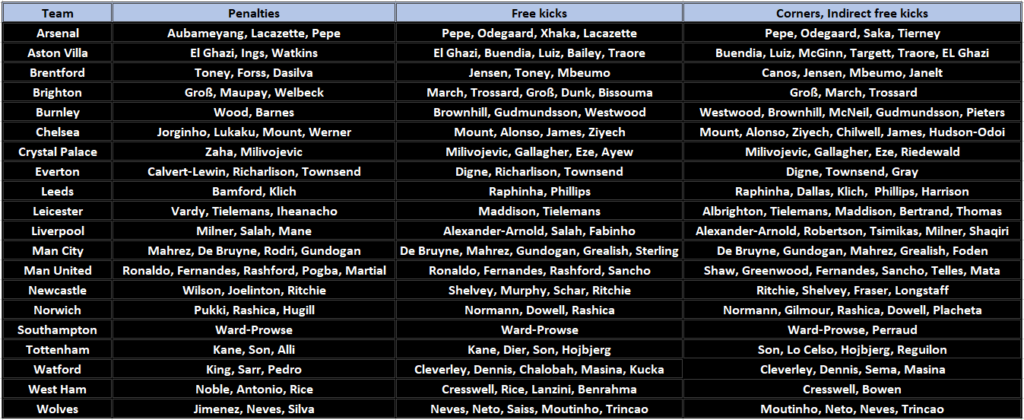 Predicted Line-Ups FPL 2021/22
You can access our Live feed to these here.