Fantasy Football Tips Gameweek 25
Welcome to Fantasy Football Tips Gameweek 25. Hello people! This is my first proper article of 2020. We are 5 weeks into the year and yet it is still January, my word this month has been slow. FPL has also been terrible for most since the turn of the year. For me personally, I started the year in GW21 with a green arrow but since then it has been red arrows all the way! Not only are the points not coming in but DGW24 has not turned out like most hoped. Mané got injured and will not play the fixture against West Ham and this has left lots of people horrified, especially those who TC'd the Senegalese winger. Not only has Mané got injured but he joins a long list of those on the medical table. Fabianski, Heaton, Mané, Cantwell, Tammy, Kane and Rashford are some of the key players we have who may now need replacing. That is why I am going to focus on players we can bring in to replace the multitude of injuries and flags on our teams.
That means I get to give some off-the-wall tips which I am sure will be ignored and laughed at but I am correct every once in a while. I direct you to my warning of Jordan Henderson being the one to have for DGW24 and what has he done against Wolves, got a goal and assist for 13 points. We are yet to see what he will add to that in the West Ham game, but I would love to see him score again!
Well onto this week's tips and maybe I can entice you to get some of these names.
Goalkeepers

Fabianski played the ultimate prank on a lot of FPL managers a few weeks ago. Coming back from injury just in time for DGW24 so that loads brought him in. How long did he play? 14 measly minutes! Now he is out injured again and according to the FPL site the Polish shot stopper is due to return imminently but I would steer clear of him for now regardless.
There are other goalkeepers out there to protect our sticks and I will start with the one who has laughed in the face of all the managers who sold him recently. Nick Pope was being sold by pretty much everyone around the turn of the year, either for Dean Henderson or Fabianski. In the last two weeks though Pope has shown everyone why that was a mistake. Two double digit scores of 10 and 12 which includes a penalty save, a clean sheet and 5 bonus points puts Pope firmly back into people's plans. This is proven by the fact he has been brought in by 48,500 managers at the time of writing this week. With a decent run of fixtures to the end of the season Pope might be a nice set and forget option.
Pope could also be used in rotation with the other keeper who has been making waves this season and in recent weeks, Dean Henderson. While the Man United loanee does not have two double digit scores in recent weeks he did score 11 points in the 0-1 loss to Man City. This is due to his penalty save and 3 bonus points… in a loss! When is the last time a goalkeeper got a double-digit score, maximum bonus points and still ended up on the losing side? This proves how good Henderson is between the sticks and with an amazing run of fixtures in his next six games how can you not bring in the young man? Looks like 109,796 of you agree and have brought him in this week!
Defenders

Enda Stevens and George Baldock
. Having kept eight clean sheets this season they are second behind Liverpool for most shut outs and they have only conceded 23 goals. I was going to put Lundstram in here but it came to my attention his position could be in danger from Besic. That is why I have instead chosen to go with George Baldock. The wingback has had 13 chances this season and nine shots which has led to him getting two goals and three assists which is just one goal shy of Lundstram. While Baldock is sitting pretty in my team I am actually becoming tempted by another player so why deviate from my trademark differential status. That is why I am tipping Irishman, Enda Stevens. Stevens actually has more potential for offensive points than Baldock as he has more chances and more shots. Stevens also only appears in 2.3% of teams which added to the brilliant fixtures of Sheffield could be a 'steel'. Just one word of caution on Sheffield United though, their GW28 fixture with Aston Villa is now a blank due to the latter winning the race to become Man City's whipping boys in the League Cup final. At the time of writing this fixture is yet to be rescheduled.
Even though this article has been looking at replacing those who find themselves banged up I will now look at one who has returned, and it is a much welcome one at that! Aymeric Laporte has been out injured since GW4 but came straight back into the City starting team in GW24 for 77 minutes and got 6 points. Pep might do these 60 minute matches for the next few weeks just to ease the Frenchman back into it and really you can't blame him. City have really missed the young centre-back this season so his return should really put a smile back on Pep's face. Laporte is most certainly a differential with him only in 2.1% of teams, the only snagging points for me are his price and the upcoming fixtures for City. They play Spurs, Leicester, Arsenal and Man United in their next five games so will you be bringing in the 6.3 mil defender?
Now for one of my off-my-rocker differential crazy picks who is Mr. Adam Webster of Brighton. Now stop laughing and hear me out. Brighton have some very decent fixtures coming up and they are against relegation rivals so it will be pedal to the floor football by the seasiders. Webster has played all but five games this season and has 53 points. Add to this his price tag of 4.4 mil and the fact he is owned by 0.8% of managers he could be a decent makeweight for those looking to upgrade elsewhere. Dunk is obviously the more attractive proposition with an ownership of 14.7% but why follow the herd when you can take your own path?!
Midfielders

As previously mentioned, Mané is injured which means people could be looking for a replacement and I would say
Nicolas Pepe
could be worth a look. You will be saving 3.0 mil by making the change as Pepe is priced at 9.1 mil. The Arsenal winger seems to be in favour with new manager Mikel Arteta, after starting the last four games. He has only got a solitary goal in that period, but they were playing tough defences. Pepé has created more chances than any of his team-mates in the last three gameweeks and is the top scoring midfielder in the Arsenal squad. The upcoming fixtures of Arsenal are brilliant as well with only Man City being their biggest challenge in the next nine gameweeks. He is also very much a differential pick with him only being in 2.4% of teams.
Keeping with my tipping of players to replace those numerous injuries I am tipping yet another Sheffield United player in John Fleck. With Cantwell currently flagged due to a hamstring injury, maybe this is a good enough excuse to just swap to Fleck. Cantwell is at 4.9 mil and Fleck is 5.0 mil so it is a near straight swap. Fleck is in a brilliant run of form with 51 point in his last seven home games, getting four goals and two assists. Again, Fleck is very much a differential with only 4.8% ownership so he could be another great purchase for those looking to gain points on their opponents.
The next one is someone who perhaps goes under the radar a bit but since the Southampton resurgence began he has been one of the key components to it. With four goals, three assists and most set-pieces in his locker James Ward-Prowse always strikes me as someone whose FPL returns never quite match up to what we see from him on the pitch but his underlying stats suggest he is always on the cusp. In terms of 'creativity stats' he is miles ahead of anyone else for the Saints and actually sits a very respectable 10th for this on the FPL table. No mean feat when you see the likes of KDB & TAA ahead of him and in fact the people behind him is an impressive list too with players like Robertson, Salah, Mane, David Silva, Tielemans and Jimenez all trailing in his creative wake. It may be Liverpool up next but the fact is that he scored away at Man City and the Saints then have Burnley, Villa, West Ham, Newcastle and Norwich after that.
Forwards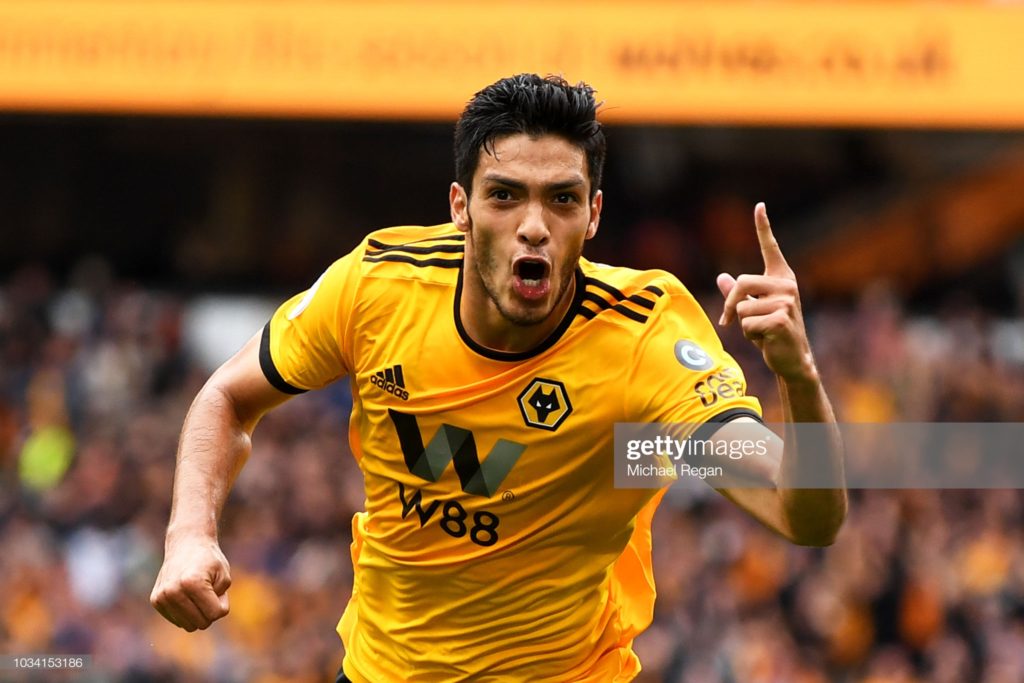 While Wolves are about to embark on a run of not so good fixtures, if their recent performance against Liverpool is anything to go by, I wouldn't fear having the Wolves players for any fixtures. Next up is Man United which should mean Jimenez and Traore will have plenty opportunities to test De Gea. The Mexican is doing brilliant in front of goals right now with three in his last two so I do not see why this can not continue. While the forward is nowhere near a differential or an under the radar pick he is someone people should be looking at bringing in. With Rashford, Tammy and Kane all injured there are not that many strikers around who are as consistent as the 7.6mil Wolves man.
With the lack of strike options I decided to look at one who is on form right now and it is the Kiwi, Chris Wood. While he is not the most exciting of picks he has also added some consistency over the last four GW's. Wood has scored against Villa, Leicester and Man Utd in those along with one assist. At 6.2 mil, and with an average just shy of three shots a game he looks good to add to his tally. Wood is brilliant in the air and coming up against Arsenal next should give him opportunities to beat the weak aerial defence of the Gunners. Plus, as previously mentioned, Burnley have a great run of fixtures to the end of the season with the exception of perhaps four games. If you are looking at putting money in your defence or midfield then a cheap strikeforce could allow that!
Another pick that I think could free up funds for you is Gabriel Martinelli. With the amount of injuries out there you may need to use every cent you can find and Martinelli could be just the answer. Priced at only 4.5 mil and only at 2.6% ownership, Martinelli could be a nice little differential. He is also in a good little vein of form having scored in the last two games against Chelsea and Sheffield United. This has coincided with Auba's suspension but has he done enough to now be in line for a start? Arteta has praised the youngester's 'incredible' spirit but he also says Arsenal must protect the 18-year old so who knows but at that price he's probably a great value '3rd' striker, should you need one.
Thanks for reading Fantasy Football Tips Gameweek 25. This article was written by Matt.
FPL FIXTURE TRACKER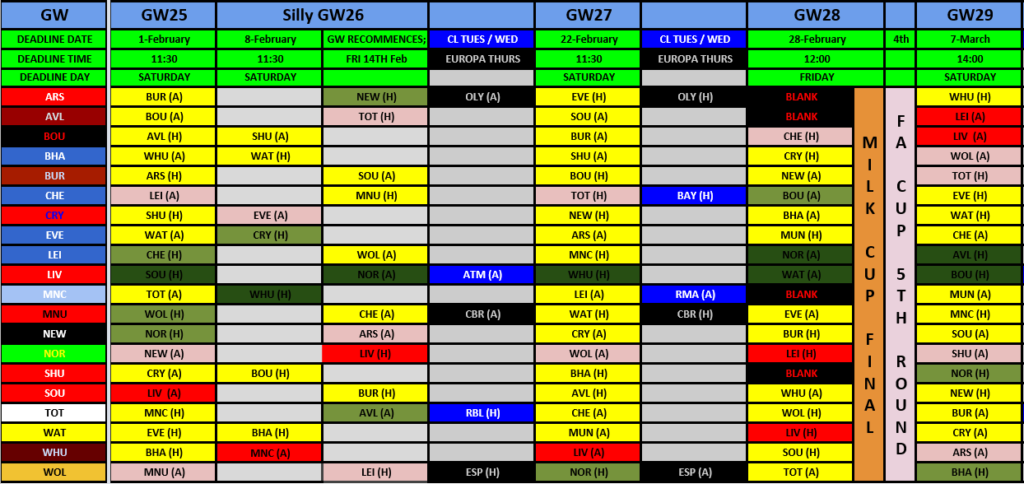 FIXTURE TRACKER LINK
Fantasy Football 247 League Codes: