Fantasy Football Tips Gameweek 26
Welcome to Fantasy Football Tips Gameweek 26.
It's been a long time since I wrote my first Tips article, just before Halloween, and GW11 clearly saw a vastly different FPL landscape to what awaits today. Liverpool's key players and a mere £5.1m version of Adama Traoré were just about all whom I picked out wisely back then. In fact, with many high-profile blanks and injuries as of late, things are looking considerably spookier now…
Speaking of Liverpool, their PL dominance has reached NSFW-esque territory, but I'll refrain from (m)any unsavoury quips. For now. Recommending anything Liverpool-related at all from this point onwards is arguably futile — surely, now, only die-hard Citizens have held onto Ederson, Sterling and any hopes of emulating their past seasons' far greater points tallies, both within FPL and in reality — only the most foolish of online horses around still need leading to that water. Any excuse to float a set of somewhat left-field suggestions and (when it inevitably all goes awry) claim that I covered the blatantly obvious without even mentioning them once! Complaining that "errRrr, non, I did nottt read le incidenttt" won't wash over anymore. Anyway, like Arsene, let's begin swiftly and then end with a whimper.
Goalkeepers
Top shelf: The Bear Who Shall Not Be Named (£6.1m) got injured in his first match, then missed the following 7 fixtures, then returned for what ended up being his team's only match in which they dropped points, then blanked again for a further 4 matches before being red-carded. Does that sound like good value? Well, he's now claimed 69 points(!) in just 10 matches, 're-returning' in his true form: an animal. Unlike certain 'top-shelf' goalkeepers, he's a season Kepa, with 6-point returns unlikely to paws in the near future.
Mid-price: whilst both Hendersons have been amazingly consistent lately, Newcastle have hit home form and Martin Dubravka (£5.0m) looks primed to combine saves with a taster of clean sheets until mid-April, if you trust Brucey with the supposedly 'easier' fixtures. If not, Arsenal (A) up next should provide him with some points, albeit unlikely to be save-related…
Bargain basement: Alex McCarthy (£4.4m) remains a standout. The Saints have surfaced as the third-best form team in the PL over the past 5 matches; their next 5 fixtures (3 of which being at home) are nothing short of sumptuous. Shane Long personally approves of this tip — don't disappoint him.
Defenders
Top shelf: I covered my arse by saying "I needn't even remind you" about a "pair of potent full-backs" in that GW11 article. Sadly, though, I failed to say "don't sell one for Mané to captain him as part of a 4-point hit" afterwards. Matt Doherty (£6.1m) is owned by a mere 4.1% of managers and, although their 3–5–2 formation of last season is no longer preferred, his raiding runs down the right-hand side can still terrorise the frail defences that he'll soon encounter in front of jeering crowds — a true Irishman in his element.
Mid-price: George Baldock (£5.1m) has the potential to be Lord Lundstram's permanent successor in squads — the latter's owned by 44%+ of managers, more than any other defender, and only slightly less than poor Rosco is by his wife — if The Lord has genuinely lost his place, it's an issue that most of us will have to tackle. George has 6 goals contributions (equalling The Lord's tally!) and has played 90 minutes in every PL match thus far, with just 23 goals conceded in the process.
Bargain basement: as a crazy differential, Bernardo (£4.3m) has now found a starting role within a Potter-led revolution, but I'm only chucking him in to get locked up with Matt for his very similar tip from the last instalment. At least Adam Webster (£4.4m) had 3 goals to his name beforehand!
Midfielders
Top shelf: Heung-Min Son (£10.0m) is on back-to-back goals and faces Aston Villa (A) on the weekend after next. That's the same fixture that allowed Man City to run out as 6–1 winners and, as Spurs won 2–0 against them, surely 8 goals will be scored by Son and his pals? Nick can hopefully validate this theory for you.
Mid-price: Riyad Mahrez (£8.5m) has a blank coming up. Pep, who's not yet named the same starting XI all season, will probably demote him to the bench. However, in this price bracket, a punt for West Ham (H) has the potential to be golden; 16 goal contributions produced in just 1,261 minutes really speaks for itself.
Bargain basement: Jordan Henderson (£5.5m) is not a name that I ever expected to type here. However, with goal-and-assist maestro performances in 2 of his last 3 matches in the PL and playing full of confidence, you could certainly do far worse than this unexciting engine. Ahhh, shit, I've just mentioned another member of Klopp's army by name…
Forwards
Top shelf: Sergio Agüero (£12.0m) has apparently lost his guaranteed penalty-taking role whilst on the pitch but, quite frankly, (a) he'll almost certainly regain it after that Gündoğan failed attempt against Spurs and (b) it really doesn't matter either way. With just over a third of the season remaining, his Golden Boot charge has escalated but not necessarily peaked, with Pierre-Emerick Aubameyang (£10.8m) hunting him down from 2 goals behind and with a very favourable schedule to (golden) boot. Vardy, in contrast, appears to be doing a Paula Radcliffe this year.
Mid-price: Raúl Jiménez (£7.7m) has fooled so many of us and yet, still, less than a quarter of managers own him. What more can this wolf do? Continue his remarkable consistency against lesser opposition soon to face him, probably, but we'll see. It's never too late to jump (back!) onboard.
Bargain basement: Gabriel Martinelli (£4.6m) has recently been more reliable than almost any other Arsenal asset (ignore my Dubravka comment above) in FPL history. He's getting 90 minutes on a regular basis now under Arteta's guidance; his pair of goals and the 4 accompanying BPs have rewarded the faith in Brazilliance that may well explode without warning if Arsenal suddenly stop drawing.
On that penultimate note, I'm drawing this out somewhat, so good luck and goodbye! All of the best for the longest of Gameweeks ahead.
Thanks for reading Fantasy Football Tips Gameweek 26. This article was written by James.
FPL FIXTURE TRACKER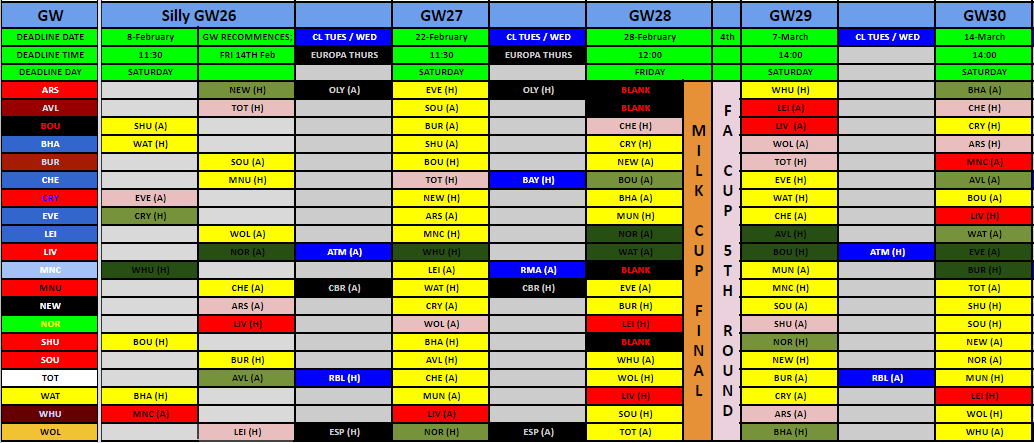 FIXTURE TRACKER LINK
Fantasy Football 247 League Codes: