Fantasy Football Tips Gameweek 27
Welcome to Fantasy Football Tips Gameweek 27. We really are getting into the business end of the season as we decide how best to utilise our remaining chips in an attempt to deal with the blanks & doubles. For the purposes of this article I'm not going to attempt to put forward a chip strategy, I'm sure someone much smarter than I will do so at some stage. In fact, Mito already has an excellent chip strategy outlined in Hot Topics. I will make reference to the blanks & doubles, and because of the blanks & doubles some of the players tipped below may or may not fit into your plans.
For obvious reasons players from City, Chelsea, Everton & Brighton will not feature this week. Although a quick look at the transfers in for this game-weeks would suggest that perhaps my reasons aren't obvious to some!
Goalkeepers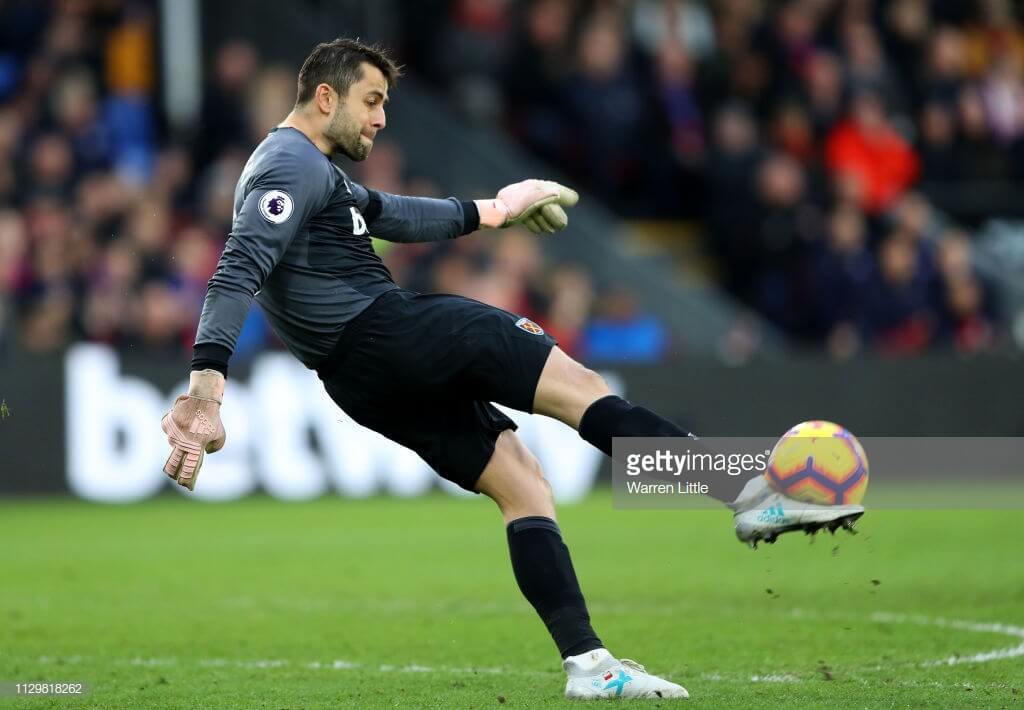 If you're in the market for a goalkeeper you'd be as well off putting all 20 names into a hat and pulling one out. It really is a minefield. Over the past six game-weeks David de Gea has picked up four clean sheets and conceded just three goals, but he faces Liverpool this week, Arsenal in GW30 and blanks in GW31 so it's difficult to tip him this week. Ederson also has four clean sheets in that period but he doesn't play this week. Liverpool haven't been as tight at the back of late but they do have some decent fixtures coming up. The problem is, I'm not sure if you should use one of your three Liverpool spots on Alisson.
So who is worth some consideration this week? I'd recommend taking a look at Kasper Schmeichel (Leicester), Martin Dubravka (Newcastle) and Lukasz Fabianski (West Ham). See what I mean about putting the names in a hat? Schmeichel has conceded 11 in his last six games but to put a positive spin on things Leicester have had some tough fixtures, something that changes as of GW27. Dubravka has kept just one clean sheet in his last six games but has conceded just seven goals in that period and just like Leicester, Newcastle have been in the midst of a tough run of fixtures. Fabianski has also kept just one clean sheet in his last six and he's conceded nine times. In fact Fabianski has only kept four clean sheets all season. Only Fulham have kept less. Despite this he's still the 6th highest scoring keeper over the course of the season, thanks to the 101 saves he's made. Of the three I'd certainly go for Fabianski as he'll get you points even when he concedes. To be honest, I'm not sure why I've even bothered including the other two. Just make sure you can bench Fab in GW28!!!
Defenders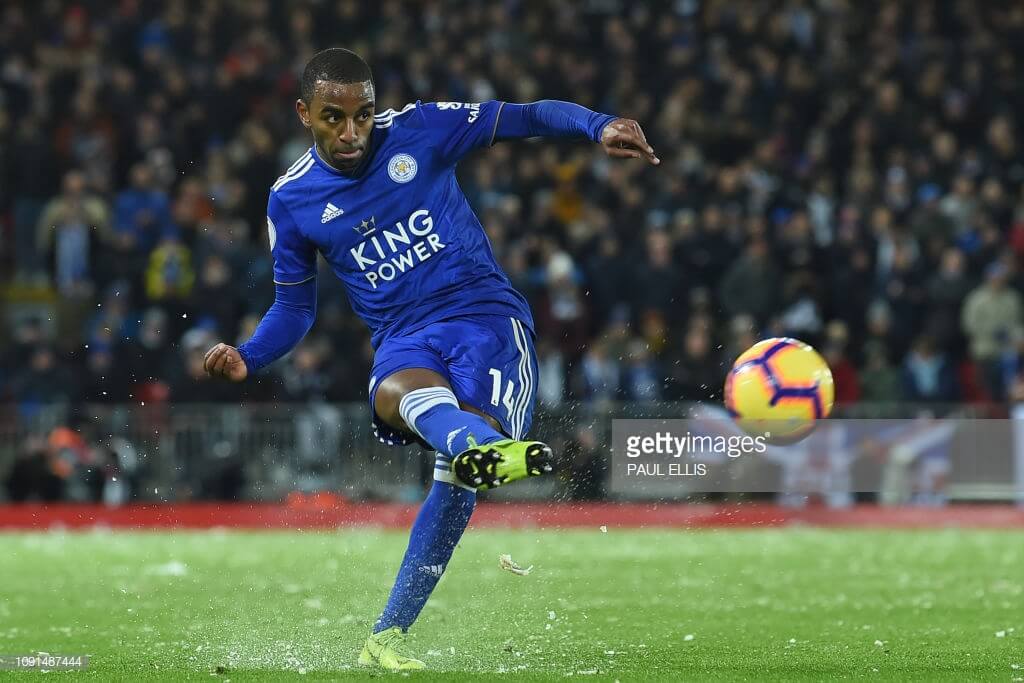 For quite some time it has been highlighted that Leicester's fixtures turn for the better in GW27. As well as an upturn in fixtures they will feature in every game-week to the end of the season but on the flip side they will not have a double. Their defensive stats over the course of the season are reasonable. They have kept seven clean sheets, a total only bettered by five teams. They have conceded 34 goals, with only six teams having a better record. They have given up just 96 shots on target, with only three teams conceding less. Typically I would focus on stats from the past 4/6 game-weeks but their stats will be somewhat skewed having played Liverpool, United & Spurs in their last three. Ricardo Pereira is currently the 6th highest scoring defender having scored two and assisted six. Only Alonso, Robertson & Holebas have more assists. Over the course of the season Pereira ranks 6th for touches in the opposition area, 6th for shots on target and 9th for chances created. Despite the calibre of opposition his stats over the past four game-weeks have been solid, particularly his chances created. Given Leicester's fixtures there's no reason why he can't be fielded in each of the next nine game-weeks. Currently he features in just 12.8% of teams but I expect this figure to rise over the coming weeks.
Liverpool have the best defensive record in the league and feature in every game-week through to the end of the season. Yes, they have conceded five in their last four games but three of those were against Crystal Palace and we all know of their history with Palace. After their visit to Manchester this weekend they have a run of games from which they will hope to garner a number of clean sheets. As he has been all season Andy Robertson is undoubtedly the standout option. Thanks to 17 clean sheets, seven assists and a staggering 21 bonus points he is the game's highest scoring defender with 142pts, 15 more than the next best his defensive colleague VVD. His stats over the past four game-weeks aren't as impressive as they have been but that's possibly due to Liverpool's dip in form. Should you not already own the Scot £6.8m is a lot to shell out on defender at this time of the season. If this is the case, you could do a lot worse than his colleague Trent Alexander-Arnold. Having missed game-weeks 23-25 his ownership has dropped to just 12.9%. Bizarrely his price has not dropped! If we look at their averages over the course of the season there is little to separate them. Yes, Robbo is marginally ahead but at this stage of the season I'm not convinced that he's worth £1.6m more than Robbo right now.
If as an FPL manager, you don't enjoy your defenders picking up clean sheets look no further than Arsenal. They wouldn't know a clean sheet if it slapped them in the face with a dirty nappy. They've kept just four over the course of the season. Despite this, a case can be made for the inclusion of Sead Kolasinac. The Serb has picked up six assists despite only featuring 15 times this season. His attacking stats over the past four game-weeks are not as impressive as I was expecting despite spending most of his time in the opposition area and at times he appears to be Arsenal's number one attacking outlet. With home games against Southampton and Bournemouth in game-weeks 27&28 now is the time to get Kolasinac. He's certainly one to consider if you have plans to wildcard in the coming weeks as you can then easily remove him.
This is nearly as bad as tipping the keepers this week! It's like pulling teeth! What about some budget friendly (£4.5m and under) options? Based solely on stats Wolves' Jonny would appear your best bet. He's had seven touches in the opposition area (joint 4th), four goal attempts (3rd) and he's created two chances (7th). The issue with Jonny is most managers own Matt Docherty and I'm not convinced a double up is wise. If you don't own Docherty, buy Jonny. Another cheap defender who stands out in terms of their stats is Fulham's Calum Chambers. He's had six touches in the opposition area (joint 7th) and 10 goal attempts (1st) of which four hit the target. Unfortunately, Fulham have the same attitude to clean sheets as Arsenal but he is priced at £4.2m and plays each week.
Midfielders
Mo Salah may not reach the 303pts he reached last season but he has certainly proved he's far from being a one season wonder. He's currently the highest scoring player in the game with 189pts thanks to 17 goals, 8 assists and 15 bonus points. Obviously he's also the game's most expensive player, but you get what you pay for. The fact that he currently features in over 50% of teams means your ranking is likely to take a hit every time he scores if you're brave enough to go without him. There will always be those who claim that it's better to do without a player like Salah and to reinvest the money elsewhere. The issue with that is identifying where to invest the savings. Of course it will work for a handful of people but for the majority it will lead to tears. There's no need for me to delve into his stats as his returns speak for themselves. Sadio Mane has scored in each of his last four games and all of a sudden the 'Mane can cover Salah' brigade have resurfaced. Earlier in the season I started to believe that he could but I was wrong. There is however an argument to be made for doubling up on the two. After this weekend's trip to Old Trafford Liverpool have four relatively straightforward fixtures and importantly they do not blank. Over the past four game-weeks Mane ranks 5th for penalty area touches amongst midfielders and 4th for goal attempts. He doesn't feature in terms of chances created but, interestingly, James Milner is the only Liverpool midfielder to have created more than six chances in that period.
There was consternation in the FPL world back in early January when Heung-Min Son headed off on international duty. Prior to his departure he had scored eight and assisted six in 10 games. We needn't have worried as in the end he only missed one game. Since his return he has scored in each of his three games. Over the past four game-weeks he's had 19 penalty area touches (10th), 14 goal attempts (3rd) with four attempts on target. On first glance the stats aren't overly impressive but it's worth remembering that he's only played three of the last four. Don't be put off by the fact that Spurs play Chelsea & Arsenal in game-weeks 28&29, both are struggling for form and defensive solidity of late and it will come as no surprise should Spurs turn both teams over. Should they do this Son is likely to play a key role.
United host Liverpool this weekend, travel to The Emirates in GW30 and blank in GW31 so their fixtures are not exactly ideal but it's impossible to ignore the form of Paul Pogba. In the nine league games he's played since OGS took over he's scored eight and assisted six. Given his style of play it's not surprising to see that he's only had 19 touches in the opposition area over the past four game-weeks but this hasn't stopped him having 17 attempts on goal in the same period which is more than any other midfielder. Having lost 2-0 at home to PSG in the CL United face an uphill task to qualify for the quarter finals. The 2nd leg against the French side follows their game against Southampton in GW29, a game in which OGS may be tempted to rest one or two players. However, with Pogba suspended for the 2nd leg there is no danger of him being rested. Obviously your chip strategy is going to dictate which players you buy and sell over the coming game-weeks, but there's no excuse for not having Pogba in your team.
Back in November and the early part of December, Felipe Anderson went through something of a purple patch when he scored five and assisted two in the space of seven game-weeks. There were even rumours that he was essential! In the subsequent nine game-weeks he's scored twice and assisted one. His stats over the past number of game-weeks don't make for great reading either. So what's he doing here this week? It's simple, his fixtures, aside from City in GW28, are superb. I'll be honest, I haven't seen much of West Ham of late but I did see their game against Liverpool and he stood out. When he's in the mood and those around him play well he will score points and at £7.2m he has the potential to represent great value for money over the coming weeks. It's worth noting that none of the midfielders who have scored more FPL points than Anderson are cheaper than him.
Given Leicester's fixtures and the fact that they will feature in every game-week it might be worth casting an eye over their attacking threats. In midfield it would appear as though we have three options, James Maddison, Demarai Gray and Harvey Barnes. In terms of attacking returns none of them are currently setting the world alight. Maddison had a great start to the season but since GW15 he's registered just two assists. Looking at their attacking stats over the past four game-weeks we see that both Barnes & Gray have had 18 penalty area touches with Maddison having 13. Gray has had 10 goal attempts with six on target, Barnes has had nine goal attempts with three on target, while Maddison has had seven goal attempts with just one on target. Maddison leads the way in terms of chances created with 11, Barnes has four and Gray two. Of the three I'd favour Demarai Gray as his game-time would currently appear more assured than the other two. At £5.4m he's the cheapest of the three and currently features in just 0.8% of teams.
In the market for a cheap 5th midfielder? Check out Burnley's Dwight McNeil (£4.4m) and Huddersfield's Adama Diakhaby (£4.5m). Diakhaby's stats are quite good, over the past four game-weeks, when compared to all midfielders priced £5.0m and less. He's had 16 penalty area touches (2nd), seven goal attempts (3rd) and has created four chances (joint 9th). McNeil has only had two penalty area touches but he has managed seven goal attempts (joint 3rd) and has created seven chances (2nd). McNeil has registered a goal and two assists in his last seven games. Burnley have a mixed bag of fixtures over the coming weeks but they do play in GW31 and they are unbeaten in seven. Huddersfield are as good as relegated but do have some decent fixtures and also feature in GW31.
Forwards
Arsenal's defence might be as useful as a wet paper bag but they're somewhat more reliable going forward. They've scored a total of 53 goals this season with only City, Liverpool and Spurs scoring more. Between them Pierre-Emerick Aubameyang and Alexandre Lacazette have scored 25 of these goals. Over the course of the season Auba has been the most popular of the two and this is reflected in their current ownership figures, Auba has 25.7% and Lacazette has 10.2%. It's also worth remembering that Auba is £1.6m more expensive. Is he worth the difference? Not when he's got the sniffles. In terms of stats over the course of the season Auba wins hands down. However, in recent times the stats are much more in favour of the Frenchman even when we take into account that Auba missed GW26. We may still be in February but it's beginning to look like winning this season's Europa League is going to be Arsenal's best chance to qualify for next seasons CL. One down from the away leg against Bate they host the return leg this coming Thursday. A game Lacazette is suspended for. Could Emery therefore rest Auba this weekend? I think there's a possibility. If you own Auba you'll of course hold onto him. However, if you don't and you've plans to bring in an Arsenal forward this week I'd seriously consider Lacazette.
Given that Liverpool have no blanks over the remaining game-weeks Roberto Firmino certainly warrants a mention this week. In FPL terms I would have said that Firmino isn't having the greatest of seasons, so I was quite surprised to see that over the course of the season he's the 6th highest scoring forward and what's more, all bar one of those ahead of him are more expensive. Unfortunately, his recent returns aren't the greatest, he's registered just a goal and an assist in his last four games. His underlying stats would suggest points are imminent. He's had 27 penalty area touches (4th). He has however only managed eight goal attempts (11th), although six of these have been on target (4th). Unsurprisingly he comes in 3rd on the chances created table with seven. Given Liverpool's fixtures over the coming weeks and the fact that they don't blank it seems quite likely that many of us will want our full quota of Liverpool players. If we assume that most, if not all, of us will have Salah and a defender the final spot would seem like a shoot-out between Mane & Firmino. In terms of stats and ownership figures there's little to separate the two but with Mane the one finding the net on a regular basis of late he gets the nod for me.
For those of you in the market for a cheap striker and you already own Jimenez (who doesn't?) you might want to turn your attentions towards Burnley where there are not one but two options. Ashley Barnes and Chris Wood. Barnes has five goals and two assists in his last nine games, while Wood has five goals in his last seven games. A quick look at their stats tells us that Barnes has had 23 penalty area touches over the past four game-weeks compared to 12 for Wood. Barnes has had 14 goal attempts with eight on target compared to Wood's seven goal attempts with four on target. Barnes has created three chances and Wood one. The stats clearly point towards Barnes and with him being £0.6m cheaper at £5.6m he's the one I'd go with. Obviously Burnley play Spurs this week and Liverpool in GW30 but when buying a cheap 3rd striker fixtures are not always as important. The fact that Burnley play in GW31 is another plus.
I could easily include both Rashford & Jimenez this week but it's getting late and I'm feeling lazy! Most of you already own at least one if not both of them. Instead I'll leave you with Salomon Rondon. Newcastle currently lie just one point above the relegation zone but their fixtures over the remaining game-weeks are as straightforward as they could hope for. At £5.7m you're not going to find someone who is cheaper, will feature every week and actually has a chance of scoring. Well, there is of course Ashley Barnes!!
Thanks for reading Fantasy Football Tips Gameweek 27. This article was written by Kop
FPL FIXTURE TRACKER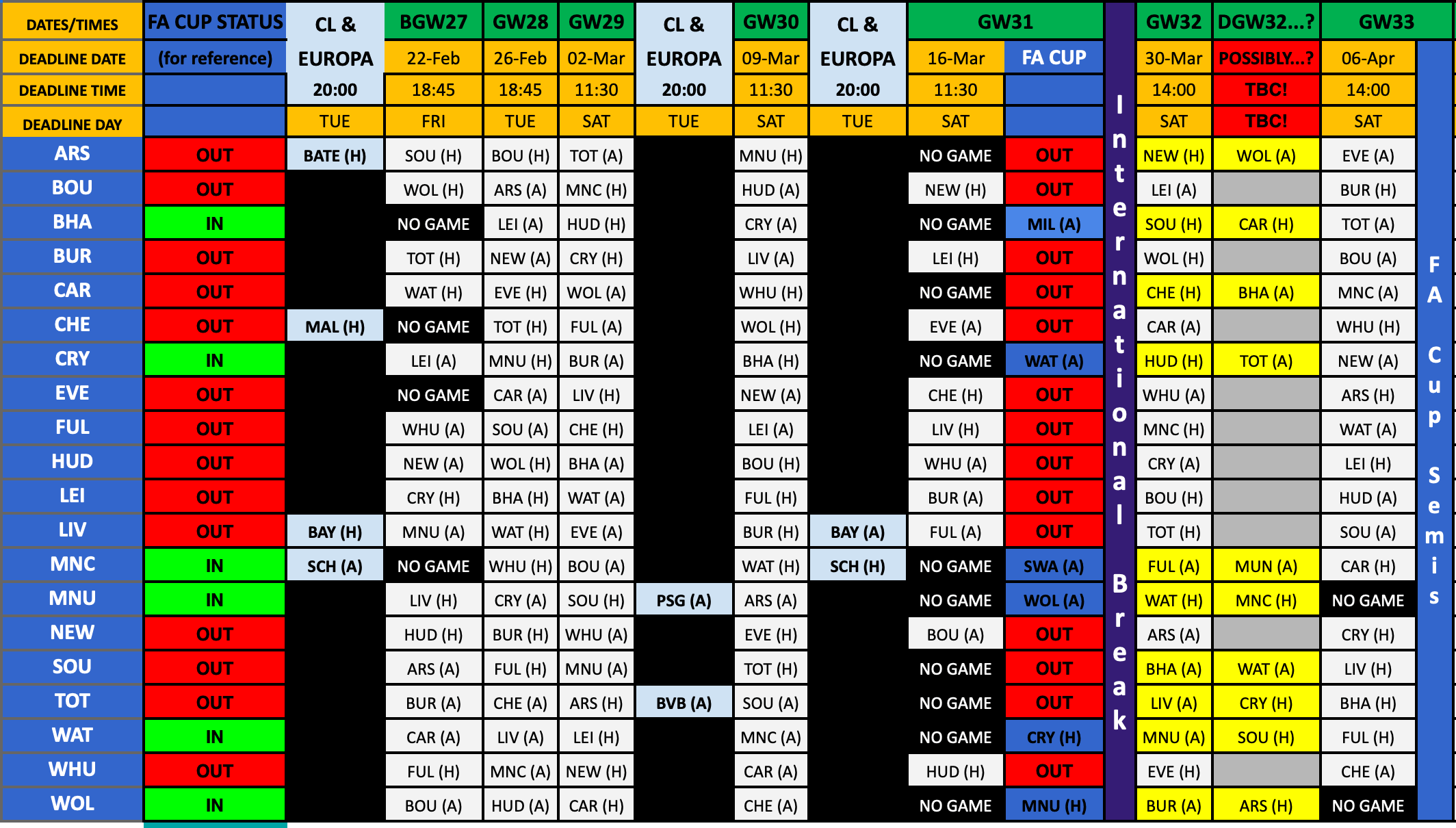 FIXTURE TRACKER LINK
Welcome to our Fantasy Football leagues section.
The League Codes for FF247 for the 2018/19 season are as follows –