Fantasy Football Tips Gameweek 29
Welcome to Fantasy Football Tips Gameweek 29
I'm back — again — and so soon! What's changed in one short month? Unfortunately, the credibility of my overall ranking most certainly hasn't. Nor has No Time to Die's prebooking revenue. At least some global normality's been restored lately; Liverpool have now lost 3 of their last 4 matches. Beyond pitiful comments, the DGW–BGW landscape's become clearer. We now know to bring in Arsenal and Man City assets before ditching just about everybody for a BGW31 abomination. Preparing for near-inevitable disappointment naturally follows on from this. It's time: No Time to Get Your Hopes Up just yet, though. Nope, only time to reveal my misguided suggestions. Enjoy but, as always, don't pay this too much attention. Please wash your hands and eyes after skimming over this.
Goalkeepers
Top shelf: Ederson (£6.0m) isn't, upon first glance, a particularly attractive prospect. I mean on paper. Not on a poster either, per se, but as an FPL option — paying a premium price for a 'keeper who rarely makes 3 saves in a given match and is reliant upon protection from John Stones — however, with DGW29 confirmed and another DGW on the cards, he's got plenty of potential to prove that he's not just a pretty face. An excellent run of PL fixtures commence from GW32 onwards; few of Pep's men are this nailed-on.
Mid-price: Nick Pope (£4.8m) has (just as Rosco recently noted) mocked those who lost faith in him over the Christmas period. It's just like dad. Well, folks, Saint Nicholas has officially struck back. Another gritty double-digit haul, his 3rd of the season and yet 3rd over the past 6 matches, brought him up to 49 points over the latter period and 126 points overall. He's got absolutely no scheduled blanks and, if Burnley negotiate Spurs (a relatively simple feat) and Man City without getting thrashed, has a fairly clean set of PL fixtures for the run-in.
Bargain basement: Pope's big promise largely applies to Tim Krul (£4.5m) too. If you're shopping on a tight budget but still fancy a few (3 in his last 6) clean sheets, don't visit a nunnery, just go to Norwich's burly shot-stopper. Not a Pope (sorry, guys, it's getting late…) in sight.
Defenders
Top shelf: I seem to have finally found my calling in life — successfully tipping Wolves players. Only the Wolves players, granted, but c'est la vie. It's a start. Traoré before he was cool, now Matt Doherty (£6.2m) before 28 points in the 3 matches that have been played since, jeeEeeEeez — you might as well stop reading this now. His upcoming fixtures imply that similar performances are to come.
Mid-price: Marcos Alonso (£6.0m) may not be "mid-price" by most definitions but, with a certain young Scouser having risen to £7.8 now, I feel that he's loosely justifiable. Chelsea have the same number of clean sheets (5) as Norwich and Brighton so far but, if his attacking form continues, that doesn't matter: 3 strikes have saved Chelsea's blushes during their most-recent pair of PL matches. Alonso's gained 70 points from just 9 starts in the PL thus far, including 4 goals, 3 assists and exactly 0 fatal car crashes. He's been having an exemplary season both on and off the pitch…
Bargain basement: Adam Masina (£4.3m) has kept a clean sheet against both Spurs and, most infamously by far, Liverpool in recent weeks. The next few look comparably kind and remain crucial to Watford's chances of survival.
Midfielders
Top shelf: facing his 5th away match in a row, nursing a poorly shoulder that's presumably arisen due to bearing the full weight of his team on them, Kevin De Bruyne (£10.7m) may well struggle when Man City commute west and face Ole's man. However, with Arsenal at home following on the DGW29 menu, it'd be kicking-a-baby-level criminal of me to not personally recommend him right here. Arteta will be keen to prevent him from going on a repeat 2-goal, 1-assist, 19-point riot against his boys.
Mid-price: 10 goals, 5 assists, 131 points and yet Richarlison (£8.3m) only sits in 12.3% of squads as of early Thursday morning. Admittedly, yes, 4 of the next 5 fixtures look gruesome — Chelsea, Liverpool, then facing Leicester and Spurs later — but he's already scored in most of the reverse fixtures. Most crucially Everton have form, and he's out of position so this Brazilian could become nigh on essential.
Bargain basement: Bukayo Saka (£4.6m) is easily the fastest-ever player to gain his place within the beloved bargain basement. This buoyant 18-year-old just keeps on chipping in with assists and it's becoming a frequent event in the PL now. Even if he doesn't get a 90-minute run-out in either DGW fixture, at such a modest price, not much can go wrong. For once.
Forwards
Top shelf: Pierre-Emerick Aubameyang (£11.0m) is another Arsenal tip for the DGW but he, in contrast, can feel assured of getting 90-minute run-outs. He's not yet scored more than 13 points in a given match but has 20 goal contributions and 150 points in total. It's his apparent security of starts (and arguably penalties too) that makes Agüero, albeit a deadly player, seem a riskier FPL prospect right now. Shopping at M&S isn't always best.
Mid-price: errr, nahhh, I'll pass…
Bargain basement: form boys Diogo Jota (£6.3m) and Troy Deeney (£6.2m) have the fixtures to keep it rolling. The former player's made 5 goal contributions in 2 matches; the latter, despite his potato-like physique, has just earned 11 points against a side that was rumoured to be the next Invincibles team. I enjoyed typing that sentence more than any other tonight.
All of the best with your GW29 plans and beyond, guys and girls, and keep calm. Cheers for getting this far. Now get scrubbing…
Thanks for reading Fantasy Football Tips Gameweek 29. This article was written by Jamesimmo.
VOTE ON THIS WEEK'S CAPTAIN POLL GW29
FPL FIXTURE TRACKER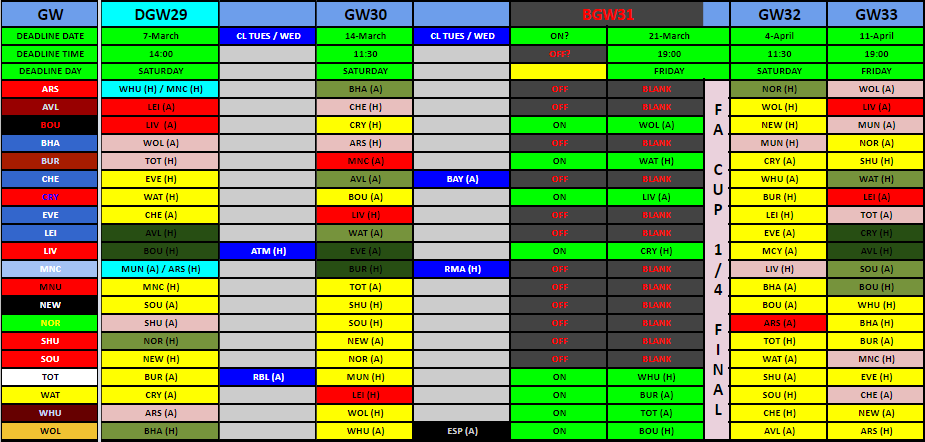 FIXTURE TRACKER LINK
Fantasy Football 247 League Codes: