Fantasy Football Tips Gameweek 3
Hello everyone and welcome to your Tips article for this Fantasy Football Gameweek 3.
It may just be me but at the time of sitting down to write this, I get the feeling that there have been a number of early moves made this week which in fact had me questioning the wisdom of putting so much effort in to such an article at any depth at all. Well, that and a general lethargy this week. But lucky for you, the kids are back in school and I suddenly and very definitely, not coincidently, have bundles of energy and I'm ready to take you through my fifteen (or so) names with my usual gusto.
Based on the impression I have gleamed from following the site chat and the range of FPL heads on twitter, I took to the FPL site to check the most transferred in players to check if all or any of my selections reflect the current market. At the time of writing this, all five are in – but I had already thought of them I swear!
Mohamed Salah and Sergio Aguero aren't here as I assume everyone has them and I'm all out of words for them.
Goalkeepers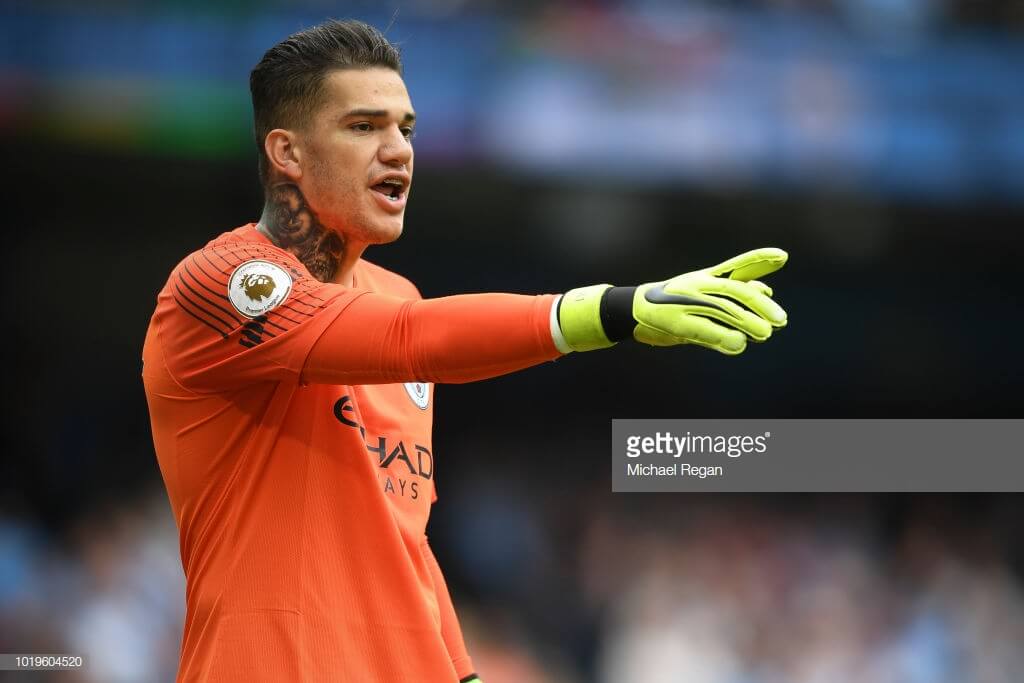 The much heralded sweeper keepers appear to be the new thing, whether it is buying one à la Manchester City or Liverpool or trying to create one à la Arsenal (chortle) then a goalkeeper who can actually assist is like the pinnacle of the Fantasy game and yes those Brazilians would have to provide both options readily available to us. Alisson at Liverpool appears to be as comfortable with the ball at his feet as he is with it in his hands but the main selection this week is Ederson of Manchester City. The no. 1 assisted a goal in the 6-1 rout of Huddersfield to score 5 points despite not managing a clean sheet and with a fixture list of legend in the coming weeks then the points for clean sheets should be in the bank and who's to say the assists won't also come along with the superb distribution at this man's feet? With the news that Claudio Bravo may now be out for a while with a ruptured Achilles then Guardiola will need to recruit an emergency back-up for Ederson unless Stuart Taylor or Richard Wright are still under contract (which I'm fairly certain both will be).
I searched the £4.5mln goalkeepers and actually found a decent array of talent but when I took to isolating fixtures and ownership rates then I came to Wayne Hennessey (2.6%) and Alex McCarthy (2.8%) and they make this week's cut as a result.
The slightly favoured choice is Wayne Hennessey. Palace opened their account with a 2-0 win at Fulham and only succumbed to Liverpool via a dodgy penalty and breakaway injury time goal. The reason in huge part for this is the form of the undisputed first choice of Roy Hodgson in Welshman Hennessey. On the evidence of what I have witnessed I think the Spaniard Vicente Guaita – a summer acquisition from Getafe – and Julian Speroni who must be about 50 by now, have the bench and warmer-upper spots to satisfy themselves with. The Eagles have Watford, Southampton, Huddersfield and Newcastle in alternating home and away fixtures in the next four beginning at Watford next week.
Another goalkeeper under the pressure of a new challenge due to a summer signing is Southampton's Alex McCarthy. The former England Under-21 goalkeeper also began the season with a clean sheet however three bonus points on that opening weekend has McCarthy 2 point ahead of Hennessey. Although the Saints have Liverpool and Chelsea on the horizon they do have six very decent fixtures surrounding these and picking McCarthy may be a nice alternative for those of you with Palace defenders in already.
Defenders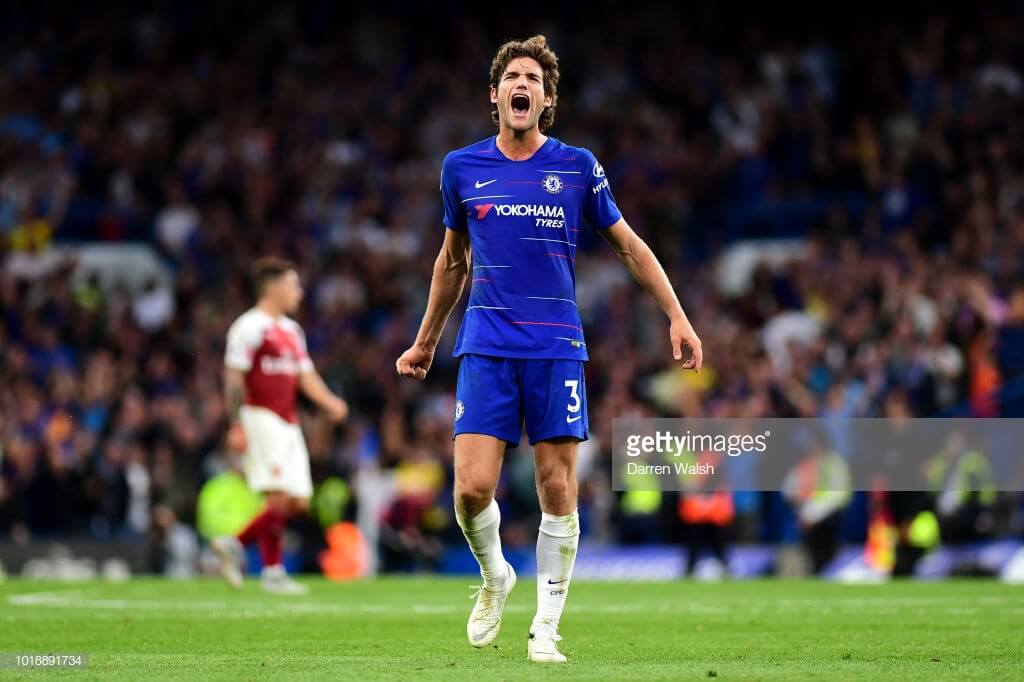 The premium picks are coming to the fore and I select two of the big three here – that's not to disparage Liverpool's Andrew Robertson – it's just that the assist potential of Benjamin Mendy and the assist and goal potential of Marcos Alonso is bordering on the winger/midfielder ratio already. In fact no midfielder can better Chelsea's Alonso current total of 24 and only Sadio Mane has more than City's Mendy (24 versus 23).
Many questioned whether the revert to 4-4-2 under Maurizio Sarri would blunt the potential for the Spaniard Alonso to get forward and supply the Chelsea attack. Nope! An assist with two bonus points followed up by a goal, an assist and THREE bonus points scored him 11 then 13 and he takes this form in to games with Newcastle, Bournemouth, Cardiff and West Ham. Get on!
With two assists in each of his first two matches the social media loving Mendy has laid down a mammoth challenge to Fabian Delph and to be honest, I can't see Guardiola leaving the big man out in this form. The only negative was the clean sheet going against Huddersfield but in essence, you have a winger here who is supplying arguably the best attack in the league and you can get clean sheet points for him as well. Get on! *thumbs up emoji* *smile emoji* *
The third best point scoring defender (hang on, is there a pattern here?) is unfashionable Steve Cook of silent but deadly Bournemouth. The big chap has eight goals in three previous FPL seasons so clearly his goal in the win at West Ham was no flash in the pan and to underpin the attacking potential of the £4.6Mln defender, he also assisted the other goal and racked up a stunning 14 points in one appearance made all the more amazing by the fact this did not contain any clean sheet points. Bournemouth look tidy for the next little while save for Everton and Chelsea in the next two but if you are after a pound-for-pound defender who you can bank on, then there's clearly only one Steve Cook!
Ben Chilwell is currently on 9 points for the season and he only got one on opening night against Manchester United so those of you who did maths at school will be able to work out that he followed this up with an eight point salvo against Wolves last time out. He appears to have made the position his own ahead of Christian Fuchs and two bonus points were reward for a really good display in Leicester's opening home match. At just 0.7% ownership and £5.0Mln price, it is worth pointing out that of the traditional 'big boys' the Foxes only face Liverpool (home) and Arsenal (away) until early December – that's 11 decent matches out of 13!
Aaron Wan-Bissaka is probably the only player I'll ever tip on a suspension but at £4.1mln, this guy is worth banking on if you are maneuvering elsewhere in your squad and require a makeweight. Not only did he assist and help in a clean sheet in the season-opener at Fulham but I thought he was looking very impressive before his red card in the Liverpool match. Strong, fast, attacking at the correct times whilst always being in a position to defend when it is his area, this guy looks like a beast of a player who in my opinion, will be straight back in the team after his suspension.
Midfielders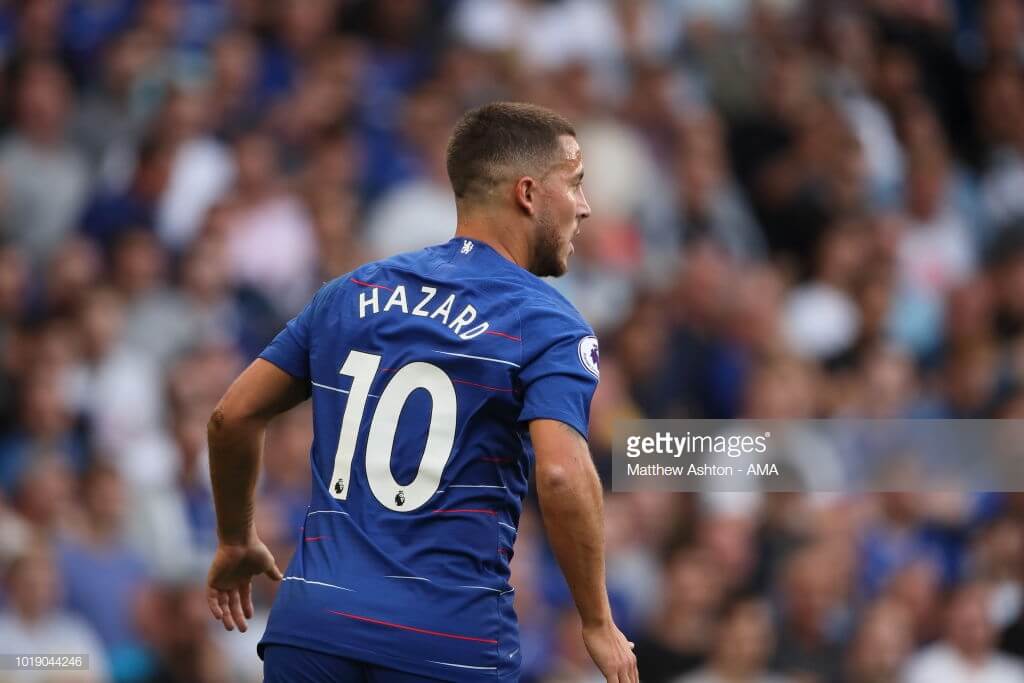 Top billing for me in the midfield department goes to a guy who hasn't started a game yet this season. Stick with me. It's Eden Hazard of Chelsea who so far has an assist in each of his two substitute appearances in the Premier League at Huddersfield and in the home match against Arsenal – he has only played 43 minutes and has eight points already. I do fancy that sooner rather than later and for me it could be this weekend against Newcastle, that the Belgian maestro is going to be in from the start. He is £10.5Mln and owned by a relatively low 12.5% of managers. You could get ahead of the game with this guy and if he starts soon is an excellent captain alternative in matches against Bournemouth, Cardiff and West Ham.
Henrik Mkhitaryan is probably been bought by you all already so let me just quickly point you to his goal and assist against Chelsea, his low price of £7.1Mln and his run of games ahead which means they play teams traditionally middle to low end of the Premier League in their next eight matches before their next "big" test against Liverpool in Gameweek 11. Need I say more? This guy (and one to come perhaps) is your Arsenal coverage for sure.
Richarlison is my only real regret so far this season. He was in my squad and then like a day before the initial deadline I swapped him out for Gylfi Sigurdsson and in about 20 mad minutes at Molineux, when he scored, Sigurdsson was subbed and he scored again, I knew it was 'one of them'. Still, he is now in my team with one of my free transfers. Sure I may have missed his very impressive output of 23 points in his first two matches, but admitting your mistakes and not falling in to the 'missed the boat' mind set is very important here. I think this guy is going to continue in his rich vein of form to the benefit of Everton and so long as he remains fit, then he is going to continue to score valuable points and still costs just £6.8Mln. He is now owned by 35.5% of managers but for me look elsewhere for your differentials and get the brilliant Brazilian in.
James Maddison has gone in under the radar this summer so far this season and it amazes me how absolutely NO ONE had highlighted him to us……
Fair enough Monsieur Cookie of Monte Carlo did bang this guy's drum (so to speak) and has been proven to be correct in that this guy looks the absolute business and Leicester have done very well to land themselves the midfielder for £20mln from Norwich in the summer. He appears to take free kicks quite well (he scored an absolute rasper for Aberdeen against Rangers whilst on loan which I witnessed first-hand … the swine) and opened his Leicester account this past weekend in the win over Wolves. As mentioned above when discussing Ben Chilwell, Leicester and Maddison have a number of very winnable games in the weeks ahead and for me, is an excellent £6.5Mln option for those switching from players of similar value. Despite not completing either game so far, I don't expect rotation to be a worry with this one and fully suspect he will start and be a huge threat, especially now with Jamie Vardy being suspended, with a lot of the Foxes play being tailored to him.
Matteo Guendouzi has played two 90 minute games with Arsenal and maybe hasn't looked like scoring so why include him I hear you scream? Well I'm not sure. Well I am sure why but I'm not sure it will work. He is £4.5mln and plays with a decent (ish) team. He only played 26 times with Lorient's first team before his Arsenal move this summer and didn't score but he has scored twice in two games for the French national team at youth level.
The pickings are slim at this price but I always think a cheap player in a better team usually has a better chance of being higher up the pitch and potentially on the end of something. He's there if you need an enabler anyway.
Forwards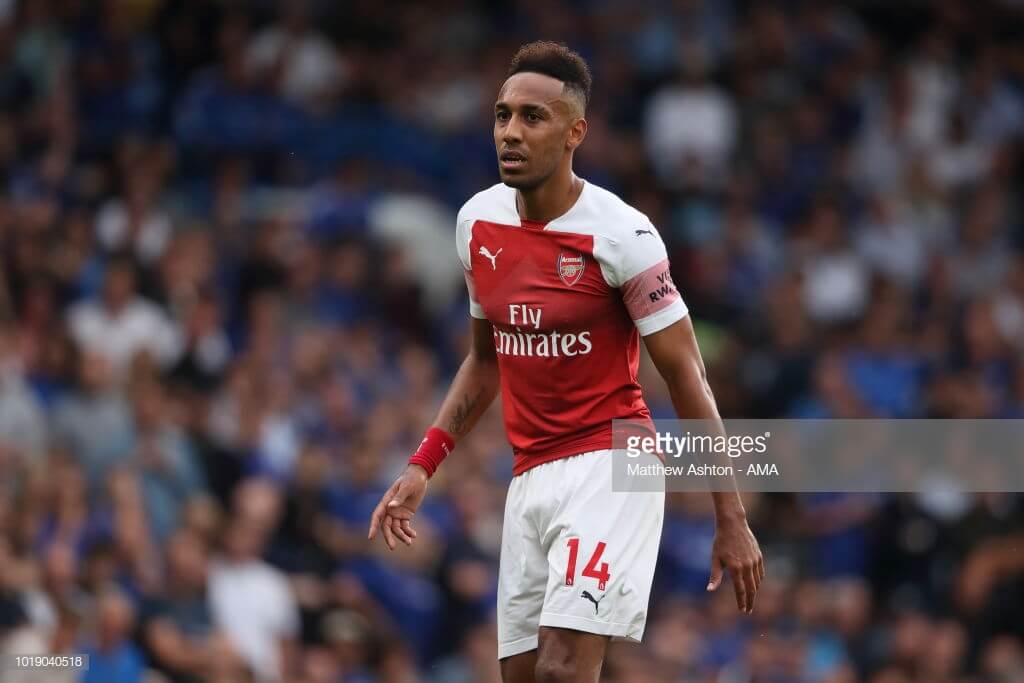 Pierre-Emerick Aubameyang will surely take advantage of the yellow brick road Arsenal are about to travel down. The Gabon international and his teams have a lip-smacking run of WEST HAM, Cardiff, Newcastle, EVERTON, WATFORD, Fulham, LEICESTER, Crystal Palace and the main striker will be filling his boots in most of these as he has now negotiated their two tough opening settlers against Manchester City and Chelsea. Rather than look at his two two-pointers I would look at the game ahead and remind you of his 10 goals and 4 assists in his 1056 minutes he played when he joined last January.
I note that Jamie Vardy is suspended for three matches and is £9.0Mln. I also note that Alvaro Morata has scored a goal and is £9.0Mln. This one may be niche. Or crazy. Or both. But he is playing, has a new manager and good fixtures. Hey I need a new underground funky thing now that Dusan Tadic is no longer with us*
*He's not dead. He's at Ajax.
Danny Ings and Aleksandar Mitrovic are the £6.5-£5.5Mln offerings. Both are proven Premier League strikers from their earlier times at Burnley and Newcastle respectively and under their new colours of Southampton and Fulham now look to add to their maiden goals of the season at the weekend and I think both are very sensible and serious options. Fixtures for both are a bit in and out so there isn't too much to pick from there and so therefore I think the fact Ings is a million cheaper at just £5.5Mln sways me towards him but I do expect goals from both so it could be a matter of taste (or whether you staunchly refuse to buy a Southampton player Banjo!). In all seriousness, I do like to dip in and out of stats from time to time as you can often over-analyse but the FOUR big chances created by Ings on his debut against former club Burnley on opening weekend having climbed off the bench certainly caught my eye. His goal at Everton reinforced my belief and I think he'll be with me at some point this week.  Buyer beware though as bound by the terms of his loan, he won't be eligible to face parent-club Liverpool in Gameweek 6.
Aboubakar Kamara comes in at the end here to make history (surely) as the first time anyone has tipped two Fulham players, nay STRIKERS in the same article. Hey, much the same as Guendouzi, this is probably the guy to go to if you are playing 3-5-2 and need a bencher at £4.5Mln. He played almost the full game against Tottenham in the supporting role from the right I believe. Perhaps his namesake and our very own on-site AK47 can confirm this for me. 7 goals in 31 at the level below is hardly end of the rainbow stuff but it is what it is at this price point I'm afraid.
The tips are over and I hope you find one or two who can do you a good turn across the next few weeks.
I noticed that we have had wildcards activated, -16 point hits taken and multiple transfers made on Saturday and Sunday night with matches still left in the Gameweek. I watched the Chelsea and Arsenal match on Saturday and followed the brilliant chat online here. During that match I noticed we were generally swaying from Pedro coming in, to both Pedro AND Alonso coming in with Alonso and Mkhitaryan becoming the must-haves at full time. Add Mendy to that at tea time on Sunday!
We always want the latest shiny new thing but rarely can we get everything. You need to prioritise who you want and I stand by the fact that the best FPL lesson I ever learned is that it is always better to wait and see then rush and regret. I have long believed that you can always get that one player you want – it's just that you may have to alter how you get him.
Anyway, that's far too preachy. Do what you like and enjoy yourselves!
Thanks for reading Fantasy Football Tips Gameweek 3. This article was written by GP
FPL FIXTURE TRACKER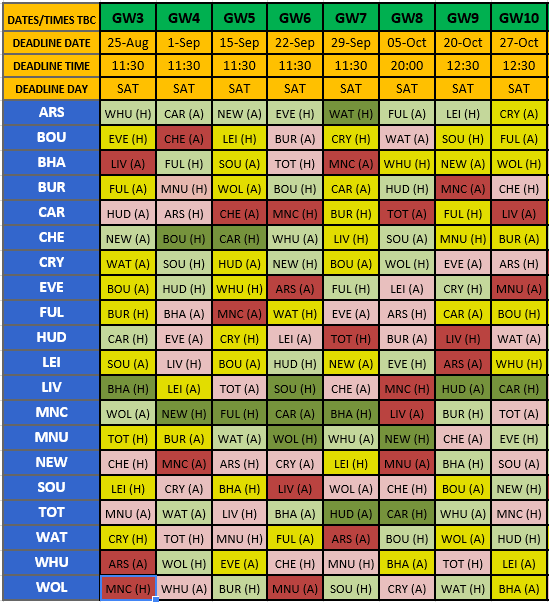 FIXTURE TRACKER LINK
Welcome to our Fantasy Football leagues section.
The League Codes for FF247 for the 2018/19 season are as follows –
Thanks to our friends Follow @ff_surgery and please give them a follow.