Fantasy Football Tips Gameweek 2
Welcome to Fantasy Football Tips Gameweek 2
This is my first article of the new season and in typical plagiaristic style, I am immediately going to refer you back to the sensational thoroughgoing article written by our very own Kop Warrior ahead of the first gameweek of the season.
Find it here: Kops Tips GW1
The reasons for this are straightforward. Firstly, and most importantly, it is far too good a piece of work not to read (or read again).
Secondly, it is only been one week since and I've only witnessed each team once which is too minute a sample size for me to provide you with a list of 'new' names and a whole article's worth of information.
Finally, and quite honestly, almost all of what was written in the first article of the season I agree with. I really would be going over the same old ground without being able to give it anywhere near the level of detail and proper justice my colleague had.
Consequently, this is a more condensed article this time due to the sample material available to me. Therefore, I decided to share a few of my brief notes on just the 8 new names. These are those players who caught my eye at the weekend and who have been added to my watchlist.
I'm old school – conservative (with a small 'c') some might say – and believe that you should always save your first free transfer of the season where possible.
Trust me! This is not the time to chase the rainbow; the opening weekend always chucks up a few surprises and throws the curviest of curveballs.
Who saw Brighton getting three without reply at Watford?
Who saw Bournemouth having three goalkeeper choices and picking the fourth?
Who saw Chelsea conceding four at Old Trafford?
Who saw Arsenal being able to keep a clean sheet?
Who knew VAR would cause such discussion?
Who saw Everton not being able to score?
Tailed off a bit on those last two, moving swiftly on….
GOALKEEPERS

Tom Heaton is my current goalkeeper and at approximately 7pm on Saturday night I thought I'd pulled off an opening day masterstroke as the Villains were holding out the Spurs in the Spurs stadium. Unfortunately, it was not to be and 3-1 to the home side played out leaving the ex-England goalkeeper with just two points in a game where Villa certainly didn't look overawed and indeed were quite streetwise and organised at times.
Playing the 'long' game, i.e. looking past the opening week, I noticed and fancied Villa at home to Bournemouth, Everton, West Ham and Burnley in four of their next six matches. With these fixtures (there's also a trip to shot shy Palace in the run) I now recommend Heaton at 4.5mln should you need a goalkeeper.
If you need a goalkeeper in GW2 you might be an Alisson and scrub owner (meaning you now have no goalkeeper), and that's very unlucky. Should you wish, you may just drop onto Ederson and not look back but how about taking the man replacing him at Liverpool until his return, Adrian?
Released by West Ham in the summer, still just 32 and now the hero in the European Super Cup Final is a story the Daily Sport wouldn't even print but alas, here we are. Some of you will remember that it wasn't until after the Alisson injury on Friday that Adrian was in fact ADDED to the game.
Liverpool's manager Klopp said today that Alisson "is not in for the next weeks" meaning the Spaniard presumably is. Could you switch, save the cash and then switch back or could you switch and then look for another 4.5mln goalie further down the line?
I'm not overly concerned about Adrian significantly weakening the Liverpool defence and games against Southampton, Burnley and Newcastle could offer nice coverage to Liverpool clean sheets whilst giving you some breathing space whilst reassessing. In fact he also instrumental in keeping them in said Europa thing with two fine saves.
DEFENDERS

Ainsley Maitland-Niles has assumed the Hector Bellerin position and capped his opening league match at Newcastle with a clean sheet, assist and all three bonus points.
With Bellerin looking more likely to be back in contention in November perhaps AMN could do you a few nice turns at just 5.0mln. Playing wide right when the space is available and being encouraged to advance, there could be more attacking returns on the way. Arsenal's fixtures are a little in and out but if we say that he is in until November – David Luiz and Kieran Tierney play different positions and should displace others – then he can test out his skills versus some of the lesser lights. His excellent reading of Newcastle's cross-field pass on Sunday was the catalyst to a striding run and cross to pick out Aubameyang for the winner. I think he stays in as it looks as though he offers more offensively than the likes of Chambers and Holding who appear to be the only viable alternatives there.
When Norwich lost 4-1 at Liverpool in the league opener the attacking exploits of the home side's Salah, Origi and right back Alexander-Arnold were quite correctly the ones taking the headlines. However, for me the performance of counterpart right back Max Aarons was very promising, as much was the post-match interview with the Norwich manager Daniel Farke. He was asked if he and his side would need to reconsider how they play due to the step up in class and other possible heavy defeats. Beautifully he shook his head and commented that he isn't changing his philosophy and will stick with the attacking formation and style which crowned them Championship winners last season.
With far easier games to come for the Canaries, I think they will be strengthened with the return of Timm Klose for Grant Hanley and their full backs – Aarons and Jamal Lewis – can do some damage at the other end of the pitch. As will be mentioned later, they have a very capable main striker to play for and some nice creative talent in Buendia and Stiepermann inside to use. I think on this first performance Norwich will be too much for some of the lower half teams because let's be fair, for short times on Friday they passed Liverpool about the place. Providing Pukki's goals don't dry up, I think they'll hold their own in this league.
For my selection, Max Aarons makes it as the England Youth has more career goals than Northern Ireland's Lewis to date.
MIDFIELDERS

Riyad Mahrez, in comparison to the other superstar midfielder at City, is owned by just a paltry 3.5% of managers and with the injured Sane at least removing one alternative to him, this could be a time to pick up the Algerian playmaker. He assisted three times in the 5-0 stroll at West Ham paving the way for him to land 2 bonus points. He has always scored more than 100 points in every season he has played in FPL so is remarkably consistent. Obviously his 102 points last season was his joint lowest but does appear relative to the tie he is given to play. For just £8.5mln he could be a nice differential and alternative to Bernardo.
What I like about him is that even though he might not play every match from the start, he has the ability to put up huge scores when he does. 14 points last week and countless times he's recorded scores from off the bench last season. If you have made peace with the fact that there will always be rotation at Manchester City, Mahrez with a decent sub in place could set you apart when he does land big. I get that this one probably won't be universally approved because of the additional 0.5mln over Bernardo (who he will be rotating with), but I must be honest and tell you how I felt when I watched him and City on Saturday – he's a tremendous player.
John McGinn is another I'm pleased to say began the season with me (yes I do have two Aston Villa players). At just 5.5mln he filled a problem position and I believe with the fixtures ahead as detailed when discussing Tom Heaton, that the ex-St Mirren and Hibs midfielder is going to add to his opening strike very soon. It was rumoured that Alex Ferguson himself was waxing about him to the Manchester United hierarchy very recently and I do think he has that certain wow factor to make that move a possibility.
If it isn't Manchester United eventually then it is going to be a club competing at a higher level than Villa and it may be a continental switch at some point, I believe he is that good.
Until Kane stepped up eventually, McGinn was in the bonus points on Saturday. He'll be back amongst them again. If you are looking to give him a fair sample size, then get him now and run him to Gameweek 9 when he plays Arsenal (away) as that's the only 'Big Six' side Villa face in that period.
STRIKERS

Marcus Rashford appeared in a few drafts and from my memory wasn't warmly received by those rating. I never commented negatively on seeing him but similarly, nor did I ever consider him for my own squad. I had him for stretches last season and he served me very well.
United then appear to be placing faith in both he and Anthony Martial which has transferred to the world of FPL as both have already benefitted from a 0.1mln price rise based on their performances in the 4-0 victory over Chelsea on the opening weekend.
(I'll say here that I like Martial as well at 7.6m being as he is an out of position player (classed as a midfielder but clearly occupying a spot in the front three for Solskjaer's team. But what I like about Rashford is that he still seems very composed and perhaps a little more reliable than Martial in situations in front of goal, as witnessed by his goal from Pogba's pass to make it 3-0).
The England striker now comes in at 8.6 and to me that is quite achievable if you have two free transfers after this week and a striker in the 6/6.5mln category – don't ask me where to downgrade but you COULD make it happen! United look improved in defence which figures considering they've bought two very good defenders and if they can 'sort' the Pogba situation out (either way) then they're on for a decent season in my book.
Rashford is on for plenty of chances and goals this season and have a very fair fixture list until December. At this very early stage, it is towards the United attack that I think I am looking to steer my own transfers.
Teemu Pukki was in and out of my drafts earlier in the summer as I was aware of his goal scoring record in the Championship last season (29 in 43 games). A goal at Liverpool has obviously brought him to the attention of those who perhaps don't often look outside the top flight for their football so how real an option is he?
Although we as yet don't have access to sustained Premier League statistics for the newly promoted players, it's clear that the Pukki is a very accomplished finisher – his goal at Anfield a pure example of this when he found the bottom corner without looking up, mark of a true striker that is – knowing where you are and where the goal is without having to take your eye off the ball.
Looking at fixtures, I get that some will continue to watch him as Norwich begin their tough start with Chelsea and Manchester City at home amongst the next four but consider that Chelsea have just lost four goals and are still settling and that City aren't always impenetrable and a rough and ready type striker can cause them problems then it's not too much of a stretch to imagine the big Finn could find the net yet again. Newcastle, West Ham, Burnley, Crystal Palace, Aston Villa and Bournemouth will be games the Canaries have marked for points and their focal point of attack will be looked to for the goals and/or lay-offs.
Summary
I would like to end this week by asking a quick question. I have added the names of the above to the FPL Watchlist on site, something I have never done before in the seven years I've been playing. I usually know who I might bring in and then compare when the time come to make my transfers.
I'm curious to know if anyone uses this tool routinely.
I'm off now so remember – it's not even Gameweek 2 yet. No knee-jerking at the back!
Thanks for reading Fantasy Football Tips Gameweek 2. This article was written by Gallant Pioneer.
FPL FIXTURE TRACKER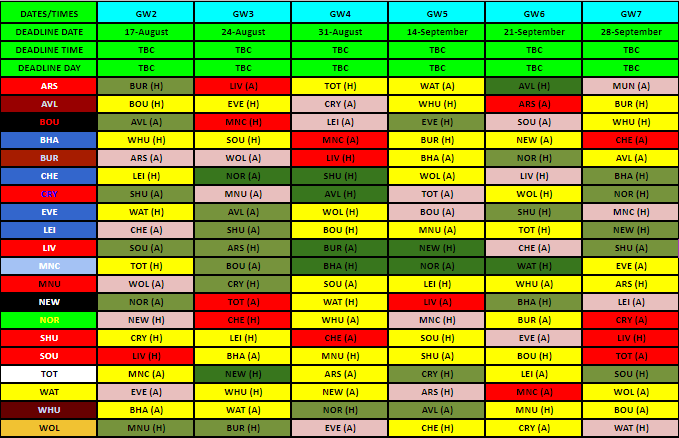 FIXTURE TRACKER LINK
Fantasy Football 247 League Codes: