Fantasy Football Tips Gameweek 30
Welcome to Fantasy Football Tips Gameweek 30. I don't think I've ever written a Tips article before; not recently anyway. I've always thought of it as being incredibly difficult to write for two reasons: (1) given my evident inability to write succinctly, the Tips article brings with it the risk of writing a short book and simultaneously boring every unfortunate reader; and (2) the real fear that Init will hang the writer out to dry the following week if their Tips amass a collective score of 'poor to embarrassing'. Uh oh, better rein in my use of parentheses, again.
In recent weeks, Init has started to dissect the Captain Picks article, gleefully reporting on failed choices and turncoats. For full disclosure, then, I have several of the players listed in the 'Gameweeks 30, 31 and 32' section and none of the players listed in the 'Gameweeks 30, 32 and 33' section.
It could well be that my projections and tips matter very little come the weekend as Manchester City v Arsenal became the first game of the season to be postponed due to the Coronavirus. Frustratingly for me (although not particularly frustratingly in the grand scheme of a pandemic), I had already 'tipped' a certain Arsenal player before the breaking news. It went something like this: "Arsenal's upcoming fixtures may just warrant holding onto your double gameweek gamble." It would now seem that Arsenal's upcoming fixtures are at risk given that a 'number of players met with the Olympiacos owner immediately after the game' and are now in self-isolation. The club haven't confirmed names or the impact it will have on the game against Brighton, although the club statement does suggest that it will go ahead as planned with the self-isolation period due to expire before the match. Given how little we know, I have decided to leave in a trimmed down summary.
If you've kept your chips in hand, you're probably looking to either play your Free Hit next week – in which case this week's Tips need to focus on building your squad with Gameweeks 30, 32 and 33 in mind – or you're looking to cover Gameweek 31 with your current squad and Wildcard in the near future – in which case these Tips need to look at Gameweeks 30 and 31 and potentially also Gameweek 32. Hopefully, you find yourself drawn towards one of the above approaches. If not, there should still be something of use to you below given that I am looking at all of the fixtures across the next four gameweeks.
It should be clear from the foregoing that these Tips will therefore be split into two – one for the teams not blanking in Gameweek 31, and the other for those whose players I expect to score well in Gameweeks 30, 32 and 33. Perhaps with the exception of the first name on the list below, I'd be happy to have any of the Gameweeks 30-32 names in the second half of this article but they aren't repeated. It is for this reason that I currently do not intend to use my Free Hit in Gameweek 31.
Gameweeks 30, 31 and 32

Right. Good. I'm finally into the meat of the article. Goalkeepers with a fixture in Gameweek 31. What a bunch to choose from. Clutching at straws and looking purely at the fixtures, I was close to suggesting Hugo Lloris before last night's timely reminder against RB Leipzig (without cheating, who can tell me what the 'RB' stands for?) of how poor Spurs look at the moment, including Lloris.
I therefore find myself in a strange situation. No, I'm not leaving you without a goalkeeper. However, in order to avoid doing so, I find myself turning to Rui Patricio. Wolves' number 11 (the purist in me still doesn't like it) had kept just four clean sheets until the turn of February. I can recall numerous articles in which I have suggested that Wolves aren't any good for a clean sheet and to put your money on both teams to score. In a strange turn of events, the reliably leaky but goal-happy side have recorded three 0-0s and kept a further clean sheet since the start of February. Strange. This has seen Wolves' left winger, sorry, goalkeeper, amass a whopping 33 points in just five games, including four bonus points and four save points. Impressive for a goalkeeper. On the assumption that Wolves have realised the importance of not letting the opposition score, their fixtures over the coming weeks are good enough for me to considering bringing in the Portuguese international. Gameweek 30 sees West Ham entertain Wolves. The Hammers failed to score in the reverse fixture and have failed to score in four of their last nine fixtures. Granted though, that period has included ties against Liverpool and Manchester City. Gameweek 31 brings Bournemouth to the Molineux who have scored just two goals in their last six on the road. That includes the rather dubious goal they managed to score against Liverpool at the weekend. Bournemouth instead failed to score against Brighton, West Ham, Norwich and Burnley. I don't much fancy their chances against Wolves then! An away tie versus Aston Villa rounds off the trio of upcoming fixtures and, whilst the Villans have only failed to score on one occasion at home this season which was way back in September against West Ham, they are on a four game losing streak and have failed to score in both of their last two matches.
Liverpool have a fixture in Gameweek 31. Does it really matter what fixture they have? They'll no doubt win it. For what it's worth, it's the away leg of the Merseyside Derby in Gameweek 30 followed by a home match against Crystal Palace. The Etihad welcomes the Reds for Gameweek 32, but it's got to the point where I wouldn't even be concerned about owning three Liverpool players for the trip. Trent Alexander-Arnold is the obvious pick of the defenders, although he comes with a hefty price tag now. I still think he is worth the investment over the other Liverpool defenders whilst he continues to average a goal or an assist almost every other match.
Matt Doherty is my second defensive pick. Yes, a double-up on the both teams to score specialists. I think I'm probably asking to be hung out to dry here. However, not only are the fixtures good from a defensive point of view, as outlined above, Doherty's back to his offensive best with a goal and two assists in his last three matches. If you're a fan of xG, the data suggests he was unfortunate not to add a further two goals to his tally for the season in the six games before that. I'm sensing a few Alan Partridge shrugs among readers now so I'll move swiftly on. Suffice it to say that their opponents over the coming three weeks have kept just nine clean sheets between them home/away respectively in 42 matches this season, conceding 2+ on 23 occasions.
Watford teeter on the edge of the relegation zone. Their goal difference is currently the only thing separating them from the drop. However, Ismaila Sarr is a diamond in the mud. For starters, the Senegalese winger is averaging close to a goal or an assist per start and his inspired display against Liverpool should have done enough to consolidate his starting berth. His xG + xA stats are on a par with the likes of Aubameyang and Heung-Min Son. Watford have scored 2+ in five of their last six home matches so home ties against Leicester and Southampton in their next three increases the appeal.
Completing a trio of Wolves players for their favourable string of fixtures, Raul Jimenez and Diogo Jota are worthy of a mention. Despite three bore-draws over the last five matches, Jimenez has still managed to score 39 points in his last seven and Jota 34 in his last five. Fearful of being accused of contorting the stats to fit my analysis, I feel it necessary to note that Jota played a combined total of 37 minutes across the preceding four games, such that adding the two points he amassed over that period seemed somewhat of a disservice. With West Ham conceding 2+ in 8/14 home matches and Bournemouth in freefall, conceding 14 in their last six away matches and accruing no points in the process against fairly mediocre opposition (as noted above), I expect Wolves to get back to winning and scoring ways quickly.
Oh, and it goes without saying that Mo Salah and Sadio Mane are worth having.
Gameweeks 30, 32 and 33

I'm about to tip two Manchester United players. I have almost certainly been blinded by that victory in the derby. However,
David De Gea
is a player I have frustratingly ignored for too long recently and is feasibly a set and forget keeper until the end of the season. Over his past ten matches, he's averaged 4.7 points per game with six clean sheets and four in his last five matches. With a fixture against a severely depleted Spurs side up first followed by Brighton and Bournemouth (the latter having scored just two goals in their last six away from home), I wouldn't be surprised to see Manchester United's rich vein of defensive form continue. Spurs have won just one game and drawn two more in their last eleven matches without Kane and Son.
Perhaps Danny Rose's attacking appeal has faded in recent years, but I'd be happy to take a bit of a punt on him with Newcastle's upcoming fixtures. Since joining, Rose has racked up two clean sheets in four starts and Newcastle have four clean sheets in their last six home matches. Two home ties and a trip to Bournemouth in their next three looks promising. First up sees Sheffield United take the trip further north. The Blades have scored just three goals in their last five on the road (although granted, that includes blanks versus Liverpool and Manchester City). Bournemouth are usually good for a goal at home, although their frailties at the back could give him the chance to start notching up attacking returns. West Ham rounds off the immediate list of fixtures; with six losses and three blanks in their last six away from the London Stadium, Newcastle will hope to continue their strong defensive form at home.
After a period of finding himself out of favour or injured, Marcos Alonso is finally back in the Chelsea side and a legitimate option for your fantasy team. Following a straight red card in the Champions League last-16 first leg against Bayern Munich, Alonso's suspension for the upcoming second leg may well have cemented his Premier League starting role for the foreseeable future. Defensive duties aside (which, let's be honest, Alonso rarely cares about either!), he has scored four in his last six matches.
Problematically, Alonso's attacking exploits are, unsurprisingly, far more impressive when he plays as a left wing-back in a back five. For example, in his last five matches, he has averaged just 0.5 shots per game playing in a back four and 4 shots per game in the advanced wing-back role. Lampard is clearly still experimenting so it is unclear quite where Alonso will end up playing over the next few. Of the next three matches, I'd expect Chelsea's best chance of a clean sheet to come in Gameweek 33 against Watford. Chelsea have two clean sheets in their last five at Stamford Bridge whilst Watford have only scored in just over half of their games on the road, blanking in their last two.
As already mentioned above, Spurs are struggling and injury-battered at the moment. In contrast, Bruno Fernandes has taken to the league quicker than anyone could have expected. It should come as no surprise then to see the Portuguese international in this Tips article who has as many goal contributions in as many starts (five). Mourinho's men are without a win in their last five matches, conceding in them all. Gameweek 33 brings Bournemouth to Old Trafford. Eddie Howe's side are without a point in six away from home, conceding 14 in the process. Sandwiched in between is a visit to Brighton. Whilst Brighton don't concede by the bucket load at home, I wouldn't let it put me off bringing in Fernandes who has the right fixtures either side of it to continue his fine form.
Arsenal are still pretty naff away from home; they have close to double the number of points at the Emirates. You therefore might question me tipping Pierre-Emerick Aubameyang with Arsenal facing two away games in their next three. However, the Gabonese striker has six goals in his last eight matches and a home tie against Norwich splitting up ties against Brighton and Wolves – which you'd expect Arsenal to score in – may just warrant holding onto your double gameweek gamble.
Thanks for reading Fantasy Football Tips Gameweek 30. This article was written by AT.
VOTE ON THIS WEEK'S CAPTAIN POLL GW30
FPL FIXTURE TRACKER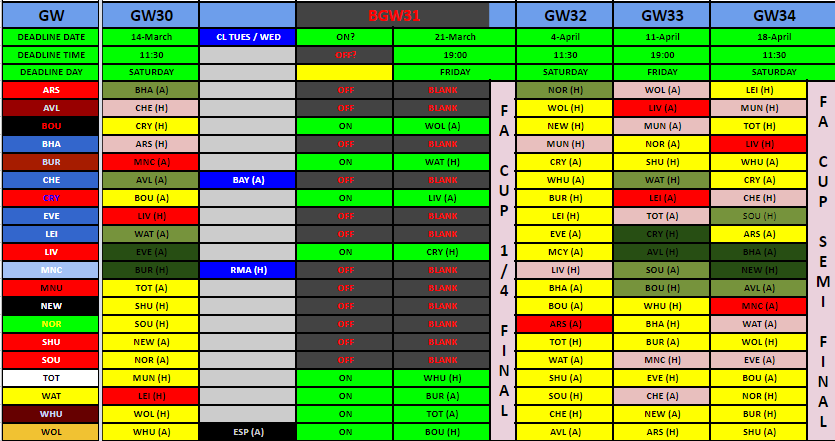 FIXTURE TRACKER LINK
Fantasy Football 247 League Codes: