Fantasy Football Tips Gameweek 31
Welcome to Fantasy Football Tips Gameweek 31.
Into the business end of the season we go and this round is very much the famine before the feast, with what is widely thought to be two double gameweeks on the horizon – 32 and, most likely, 35 – with the shortened Gameweek 33 stuck in the middle, presenting great opportunities for the chips you have left. Various predictions are currently flying around for rescheduled fixtures, however we won't know for certain until after next weekend, once the FA Cup quarter final ties have been played. It does, however, look like similar teams will miss out on playing both this week and then again two weeks later, so this article will focus on the players that are good for both, as things currently stand.
Many FPL managers – myself included – have their tactics in place for the usage of the chips and then additional transfers over the coming weeks. I'm not ashamed to say it's all been deliberated out on an Excel spreadsheet, however, the best laid plans can quite easily go up in the air and there may be a player or two leaving my squad earlier or later than I originally thought.
Before I properly get started, though, I just feel the need to provide a reminder that you can only use one chip per round. So, if you're raring to get your wildcard activated to pack in the future double gameweek players, just bear in mind you'll need to do it at least the week before so you can then use the triple captain or bench boosts for the players – hopefully – on the pitch for 180 minutes. Don't forget, too, to keep an eye on the yellow card tightrope, as Newcastle's Fabian Schar, for example, now faces time out after picking up 10. On the plus side, those who are only one away are not playing this week.
Goalkeepers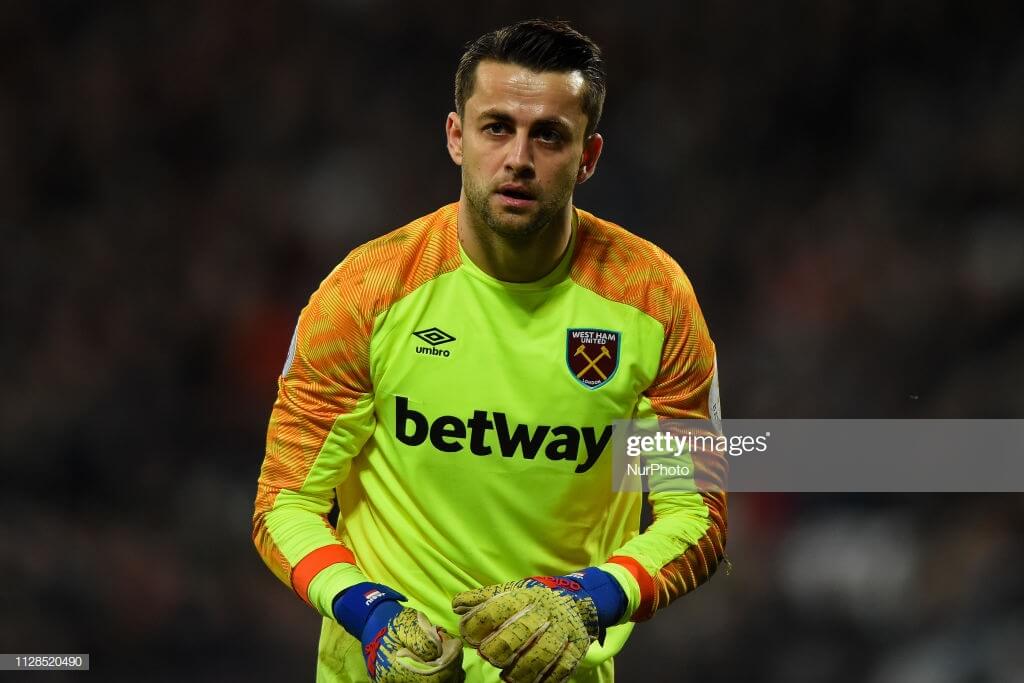 The first on my list is the man I brought in last week. He then promptly conceded two goals away Cardiff. I do, of course, mean Lucasz Fabianski. Not the best introduction, admittedly, however he is the most transferred-in player for this week at the time of writing which is usually a good sign. The Polish shot stopper is owned by a respectable 18.6 per cent of managers and is actually sixth when it comes to total score, with 115 points. It's fair to say, just like Swansea did, West Ham heavily rely on him as any clean sheets that aren't kept then have a large amount of saves to keep the rest of the squad in the game.
Looking to the East Londoners' opposition this week, as Fabianski has come out and publicly said his side need to avoid the complacency they had in Wales, it's a welcome to the hopeless Huddersfield. This is a game many a Premier League team has loved to play over the course of the season, with Jan Siewert's men at the end of 22 defeats from 30, having scored just 15 in the process – an average of 0.5 goals per game. As far as the Hammers are concerned, too, they are undefeated in the last four meetings with The Terriers, as the last between the two sides resulted in a 1-1 draw; however that was in Gameweek 12 when the West Yorkshire side had at least a chance of staying up. The inevitable is on the cards for them now, with few questions that remain including whether they will reach 20 points and if any of the midfielders or forwards can beat top-scorer Zanka's current tally of three.
Back to discussing West Ham and it is Everton who come to the London Stadium in Gameweek 32, with Fabianski one of the few goalkeepers in action the following week as the Hammers make the trip to Stamford Bridge to face a side they drew 0-0 with earlier in the season.
Another Pole in the form of Bournemouth's Artur Boruc comes up next, who costs just £4.0m and is owned by a very low 9.4 per cent of managers. Now appearing to be the favourite with Eddie Howe, the 'keeper has started every game since Gameweek 23 and kept three clean sheets in that time, of which the latest was away at Huddersfield in a routine 2-0 victory to accompany the other 10 wins so far this campaign.
The Cherries are now looking forward to playing in Gameweeks 31 and 33, with Newcastle and Burnley making the trips to the south coast. In-between those fixtures, it's one away trip to Leicester and so, with a good few other teams playing twice then, it may be worth rotating your goalkeepers to make the most of the double. Presuming this guy continues to be Eddie Howe's favourite for standing between the sticks, he could be one to keep hold of through your wildcard as it is only Spurs at home in Gameweek 37 that you could regard as difficult in the run-in to the end of the season.
My final pick is Tom Heaton, a goalkeeper who has been rated as better than Jordan Pickford by Tony Cascarino. He certainly engages in less 'bants' with the opposition fans when compared to the Everton player, anyway. Well, this guy has started each Burnley fixture since Gameweek 20 and has kept two clean sheets in that time, away to Watford and home to West Ham. The man from Chester has also collected 34 points over that period thanks, in part, to the amount of saves he has had to make as the defence seems to have forgotten what to do, when compared to last season, at least.
Whilst this week's opposition, Leicester, could be pretty tricky as the likes of Vardy and Tielemans have been raking in the points recently, the other fixtures between now and Gameweek 34 do offer a lifeline in easing relegation worries as they face Wolves, Bournemouth and then Cardiff.
Defenders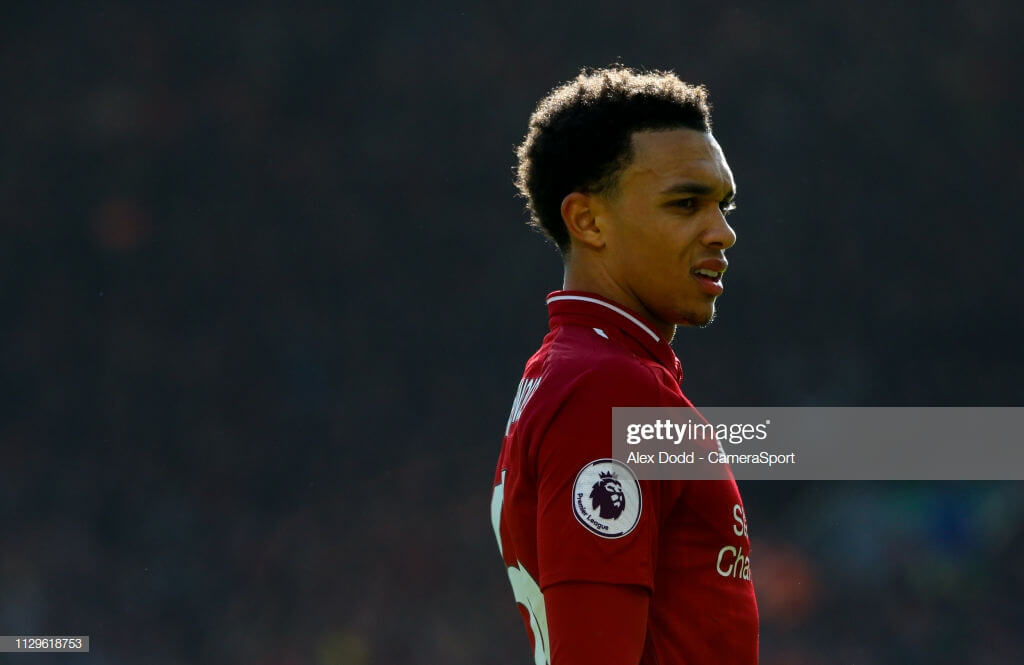 As this article's focus is on players who are playing both Gameweeks 31 and 33 – taking into account their form, of course – the first defender on the list, Trent Alexander-Arnold, is the second-most transferred-in and comes with a bargain basement price of £5.5m when compared to the cost of his colleagues. Something to make the most of, as that won't be the same next season, I'm sure. Originally one of those players who would start two games and then miss two, making him very unreliable from an FPL perspective, the player who hails from the West Derby area of Liverpool has actually missed nine games in their entirety this season. That has, however, mostly been thanks to injury as opposed to rotation. With 12 clean sheets, six assists and one goal, you have to say that's not bad for a 20-year-old when you think I was half-way through a journalism degree at that age, living in a house in Chester that was kept standing by luck more than judgement.
No surprise, then, that the guy who cheekily gave Andy Robertson a Liverpool shirt with his name and number on the back for the Scot's birthday is now owned by 21 per cent of FPL managers. That's a figure that will only rise if he doesn't get injured again, especially when you look ahead to Liverpool's fixtures, as a trip to Fulham is up first. The Cottagers are a side who have the third-fewest amount of goals scored and the most conceded by a country mile. In fact, the last time TAA, as we all know him, played against Scott Parker's men, he registered an assist and clean sheet in the Reds' 2-0 win. The gameweek afterwards sees Spurs come to Anfield in what will be a real crunch tie that could have ramifications on both the top four and the league lead, followed by a trip to Southampton who Liverpool have kept five consecutive league clean sheets against.
Next in line is another 20-year-old player, however this one's last game at home saw him score his second goal of the season. Declan Rice – now priced at £4.6m – has definitely made an impact this season and so it is little surprise that more than 35,000 FPL managers have already brought him in, in anticipation of the match against Huddersfield. As mentioned earlier, the Terriers are failing to find the back of the net and so a second consecutive home clean sheet could be on the cards. It's Everton for another match at the London Stadium in Gameweek 32 and then life gets a bit harder with away days to Chelsea and Man United making up Gameweeks 33 and 34 respectively.
If you find yourself a couple tenths of a million short of affording Rice, perhaps take a look at Angelo Ogbonna, who will set you back just £4.2m and only appears in a miniscule 0.9 per cent of teams. After missing a fair few games at the start of the season, the player has spent 90 minutes on the pitch in each match from Gameweek 19 onwards, with 33 points scored in that time.
Following on from my appraisal of Artur Boruc, it's probably no surprise to see a Bournemouth defender or two sneak in as well, even though the Cherries have been far from predictable and have actually only registered eight clean sheets in 30 fixtures. That said, their last two fixtures have shown hope, as Man City only just found a way through to win 1-0 and there was that clean sheet at Huddersfield. Have a look at Nathan Ake or Charlie Daniels, who would set you back £5.1m and a very budget-friendly £4.1m, respectively. This week, they face Newcastle at home who scored three against Everton in the latest round, adding to the good few memorable comebacks that have taken place at St James' Park in the past.
There is the danger the pair may concede a goal at the Vitality Stadium as Perez and Rondon seem to have developed quite a pairing. Admittedly, life isn't going to be easy on the trip to the King Power Stadium either, but there will, at least, be Burnley, Brighton and Fulham to play afterwards. What's more, Ake does offer an attacking threat, having scored three so far this season, as he found a way past Watford, Man United and Everton.
My final selection is actually the most expensive of my options, but could bring in a decent points haul to your team as he is away to erratic Everton this weekend. David Luiz may cost £5.9m, however he has played in all but two of Chelsea's league fixtures, with two goals, two assists and 12 clean sheets along the way. The player continued to play as he has done this campaign against Wolves, whereby he was in quite an attacking role and so it wouldn't be ridiculous to hope for points from the opposite end of the pitch if the West Londoners do concede. That said, stranger things have happened than this tie ending 0-0 for a third successive time.
There is quite a mixture of fixtures on the horizon for Chelsea, as a trip to Cardiff follows the Toffees and then it's a 'welcome' – of sorts – for West Ham when they come to Stamford Bridge in Gameweek 33. A trip to Liverpool then lies in wait shortly afterwards.
Midfielders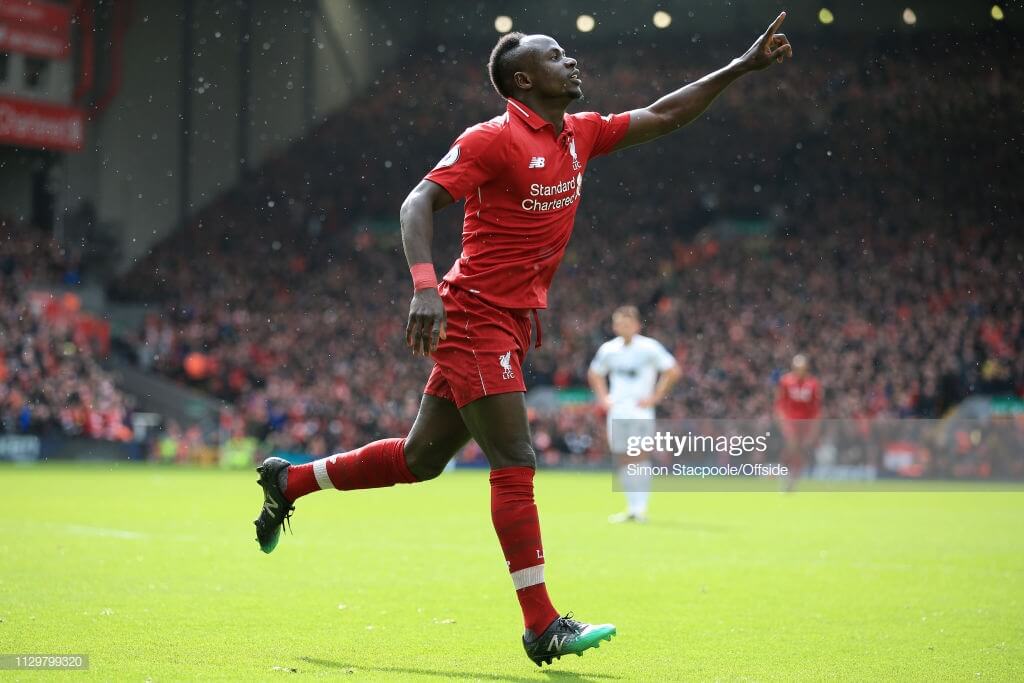 With the sixth double-digit score this season achieved thanks to two goals against Burnley, it's quite the no brainer that Sadio Mane is my first midfielder pick. Costing £9.9m, the Senegalese has rewarded FPL managers who took a punt on him just before Gameweek 23, as he has now amassed an impressive 65 points since then. Whilst only two assists have been achieved, it's the figure of 16 goals scored so far that really raises eyebrows as that has already beaten his previous best of 13 in the 2016/17 season, lying only two behind the leader of this year's Golden Boot race, Sergio Aguero. And he added another two to his overall season tally against Bayern tonight, the first in particular displaying exactly the sort of form and confidence he is playing with right now.
This week, we look at a side who have the second-greatest number of goals scored playing against the one with the greatest number conceded. In fact, 68 is the magic number when it comes to both statistics. Though Liverpool's number 10 did not manage to register much in the way of points the last time Liverpool met Fulham, which also happened to be the only time he has played them to date, owners can at least gain solace from the head to head statistics. The lads in red have won all five of the last meetings with The Cottagers, slotting in 16 along the way.
Mo Salah did, however, find the back of the net when the two sides met back on 11 November last year and so I'm sure you don't need me to tell you that you shouldn't get rid of him just yet – as much as he hasn't scored in the last four fixtures now. With him, you just know he'll go on the rampage as soon as he leaves your team!
Next in line is another player being brought in by thousands of managers – over 106,000 of them, in fact, as I write this. I mean Bournemouth's Ryan Fraser, who carries a very cheap price tag of £6.2m, not bad for someone who has already scored six and assisted 10 this season. Having blanked for eight straight matches, it was certainly news to owners' ears when he scored and assisted in the match at The John Smith's Stadium last weekend, also managing the most passes, crosses and touches out of everyone on the pitch. No coincidence that came at the same time as Callum Wilson's return.
In all but one of the double digit hauls Fraser has managed this season, he has then blanked in the following fixture and so both Cherries fans and FPL managers alike will hope that is broken when Newcastle come to town this weekend. Though they have conceded the fewest goals when compared to the other squads that surround them in the league, the Magpies have conceded twice in their last two games and so Fraser could repeat what was managed in Gameweek 2 and be among the points two weeks running. As frustrated owners of Leicester's Ricardo Pereira will attest, the Foxes have been incapable of keeping a clean sheet since Gameweek 21 and so a trip to the King Power Stadium next week may not be so bad from an attacking perspective. Burnley – who have let in nine goals in the last three – are then coming to the south coast in Gameweek 33. I'll just add in one last thing about Fraser – he's only one assist behind Messi this season. That's rather unexpected.
Having registered a total of 34 points from the last five fixtures, there is hope that Eden Hazard will get among the points again as Chelsea visit Goodison Park this week. Now costing £10.9m – a modest £0.4m rise over the course of the season with various ups and downs along the way – the Belgian has 13 goals to his name which is just three short of his record haul in the Premier League-winning campaign of 2016-17. With 11 assists, however, he has exceeded the last five seasons, sitting six away from beating what he managed in his first season at Stamford Bridge.
The West Londoners have not lost to Everton in the league since September 2015, having slotted away 13 against the Toffees' defence since. After the trip to Merseyside, Sarri's men then travel to Cardiff – a team Hazard scored a hat trick against in a 4-1 victory the last time the two sides met in Gameweek 5 – followed by a visit by West Ham. In the case of the Hammers, the Belgian has scored four and assisted three in 12 games. Fans perhaps need to make the most of him playing for them as the return of Zidane to Real Madrid could well see the number 10 make the move to the Spanish capital come the summer.
If you already have Fraser and are looking for another player in the same kind of price bracket, take a look at James Maddison. The player has had a mixture of fortune over the course of the season, having played only 2,156 out of the full 2,700 minutes, however he has picked up 103 points in that time, thanks in part to five goals and six assists, of which two of the last three games have seen him register six points.
As Leicester find their feet under Brendan Rodgers and look to a more attacking style that is more exciting than Puel's boring brand and get their mojo back, the 22-year-old from Coventry could easily repeat his antics against Fulham, Watford and Wolves as the Foxes play against the leaky Burnley defence. Failing that, there are games against Bournemouth, Huddersfield and Newcastle that could make up for any blank.
My final midfielder tip is quite the gamble as his form has not been great recently. But then you remember West Ham have Huddersfield this week, followed by Everton and their shaky defence. Felipe Anderson is just £0.2m more expensive than his starting price at £7.2m, having also reached a high of £7.4m when he was so prolific between Gameweeks 11 and 19 and a low of £6.8m when he, well, wasn't. The Hammers have put away a total of 10 in the last four meetings with the Terriers – and six in the last two games against the Toffees – and it wouldn't be out of the question for the Brazilian to get back on the scoresheet and reward those who have put their faith in him.
Forwards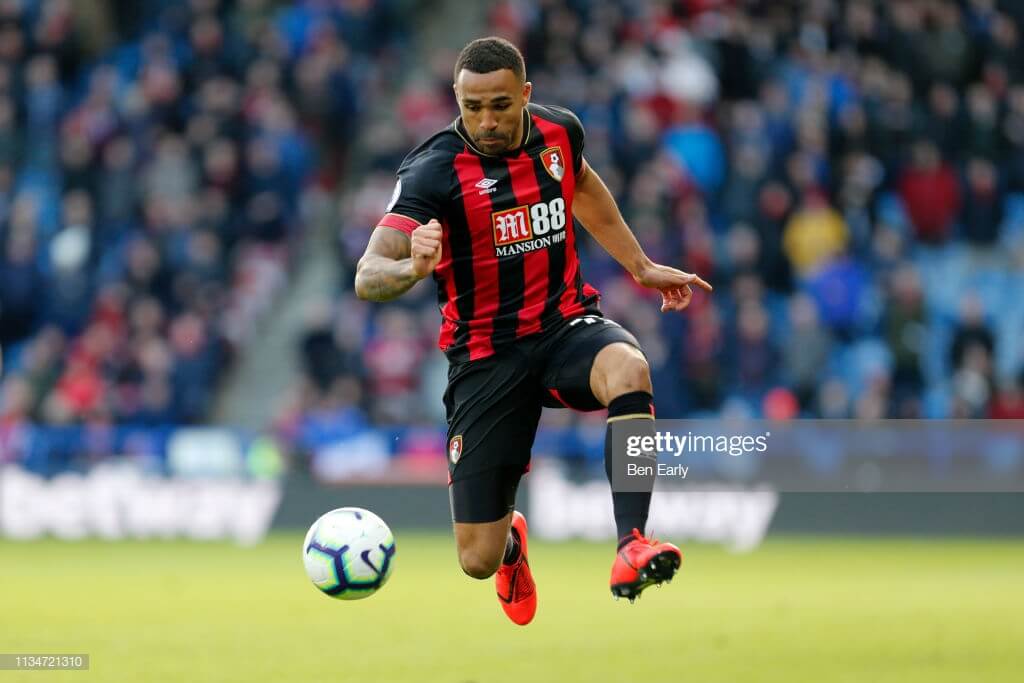 After the mention of Ryan Fraser and Bournemouth's attacking potential, it's probably not a great surprise that £6.4m Callum Wilson is my first pick as he returned to playing football with 11 points from a goal, assist and two bonus points for good measure. Having missed the past six successive games, he is the most transferred-in forward so far this gameweek, with a whopping 137,000 purchases at the time of writing – a full 60,000 over the second-most bought, Jamie Vardy.
As previously mentioned, Bournemouth have been rather unpredictable this season and so their 12th place comes as no surprise from the 11 wins, four draws and 15 defeats. Another season in the Premier League is, however, pretty much guaranteed and the chances of finishing in the top half of the season will definitely be improved if the likes of Wilson and Josh King, who comes in £0.1m more expensive, can stay fit and on form, adding to the 20 goals and 12 assists the pair have so far picked up between them. In the case of Leicester, Bournemouth's opposition in Gameweek 32, the Norwegian has scored three in five Premier League games against them, whilst the England hopeful has registered a goal and assist in three. Burnley, who the Cherries face the week after, have conceded two of King's shots in five top division matches, whereas his strike partner has scored one in three. To conclude, Wilson potentially has the form whilst King has the history.
My next pick is the aforementioned Jamie Vardy, now in his third bout of great form this season, with five goals scored and one set up in his last five games, picking up 36 points as a result. You can tell he already has a better relationship with Brendan Rodgers compared to Claude Puel, which can only bring out the best in the player.
As he has a total of 12 goals and four assists, the likes of Aguero and Salah needn't worry about him beating their totals to grab the Golden Boot at the end of the season, however I wouldn't be surprised to see the Leicester man have a party over the coming weeks as five favourable fixtures lie in wait before the last three brutal ties against Arsenal, Man City and Chelsea. Of the 14 most recent times the Foxes have played Burnley, they have only lost twice, having scored 21 in that time – of which three come from Vardy alone, along with two assists. The number nine has also put away the same amount of goals against each of Bournemouth and Huddersfield, squads he'll play against in Gameweeks 32 and 33.
Last, but certainly not least, my final pick is not Gonzalo Higuaín, who I'm still in a strop with after basically walking around for 90 minutes against Wolves, but Roberto Firmino who, coincidentally, has been accused of doing the same in some previous matches. That certainly wasn't the case when he faced Burnley in the most recent gameweek, where his two goals contributed to the 4-2 win, grabbing an impressive 13 points in the process. In fact, that was the third time the Brazilian forward has scored more than 10 points in one gameweek, as you look back to his hat-trick and 17-point haul against Arsenal and goal and assist away at Watford back in Gameweek 13. Facing Fulham this gameweek, it wouldn't be the greatest shock to see the £9.2m man back on the scoresheet.
Thanks for reading Fantasy Football Tips Gameweek 31. This article was written by theswirly.
FPL FIXTURE TRACKER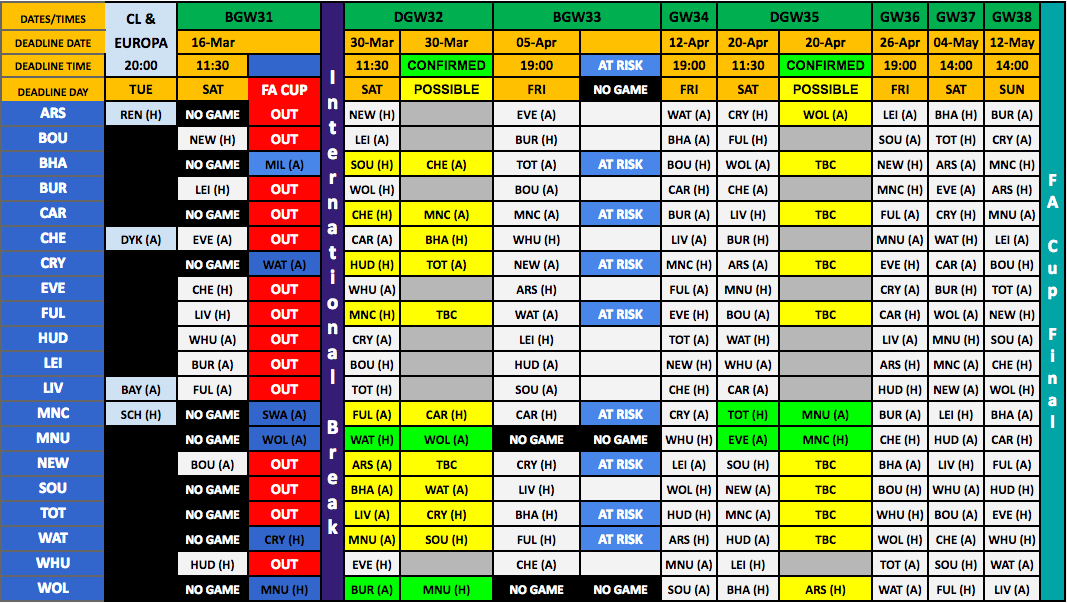 FIXTURE TRACKER LINK
Welcome to our Fantasy Football leagues section.
The League Codes for FF247 for the 2018/19 season are as follows –