Fantasy Football Tips Gameweek 32
Welcome to Fantasy Football Tips Gameweek 32. I've been off the grid for the past week or so due to a few reasons – mainly that work has been extremely busy with 'year-end' stuff. The usual shenanigans, it's either 'we need to pull money out of our backsides to fund what's already been spent' or finding some 'must spend now!' money down the back of the council sofa. "Mad March" it has always been termed and I understood why as the 1st April, the new financial year loomed. But perhaps now this same moniker could be applied each season to FPL (it's around this time the DGWs are announced). Because even before last Thursday's announcement of the DGWs in GW 34 and (probably) 37, wildcards were being activated, RMTs were through the roof all without the merest hint of who was going to be playing twice and indeed, when. It was all guess work – ifs, buts and maybes – chips were theoretically being played before they were being played and the normal worries of rotation, potential dead-rubber games added to a big bowl of who the heck knows?
As I begin to write, we finally know who will be playing twice in GW34 and (probably) 37. Here are those who benefit from two outings each week:
DGW34
Eight teams will play twice during GW34 and these ARE confirmed (home games in CAPS):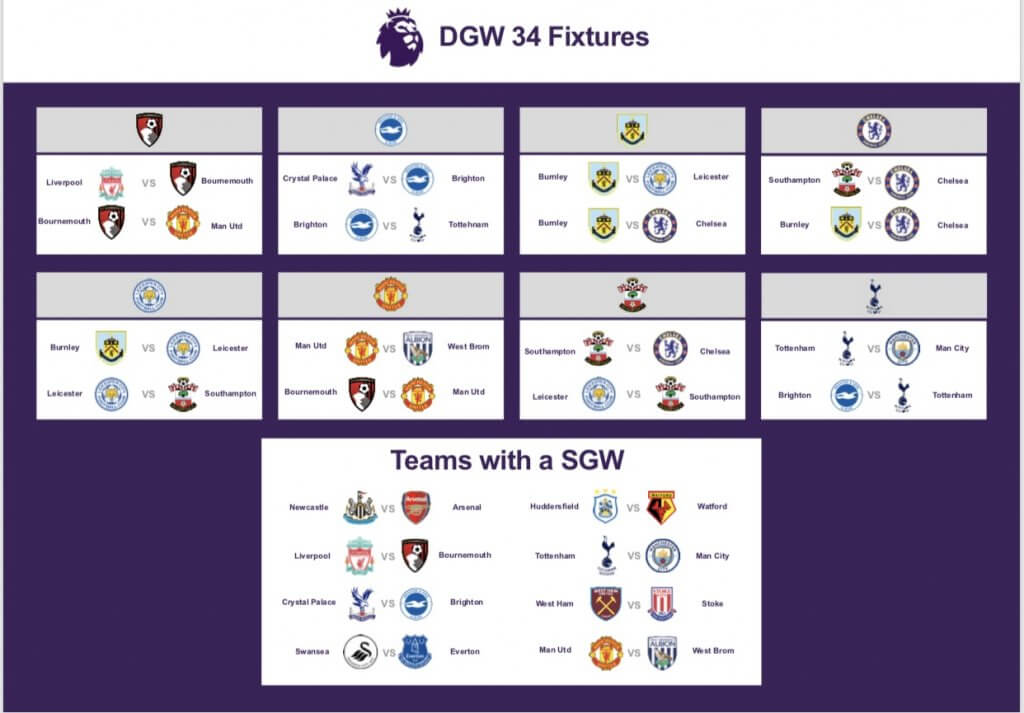 Bournemouth (Liverpool/MANCHESTER UNITED)
Brighton & Hove Albion (Crystal Palace/TOTTENHAM HOTPSUR)
Burnley (LEICESTER CITY/CHELSEA)
Chelsea (Southampton/Burnley)
Leicester City (Burnley/SOUTHAMPTON)
Manchester United (WEST BROMWICH ALBION/Bournemouth)
Southampton (CHELSEA/Leicester City)
Tottenham Hotspur (MANCHESTER CITY/ Brighton & Hove Albion)
DGW37
It looks likely these matches will be fitted in here however these are NOT yet confirmed: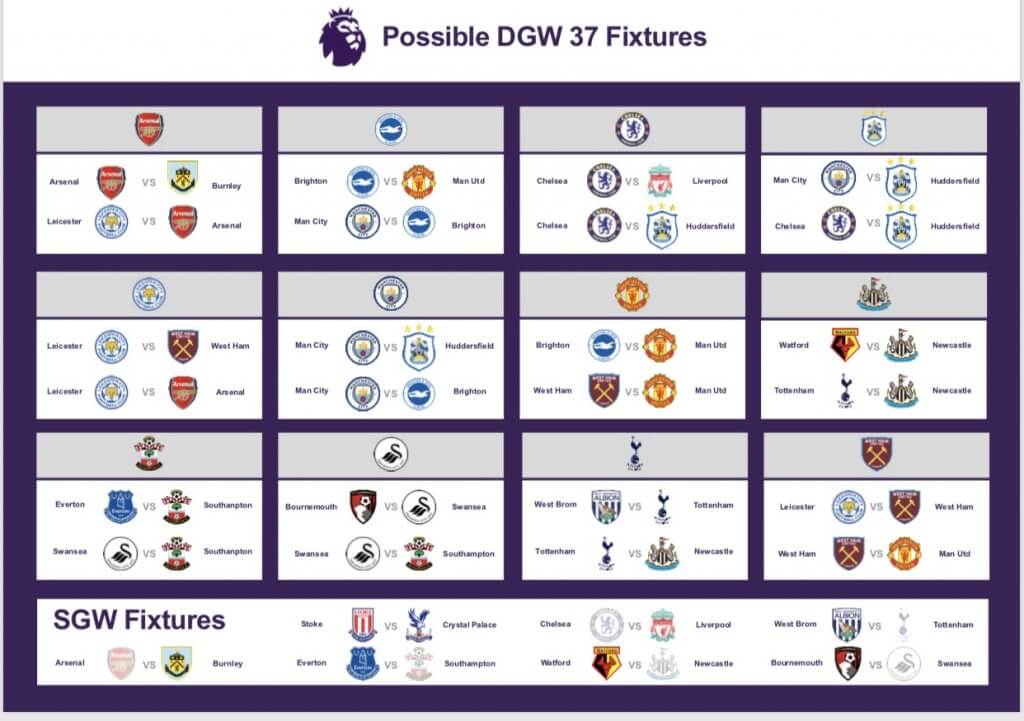 Chelsea v Huddersfield Town
Leicester City v Arsenal
Manchester City v Brighton & Hove Albion
Swansea City v Southampton
Tottenham Hotspur v Newcastle United
West Ham United v Manchester United
So by my reckoning that's
Brighton & Hove Albion
Chelsea
Leicester City
Manchester United
Southampton and
Tottenham who will enjoy 'double Double' Gameweeks.
I know there are two gameweeks to go before DGW34 gets here but I am also aware that plenty of you reading this are on activated wildcards right now so I plan to write these Tips in the form of a wildcard squad which would serve you both now and hopefully also for the remaining weeks, however you individually plan to see your chips play out. I stand to be ridiculed here for some of the picks I've made but in all honesty, I think this is exactly who I would have (and I've explained the reasons behind some of the obscure ones) if I activated right now* (*more later when I declare my current plan of attack).
Before beginning, I would like to helpfully remind you to please, please, please bear in mind that if you are planning to wildcard with the intention to play a Triple Captain or Bench Boost chip in Gameweek 34, that you must do it before that particular week as you cannot play two chips (the wildcard counts as a chip) on the same week.
My 'theoretical' squad:
Goalkeepers
Ederson (Manchester City) and Alex McCarthy (Southampton)
Alex McCarthy appears now to have established himself as Southampton's best goalkeeper and having seen Forster in the past, I couldn't argue with that. The former Palace goalkeeper has played the last ten matches in a row and crucially has kept his place with Mark Hughes as the new manager coming in. I expect him to play the remainder of the season barring any injuries or a severe drop in form and therefore with a couple of double game-weeks, one of which could be on your bench boost week, I would pick him up.
He doesn't play in GW35 but the first choice wildcard pick Ederson does. The Brazilian is the preferred alternative to David de Gea as the United man doesn't play in GW35 and although many of us might well have played without a goalkeeper at some point in the past, there is no sense in doing it here if you are on a wildcard. Providing Pep stays loyal to the ex-Benfica stopper, then he will also likely have two home 'gimmes' in GW37. Although there are two tough games in GW33 (United) and GW34 (Spurs), each of those could be title-winning games so you can be assured the champions-elect will be fully focused on giving nothing away. He has three consecutive clean sheets and has dabbled in the Bonus Points on four occasions this season, twice collecting the maximum three. He has a credited assist in Europe so far this season via his excellent distribution so there is always a sneaky bonus brewing with this one.
Defenders
Matt Lowton & James Tarkowski (both Burnley), Mike van der Hoorn (Swansea City), Lewis Dunk (Brighton & Hove Albion), Ben Chilwell (Leicester City)
The eagle-eyed among you will have noticed either a) a cheap defence; b) double Burnley coverage or c) both. Well, that's correct and here's why it would be my tactic right now.
Burnley as mentioned will play twice in GW34 and both of these are at home which is normally a bonus for this side before you even consider the opposition. The Clarets have only conceded 12 home goals all season so far (15 games) and that ranks as the fifth best overall in the Premier League this season, bettering the likes of Arsenal and Everton and being only two worse than both Manchester City and Liverpool. Burnley do play Leicester and Chelsea in the double gameweek but surrounding this brace of matches they travel to West Brom, Watford and Stoke which are all well within the reach of Sean Dyche's men's abilities to keep a clean sheet. Their final two home matches are Brighton and Bournemouth so there is no rush to lose either of the two cheapest defenders, Matt Lowton and James Tarkowski (who made his England debut against Italy on Tuesday.) Right now you can buy both for a combined £8.9mln.
Mike van der Hoorn of Swansea has made a place in their defence his own and is very cheap at just £4.4mln. He has scored recently as well so carries a threat in that regard. The Swans are revitalised under the awesome Carvalhal and should have an extra game in GW37 when their match at home to Southampton should be fitted in alongside a trip to Bournemouth. I believe the ex-Dutch Under-21 crack is a really decent Bench Boost pick and furthermore could be relied upon against such opposition as West Brom, Everton and Stoke.
Lewis Dunk of Brighton finally scored a non-own goal against Arsenal two gameweeks ago after having scored THREE own goals so far this season. For just £4.5mln he offers the cheapest guaranteed access to the Seagulls' defence for both of those doubles they have ahead. Although the fixtures are in and out a bit (they currently have four 'decent' and four 'worrying' judging by the official FPL site's fixture assessor) alongside a blank in GW35, to have someone playing in two doubles and with eight clean sheets in a maiden season is worth a go in my personal view.
Ben Chilwell can be picked up for a bargain £4.3mln and rounds off a bargain basement defence which allows for big spends to come! The Leicester left back has played more minutes than not recently and Leicester have the following games ahead: Brighton, Newcastle, Burnley, Southampton, Crystal Palace and West Ham. Wow! One of these is a DGW in GW34 and a fixture against Arsenal, at home, is still to be rescheduled. If Chilwell can hold that spot then for the money, he could be a must for your wildcard squad.
Midfielders
Mohamed Salah (Liverpool), Willian (Chelsea), Riyad Mahrez (Leicester City), David Silva (Manchester City), Nemanja Matic (Manchester United)
Mo Salah stays in regardless of whether he has a DGW or not. If there are no further questions (good) then I will move on. If you're still not sure, read Rosco's Fixtures article. That is all.
Now those who will play twice in some of the coming weeks and we begin with Willian of Chelsea. Much has been made of Eden Hazard naturally when a DGW is mentioned for Chelsea and fair enough, on his day he is their best player but those 'days' seem fewer and far between this season. I tried him in a wildcard team but the much cheaper Willian (there's £3.5mln between them) allows for so much more flexibility and strength elsewhere. The Brazilian has an impressive 117 points this season thanks mainly to 6 goals and 7 assists and with a couple of reasonably fair doubles (Southampton and Burnley, then Huddersfield and Newcastle) I think he is remarkable value at sub-£7.5mln.
Riyad Mahrez is the second leg of a Leicester treble in this wildcard squad and that is simply due to those fixtures and the fact that the Algerian appears to have at last put his disappointment of his failed Manchester City move behind him by refocusing and adding recently to take his tallies this season to scoring ten goals and providing eleven assists. These also include double-digit hauls in his two matches prior to the international break. His link up with Jamie Vardy, whilst maybe not always direct between the two, appears to carry off for each of them and it would be in all honesty difficult to separate and advise only one of them in this article so I'm going to back both these guys. I'll come on to Vardy later.
I round off the midfielders with an obvious and less-obvious pick between the two Manchester clubs. David Silva is going to pick up another Premier League winners medal and he more than anyone in the City squad deserves it. He is absolutely gold and one of the best players I have ever seen play in England. Always a fantasy favourite of mine, I would be including him here based on his last three scores in FPL: 8, 9 and 16! I think he will play most of the remaining games as he is not the type of player who bases his game on being energetic for 90 minutes and using huge bursts of speed that would run the risk of fatigue injury. He is calculated and plays the game quickly and smartly with seemingly so little energy. At £8.1mln as well he is an absolute steal judging by what City have left to face in this campaign.
Lastly I round off with my 'punty' midfielder in Nemanja Matic of United. I like his price and the fact that I'm sure he'll play all the remaining matches as Mourinho looks to secure the runners-up spot for the Red Devils. Looking purely at his FPL record this season, it has not been his best but he is with a new club and still settling in alongside new teammates. He has only one goal and one assist in FPL but did add another goal recently in the Cup against Brighton. I believe too that for his price which is just £4.7mln, he has a decent pedigree in providing assists and with the partnership with Scott McTominay jelling, I wouldn't rule out seeing the Serbian advancing more as the season concludes.
Forwards
Romelu Lukaku (Manchester United), Jamie Vardy (Leicester City), Pierre-Emerick Aubameyang (Arsenal)
I started with the forwards and worked back in all honesty. I think with West Brom, Bournemouth, Watford and West Ham across two separate weeks, Lukaku makes complete sense for United attacking cover. He has two goals and two assists in his last three matches so there is clear evidence of the Belgian coming back to the boil. It is quite remarkable that when everyone seems to want to slate Jose and anything United related, Lukaku always seems to often get the thick end of the criticism wedge when in absolute reality he has scored the exact same amount of league goals and provided the same number of assists as Roberto Firmino (14 goals, 7 assists).
Jamie Vardy is another striker with 14 goals and as highlighted in the other Leicester players' preview above, Leicester have two double game-weeks and a handful of amazing fixtures. The England striker has scored six in his last ten league matches and with Leicester now putting all their eggs in the basket of sixth place in the league, I fancy the Foxes will go on a run of victories to try to put the heat on Arsenal and Vardy will be front and centre. With the chance of penalties in the forthcoming matches and add to that a brilliant finish for his country against Italy which showed all the sharpness we come to expect when he is bearing down on a goalkeeper.
PEA -let's just agree that's what he is getting called – (I typed in full once, never again) is the Arsenal striker who isn't allowed to play in the Europe league campaign having been cup-tied due to his appearances earlier for Borussia Dortmund. Therefore he will be the first choice striker for the remainder of the Premier League season and much like his striking padres in this wildcard selection, the fixtures are hand selected; Stoke, Southampton, Newcastle and West Ham in their next four (three at home) and that should have him licking his lips with the prospect of adding to his three goals so far. Only Manchester United away in GW36 looks troublesome and they also have a DGW in GW37 (probably) so it is all looking good for the Gabon international.
One of these three strikers will likely have to make way for Harry Kane at some point but that's for another day and another article! For now, I think the three selections boast an enormous amount of point-scoring potential with the opposition to come for each.
And so…. this is how I would wildcard right now.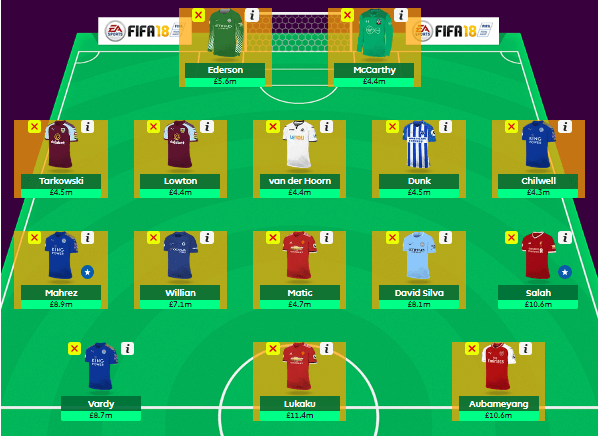 But I'm not!
My plan at present is to set up for DGW34 with free transfers and a hit or two as necessary, use my free hit chip on the condensed GW35, return on GW36 with a wildcard to fill up on players in DGW37 when I will then use the Bench Boost. I will aim to keep an eye on the likelihood of my squad in DGW37 having a chance of playing in GW38 as I would be loath to use hits on the final day of the season for fear of unnecessarily damaging my Overall Rank for the season.
So, my own plan is:
GW32 – Save free transfer
GW33 – Use two free transfers on DGW34 players playing twice
GW34 – Use two/three transfers (for -4/-8) for DGW34 players playing twice
GW35 – Use Free Hit chip to play eleven players with games
GW36 – Wildcard to create a squad of fifteen players with DGW37 players playing twice
GW37 – Use Bench Boost
GW38 – Use final free transfer on a player punt from a team with an importance on their game. Also, pray.

My Triple Captain chip has gone as you may have gathered. That went on Harry Kane in GW22. If I had it still then that would likely go back on Harry Kane (if fit) in DGW37 when he'll have West Bromwich Albion and (probably) Newcastle United. Interestingly, it shows that had I not used the TC so early, this would automatically alter my entire plan for the remainder of the season as the TC would be used in DGW37 meaning the Bench Boost would have to come forward to DGW34 and therefore the Wildcard also (possibly to right now!). So we'll just have to wait and see if using the Triple Captain chip already is a blessing or a fatal error. One thing is for sure, if you have burned it already and Harry Kane is fit, you're going to have to buy and captain him in DGW37 just for damage limitation purposes.
I see on the FF247 writer's rota that I'm down to write again on GW35 and GW38 so you'll be able to see my Free Hit Chip selection and then hear who my last day punts will be. Lucky you!
Finally, these DGWs always seem so shiny and attention-grabbing really regardless of who is playing – you'll buy someone with two games who would never be in your team under any other circumstance – but as ever, they bring us to their bosom before sneaking in a fly kick to the crotch. But it's exciting and that is what this game is about. I love it!
Good luck with your transfer plans and/or wildcards everyone!
GP
Thanks for reading Fantasy Football Tips Gameweek 32
This article was written by Gallant Pioneer
The League Codes for FF247 for the 2017/18 season are as follows:
Gameweek Tracker GW32-38