Fantasy Football Tips Gameweek 36
Welcome to Fantasy Football Tips Gameweek 36. As the last of this season's Double Game-weeks exits stage left, I am tasked with helping you survey which players you should prioritise in the final three game-weeks of the season. Much like the title race, a lot of your mini-leagues will be going down to the wire so it's important that you use your transfers wisely as they may ultimately define the relative success or failure of your season. No pressure then.
No doubt you all have a few players who just a few short weeks ago seemed to make perfect sense, but now have you questioning your own sanity (the jury is still out on treble Brighton), hey, don't sweat it, I got your back. Some of my suggestions are fairly obvious (treble Liverpool anyone?) and the rest are here on the basis of good form, good fixtures or a mixture of both. We're in the end game now, let's do this.
Goalkeepers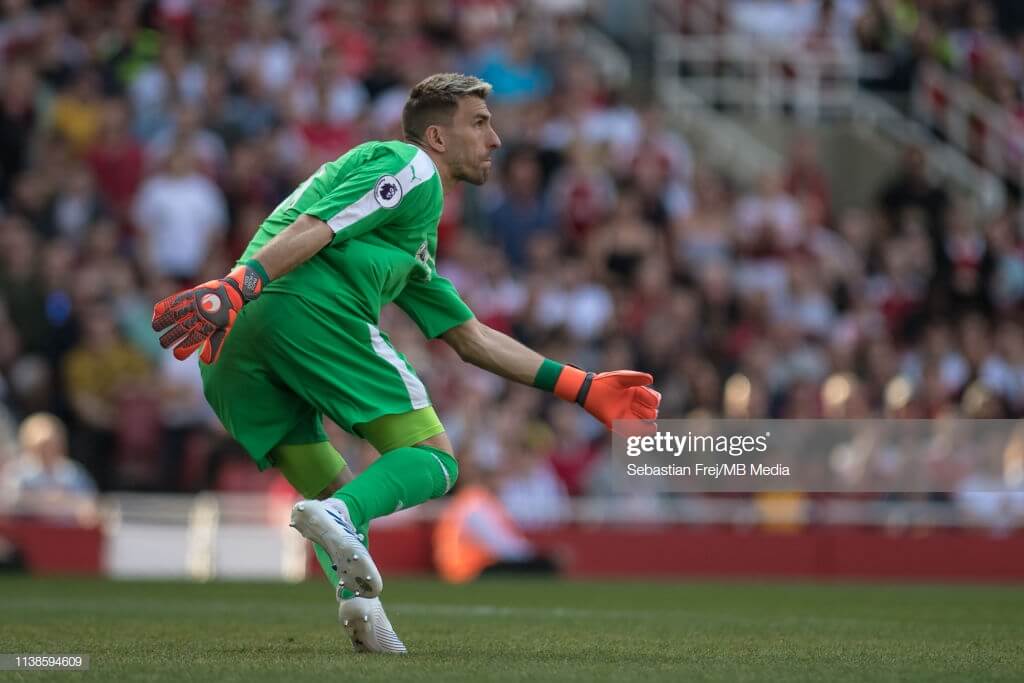 If money is tight, fear not, because not only is my first tip Vicente Guaita the most inform keeper, he's also cheap as chips (£4.2m). Whilst his mate Wayne is off learning about Adolf, Guaita has made the Palace number one jersey his own. They've had a few tricky fixtures of late, but sandwiched between the defeats to Spurs and Manchester City, Guaita picked up 9 and 10 points respectively in the fixtures at home to Huddersfield and away to Newcastle. In the last four matches, no keeper has had to make more saves (22) and this helped contribute to his points tally with 5 save and 5 bonus points. To further add to Guaitas appeal, a quick look at the fixtures will show you that arguably no team has a better run to see out the season; Everton (H), Cardiff (A), Bournemouth (H).
If you look solely at clean sheets then the most inform keeper is not surprisingly Manchester City's Ederson (£5.6m) with 8 in his last 10 fixtures. Anyone who went into DGW35 with City defensive cover would have hoped for the best but prepared for the worst given the opposition, in the end, it was another 2 clean sheets with Ederson imperious. With their focus now solely on the league title, it wouldn't be all that surprising if they reigned in their often cavalier attack, battened down the hatches and ground out a few more results like the 1-0 victory over Spurs at the weekend. Ederson has just one less clean sheet (18) than the top scoring keeper in the game Alisson (19), but with Liverpool defenders a more alluring prospect it's the city man who would be my go-to guy if money is in abundance.
Defenders
The fact that most of us kept at least one Liverpool defensive asset through the doubles is a testament to how much things have changed in the Liverpool backline this season. AT picked Trent Alexander-Arnold in his GW35 tips article so I'll go for his team-mates Andrew Robertson (£6.8m) and Virgil van Dijk (£6.6m) just to keep things fresh. As AT pointed out last week, both Robertson and Van Diijk have outscored every defender in the game by some distance, indeed, both have in fact outscored every forward in the game, and only four players in the game (Sterling, Hazard, Salah and Mane) have more points on the board than the Red's defensive duo. Impressive stuff. This week Huddersfield visit Anfield and it wouldn't be a surprise to see more than one Liverpool defender ending the match with a double-digit haul. If you don't have one get one, and if you have one why not get two. You know it makes sense.
The top scoring defenders this season not surprisingly are comprised of players from Liverpool, Chelsea and Manchester City, but it's the man down in 8th spot who is my next pick. Patrick Van Aanholt (£5.5) featured in a lot of early season teams thanks to his 18pts in the closing game of the previous season, but the value of team mate Aaron Wan Bissaka seen both his appeal and ownership regress. Heading into the final 3 weeks of the season a lot of us have now removed Wan-Bissaka, but given the favourable fixtures mentioned (see Vicente Guaita above) then a punt on the more attack-minded Van Aanholt could be a smart move. Whilst he did start GW35 on the bench with 'Woy' favouring the more defensive Joel Ward, I'd expect him to return to the fold in GW36 where he'll be keen to end this campaign as he did the last.
The inclusion of Lucas Digne (£5.3m) will not come as much of a surprise following his fourth double-digit return of the season against an out of sorts Manchester United in GW35. However, his inclusion is not based solely on those 14pts. Everton have seen something of a resurgence in recent weeks, and Digne has picked up 6 clean-sheets in his last 8 which include shut outs against Liverpool, Chelsea, Arsenal and now 'United'. Everton finish the season with a tricky trip away to Spurs but with Palace (A) and Burnley (H) in his next 2, the Spaniard could be an easy to reach alternative to all those Brighton defenders stinking out our backlines.
Midfielders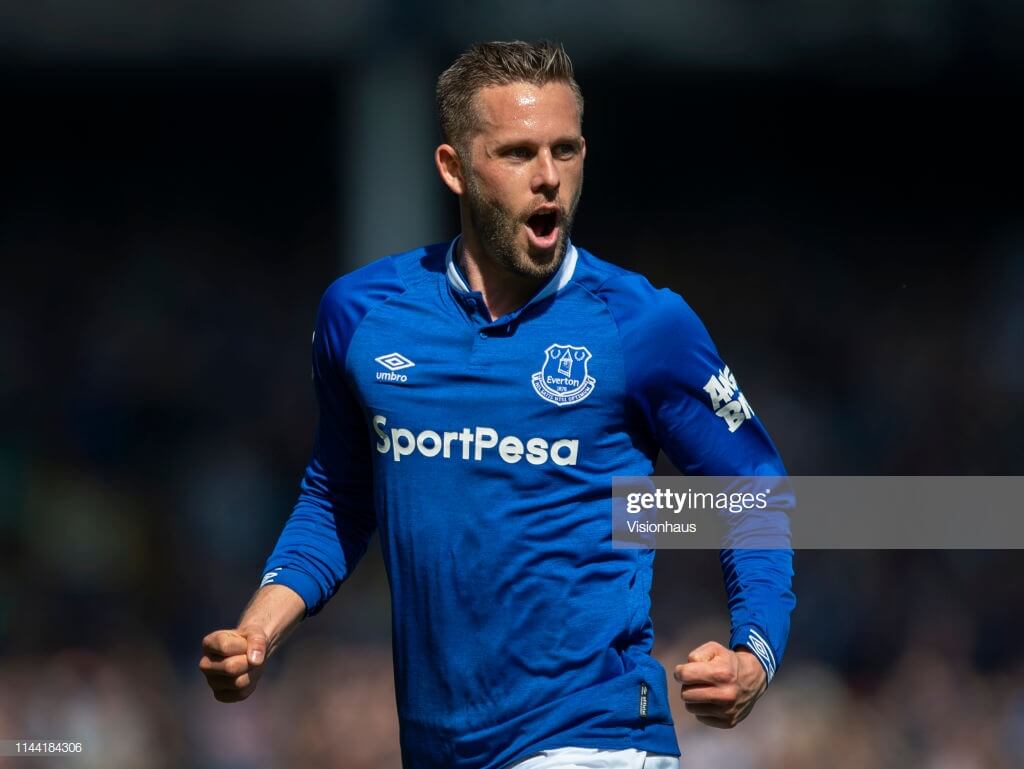 Another player to make the cut thanks in no small part to his GW35 performance is Digne's teammate Gylfi Sigurðsson(£7.3m). A goal, assist and maximum bonus at home to the Red Devils, meant it was a tidy 14pts for Sigurðsson; his 6th double-digit haul of the campaign. Only Christian Eriksen has created more chances than Sigurðsson's 15 in the last 4, and only 5 players have more goal attempts (11) in the same period. With a paltry 6.5% ownership, Siggy is the ideal type of player for those looking for a differential that could push them to ML glory.
By the end of this article, it will be apparent that Crystal Palace players make up the spine of this offering thanks largely to their favourable fixtures. Next up is a player I've somehow never owned either this season or last, but with the introduction of VAR, I can pretty much guarantee he will be a permanent fixture come 2019/20*. Since joining Crystal Palace in 2017, Luka Milivojevic (£6.4m) has taken 20 penalties and only missed twice. You can't predict when a team will be given a penalty, but given that the Eagles have been awarded more than any other Premier League side over the last two seasons, then it's safe to assume the trend will continue. *Providing of course that Wilfred Zaha is still a Palace player come next season.
With a home fixture against relegated bottom of the table Huddersfield it's a given that Liverpool players are a must this week. Many of you will be doubling up with both Mo Salah (£13.2) and Sadio Mane (£10.0) and I wouldn't argue with either. I'll not waste your time or mine getting into the why (surely it's pretty obvious), all I will say is that there will be a lot of people entrusting their Triple Captain on one of these players, so make sure you have at least one of them, preferably both.
Those who kept the faith in Gerard Deulofeu (£5.6m ) into DGW35 were rewarded with a brace and 16pts at home to Huddersfield in 'Part 1' of DGW35. Given his recent injury problems he could be overlooked, but with home games against Wolves and West Ham in his final three fixtures, 'Gerry D' may be a shrewd move for those wanting to freshen up their post DGW wildcard.
Forwards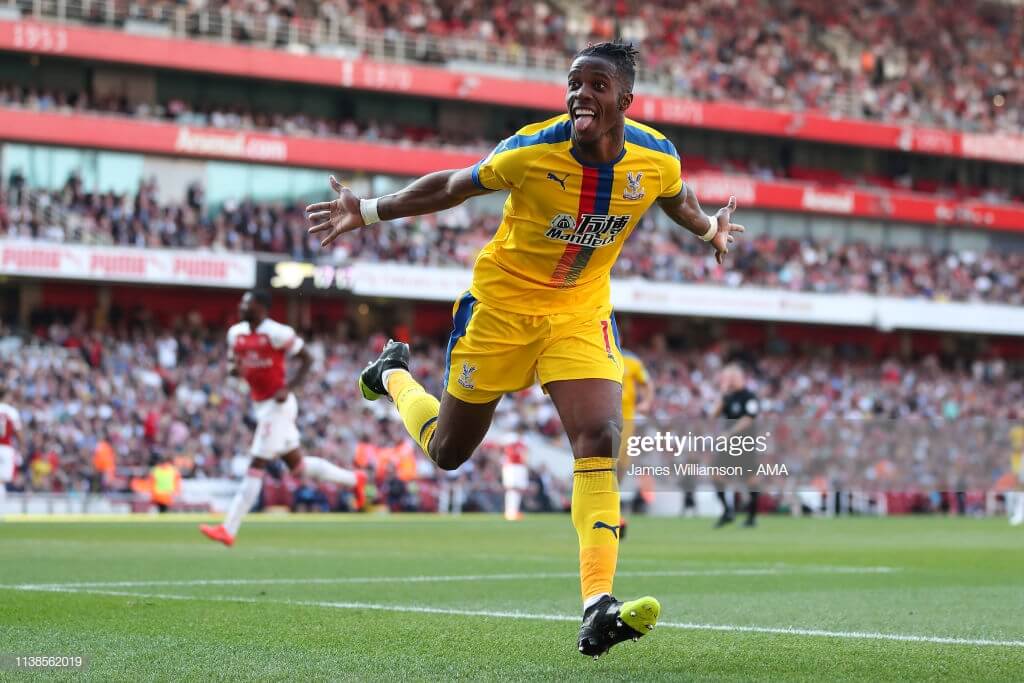 Wilfred Zaha (£6.8m) makes up my Eagles quartet this week, partly because 'Eagles Quartet' sounds like a cool band, but mainly (once again) it's all about those fixtures I keep banging on about. His goal against Arsenal in GW35 may have been his first in five matches, but his 31 penalty box touches (top for forwards) in his last four suggest that if he masters the art of staying on his feet he could add to his 9 goals and 8 assists before the season draws to a close.
I'm always reluctant to tip Newcastle players (Just ask Init about Florian Lejeune) but Ayoze Pérez (£6.1m) is here on merit thanks to 6 goals and an assist in his last 6, topped and tailed with 16pts at home to Everton (GW30) and 17pts at home to Southampton (GW35). Pérez has always been something of an enigma. He's clearly talented but over the five seasons I've watched him at St James' he at times appeared half-hearted at best and downright lazy at worst. Whilst the fixtures are mixed (Brighton (A), Liverpool (H), Fulham (A)) much like the end of last season, Ayoze seems to be 'up for it'.
The eternal question of form vs fixture hangs over my final pick. Any player who faces Arsenal (H), Man City (A) and Chelsea (H) in their next three fixtures would usually get a swerve. However, the form of Jamie Vardy (£9.0m) simply can't be ignored. He scored again at the weekend, his 9th in his last 10 and for the 5th time this season he also took the maximum bonus, no mean feat; just ask Mo Salah.
Ok guys and gals, that's it for me for this season (on writing duty at least) so for the final time, I wish you all good luck this coming game-week and hope you are bestowed with arrows of green.
Thanks for reading Fantasy Football Tips Gameweek 36. This article was written by Rosco.
FPL FIXTURE TRACKER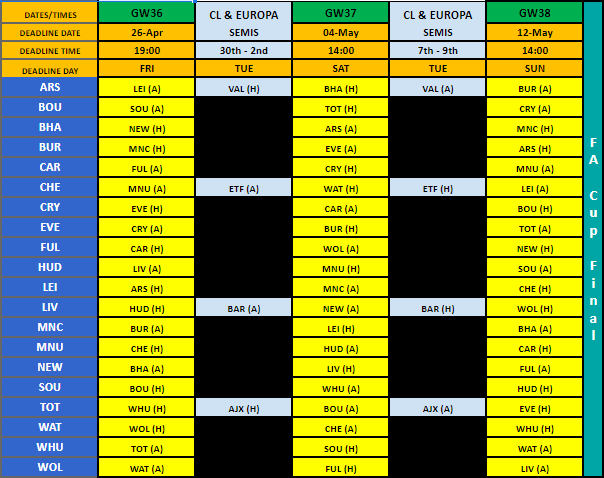 FIXTURE TRACKER LINK
Welcome to our Fantasy Football leagues section.
The League Codes for FF247 for the 2018/19 season are as follows –