Fantasy Football Tips Gameweek 5
Welcome to Fantasy Football Tips Gameweek 5.
A few issues have begun to raise their ugly (ish) heads in the past week or so. The first is that some of the more premiumly priced players (we are looking at you Ronaldo, Lukaku and Salah) are proving themselves to be hard to ignore. As such we may all need a few cheaper fellas to accommodate the lavish spending on the former and Horse and Rosco have set about seeing if they can save us a few quid at the back and in midfield. Although Horse either couldn't help himself or simply didn't get the memo and has also delved into the premium end of defenders too.
Up top DCL looks like he is out for a bit and so GP has taken a look at his potential replacements, or indeed anyone in that mid-priced bracket.
Goalkeepers & Defenders
(Horse)
Cheapies
Aaron Ramsdale
(4.5m) claimed a clean sheet on his Arsenal debut. In his two previous seasons, he picked up 123 and 126 points, with Bournemouth and Sheffield United respectively. Unfortunately, both teams got relegated with him in goal. Only Arsenal could sell Martinez and get him in. It remains to be seen how Ramsdale and Leno will share minutes this season.
Defenders Ben White (4.4m) and Kieran Tierney (4.9m) have better security of starts for Arsenal, with the latter offering a vastly superior attacking potential.
Robert Sanchez (4.5m) is the highest owned goalie in the game in 25% of teams. Against Brentford, he returned his second clean sheet of the season, this time away from the Amex which bodes well. Though he should claim a steady flow of clean sheets, he is not known for picking up many save points.
(16 points, 2 clean sheets, 1 save point, 0 bonus, 3 goals conceded)
Vincente Guita (4.5m) is one for the watchlist this season. In his previous seasons, he has scored 137 and 124 points. Palace are yet to concede at home, with clean sheets against Brentford and Spurs. They welcome Brighton, Leicester, Newcastle, Wolves and Villa to Selhurst Park in their next 5 home matches.
(18 points, 2 clean sheets, 2 save points, 2 bonus, 5 goals conceded)
David Raya (4.6m) has impressed and the Brentford look a solid defensive unit. They were unlucky to concede a last gasp goal and only allowed 2 big chances against Brighton. To my eyes they look the most resilient of the promoted clubs. It will be intriguing to how Raya and Brentford manage as their fixtures stiffen. He could pick up a whole load of save and bonus points (19 points, 2 clean sheets, 2 save points, 1 bonus, 3 goals conceded)
Centre back Pontus Jansson (4.6m) and left back Ethan Pinnock (4.6m) have both played every minute and have both provided an assist. Jansson seems to shade it on bonus points, having picked up 5 to Pinnock's 2. His BPS baseline score is superior meaning than when the Bees keep a clean sheet, he is more likely to pick up bonus points.
Another newcomer to the Premier League Jose Sa (5m) has also looked decent. Wolves have looked defensively solid and have a strong set of fixtures up until GW14. (14 points, 1 clean sheet, 2 save points, 0 bonus, 3 goals conceded)
There are a couple of enticing options in Wolves' defence.
Fernando Marcal (£4.5m) had two attacking returns in Wolves' 2-0 win over Watford were his first ever in FPL. The left-back banked two assists despite not creating a single chance in Opta's eyes: a Marcal cross was first turned into the unfortunate Francisco Sierralta's own net, before the Portuguese defender's blocked shot was converted by debutant substitute Hwang Hee-chang (£5.5m). Marcal and fellow wing-back Nelson Semedo (£4.9m) had three of the six big chances that Wolves created. Let's look at their stats in more detail.
Semedo vs Marcal (per game)
Shots: 1.7 vs 0.8
Shot in box: 1.0 vs 0.25
Key passes: 1.0 vs 0.5
xPts: 5.3 vs 3.7
xG: 0.27 vs 0.09
xA: 0.07 vs 0.04
xGI: 0.34 vs 0.13
Since Semedo started playing in GW2, he is top among defenders for penalty area touches, top among defenders for big chances, second among defenders for xG, fourth among defenders for touches in the final third.
If you can fine the additional funds Semedo seems the better option and less injury prone of the pair.
Premium
Conventional FPL wisdom tells us that it is not a good investment to buy a premium goalie. Firstly, because strong defences do not allow keepers to build up save points and secondly, it's hard for them to get a look in when the bonus points are distributed. But Edouard Mendy's (6m) stats tell a different story. (26 points, 3 clean sheets, 5 save points, 2 bonus, 1 goal concede)
He has great fixtures to look forward to. After playing a Spurs side lacking in midfield creativity and a home tie against Man City who often struggle to score against them, they have plum fixtures of Southampton, Norwich and Burnley at the Bridge with trips to Brentford and Newcastle. The challenge is to find Chelsea players who are nailed on for the strong fixture run. Such is the effect of Tuchel Tombola that only he and Antonio Rudiger (5.5m) have played every minute of the league matches so far. A minimum of one of Chelsea's defence look essential for their strong fixture run from GW7.
Pep is clearly playing with our heads by having Joao Cancelo (6m), Aymeric Laporte (5.6m) and Ruben Dias (6m) all play the last three league matches, which were all clean sheets. City should keep many more clean sheets this season. Their team sheets need to be monitored in the coming weeks to see who Pep's favourite nailed on defender is this season.
(As I write this, I notice that City have conceded 3 goals in the Champions League tonight LOL)
Finally, there has been a lot of talk lately about how many premium FPL players to squeeze into our sides. One premium player, however, does not come with a premium price. Trent Alexander-Arnold (7.5m) is averaging an astounding 8.5 points per match so far this season. To further emphasize his current form, he is the second highest scorer of FPL this calendar year with 151 points only behind the mercurial Bruno with 155.
After 4 matches Trent has created 20 chances the next best is Grealish with 13.
He has before him Palace, Brentford and Watford in the next 4 so sell him at your peril.
Midfielders (Rosco)
The clamour for a triple-up on Premiums has seen many teams look to sub-£6m midfielders. 3 players that fit the criteria and have seen significant transfers in this game week (thanks to their GW4 exploits) are the first to come under scrutiny.
The most popular transfer in (over 250k) of the aforementioned 3 is Demarai Gray (£5.7m). Another goal on Monday night takes him to 3 in 4, just one-off his best ever FPL tally (2018/19). Now far be it for me to say that his form is not sustainable, but, well, it's not. A look at Gray's underlying stats gives something of a clearer picture, 8 shots, 3 on target, 3 goals. With an xG (Expected Goals) of 0.78, he's clearly overperforming, the question is, can he keep overperforming for the foreseeable? The fixtures aren't too bad, Norwich in GW6 looks promising.
If I was going for a budget Everton mid, personally it would be Abdoulaye Doucouré (£5.5m) who sits just one point (25) behind teammate Gray (26). Doucouré sits all the way down in 22nd for the most transferred in mids, which is surprising given his 10-point return in GW4. Doucouré has 4 attacking returns (1 goal, 3 assists), but like Gray, he comes without any previous FPL credentials of note. Should that matter? Maybe, maybe not. As with Gray, Doucouré has had 8 goal attempts, he's also (like Gray) created 4 chances (3 of which have been converted). That's a whole lot of data, it's twisting my melon man. When in doubt, give Expected Data a shout. Doucouré's xG is 0.39, his xA (Expected assists) is 0.33. What does that mean? Like Gray, he's been lucky. As a caveat (and so as not to sound as much of a doom monger) I should point out that not all players should be judged on expected data. Jamie Vardy for example consistently outperforms his expected data, so are Doucouré (and Gray) the new Vardy?
Next up, it's Chelsea Loanee Conor Gallagher (£5.6m), currently plying his trade at Patrick Viera's Eagles, following a similar stint for the Baggies in the 2020/21 season. Like Gray, Gallagher has 26 points, however, he's only played 3 games. It's 2 goals and 2 assists in those 3 games, and if I was going for any sub £6m mid it would be Gallagher. Gallagher is very much in the Frank Lampard mold, and at just 21, I imagine in the years to come we'll look back and remember when 'Conor Gallagher was just £5.5m'. There is a genuine belief that Gallagher is expected to be given a chance in the Chelsea first-team come next season, and if his early-season form is anything to go by, that belief is not unfounded. Unlike Gray and Abdoulaye Doucouré, Gallagher's underlying stats sync with the 'eye test' 10 goal attempts, 5 chances created. An xG of 2.59 means with 2 goals he's actually underperforming, and whilst his xA of 0.63 suggests he's been fortunate his teammates have had their shooting boots on, I still firmly believe that from what we've seen thus far, Conor is the real deal.
At the next price bracket Adama Traoré (£6.0m) is a player who for all intents and purposes a player who looks the part, but is he all oily arms and no end product? Wolves head into a very favourable fixture run, you know he'll get a haul one of these days, the key is to be on board when he does. His best season to date (2019/20) saw him score 130pts thanks to 4 goals and 9 assists. Not bad. Thus far it's no attacking returns from 4, but he has been trying bless him. 12 goal attempts and 11 chances created puts him firmly ahead of the players listed up top, and his xG of 1.59 puts him second to Gallagher. The worry is that he failed to convert either of his 2 big chances and the one big chance he created went begging. But, as I said, he's due.
Teammate Francisco Trincão (£5.9m) is slightly cheaper, and whilst he's had fewer goal attempts (10) and created fewer chances (5), he can boast double the shots on target (6) of Traoré. The only caveat with Trincão is that he tends to be hooked early. I've been here before with Podence and Neto. Do I want to go there again? Not really.
Raphinha (£6.5) is a man who will be turning up in many FPL teams this game week as Leeds fixtures take a turn for the better. Last season he looked at times unplayable and even with a price hike, many FPL pundits lauded him as an FPL bargain. Thus far it's just a single goal on the board for the Brazilian, as Leeds have struggled to recapture the form that carried them through their return to EPL. In their defence, their fixtures have been tough, what bodes well, is the sea of green on their fixture tracker, and the fact that Raphinha is joint 7th for goal attempts and just 6 players have created more than the 2 big chances conjured by Raphinha thus far. The Leeds defence looks shot to sh!t, so if they want points on the board, they're going to have to go on the offensive. If I was a betting man I'd be more than happy to put my money on Raphinha, especially against the mugs up at St James' this coming Friday.
As we head towards the £7-8m bracket things either become too pricey or they've been tipped previously, and do I really need to reiterate that Jota (£7.7m), Greenwood (£7.7m), and Pogba (£7.8) are good options in the short term? Ferran Torres (£7.2m) is another player who my previous tips writers have focussed their attention on so I'll not go into too much detail, what I will say, is that if he plays (and who knows with Pep) then he's certainly a good pick this week with Southampton (H), but moving forwards who knows.
Arsenal hasn't had the best of starts this season, but their win at home to the Canaries despite the narrow margin was still a win. Nicolas Pépé (£7.2m) provided the assist for Aubameyang's winner and his underlying stats (10 goal attempts and 9 chances created in 3 games) compare favourably to the other players mentioned in this article. Owned by just 1.5% of managers, Pépé is the definition of a punt, but with favourable fixtures that run all the way to January, it could be a punt worth taking.
Forwards
(GP)
Seeing as this is my first dabble in Tips writing this season I had it arranged that Antonio would have himself sent off and suspended and Calvert-Lewin would be injured for a few weeks. Just so you would pay me attention. Ready? OK let's go.
Start with an easy one. DCL is surely a sell this week. With Rafa the Gaffa mentioning "two to three weeks" and he only deals in facts that man, then you really should be eying up a replacement.
Antonio is very team dependent. You may have a transfer going spare and everything else in the garden is rosy and so can afford to take a chance on another striker for a week and either a) get out whilst the going is good on the West Ham man – especially with Europe beginning this week or b) chase the points this week, skip Man United in the process and bring back next week ahead of Leeds.
Either way, and for either player (or both – if you are REALLY unlucky), here is who I have shortlisted.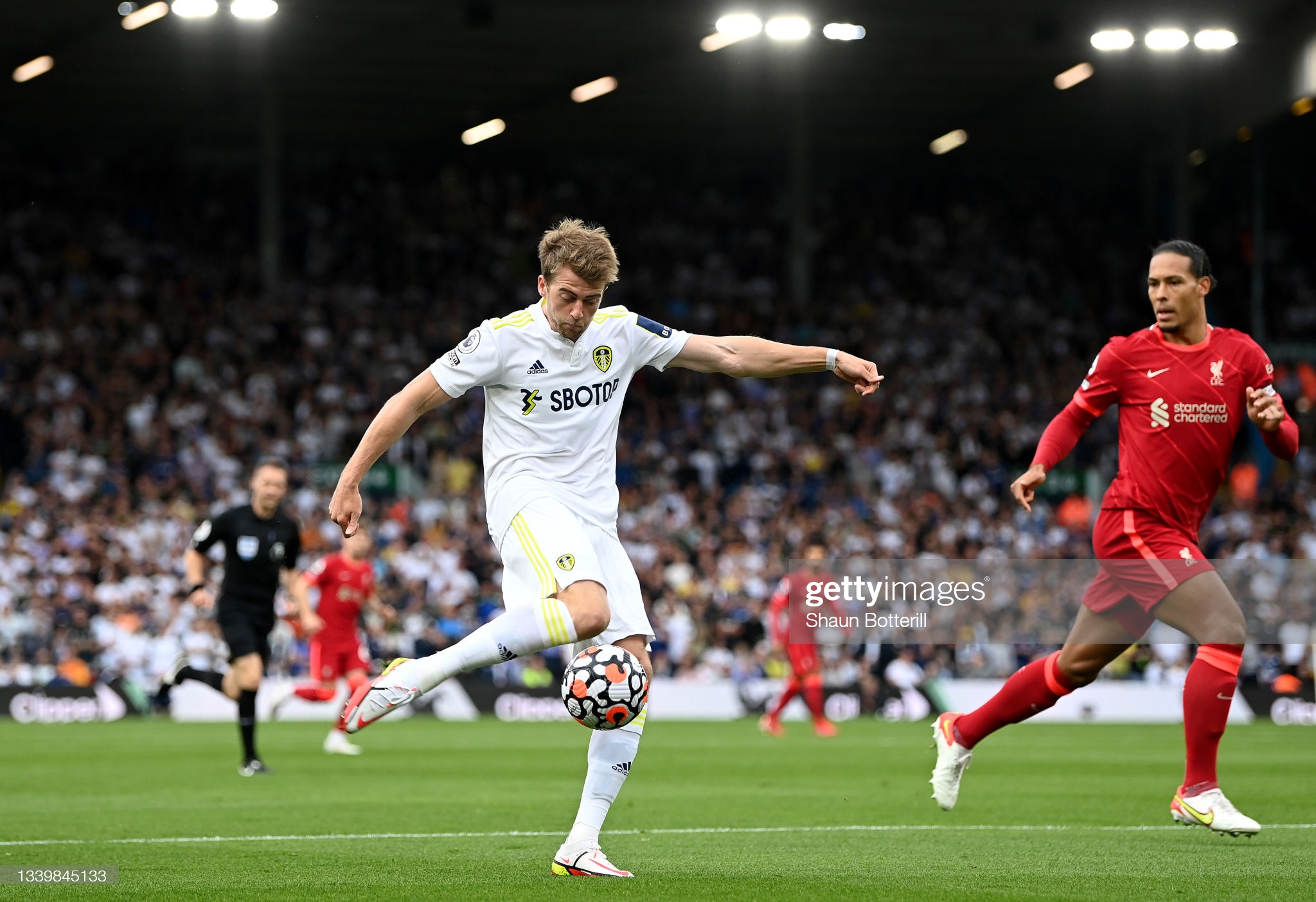 Patrick Bamford
I have the Leeds striker as the number one alternative with a lovely run of six matches – three home and three away and those trips are Newcastle, Southampton and Norwich so hardly stepping into the Lions' den any of them. Bamford is already off the mark this season with a goal and an assist and early on in the Liverpool match showed some brilliant runs in behind and in the second half, a near-halfway line shot requiring a save from Allisson Becker. He's 7.9mln and dropping. Cheap as you'll get him …. And you should get him.
Raul Jimenez/Hee-Chan Hwang
The Wolves duo are interesting in so much as Jimenez hasn't missed a minute of the 360 played by Wolves and the South Korean Hwang only needed 20 to get his Wolves account opened. The Mexican is undoubtedly first choice for Wolves and will only not play if injured. He's guaranteed to start each game as the goals will come but until that first one I understand the apprehension. Hopefully now after a deserved 2-0 first win at Watford, Wolves will play more relaxed at home to Brentford and Newcastle sandwiching a trip to Southampton. Jimenez to guarantee you a starting striker but I flag Hwang up as a potential starter as option to Trincao. Watch him maybe.
Odsonne Edouard
"French Eddy" as he became known during his time in Scotland became a Selhurst Park folklore creator on Saturday by scoring after 28 seconds of his debut – off the bench versus Spurs – which meant he became the fastest debutant scorer in Premier League history. This was followed up by a second to seal a handsome 3-0 win over their London rivals.
With Benteke and Ayew for rivals, it won't surprise me if Edouard is in from the start for the trip to Liverpool on Saturday and then he has three home games in four against Brighton, Leicester and Newcastle and an away trip to Arsenal. Getting on early could be shrewd.
Old Firm rivalries aside, the ex-Celtic player is a proper goalscorer. 94 league games in the SPL and 57 goals. Don't like that – then (and he's slagged for this here as it was a standing joke he's been with them for about 15 years!) he has 17 goals in 14 games for the French Under-21s. Superb value at 6.5mln I think.
Allan Saint-Maximin
My last pick is perhaps (only slightly) a sentimental one. Anyone else watch ASM play with their eyes bulging and their jaw at the floor? I LOVE this man. He grabs the ball and goes. He probably runs faster with the ball than without it and it's a haze of legs with flashes of black and white and the next you know he is in the box or at the by-line. A throwback to what football was about before the sanitisation of possession and moving through phases etc.
But studying him shows three returns in four games, 2 bonus points, played every minute so far, will be relied upon even more without Wilson now and has Leeds, Watford, Wolves, Spurs and Palace ahead. Talisman!
Thanks for reading Fantasy Football Tips Gameweek 5. This article was written by Smash, Rosco, GP and Horse.
VOTE ON THIS WEEK'S CAPTAIN POLL GW5
FPL FIXTURE TRACKER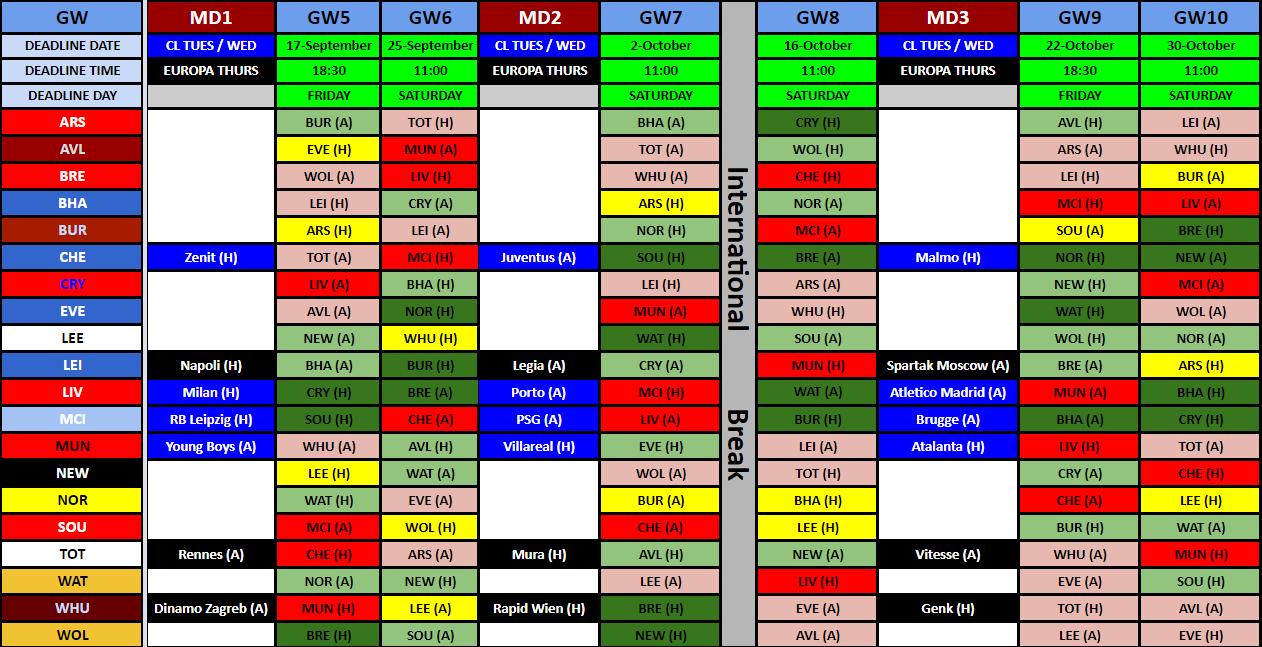 FIXTURE TRACKER LINK
FF247 LEAGUES FOR 2021/22
Fantasy Football 247 League Codes:
Both leagues will be shut to new entrants as of 01/01/22.