Fantasy Football Tips Gameweek 8
Welcome to Fantasy Football Tips Gameweek 8
Having now read both Inittowinit's tremendous Fixtures article and the Captain's focus superbly supplied by Rosco, I feel like I have been painted in to a corner a bit this week.
If this article was in a boxset this would be a filler episode!
So I thought, what should I do if I can't write screeds about players without seeming repetitive and you all falling asleep of boredom? Thenceforth came a condensed Tips article where I selected four quick players by position and did a couple of paragraphs about them – this was done without my usual research (no laughing at the back) and therefore I may read this back myself after publishing and question my own credentials/sanity.
Here now, are my excuses in ascending numerical order of importance of why Tips may be rubbish this week:
1  The aforesaid quality articles written by the two lads of absolute identical quality and physical height.
2  An international break is coming up and most of us are concentrating solely on this week and dread the FPL-lessness which looms.
3  I had a dreadful past gameweek and I'm in a bit of a huff.
4  Dusan Tadic has left the Premier League and I'm struggling to move on if I'm honest.
Now here comes some Tips!
I hope you enjoy. Take my advice or not people, I'm not that bothered as I've clocked off already (see above points 2 and 4).
GOALKEEPERS
Kepa Arrizabalaga is the world's costliest goalkeeper but in FPL terms he has three ahead of him.  Lucky for us we can pick him up for just £5.5mln and provides steady cover for a Chelsea defence who were only a Daniel Sturridge boot-swing away from consecutive clean sheets which would have been the Spaniard's fourth of the season.  Cheap(ish) and dependable, he has a run of favourable games to come including home games against Crystal Palace, Everton and Fulham.
Bernd Leno has finally dethroned Petr Cech. OK, I'll caveat that by saying that the gloves are now his to throw away after Cech hobbled off with a hamstring injury in the home match against Watford meaning ex-Leverkusen man Leno was allowed his Premier League debut and could now go off as decent Arsenal cover at just £4.8mln.  Still just 26, you would have to think that Unai Emery was hoping for something as per what happened to allow a dignified exit for Cech so that he could slide in the new signing.  Arsenal seem to have their act together in defence and now have three handy matches in London derbies away against both Fulham and Crystal Palace sandwiching a game at home to Leicester.
Lukasz Fabianski is getting the third spot in the goalkeeper section this week for the reasons of recent past (only Joe Hart has more saves than him this season) which has earned him an additional 7 save points and is still just £4.5mln and the Hammers have only really Spurs (maybe, and even this is at home) as a potential tough fixture in the next five.  Looking further ahead, once the Irons get Manchester City out the way in GW13, they look tasty until the new year fixturewise. He also saved one with his face against Chelsea which is proper goalkeeping!
Joe Hart himself makes up the quartet as he seems to have nudged himself to the front of Sean Dyche's thoughts for Premier League duty.  He has played every league minute so far and has save and bonus points tallying up which along with his two clean sheets leave him on 36 points and an average of over 5 points per game.  Now that Burnley have been eliminated from both the Europa League and the EFL Cup, the league gets complete focus from the Clarets and they can concentrate all week on preparing entirely for their forthcoming league matches and I expect them to continually improve even with a few tough matches ahead.
DEFENDERS
Marcos Alonso could have grabbed a late winner in the draw with Liverpool as he met a Hazard cross which had this owner (of both players) out of his chair.  The left back/winger/wannabee striker is continually impressing as he averages two shots per game and over a key pass each 90 minutes too. My favourite premium defender and I've seen nothing either in watching the games or in the stats behind them to alter that. Chelsea's fixtures are mentioned above and without giving too much away I think the ex-Bolton and Sunderland defender should be part of a Chelsea double for you in the weeks ahead.
Harry Maguire scored, assisted and clean-sheeted (word?) in the victory against Newcastle United last weekend to add to his previous goal against Southampton in GW3. Before the Newcastle match, Leicester had a solitary clean sheet (versus Wolves way back in GW2) but it is the fixtures ahead and the knack of grabbing a goal which is attracting me to the England centre half. They have three home games in their next five with one of the away trips to struggling Cardiff. You may sniff at a £5.5mln Leicester defender but if there's any cover, it's best to be slabhead.
Nathan Ake I have always liked this guy. Especially since that time Chelsea recalled him from his loan at Bournemouth which left me with the quirk of having FOUR Chelsea players for a week. Ahhh, quirky times. The Dutch defender was always, in my humble opinion, too good for the Chelsea bench so when he got his move back to Bournemouth permanently I was chuffed (as a football fan). Watching him for the full 90 minutes against Crystal Palace on Monday, he was easily my man of the match and that's as much for the threat in the opposition box as being so well-equipped to defend superbly.  For just £5mln I think he will add at some points to his 1 league goal so far this season and he has also picked up bonus points on two separate occasions. Fixtures are still OK for a few weeks.
Ryan Bennett at £4.1mln gets the nod as the best cheapest defender (ahead of Aaron Wan-Bissaka) now as I think Wolves appear more secure than Palace and over the next dozen, I also think the fixture computer favours the Midlands club. I wouldn't probably swap these guys but if you are buying one fresh, then Bennett is also £0.2mln cheaper.
MIDFIELDERS
Eden Hazard UNSURPRSINGLY is the second dart of the Chelsea double with Alonso, I believe you should have, hands down those who were about to say Jorginho or Kante!  Not much to say that Init, Rosco or anyone else for that matter, hasn't already said. I think only the re-emergence of a certain striker about to play a desperate team at the bottom of the table will keep the armband away from the Belgian but you should have him or at least have a 'get in quickly' plan.
Ryan Fraser is the most reliable jigsaw piece of the Bournemouth attacking puzzle as I think King and Wilson are both consistently inconsistent and David Brooks is still settling and looks prone to substitution when Eddie Howe is looking to tighten games up which inevitably he will have to more often than not. Therefore, the little Aberdonian is my selection at the £6.0mln price area (currently £5.9mln) and has three goals, two assists and 7 bonus points so far.  Less prone to rotation than some other players at that price point, in fact he has played every single minute in the league so far.
Anthony Knockaert (with another seagull to come later) may be the access you need to the south coast club's attack who are about to face: West Ham, Newcastle, Wolves, Everton, Cardiff, Leicester, Huddersfield, Crystal Palace and Burnley in their next nine matches. The French playmaker has pace, drive, assist potential and appears to be re-focused after a difficult spell in his private life. He is building up the minutes and has attacking returns in three of his last four and arrives at this perfect run of games for Brighton in decent form.
Pierre-Emile Hojbjerg is your budget selection – the go-to guy if you need a £4.5mln player to make up the numbers, or the budget, especially on a wildcard. Two goals so far and plays every minute. Pretty straightforward pick in all honesty.
STRIKERS
Harry Kane:  Do you have Harry? If not, get him. Is he your captain?  If not, then captain. Job done.
Incase you have been under a rock this week, the England striker faces up to Cardiff City at home this Saturday off the back of his double at Huddersfield. His total goals for the season is now five and he, despite the doubts over his condition – both perhaps physically and mentally –  is still only second to Aguero in the FPL striker stakes.  44 points could and really should be upwards of 60 come Saturday teatime.
Alexandre Lacazette has posted an average of 7.5 points per game in his last 4 and a half games for Arsenal and I think is slipping slightly under the radar.  Arsenal should be able to take care of Fulham, Leicester and Crystal Palace and the Frenchman will be amongst the goals hopefully. It appears the value is with him currently and not his attacking comrade Aubameyang with the same amount of goals (2) but Laca has 4 assists to one is £1.3mln less expensive.
Glenn Murray – see the above spiel on Brighton's fixtures contained in the Knockaert section and ask yourself if at £6.5mln there is a better third striker for the next couple of months? I'm not expecting anyone to double up on the Brighton boys but you may not have space in your midfield but can accommodate a striker – in this case you may wish to trial big Glenn (cracking name) and reap the rewards as he undoubtedly will add to his four league goals so far. These teams he is about to face will be like a menu to him!
Raul Jimenez of Wolves is quietly going about his business in the Black Country and has already justified his loan from Benfica in scoring two goals, assisting twice and garnering two bonus points.  Astonishingly he has only grown £0.1mln in value and can be picked up, with games ahead against Crystal Palace, Watford, Brighton, Huddersfield and Cardiff in five of his next seven, for just £5.6mln!  He has also begun every league game and missed just 14 minutes of action due to substitution.
Summary
I know the intro was to be take in light spirits but being FPL-serious for a moment, I would refer to Initowinit's point in the Fixtures article which (and I hope he doesn't mind me extrapolating) is an absolutely salient point in relation to how squads will undoubtedly be managed across the next 5 weeks:
"We have two International Breaks looming – one after GW8 (this week) and another after GW12. That small period in-between is one of the busiest of the season for some though. For anyone involved in both European competition and the Milk Cup it's equates to roughly 7 games in just over 30 days, basically every weekend PL game is followed by a midweek one between GW's 9 and 12 inclusive. And of course it's the usual culprits as per above, given their European involvement.
The possible amount of games for these teams between 9 & 12 is as follows:
7 – Arsenal, Chelsea, Man City and Spurs (involved in all).
6 – Liverpool and Man United (miss the Milk Cup between GW's 10 & 11)"
Absolutely agree with almost every word of this*
(*besides it being the Rumbelows Cup and NOT the Milk Cup)
Have a great Gameweek everyone AND REMEMBER THE FRIDAY DEADLINE!
Thanks for reading Fantasy Football Tips Gameweek 8. This article was written by GP
FPL FIXTURE TRACKER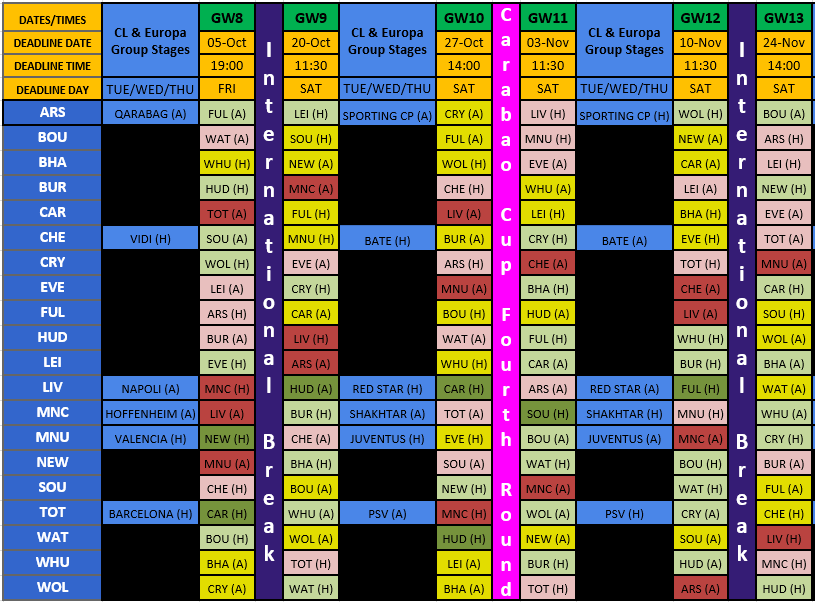 FIXTURE TRACKER LINK
Welcome to our Fantasy Football leagues section.
The League Codes for FF247 for the 2018/19 season are as follows –
Thanks to our friends Follow @ff_surgery and please give them a follow.