Fantasy Football Tips Gameweek 8
Welcome to Fantasy Football Tips Gameweek 8
We may still only be half way through the International Break but we need to crack on and begin looking at the weekend ahead. Whether your squad is South American heavy or you simply have a few free transfers to burn, or better still a WC then Matt and Smash are at your service with an in-depth and stat heavy look at who you may want to consider for this week and beyond.
Defenders – (Smash)

Manchester City have been the best defence in the league so far this season, conceding only 26 Shots in the Box (1st), 9 Shots on Target (1st) 5 big chances conceded (1st), 43 goal attempts conceded (1st) 15.5 mins per chance conceded (1st) and an xGC of 3.8 (1st).
Joao Cancelo
(6.2) is currently the highest scoring defender in the game. He has played 90 minutes in every game so far but Zinchenko is close to returning. Cancelo should be first choice but Zinchenko returning to fitness does open the possibility of some rotation. He has five clean sheets, two assists in the Premier League and has also scored in the Champions League this season. He has the made 188 final third passes (1st), 10 goal attempts (5th),and 16 pen area touches (4th). He might not create as many chances as you may think though as he has 8 to his name, which is the same as Dias and behind ten other defenders.
Ruben Dias
(6.1) is a cheaper and more nailed alternative but certainly has lower upside. Which one to go for? It depends what type of manager you are but there is certainly a strong case for both given those City stats. Laporte and Walker (5.5) are cheaper alternatives that could provide better value but also come with a slightly higher rotation risk. Manchester City play Burnley (H),Brighton (A), Palace (H), United (A) and Everton (H) so I expect more clean sheets to come!
Just behind City for clean sheets this season are Chelsea with four so far despite their difficult fixtures. The Blues have played Arsenal, Liverpool, Spurs and City in their first seven matches. Under Tuchel they are used to grinding out clean sheets as we saw in abundance last season. Despite the tough opening Chelsea are right up there for stats too with 8.2 mins per chance conceded (6th), 51 goal attempts conceded (7th best), 24 shots conceded (6th best). Chelsea have kept clean sheets through hard fixtures and now they play Brentford (A), Norwich (H), Newcastle (A), Burnley (H) and Leicester (A) in the next five. Azpilicueta (6.1) has created two big chances (4th), six chances created (13th), xA1.14 (4th) is the most creative and is the club captain. Rudiger (5.8) is probably the most nailed and certainly the safest pick for a Chelsea defender. Alonso (6) and Chilwell (5.6) are certainly the most explosive but I see them rotating all season although both have a massive upside when they do play. I like them as options but you will need a decent sub. Reece James at 5.5 might be the long term the best value but he's out injured but in my opinion he's first choice for the RWB slot.
Trent Alexander Arnold (7.5) might be the forgotten defender, it's been a long international break and I have seen wildcards without the Liverpool man over the break! He's expected to return vs Watford and he is way out in front for attacking stats for defenders despite missing two of Liverpool's opening seven games. 4 big chances created (1st), 21 chances created (1st), 11 goal attempts (2nd) ,and xA 2.56 (1st). Going without is certainly risky looking at the numbers. The fixtures are mixed with Watford (A), United (A), Brighton (H), West Ham (A) and Arsenal (H) in the next five game weeks. Liverpool have also been posting good defensive numbers; 8.9 mins per chance conceded (3rd), four clean sheets (2nd), and 21 shots conceded (3rd). Joel Matip (5.0) has established himself as first choice alongside VVD so offers a cheap entry point into a strong Liverpool defence.
Pontus Jansson (4.6) is the highest scoring Brentford defender as he boasts an impressive 3 assists and three clean sheets in just seven games. Brentford have a good run of games coming up as after Chelsea (H) they face Leicester (H), Burnley (A), Norwich (H) and Newcastle A).
Wolves are very much like looking like a very solid outfit and they are posting some decent defensive numbers. 9.7 mins per chance conceded (2nd best), 7 big chances conceded (2nd best), 69 goal attempts conceded (2nd best), 41 shots conceded (2nd best). Semedo (4.9), Marcal (4.6) and Coady (4.5) are all offering good value. The fixtures are tricky to judge as Wolves play Aston Villa (A), Leeds (A), Everton (H), Palace (A), and West Ham (H).
Brighton have kept three clean sheets in their first seven games. They have also posted some impressive defensive numbers again this season with Shane Duffy (4.3) being at the heart of that.
They have conceded 43 Shots in the Box (4th), 18 Shots on Target (2nd) and an xGC of 7.2 (2nd). Only Manchester City surpass them for xGC so their defence offers great value this season. Duffy has has a goal and an assist already this season and is certainly the main threat from set pieces for Brighton. In terms of is he nailed? Potter has been very complimentary of his performances this season. When everyone is fit he could drop out with Veltman moving to the back three along side Webster and Dunk with Lamptey at RWB.
Midfielders (Matt)

Mason Mount (7.4)
has returned from injury at the perfect time, just as Chelsea's fixtures turn green on the FDR indicator. Mount started the season well with 2 assists and 2 clean sheets in his first 3 games, but injuries have hindered him since with only 2 appearances over the next four for a combined 70 minutes. He has got more minutes under his belt over the international break which should see him in good stead and hopefully back into Tuchel's starting lineup. Mount seems to be vital to how Tuchel wants Chelsea to play and even though Chelsea are winning without him Chelsea can look disjointed at times. The 3-1 score line versus Southampton is deceiving with Chelsea playing rather poorly until Ward-Prowse got his marching orders. The two games before that were 1-0 losses to Juve and Man City and in both games were Chelsea did not look good. With this being said I think Tuchel will want to get Mount back into the team and flowing straight away. Brentford won't be the easiest game for Chelsea as the Bees have shown they can put up a fight against the big boys. I think with Mount coming back and Lukaku getting a rest over the break, these lads will want to come out firing in a London derby. Mount would also be a nice differential only being in 8.7% of teams. He has a nice price bracket too if you are looking for a Jota or Greenwood replacement! Fixtures, price, differential, what more could you ask for?
We go from one differential to an even bigger one. Phil Foden (7.9) is much like Mount as he has just returned from injury over the last three game weeks. He has also received minutes over the international break with England to boost his fitness. Foden didn't do much in his first two games back against Southampton and Chelsea but my word he made up for that in the Liverpool game. Anyone watching that game will know what I'm talking about here when I say he was immense for City and easily their best player. The young winger had old man Milner on strings. We don't usually say Milner played bad or had a terrible game, but I will say it right now… the man should have been sent off! The issue I have with Foden is his minutes and the dreaded Peptation but after that performance, Pep has to keep him in the starting line-up, surely? His first outing after that brilliant game for City was the England versus Andorra match in which he got an assist and helped win the penalty after his link-up play with Grealish. Hopefully Pep was watching and taking notes as to how he might use Foden more often. I mentioned the lad was a differential and I mean it with him only being in 1.9% of teams which is extremely low for such a great player. This is likely due to his injury and the fixtures being Chelsea and Liverpool but with fixtures like Burnley, Brighton and Palace in the next three, I don't see Foden staying at that percentage for long. Also like Mount, Foden is nicely priced as a replacement for Jota or Greenwood as he is £7.9 mil so it might not be a straight swap but pretty damn close.
I'm feeling a bit torn on this selection but Heung-Min Son (10.1) is my next pick. I haven't considered Son much this season and actually thought himself and Spurs were doing pretty poor. It was not until I went to look for midfielders for this article that I realised that whilst Spurs are poor, Son himself is doing really rasther well. 3 goals and 2 assists with 3 clean sheets and 6 bonus points thrown on top puts Son in the top 5 midfielders in FPL. If we ignored Salah in that scoring, as he is so far ahead, the next 6 players are only separated by 4 points so there are some merits for making a move to the South Korean. I'm not totally sold on him as a pick for this weekend just because of the opponent. Newcastle have been pretty bad this season but after the ousting of Mike Ashley and becoming the richest club in the league, there seems to be a new bounce to Newcastle which might not be good for Son. This is why I have reservations but if you feel the off-the-pitch news won't affect the on-the-field rubbish then this might be a move you will want to consider!
Just a few small words on Sadio Mane and even fewer on Mo Salah (12.7). At this point, if you don't have Salah there is no helping you. 70 points already this season which puts him 26 points ahead of the other midfielders and is actually a similar amount ahead of all other players with his nearest challenger being Antonio on 49 points. This is just phenomenal from the Egyptian and there isn't really any sign of him slowing down. It's his partner on the other wing that could be where a rank boost lies as Sadio Mane (11.9) is 6th highest midfielder, has four goals plus one assist and yet only sits in 2.8% of teams! Now it is fair that most will only go with one of these premiums due to the likes of Ronaldo and Lukaku also taking out funds but if you wanted to do something a little different then Mane could be that template breaker!
Smash – Forwards

Now
Ronaldo (12.6) and Lukaku (11.7)
are the obvious top picks when searching for a striker but there are other options that have been outperforming these two heavyweights. It also must be noted that
DCL (8.0) and Bamford (7.8)
might be returning from injuries. Both are good options and pivotal to their teams attacks!
Does anyone actually own Jamie Vardy (10.5)? I scroll through my own mini leagues and he's nowhere to be seen. Well it turns out 14% of the game actually do and they have been rewarded as the Leicester man has 6 goals and 1 assist in this opening 7 games. I don't recall there even being a penalty yet. We like getting points in FPL right but why are we ignoring them here? The stats suggest it's no fluke either as for strikers he has an xG of 3.79 (2nd), xGI of 4.26 (2nd), 41 pen touches (2nd), and 20 goal attempts (3rd). Jamie Vardy is a proven Premier League player so I would expect this trend to continue, he might even get a few more owners!
While talking about Leicester It must be noted that Kelechi Iheanacho (7.0) returned to the starting line up with a goal against Crystal Palace. He's has a 0.5 price drop since the start of the season so you can now buy him at a heavy discount. I'm not sure what exactly what Brendan Rodgers is doing when he's leaving this man out mind you but maybe he has finally found sense. If you have a short memory, between GW26-38 last season, Kelechi Iheanacho recorded 11 goals, 3 double digit hauls and 7.08 ppm. Leicester can't continue to leave this man out surely….
Forget Ronaldo, Kane and Lukaku Michael Antonio (8.0) is also the highest-scoring player in his position, averaging 8.2 points per match. I have seen some talk of selling him, don't in my opinion he's probably the best value player in the game! West Ham fixtures do get quite rocky in the upcoming weeks but Antonio's record against the traditional Premier League elite in the second coming of Moyes is very decent indeed, with nine attacking returns in 14 appearances. This season Antonio has been on fire, he's had 27 goal attempts (2nd), 23 shots in the box (2nd), 15 chances created (9th), 50 pen area touches (3rd), xG of 4.23 (3rd). Salah leads the way with most of these stats. I have been comparing him to all players too in terms of strikers he's way out in front on all stats outperforming the premium picks of Ronaldo and Lukaku. Oh and if you are not really a stats person and just want to go on FPL points he has 49 which is second to Salah!
It might seem a bit weird to tip a Southampton player that's not Livramento and yes they are still winless but here I am with Adam Armstrong (6.0). Saints have had a tough start to the season having played Chelsea, City, West Ham and Manchester United. They now play Leeds, Burnley, Watford, Villa and Norwich. These are good games for any attacker to be playing. Southampton's summer signing Adam Armstrong arrived at St Mary's Stadium on the back of a 29-goal campaign at Blackburn Rovers and with these upcoming fixtures I see him in the goals again. Last season Adam Armstrong took by far the most shots in the Championship and he is continuing to shoot a lot this season in the Premier League. Armstrong's total of 21 shots ranks second only to the 27 of Michail Antonio (£8.0m) amongst all Premier League forwards:
For budget pick Hee-Chan Hwang (5.6) looks to have broken into the Wolves first team. He was impressive last time out scoring two goals vs Newcastle which now makes it 3 goals for the season and has back to back starts. Wolves do not play any of the traditional big six until they play Liverpool in GW15 so Hwang could be a good enabler and we all love a bargain in FPL. The quotes from the player himself were encouraging too for more goals to come "Myself and Raul had good conversations to build the chemistry but this is what the manager wants between the attackers and the midfielders. He tells me to move between the sides and the centre with Raul so he can make creative passes. This is all in the tactics." – Hwang Hee-chan
For those on a wildcard and going for a 4-4-2 formation or a 3-5-2 Cameron Archer (4.5) might have the best chance of breaking into the first team. He scored a hatty for the reserves last week and has featured in the last two matches. It's all dross under 5 million.
Thanks for reading Fantasy Football Tips Gameweek 8. This article was written by Matt & Smash.
VOTE ON THIS WEEK'S CAPTAIN POLL GW8
FPL FIXTURE TRACKER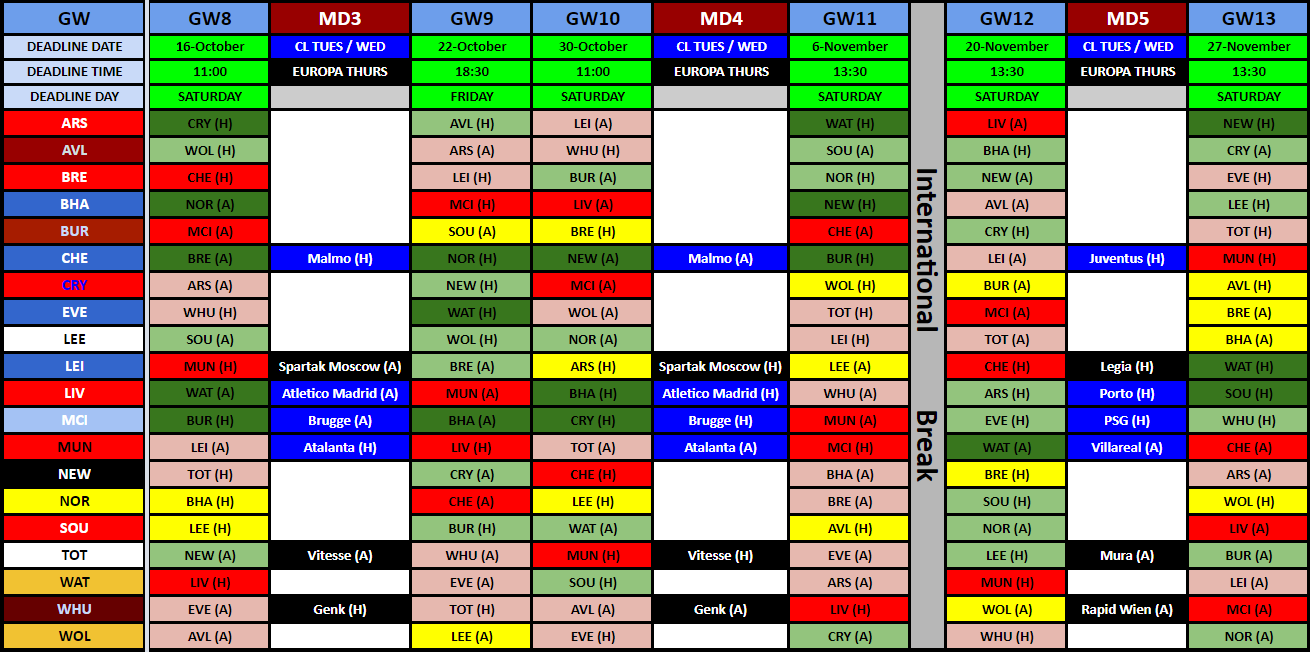 FIXTURE TRACKER LINK
SET-PIECE TAKERS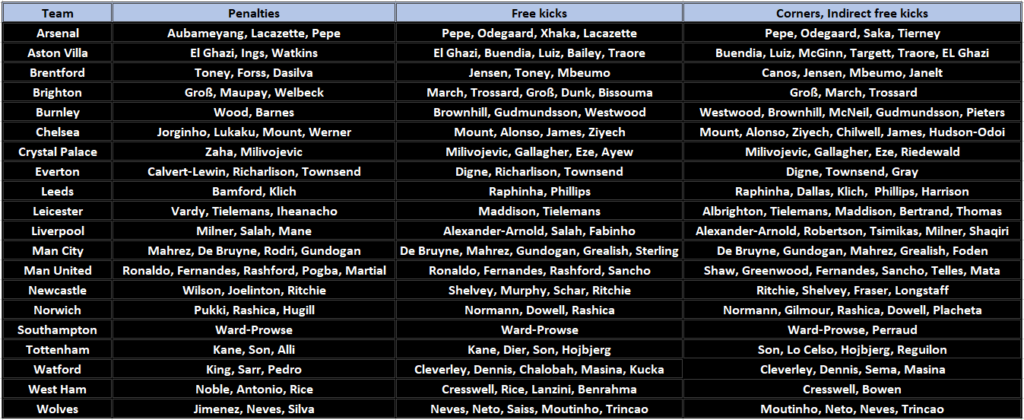 Predicted Line-Ups FPL 2021/22
You can access our Live feed to these here.
FF247 LEAGUES FOR 2021/22
Fantasy Football 247 League Codes:
Both leagues will be shut to new entrants as of 01/01/22.