Fantasy Football Tips Gameweek GW1
Welcome to Fantasy Football Tips Gameweek GW1
We appreciate that different people will be in different stages of creating their GW1 team right now. Some, let's call them Camp One, will have been at this for weeks already and so will probably look at this article and say / shout manically 'YEAH I KNOW!'. Camp Two folk will be more relaxed amd may have an idea of a team on the go and so will look at this and say 'nice one, that's really helpful, thank you'. Some will still be in Camp Three and won't even have looked at a team yet and so will say 'perfect, just what I needed'.
Whichever 'Camp' you are in there will be something here for you. It's an important article and so we carefully selected our four best available writers for it*. They bring a wealth of FPL experience and a combined love of football and so we felt that they were best placed for this task. So without further ado here are OddDane, Matt, Kop and Rosco with the all important GW1 picks to consider…
*They were the only four available at the time

Goalkeepers – OddDane
Alrighty, another season's about to start and you'll need to choose a couple of them good ol' goalkeepers – so who will it be? Well, there's plenty to choose from.
For this gameweek the best clean sheet odds are for LFC, MCI, TOT, MUN and CHE, roughly in that order. In fact, there's a fair bit of variance on these odds, with NEW, AVL and ARS also showing promising chances – oh well, let's not dwell too much on this as the MUN odds I've seen thus far are a bit debatable, right, right!?

Right then, let's move on…
The seemingly smart picks would appear to be Alisson (LFC, 5.5), Ederson (MCI, 5.5) or Lloris (TOT, 5.5). Well, Alisson and Ederson limits your outfield picks which is not my cup of tea for those teams – that said, I do find their prices very enticing this year as they'd be my pick amongst the £5.5's for the set-and-forget keeper to score the most points. Lloris suffers a bit the same with the popular choices of Conte's defender-midfield-winger hybrid soldiers and, well, they face off against Chelsea in the following gameweek.
Moving on then to the £5.0 picks where you have Mendy (CHE, 5.0) who is meeting a DCL- and Richarlison-less Everton away at Goodison park. Chelsea don't have the best recent record there, but I'd still rate their chance to keep the net free of goals. After that comes Tot, LEE, Lei and SOU. Seems like a stand-out option to me.
In the same ball-bark you could go for Martínez (AVL, 5.0) who faces BOU, Eve and CRY in their first three and the seasoned manager will remember his break-out season of 20/21 – what could possibly go wrong there? (Hint: Visit us again during GW4-7).
Anywho… The final two 'fivers' I'd consider are Ramsdale (ARS, 5.0) and Pope (NEW, 5.0), of which I think Pope would be my pick despite their GW3&5 fixtures as they have an otherwise decent run of fixtures and let's face it, we already have enough outfield players from Arsenal, right? (No, you don't have to answer that one. Just look up % Selected in your transfer window).
Finally, amongst the budget picks there's a few and let's start with the cheapest! Leicester have announced they'll let Ward (Lei, 4.0) and Danish dynamite Iversen (Lei, 4.0) fight for Schmeichel's spot – Ward will probably win that one (that is until, lo and behold, they sign a new main keeper – one mustn't appear too desperate in the market communications after all). But hey, we'll take it, there's your second (first?) keeper right there!
Another budget option I think could stand out is Meslier (Lee, 4.5) who may surprise with their decent opening fixtures and less injury-ridden team – based on 20/21 he's got (had?) the goods all right. A plus is that he rotates well with Raya (BRE, 4.5) whose GW3+ fixtures look quite decent. Finally, I must say that I don't rate the first few opening games of the otherwise popular picks like Sanchéz (BHA, 4.5), Henderson (NFO, 4.5) or Pickford (EVE, 4.5) but truth be told, in the field of 4.5 keepers, everyone can look for gold and come out consoled.
Defenders – Matt
Big at the back seems to be the go-to move at the start of the season. Usually there comes a time every preseason when fantasy managers create a draft with 5 defenders, but it never sees the light of day come kick-off. However, this season it seems we might see big money at the back from the start. There is an abundance of great options in defence for our teams, almost too much choice! Well, I am here to help narrow it down a small bit, although I don't know how successful I'll be!
Let's start with the premium options, Trent (7.5) is a shoo-in and was the first or second name on people's drafts. I won't bother rattling off stats as we all know he can score, assist, get BPS and get CS points. He scored in the Community Shield and looked brilliant for the start of the season. If you don't have him, I'd be shocked. Now the player that you might not have but probably should is Trent's wingman, Andy Robertson (7.0). The Scotsman is in a battle with his Colombian teammate for that final Liverpool spot in our teams. I currently have the left back as winning the battle after watching the Shield. Robbo was in the City 6 yard box on numerous occasions, had shots hit the side netting and ended up assisting Darwin Nunez for his goal. Really feel with the opening fixtures of Liverpool, three players is good and why not go with the two fullbacks.
Let's go for a trip down the M62 to Man City. Joao Cancelo (7.0) is another player I feel should just be in your teams and leave him alone. He did look rusty against Salah and Trent the other day but it was only his third game of preseason so I wouldn't worry about that, and he will likely get up to speed very quickly. Cancelo is still in one of the best defences in the league, now has a big striker up top to latch onto crosses and long balls plus he loves to get forward so much like the Liverpool fullbacks you are basically getting extra midfielders into your side. It's like a cheat code!
The other premium options that people are looking at are Reece James and Ben Chilwell (both 6.0). I was fully on Chilwell in my first draft and was going for him over his English teammate, but Chilwell has not really appeared during pre-season so I'm not really sure what to make of that. Doesn't appear to have an injury and there isn't really any competition for his spot so why isn't he playing? Who knows? Plus Chelsea are now after Cucurella. Odd. This has made me swap over to James though and there is a trend in this section so far but every player I have mentioned is first, a wingback and second, basically another midfielder! James gets forward every chance he gets. Not as consistent at scoring points as the likes of Trent or Cancelo but he is one player who can get 1 point this week and 21 points next week! This will also be his fourth season in FPL, and he has improved his points total every year. I can only see this continue, especially over the first few weeks of the season as Chelsea just look to have great fixtures.
Now these players probably aren't considered premium but at 5.5 and below they still take a hefty chunk of your change. Perisic (5.5), Doherty (5.0) and Gabriel (5.0) all players from London teams but only two that aren't new to the league. Doherty is the riskiest of the three options with new signing Djed Spence waiting and probably getting primed to replace the Irishman. Doherty is a player I have a soft spot for, and I am hoping he nails down that right wingback position but with Conte it is hard to know. Spurs played Roma the other day where both Perisic and Doherty stayed on the pitch for 60+ minutes, got forward a lot and both had chances for assists or goals ruled out. I feel one or both of the Spurs wingbacks could be hot property this coming season. Perisic is well known to Conte and was turned into a wingback by the Italian so while he might be 33, I still see him being a massive part of Conte's plans. A new signing that is getting a lot of attention across North London is Zinchenko (5.0) but I actually prefer Gabriel. He is the first CB I have mentioned in this article and for very good reason. The Brazilian should be the no.1 CB for Arsenal, has attacking potential, seems to have settled well into this side and with the opening fixtures of Arsenal I could see him being a better pick than Zinchenko until we know Arteta's exact plans for the Ukrainian.
Now to give you the budget options if you aren't going with five at the back. Ben White (4.5), Nathan Patterson (4.0) and Neco Williams (4.0) are all players that most managers have had in their sides for pretty obvious reasons. I will give you my thoughts on them rather than spout off stats that they don't really have. Starting with Ben White, I quite liked him as a pick until I saw he was playing at RB. The reason this change has made me move off the English defender is because it could end up being a transfer waiting to happen. Tomiyasu will return at some point and if William Saliba proves to be a better CB partner for Gabriel then I fear for Ben White's place in that Arsenal backline. Nathan Patterson should start the season for Everton as Seamus Coleman is injured. This is great news for those looking for a budget starting option my only issue with Patterson is he plays for Everton and well… they are bad! I think Lampard will be the first manager to be sacked this season and I don't have much faith in any Everton players. Lastly, Neco Williams is a 4.0 defender and would be my pick for a budget option. He was signed for £20 mil from Liverpool so I don't see him sitting on the Forest bench. He will play as the RWB in that side but my worry there is we don't know what Forest will be like in the Premier League just yet. I feel he could be good to have sitting on the bench and it doesn't matter if he lets in 5 goals every game as you shouldn't really need him.
To finish, it wouldn't be like me to not give you good kind folk at least one differential… so I'm giving you two! Diogo Dalot (4.5) is someone I have in my side right now. It looks like he will be the starting fullback for Ten Hag right now. If United don't sign anyone before the deadline, then Dalot at 4.5 could be a steal. He gets forward, a new manager who might improve the team and only owned by 4.9% of managers. The big issue is not knowing how United will change under Erik Ten Hag so maybe we should wait and see but United have two decent matches to start the season and if you can bench him for GW3 against Liverpool, at his price there isn't much more you can expect. If you don't like the unknown then maybe go with someone who is a bit of an FPL favourite, Lewis Dunk (4.5). Last season he was priced at 5.0 and has got cheaper so why not go for him. He's nailed, he gets BPS, he is in a side that are solid defensively and has an attacking threat. He already has a goal and an assist this preseason. Only owned by 2.0% of managers I think Dunk could end up being a solid pick if you are looking for something different.
Midfielders – Kop
Well that was quite a quick 10 weeks. It only seems like yesterday when we wrapped up GW38, but here we are readying ourselves for yet another season of fun, frolics and above all else disappointment.
I've lumbered myself with midfielders and sit here deliberating where to start. The obvious place is Mo Salah, but he currently features in nearly 60% of teams so there's little point espousing the merits of the Egyptian.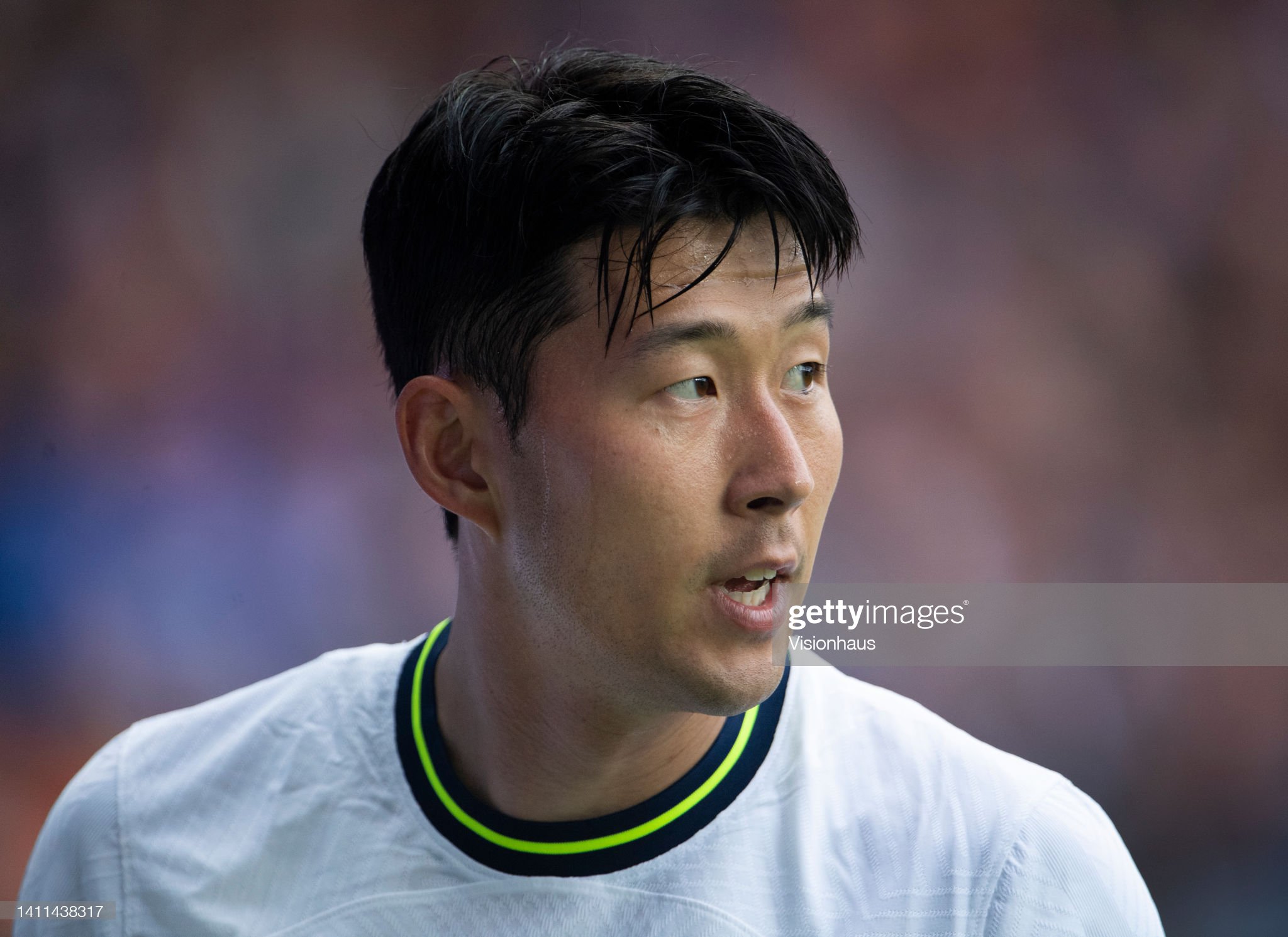 When I saw Salah at nearly 60%, I automatically assumed that Heung-min Son wouldn't be too far behind, so I was somewhat surprised to see him at just over 25%. This must be because Harry Kane is highly owned, but our Harry is in just over 26% of teams. Are we sleeping on the Korean? After all, he finished just 7pts behind the Egyptian last season, tying him for the golden boot on 23 goals. For good measure, he weighed in with 10 assists and has formed a deadly partnership with Kane. Granted, he's starting this season at £12.0m, which is £2.0m more expensive than last season, but goals are goals. It's worth remembering that Spurs finished last season as one of the leagues form teams, taking 23pts from the last 30 available, a total only bettered by Liverpool and City. They appear to have invested wisely over the summer and with better players around him, I can only see Son picking up from where he left off. Spurs' opening six fixtures are relatively kind with a trip to the Bridge in GW2 being the trickiest, but this is offset by games against promoted sides Forest & Fulham in gameweeks 4 & 6.
Outside of Salah & Son, I don't view any of the other big hitting midfielders as contenders for GW1. I'm referring to KdB, Sterling & Fernandes. Don't get me wrong, KdB is a great option but I just feel as though I'd rather that new Norwegian chap they have up top!
As I'm sure most of you know by now, Arsenal have won the pre-season cup! As a result of their pre-season form, a number of their players are worth serious consideration. In midfield, it's a choice between Bukayo Saka and Gabriel Martinelli. As last season progressed, Saka clearly became the teams talisman and it was no surprise when he finished as the clubs leading goal scorer with 11 goals and top creator with nine assists. Martinelli weighed in with six goals and seven assists which was impressive when you consider that last season was the first time he got a decent run in the first XI. Both have impressed in pre-season with Saka claiming four goals & an assist, and Martinelli a goal and five assists. Arsenal have a pretty straightforward start to the season including back-to-back games against promoted sides, Bournemouth & Fulham, in weeks 3 & 4. At £6.0m, Martinelli is great cheapish option and is £2.0m cheaper than Saka. However, if money were not an issue I would go with Saka.
United's wretched form over the past number of seasons has seen their asse(t)s take a nosedive in value. Should, as United fans hope, ETH turn things around some United players could represent excellent value for money. From a midfield perspective, I'm looking at Marcus Rashford. Injuries and a horrific loss of form restricted him to just 1224 minutes last season and he registered a miserable four goals and two assists. As a result, his price has plummeted to £6.5m. Admittedly, United have been here before in terms of a new manager and there is no guarantee that ETH can turn things around, but if he does, Marcus Rashford at £6.5m could be an absolute steal. After all, over the previous three seasons he was averaging close to 13 goals and eight assists per season. If, and I appreciate it's a big if, United hit the ground running, their opening fixtures are ok and the likes of Rashford could thrive.
Two relatively cheap players who are proving quite popular at this stage are Wolves' Pedro Neto (£5.5m / 19%) and Aston Villa's Leon Bailey (£5.0m / 11.6%). Why? Between them, they managed two goals and four assists last season. In Neto's case, he suffered a serious knee injury and only made his first appearance of the season in late February and his minutes were managed for the remainder of the season. In Bailey's case, a combination of injuries and poor form saw him make just 18 appearances in his debut season. So, why so popular this season? In Neto's case, Wolves have some great early season fixtures and they have adopted a 4-3-3 formation with Neto taking up a position in the front three. For good measure, he's chipped in with three goals and two assists in pre-season. Bailey arrived in the Midlands from Germany with a great reputation and has impressed during pre-season. He has started four of Villa's five pre-season games, scoring three and picking up two assists. Like Neto, he looks set to start in one of the wide positions in a front three. Neto's minutes are more secure but I do believe that Bailey could be more explosive.
Just as with defenders & forwards, there is a hope at the beginning of each season that a £4.5m goal scoring midfielder will emerge. It rarely happens. This seasons great white hope is Fulham's Andreas Pereira. The Brazilian will be expected to operate as an attacking midfielder but before you get too excited, it's worth noting that, at 26 years of age, he has a total of 19 goals from 227 appearances. Hardly the stuff of legends. However, one look at the other £4.5m options highlights that Pereira is certainly the one to go with. He's guaranteed to start which is something and he will play in an advanced position.
I'm going to finish with a player who is potentially being overlooked and that's Brighton's Leandro Trossard. If we look at midfielders priced at £6.5m and under we see that only James Ward-Prowse scored more points last season. He currently features in just 2.3% of teams. This could be due to a number of factors, primarily the fact that he costs £6.5m and plays for Brighton! Another reason many may be put off is the fact that he could start the season at left wingback, something he did in Brighton's final pre-season and their final half dozen or so fixtures last season. However, I wouldn't let this put you off as he scored a hat-trick in the aforementioned friendly, while he also scored four and had three assists in the final six games of last season.
Forwards – Rosco
Erling Haaland (£11.5m) is no doubt a special player, so should we be surprised he's currently the third highest-owned player in the game with just over 50% of managers opting to start off the 22/23 season with the 22-year-old Norwegian? Maybe not. Should we approach with a little more caution? Perhaps. He's favourably priced at £11.5m and comes to the EPL off the back of 29 attacking returns (22 goals and 7 assists) in just 24 matches in the Bundesliga last season. He performed even better the season before. Leading the line for the Champions he'll surely have no end of goal-scoring opportunities served up on a platter, but with Pep's promise of occasional rests and limited pre-season minutes, cautious managers (and I count myself amongst those) may be better served with a watching brief. Haaland missed 16 games last season, throw in Pep roulette and you could on occasion see your premium asset benched. Frustrating. There is however a small matter of Bournemouth (H) in GW2. If you're going into that one sans-Haaland you're going to need a bigger sofa.
So, if you don't start off with Haaland, but want him in place for the visit of the Cherries in GW2 then what's the play? Harry Kane (£11.5) of course. You know what you get with Kane, when fit he plays, and when he plays he tends to score. He's scored at least 17 goals in each of his last 8 campaigns. He's been on another level under Antonio Conte and amassed 65 goal contributions across the last two seasons. Throw in the fact he's already scored 5 goals in his first 3 pre-season games and it seems bizarre anyone would not at least consider Kane as their go-to-premium forward. Yet that seems to be the case, the masses have flocked to Haaland and Kane finds himself with a sub-23 % ownership. Bonkers. If Kane scores well against Southampton in GW1 and Haaland finds himself eased in gently then prepare to start your season on the back foot. It could of course go the other way, but if in doubt I'd tend to back experience. Haaland's ownership makes this a far from an easy decision but a Kane to Haaland transfer in GW2 (providing you beat any potential price changes) will be a move many managers will make.
It was a season ravaged by injury for Jamie Vardy (£9.5m), but when he did play, he clearly still knew where the net was. Despite limited minutes Vardy still registered 18 attacking returns (15 goals and 3 assists), he's coming into the season fit and healthy and whist The Foxes have a mixed bag of fixtures I wouldn't bet against Vardy in any match. He cost £10.5m last season so whilst his price may be tricky it could still turn out to be a bargain if Vardy can remain fit and on the pitch.
With the clamour for Haaland, perhaps Liverpool's new addition Darwin Nunez (£9m) is going a little under the radar, or at least he was until he stuck 4 goals past RB Leipzig last week and followed that up with a goal-scoring debut in the Community Shield, not to mention winning the penalty that Mo Salah tucked away to seal a 3-1 victory over reigning champions Manchester City. Those goals saw Nunez's ownership jump from 9% up to close to 20% and with the injury, to Diogo Jota (£9m) his new owners will hope he's rewarded with a GW1 start against newly promoted Fulham. Too good to ignore? The Reds new £85m man scored 34 goals in 41 games for Benfica last season but his inclusion is a tricky one, or certainly is at his price it is; whilst £9m seems kind compared to the £11.5m price tags of the aforementioned forwards, it's the favourable price of teammates Robertson (£7m) and Diaz (£8m) that may keep Nunez's ownership in check.
When Gabriel Jesus moved to Arsenal most expected an FPL price of at least £9m. When the game dropped and he was revealed at £8m he seemed under-priced. 7 pre-season goals later and he's now the highest-owned player in the game with nearly 70% of the game looking like lining up with the Brazilian in GW1. The Gunners have favourable fixtures running through the first 8 game weeks, with those sort of ownership numbers it'll take a brave manager to bet against the former City man. The allure of doubling up on Kane and Haaland is appealing, but if it's at the expense of Jesus then maybe it's time for a rethink.
Dropping down to the £7.5m price bracket and you're met with Callum Wilson, Ollie Watkins and maybe the less appealing Michail Antonio. Antonio made it into a lot of our GW1 teams last season, it started well, then went a little stale. With City in GW1, there'll not be many who go there from the off. Watkins has decent opening fixtures and many agree that a fit Callum Wilson will score goals, but when you can get the highest-owned player in the game for just £0.5m is it worth the risk? Probably not.
If you are looking to make a saving on Jesus, or perhaps you're a sucker for the tried and tested 343 of FPL seasons past then there could be a canny pick from an old FPL favourite. As ever though, this one comes with a caveat. Keep an eye on the Cristiano Ronaldo situation but if he gets his wish and an Old Trafford exit then Anthony Martial (£7m) could be leading the line in Eric ten Hag's Red Devils. That's how things have panned out in pre-season and Martial has popped up with 3 goals in 4 games. A French Renaissance may be on the cards for a player who has at times flattered to deceive but possess undoubted talent. He's a wait-and-see for me, but could be worth a punt from the off should a certain Portuguese exit stage left. Another player in the £7m price bracket who is worth a mention is Ivan Toney. Toney has had a £0.5m price increase on last season following a decent season that saw the former Newcastle man pick up 17 attacking returns (12 goals and 5 assists). If the FPL fixture ticker is to be trusted then Brentford has a sea of green fixtures running all the way through to GW12, with just a 5% ownership, Toney could be the type of differential you need to get off to a tidy start.
There's a whole bunch of players in the £5.5m – £6.5m bracket. From the newly promoted teams, we have Mitrovic (£6.5m), Solanke (£6.0m) and Johnson (£6.0m). All three had excellent seasons in the Championship, and in fairness that is something of an understatement in Mitrovic's case. But we've been here before with Mitro and we know how that went. As ever with players new to the league (be in from other leagues or promotion) approach with caution. Thankfully the fixtures for all three lend themselves to that approach and there are plenty of defenders and midfielders with better FPL credentials at a similar or lower price. We also have players like Undav (£5.5m), and Alvarez (£6.5m) who are new to the league and whilst they may show themselves to be fantastic options, as of now we just don't know enough. It's a swerve for me and it probably should be for you too.
My final word comes on the £4.5m strikers. It seems the days of starting with an assured 343 formation are a thing of the past. As things stand it seems most will be starting with at least one £4.5m striker, which is fine, and given the new 5-sub rule a few will likely get at least some minutes across the season. At present Greenwood seems to be the most popular with a 25% ownership and seemingly the hope he's the most likely to get substantial minutes. However, a word of caution, if another striker 'pops off' and teams suddenly start to switch to 3 up front, his ownership will plummet and so will his price. The last thing you want is a £4.4m striker and nowhere to turn.
Thanks for reading Fantasy Football Tips Gameweek GW1. This article was written by OddDane, Matt, Kop and Rosco.
VOTE ON THIS WEEK'S CAPTAIN POLL
FPL FIXTURE TRACKER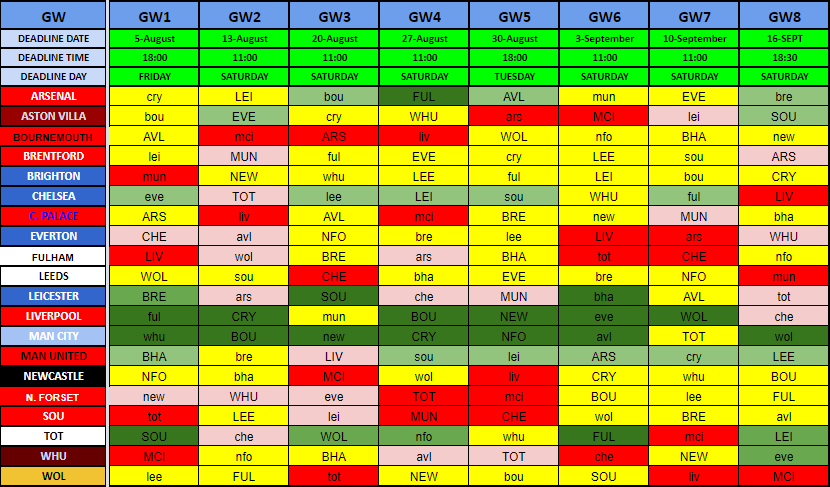 FIXTURE TRACKER LINK
SET-PIECE TAKERS
Predicted Line-Ups FPL 2022/23
You can access our Live feed to these here.
FF247 LEAGUES FOR 2022/23
Fantasy Football 247 League Codes:
Both leagues will be shut to new entrants as of 01/01/23.