Fantasy Football Tips Gameweek GW3
Welcome to Fantasy Football Tips Gameweek GW3
So, here we are then – the week after the reminder of what FPL can actually be like. The first gameweek brought so many points and this one, well, didn't. At the time of writing, you've done well if you reached the average of 41 and so there are no doubt plenty of Red Arrows flying around – and I don't meant the famous air display team.
Well, now Wolves v Man United has finished, it's Gameweek 3 to look forward to now and, hopefully, a return to looking back up our mini leagues. It's time to regain the bragging rights from Colin in accounting who is wearing his special tie in celebration of the fact he had Pukki in his team and is therefore "smashing this fantasy malarkey" in his first season. That may be a loose reference to the Fast Show, but everyone knows a Colin. Don't be a Colin – especially if you're on Twitter.
Goalkeepers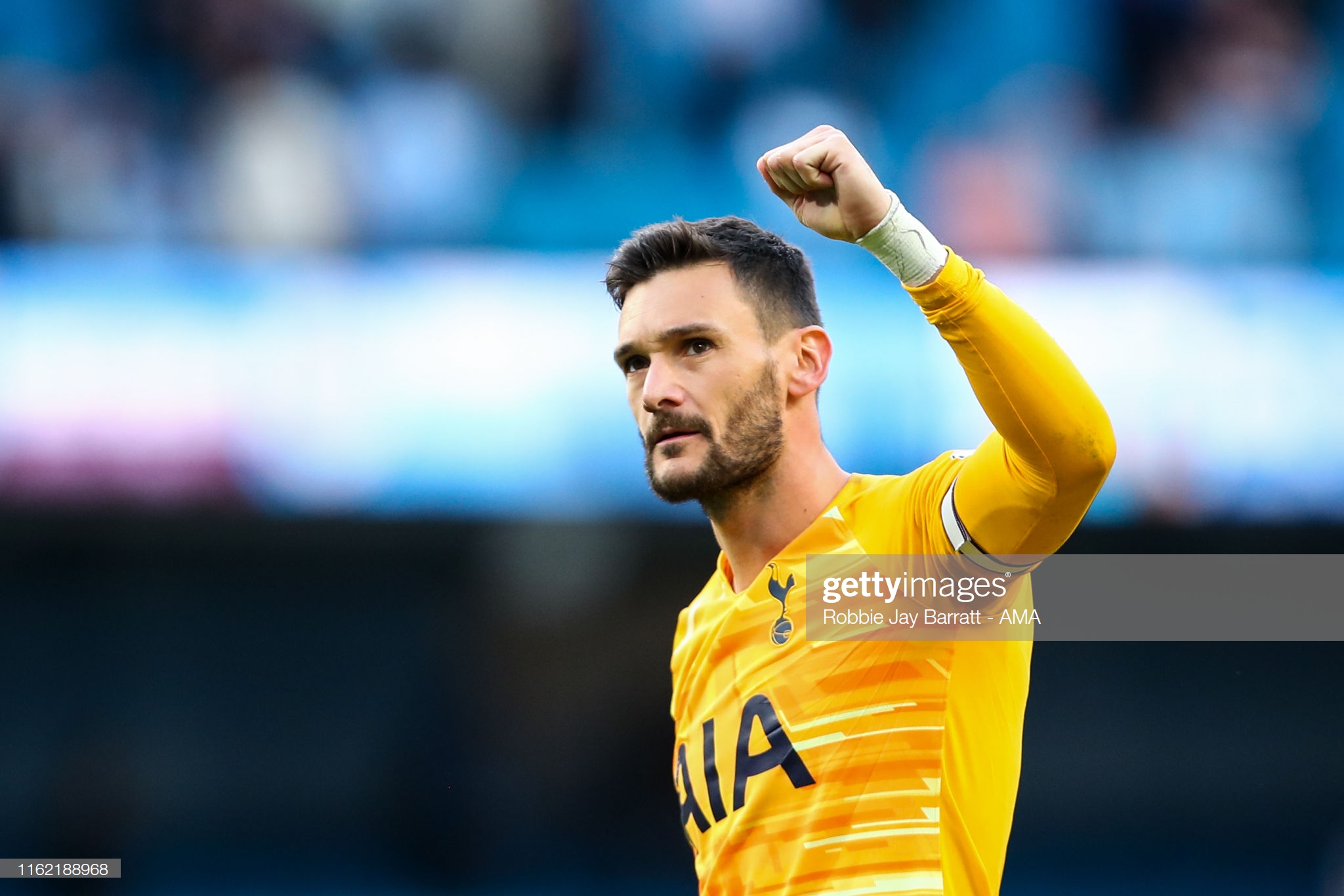 Perhaps, like me, you've gone for a quality main keeper and a substitute one that can sit pretty on your bench, minding their own business with a £4.0m price tag? Perhaps you haven't. Though it's very much early days in the season, there's been a mixed bag of clean sheets so far – only Everton have gone both games so far without conceding a single goal, whilst West Ham have an unenviable lead on the amount conceded.
But looking ahead is the name of the game here and my first pick is Spurs' Hugo Lloris. He has, admittedly, already conceded a few goals, one from Villa and technically three from Man City, if you include a disallowed score that was originally at the hands of Laporte, so to speak, the £5.5m Frenchman does face a lacklustre Newcastle this weekend. This is a team whose consolation in the 3-1 defeat at Norwich by Jonjo Shelvey is the only goal to date, as not much in the way of threat comes from anywhere. The league is already starting to take shape for certain teams and, unfortunately, the Toon being placed 18th could be the theme for the rest of the campaign. Hopefully not, anyway.
Anyway, back to Spurs' defensive chances. As much as the backs played narrow and nervously away at Man City, they will be against something pretty different in Steve Bruce's team. A look through the history books also favours the London-based side as just one goal has been conceded in the past four games, which came from Joselu the last time the two sides met at St James' Park. After this Sunday's fixture, there is then a tricky one away to Arsenal but that shouldn't put you off him, especially when I tell you it's then a wait until the end of October for the next game against a top six side as Liverpool lie in wait in Gameweek 10.
Looking for a bargain basement goalkeeper as you, perhaps, have taken the other route and have two playing goalkeepers to rotate between? Brighton's Mathew Ryan is a very respectable £4.5m and is this week's fourth-most transferred-in shot stopper. This will no doubt be down to the fact he now boasts 11 points thanks to nine points in the opening fixture against Watford and the standard two as they were held to a 1-1 draw by West Ham. Oh and he has a few favourable ties coming up. Rotating goalkeepers could be the theme here, as Gameweek 3 sees Southampton travel along the south coast to the Amex, but there's then the unenviable task of facing Man City, a team the Seagulls have conceded 12 against over the last five matches. Burnley back at home two weeks later offers hope once again, anyway.
Defenders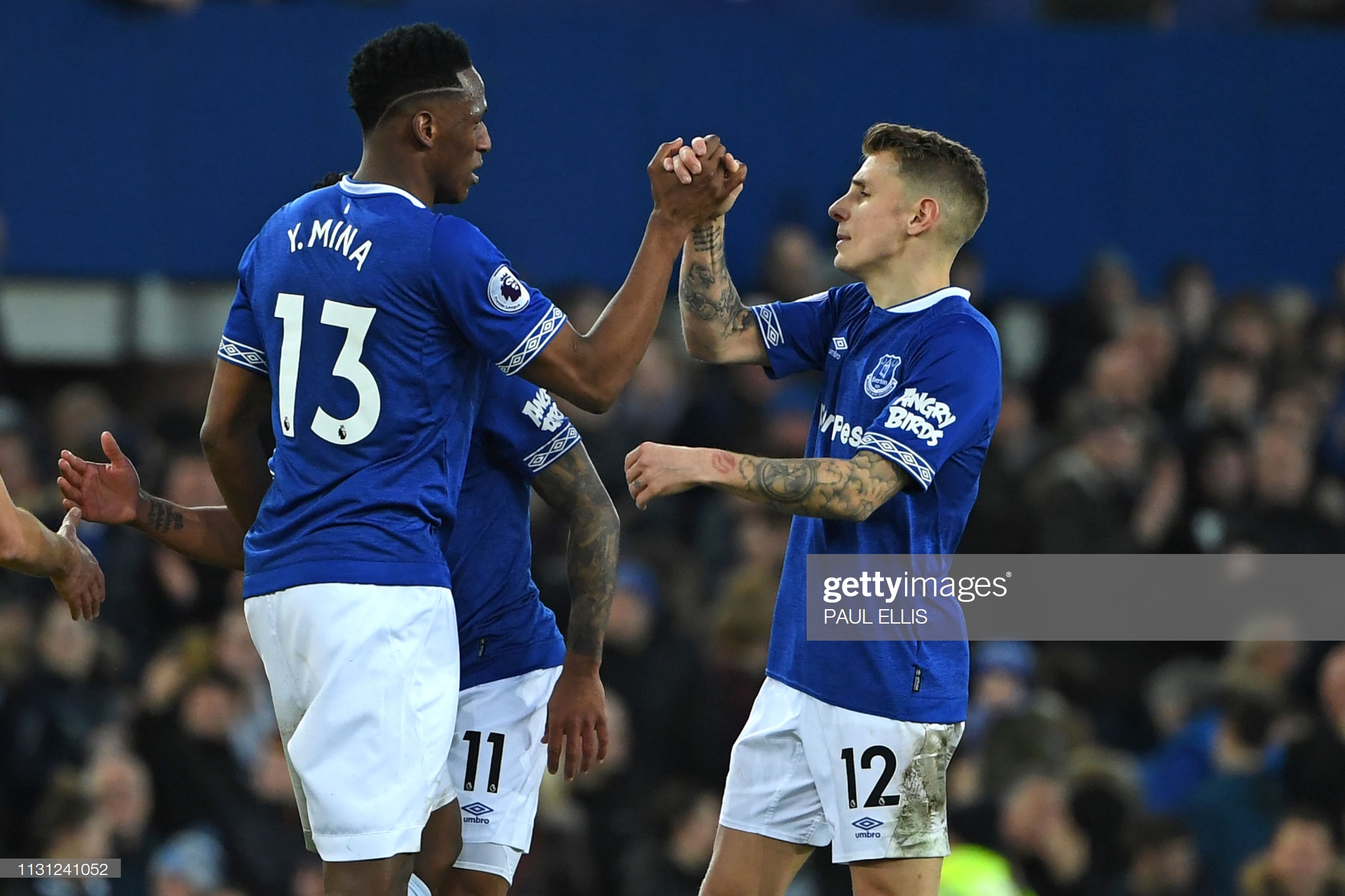 After mentioning Everton's perfect defensive start to the season and Lucas Digne already showing his attacking prowess with an assist in the 1-0 victory over Watford, I'll just start by saying you should hold off on selling him until more news about his injury comes around. Already, over 26,000 FPL managers have taken a chance in booting him out in favour of someone else, however I can't help but think they'll be desperately trying to reclaim him in their squad – especially as the next four games are against sides out of the top six.
If, however, it does look like the 26-year-old needs to spend some time in recovery away from the pitch, then a more than viable alternative is his slightly cheaper colleague, Yerry Mina. Now with 16 points thanks to those two clean sheets and four bonus along the way, he also carries potential for going forward. The Colombian's been brought in by over 45,000 managers in anticipation of the Toffees' trip to Aston Villa which has seen six wins in favour of the boys in blue out of the last eight meetings. After that, Wolves come to Goodison Park in what could be a very tight match.
After last season's bargain in the form of Aaron Wan-Bissaka, the search is very much in earnest for this year's version. Many thought Martin Kelly was just that guy, especially as he not only played but also picked up a clean sheet in the 0-0 draw on the opening day and then also appeared for the whole 90 minutes away at Sheffield United. However, the latter match then revealed we had, perhaps, been looking at the wrong £4.0m back. Up stepped John Lundstram for Sheffield United as he not only kept a clean sheet but also scored the winning goal and scooping a whopping 14 points whilst he was at it. Twitter has already been lit up with 'Buy, Buy, Buy!' fast-paced gifs and 60,000 FPL managers have snapped him up whilst they've been at it, making him the most transferred-in defender. Having additionally played 77 minutes in the away game at Bournemouth on the opening day, it looks like the 25-year-old is a regular starter for the team and won't be so easy on the purse strings for very long. One word of caution, however, is that the Blades' fixtures aren't particularly great as Leicester coming to Sheffield then precedes games against the likes of Chelsea, Everton, Liverpool and Arsenal out of the next six.
As an advert for a famous German car manufacturer alluded to, why get an alternative when you can just get the original? I, of course, mean the aforementioned Aaron Wan-Bissaka who does, like Volkswagen, come at a more premium price. The £5.5m defender made a strong start against Chelsea in Man United's 4-0 win as he looked to move forwards down the wing, just like he did at Crystal Palace. It tells you something on how well he did when he only had a clean sheet to his name in the fixture and yet still managed to pick up two bonus points. Gameweek 2's Monday Night Football saw him at Wolves as he again looked to move forwards and attempted one or two assists and shots, as much as he then went on to concede one goal and a yellow card. Looking ahead, things get easier for the Red Devils as Crystal Palace – who join Watford in being the only two teams who haven't found the back of the net yet – come to Old Trafford, with Southampton, Leicester and West Ham then next in line before things get a bit harder temporarily.
Another premium defender worth looking at is Kyle Walker, who looks to be keeping his place in the Man City defence for now. With a price tag of £6.0m, he already has an assist to his name as he helped to set up one of the five against West Ham in Gameweek 1 and also played all 90 minutes in the 2-2 draw against his former club. Bournemouth this weekend will no doubt be the location Man City will want to return to winning ways – as it could be another season where you've gotta win 'em all – and, whilst the Cherries have already scored three this campaign, this'll theoretically be a tougher defence to break down. After that, another seaside-based club face the Cityzens as there's the aforementioned trip of Brighton to the Etihad, followed by a long drive to Norwich. Those are all games that could work out favourable for Walker's points potential. Did someone say Walkers? Anyone fancy some crisps?
Finally, I'll just add a note that, whilst following the trends works out well in FPL, you can't help but look at the two most transferred-out players and think that isn't the right approach to take. At the time of writing, a whopping 65,000 managers have removed Andy Robertson from their team, whilst Trent Alexander-Arnold is now surplus to requirements by 37,000. Looking ahead, the £7.0m Liverpool duo face Arsenal at home this weekend which, yes, may be a bit tricky as the Gunners are the only other team to make a 100 per cent winning start to the campaign, however Burnley and then Newcastle are then the next two games for the Reds. Patience could just be the key here. Don't panic!
Midfielders
Ah, the minefield of midfielders who may be doing well now but then lose their form quicker than Tom Heaton conceding a penalty. And then there's vice-versa, the pain of selling a player who then goes on to bag a brace. The lottery we have all grown used to is in full effect at the moment with quite a few surprises when it comes to bagging the points.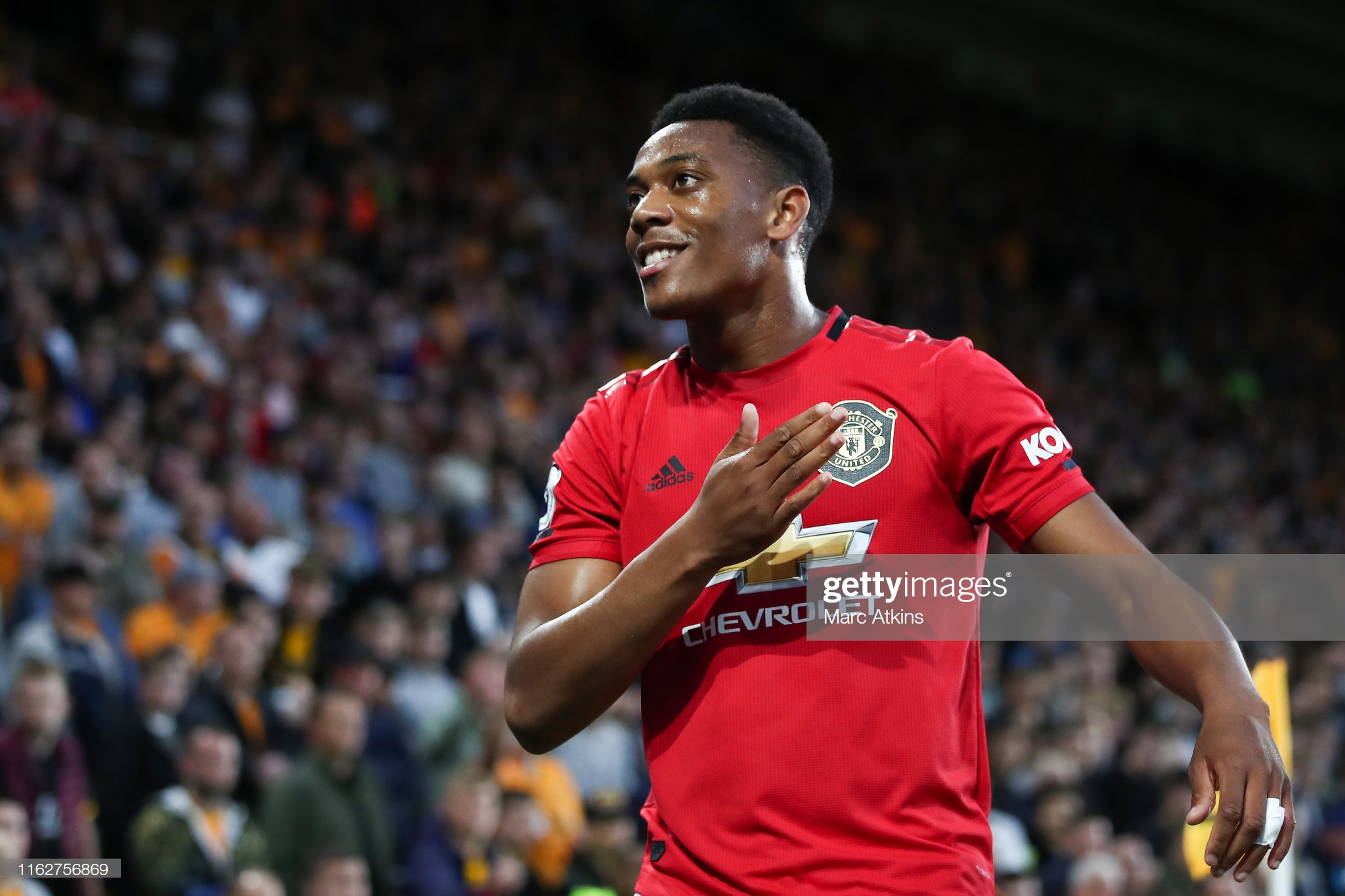 First on the list is just one of those players you would have done well to have had before the first match of the season kicked off. Anthony Martial has already risen in price £0.1m to £7.6m, thanks to a surge in popularity after his great work in GW1. The Man United number nine kept that up against Wolves one week later, as he found the back of the net in the 1-1 draw and so you can expect his price to go up further as the term 'bandwagon' starts to get mentioned. The Red Devils having Crystal Palace at home next could further enhance the player's popularity as Solskjaer's men go into the match on the back of a run of 13 consecutive games against the Eagles without losing. The last time they tasted defeat against the South Londoners, it was a League Cup match, Alex Ferguson was still in charge and the only players who could be in the team now were Smalling, Pogba and Jesse Lingard – of whom the latter two were on the bench. After Roy's men come to Old Trafford, it's then a trip to face Southampton, who have also gone a good while since victory over Man United, as Martial can also rely on the fact he scored two in the past five fixtures against the very same team.
Kevin de Bruyne looks like he is making up for the lost time of last season, which was a real shocker for the Belgian through countless injuries. Only picking up 59 points, with just two goals and three assists to his name, he's already matched the whole of 2018-19's set ups this campaign and I'm sure it won't be long until the goals come in to match. With 18 points from two, this could be more like 2017-18 where the 28-year-old registered eight goals and a ridiculous 18 assists to help him along to 209 points.
Back to the present and Man City are away at Bournemouth this weekend, which is a team that not only dislikes playing against the Cityzens, but also has a distinct dislike of facing the guy known as KDB as the number 17 has scored twice and set up the same amount in the seven times he has appeared against them. After that, it's Brighton and Norwich in de Bruyne's firing line and you have to say the tally of an assist in two against the Seagulls and a goal and assist in one appearance against the Canaries could rise if he continues on the form he is currently enjoying.
It goes without saying that you really should have Raheem Sterling in your team, if you already don't. With a ridiculous 26 points from four goals in two games, the £12.1m player is in 40.1 per cent of teams which still strikes me as a low figure. If, on the off-chance, you don't have him in your squad, make sure you do before this weekend as his record against Bournemouth is even better than de Bruyne's, having scored eight and set up two in the seven times he has played the Cherries.
As previously mentioned for Hugo Lloris – and one of the main reasons why he is the premier goalkeeper pick for this gameweek – Spurs face Newcastle this gameweek. Whilst they have plenty of premium options in the shape of Kane, Eriksen and, when fit, Alli, their cheaper players like Tanguy Ndombele, Lucas Moura and Erik Lamela certainly look appealing – as much as the spectre of rotation could easily affect the £6.1m, £7.5m and £6.0m players respectively. Lucas Moura, for example, has played 124 minutes out of a possible 180, as he was subbed on in the Man City match and Heung-Min Son is no doubt eager to get his season started now that he has served his suspension from the red card back in May. This trio has, however, filled in nicely for any absentees as all three have a goal and assist to their name from the five that Pochettino's men have in the GF column of the table. Back to Newcastle and they have already conceded four so far this season and, looking back, have had to pick the ball up from the back of the net six times in the last four meetings against Spurs which, depending on how the squad shapes up, presents potential.
After presenting great chances but not keeping his game in control against Man United in Chelsea's 4-0 loss on the opening day, Mason Mount was shown faith by Frank Lampard. The £6.0m former Derby player rewarded that as he then found the back of the net in the 1-1 draw versus Leicester in Gameweek 2, picking up 10 points at the same time. Having followed his boss to the bright lights of Stamford Bridge, he was obviously under no illusion life was going to be easy in the first few months, as he fulfilled an important role on the pitch that is usually reserved for the big names, whilst the club has had to deal with the loss of Eden Hazard and the transfer ban. The next few games, however, present a great opportunity for him to shine further as a trip to Norwich and then a return to West London to face Sheffield United comprise the next two. The Blues are undefeated against the Canaries in the 15 ties since 1994, whilst the Blades have conceded eight in the last three against the very same side.
If you're looking for a fifth midfielder who carries a £4.5m pricetag but also carries points potential, there is, of course, Leander Dendoncker, who came so close to scoring on the opening day against Leicester, were it not for the pesky VAR. He also showed himself in front of goal a few times against Man United too. Wolves face Burnley this weekend in what could be an interesting game – as Sean Dyche's men look to be having a better season compared to the last – and there's Everton and Chelsea shortly after, which may bring less points potential. The same can also be said about Todd Cantwell, as the Norwich player picked up ten points in the 3-1 victory over Newcastle; however he now has Chelsea and Man City in two of the next three games. But, as a fifth midfielder who can sit pretty on your bench ready to come in whenever there is any rotation in real life, one of those two could well do nicely.
Forwards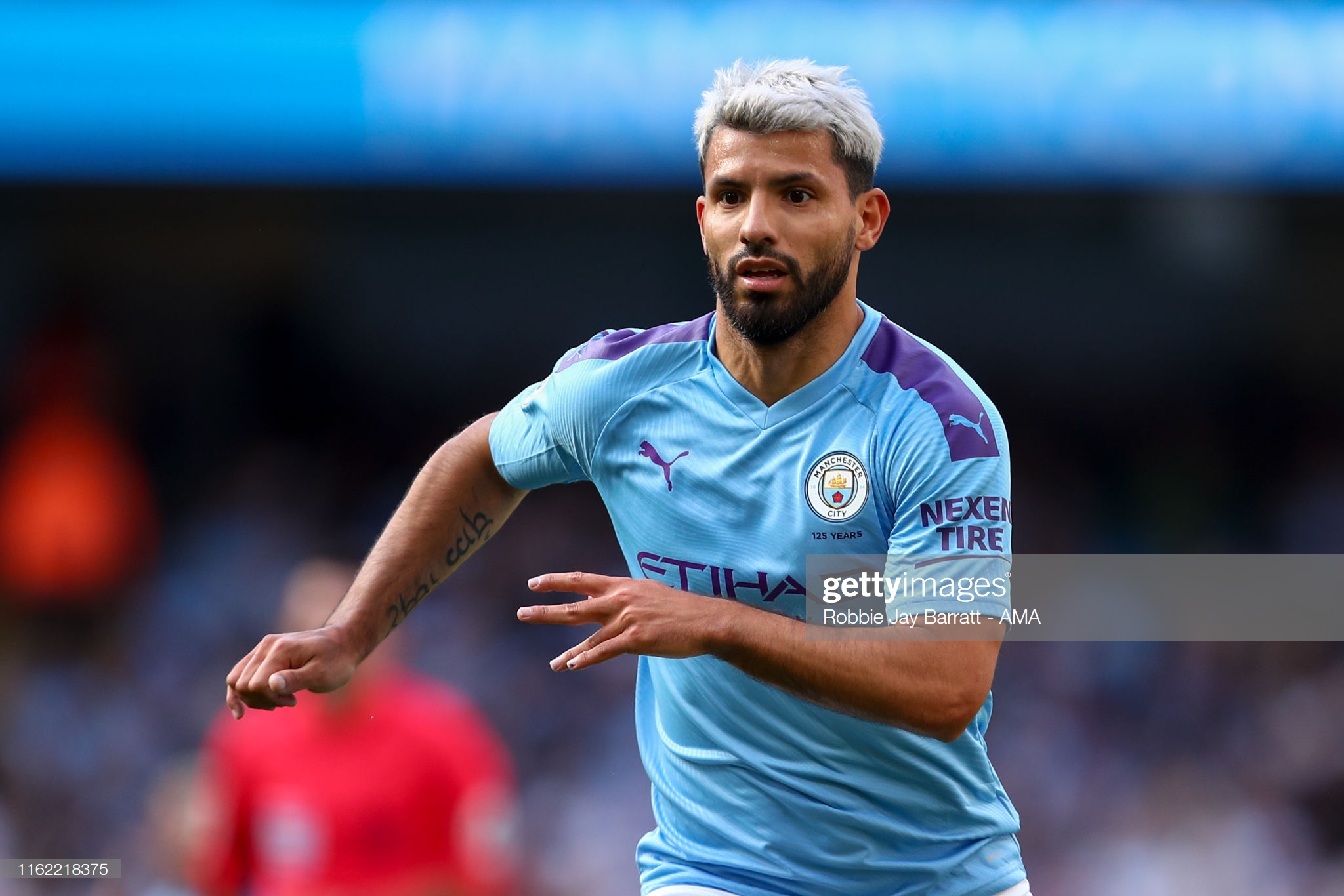 My first pick is one of those players you can call an FPL legend, as Sergio Aguero gets his seventh Premier League season under way. He's now able to look back on 127 goals and 46 assists contributing to 1,101 points over six seasons – plus the two goals and 11 points from this campaign, of course. If you were to ask most football fans what his most famous goal was, I'm sure that winner against QPR to clinch the title is top of the pile.
Anyway, looking ahead to this gameweek, it's a case of going on the basis the 'conversation' the Argentinean had with Pep Guardiola when he got substituted off against Spurs isn't an omen for something in the future. The Argentinean – should – face a Bournemouth side he has scored three goals and an assist against in five appearances and so, on the presumption he starts ahead of Jesus like he did against Spurs – but not West Ham – there is definitely some points opportunities abound. Brighton, a team Sergio netted against in each appearance, are then next, as Norwich then try to hold him back – not literally, hopefully – from adding any more to the five goals and three assists in the six times the Cityzens number 10 has played them.
Teemu Pukki has certainly made a name for himself in the Premier League already, having wiped out the clean sheets of Van Dijk, Robertson and Alexander-Arnold in the first match of the season, before going on to score the impressive hat-trick against Newcastle just one week later. Unsurprisingly, 24 points from two fixtures has made him rather attractive as a proposition, as almost half a million FPL managers have already brought the Finn in this gameweek, helping him rise £0.2m to his current £6.7m pricetag. As I've previously alluded to, Norwich have two difficult fixtures against Chelsea and Man City on the horizon, as much as they'll be played at Carrow Road to offer the slight comfort of home advantage. There is, however, a trip to West Ham in-between, where the Canaries would be playing a team who have the unenviable title of the most goals against.
Whilst he may have blanked in the away trip to Man City, you only have to look back to the weekend before when Harry Kane's last minute goals sunk Aston Villa to what turned out to be the first of two defeats. I won't bore you by going on about the team he is facing this weekend, however I will add the fact he loves to play against Arsenal – and that just happens to be the next fixture. In the nine times Sir Harold has faced the Gunners, he has scored the same amount and assisted one for good measure.
Thanks for reading Fantasy Football Tips Gameweek GW3. This article was written by Swirly.
FPL FIXTURE TRACKER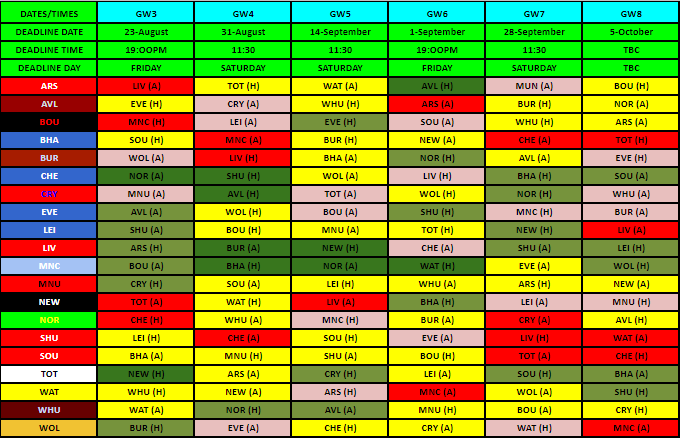 FIXTURE TRACKER LINK
Fantasy Football 247 League Codes: