Fantasy Football Trends From The Top – GW12 Analysis
Welcome to Fantasy Football Trends From The Top – GW12 Analysis. Hopefully, you saw last week's bonus edition but just in case you missed it… Trends From the Top takes a detailed look at what the league leaders are doing every week in attempt for us, fantasy football fanatics, to capitalise on our observations and analysis of their selections and choices. I hope you enjoy this article as it helps prep you for this upcoming Gameweek!
Who was the most captained player by the top ten for Gameweek 12?
Based on GW 12 fixtures, it is of little surprise that 90% of our top 10 leaders selected Salah as their captain pick thus yielding them 16 points. Interestingly enough, our top league leader, Toni Haapanen from Finland, was the one individual who went against the grain to select Aguero (14 points).
Who were the most popular players chosen by the top ten for Gameweek 12?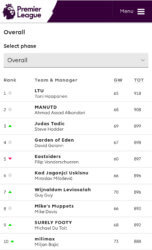 Goalkeepers: For Gameweek 12, a variance of only 5 goalies were selected with the most popular keeper being Mathew Ryan of Brighton (2 points) who yielded 30%. 20% selected Ederson (2 points), Fabianski (5 points) and Patricio (2 points) followed by Begovic at 10%. It is clear that folks selected keepers based on fixtures as that would be the natural tendency but as we saw, the individuals selected above were not the best options. For folks who had Pickford and Alisson for example, they were all able to collect 7 points for GW12 and for those owning Joe Hart of Burnley and Hugo Lloris of Spurs, managers were able to add 10 and 9 points respectively to their GW total.
Defenders: This past Gameweek we didn't see much variety along the backline as only 9 defenders made the cut. Robertson was the most popular pick with 100% selection (and bringing in an impressive 12 points) followed by Alonso at 90% and Mendy, who is now out with an injury, at 80%. The following defenders were also selected but only by 1 top manager: Alexander-Arnold, Trippier, Holebas, Zabaleta, David Luiz and Laporte.
Midfielders: When you look at midfielders, the top 10 managers had 13 different picks. Salah and Hazard were the must-haves among the leaders as 90% selected both players. Richarlison was the next most popular pick coming in at 70% followed by Fraser at 40%. And, like the stats we saw with the defenders, the leaders had many players which were not 'popular' picks as they were only selected by 1 top 10 manager each: Martial, Milner, Lucas Moura, Mane, Gudmundsson, Paterson, Deulofeu, Sterling and Kenedy.
Forwards: This week, the front line consisted of only 5 picks among the top managers. 90% had Aguero and Wilson while Arnautovic had 40%, Ings 30%, and Jimenez with 20%.
In summation, the Must-Haves for top managers for Gameweek 12 were, Robertson (12 points), Alonso (8 points), Mendy (injured), Salah (8 points), Hazard (3 points), Richarlison (sort of injured), Aguero (7 points) and Wilson (2 points).
Other interesting facts:
The average score for Gameweek 12 among the top 10 was 67.2 points which was only 19.2 points above average for the week.
The average team value of our leaders was 104.2m.
8 of the top 10 have only used their 1st wildcard while one player has used 3 chips. Coincidently, it is our leader who had exhausted these chips! The remaining one player has used 0 chips.
It's a close match up on top! Only 1 point separates those in 4th, 5th, 6th, and 7th and they clearly have the opportunity to rise!
USA! Last week, we saw representation from 10 different countries! This week, for the first time since writing this article, the USA "dominates" the leader board! Granted it's only 2 players but leaders from the USA are in spots 4 and 10! Other countries represented are Finland, Kuwait, England, South Africa, Belgium, Serbia, France and New Zealand.
Best of luck in Gameweek 13!
Thanks for reading Fantasy Football Trends From The Top – GW12 Analysis. This article was written by Bekachan17
FPL FIXTURE TRACKER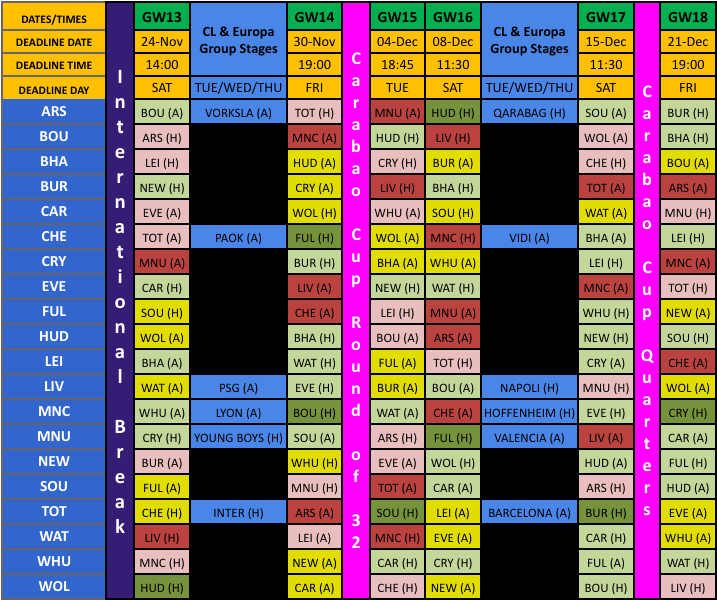 FIXTURE TRACKER LINK
Welcome to our Fantasy Football leagues section.
The League Codes for FF247 for the 2018/19 season are as follows –