Fantasy Football Trends From The Top GW21 Analysis
Welcome to Trends From The Top – What Are The Leaders Doing? After a small hiatus, I welcome you to this week's edition of Trends From the Top. In previous weeks, the trends showed that the popular picks were indeed the wise ones. This week however, saw a bit of division amongst the top ten as well as a fascinating occurrence while selecting team captains. Read on to learn more…
Who was the most captained player by the top ten for Gameweek 21?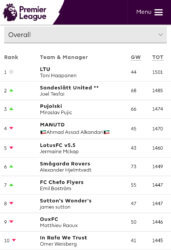 This week, for the first time in many, many gameweeks (I really mean seasons), an interesting phenomenon occurred in which there were 5 different captain picks among our leaders. This is indeed incredibly odd for those fighting for the top spot as they usually tend to go with the safe and popular selection. Four of our leaders selected Hazard (6 points), while another 2 selected Aubameyang (18 points). If you were to have taken our Captain Poll's word for it, you would see that 32% of the voting population made Hazard the #1 pick. Additionally, another 20% predicted that Kane would be the second strongest selection. In summation, 52% of voters predicted these two folk. If you add in Aubameyang who received 17% and Salah who received 13%, it's actually quite statistically fascinating that two of the top ten selected Son, who received only 4% of the vote, and yet yielded the greatest reward as he brought in 26 points as captain. This shows that sometimes, it pays to take a risk and pick 'another' player especially if you are looking to make a leap up the leaderboard.
Who were the most popular players chosen by the top ten for Gameweek 21?
Goalkeepers: For Gameweek 21, the most popular goalie was Fabianski as he was selected by 60% of the top ten. Pickford, Lloris, Ederson and Lossl each received 10%.
Defenders: When we look at defenders for Gameweek 21, we see one dominant player. Digne was selected by 8 of the top managers. Alonso and Doherty were the next popular picks with 50%. Kolasinac and was chosen by 30% of the best followed by Robertson, Lindelöf and Trippier at 20% and Laporte, Alexander-Arnold, Bennett, Holebas and Azpilicueta with 10% each. In all, there were 12 defenders selected by our top leaders.
Midfielders: When you look at midfielders, the top 10 managers had only 10 different picks. 100% selected Salah followed by Richarlison with 70%, Pogba and Hazard with 60%, Son with 50%, Anderson with 40%, Fraser with 30%, Snodgrass and Pereyra with 20% and Kante with 10% ownership.
Forwards: This week, 8 forwards made the cut. 70% of our leaders had Kane. Jimenez received 50%, Rashford 40% and Aubameyang 20% while Zaha, Mitrovic, Arnautovic and Wilson came in with 10% ownership.
In summation, the Must-Haves for top managers for Gameweek 21 were Fabianski, Digne, Alonso, Doherty, Salah, Richarlison, Pogba, Hazard, Son, Kane and Jimenez as they all had an ownership rate of 50% or higher.
Other interesting facts:
The average squad value for Gameweek 21 among the top 10 was 104.6 and the average number of total trades was 20.6.
Four of the top 10 have only utilised 1 chip.
As in previous weeks, we saw a lot of diversity this week when looking at the nationalities of our top 10 managers. 2 players were from Sweden while 8 other nations were represented. Finland is in the top position followed by Sweden, Serbia, Kuwait, Zimbabwe, Norway, Sweden, New Zealand, India and England!
Will knowing any of this information, impact or influence and fantasy football trades? Let us know in the comment section below and as always, best of luck in Gameweek 22!
A very special shoutout to The Furmanvilles as their manager celebrates a very special birthday!
Best of luck in Gameweek 22!
**All top 10 info was compiled just prior to Thursday nights game between Man City & Liverpool – 2 of the top 10 were replaced as a result of this game.
Thanks for reading Fantasy Football Trends From The Top GW21 Analysis. This article was written by Bekachan17
FPL FIXTURE TRACKER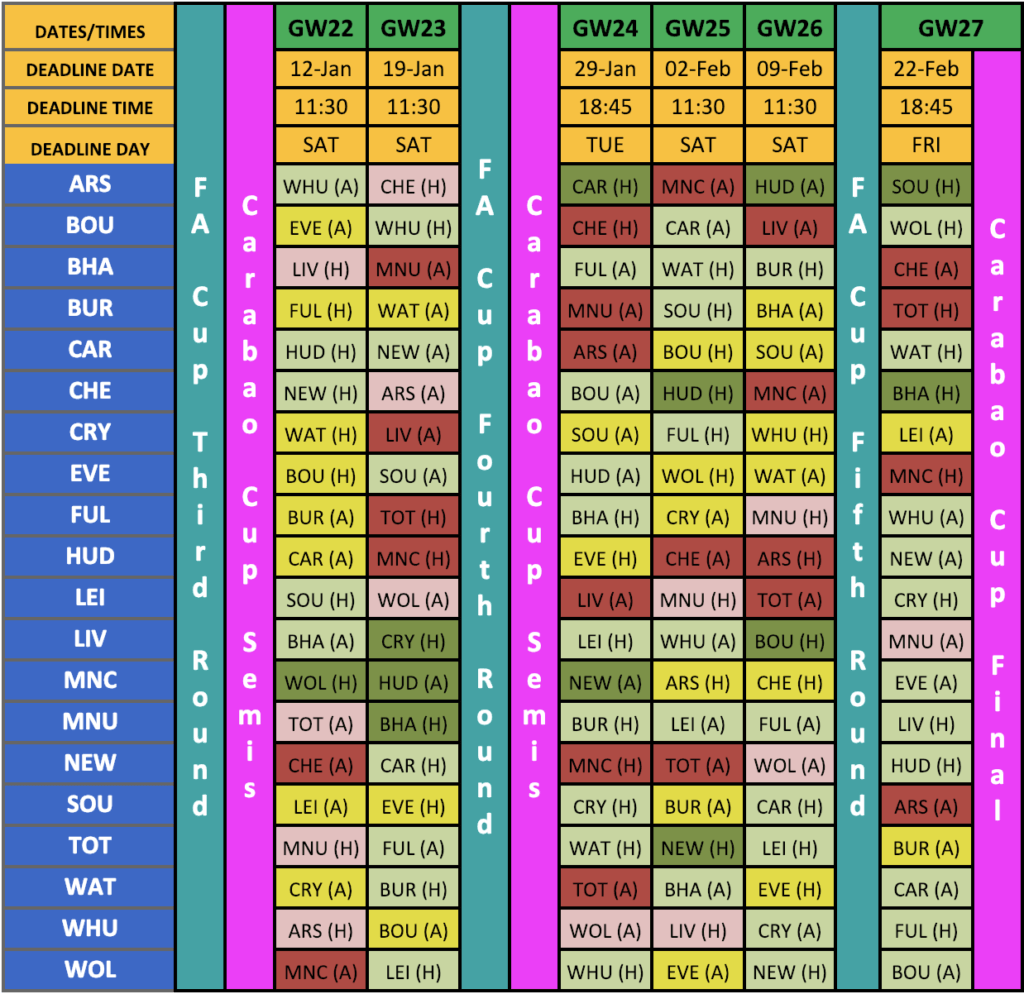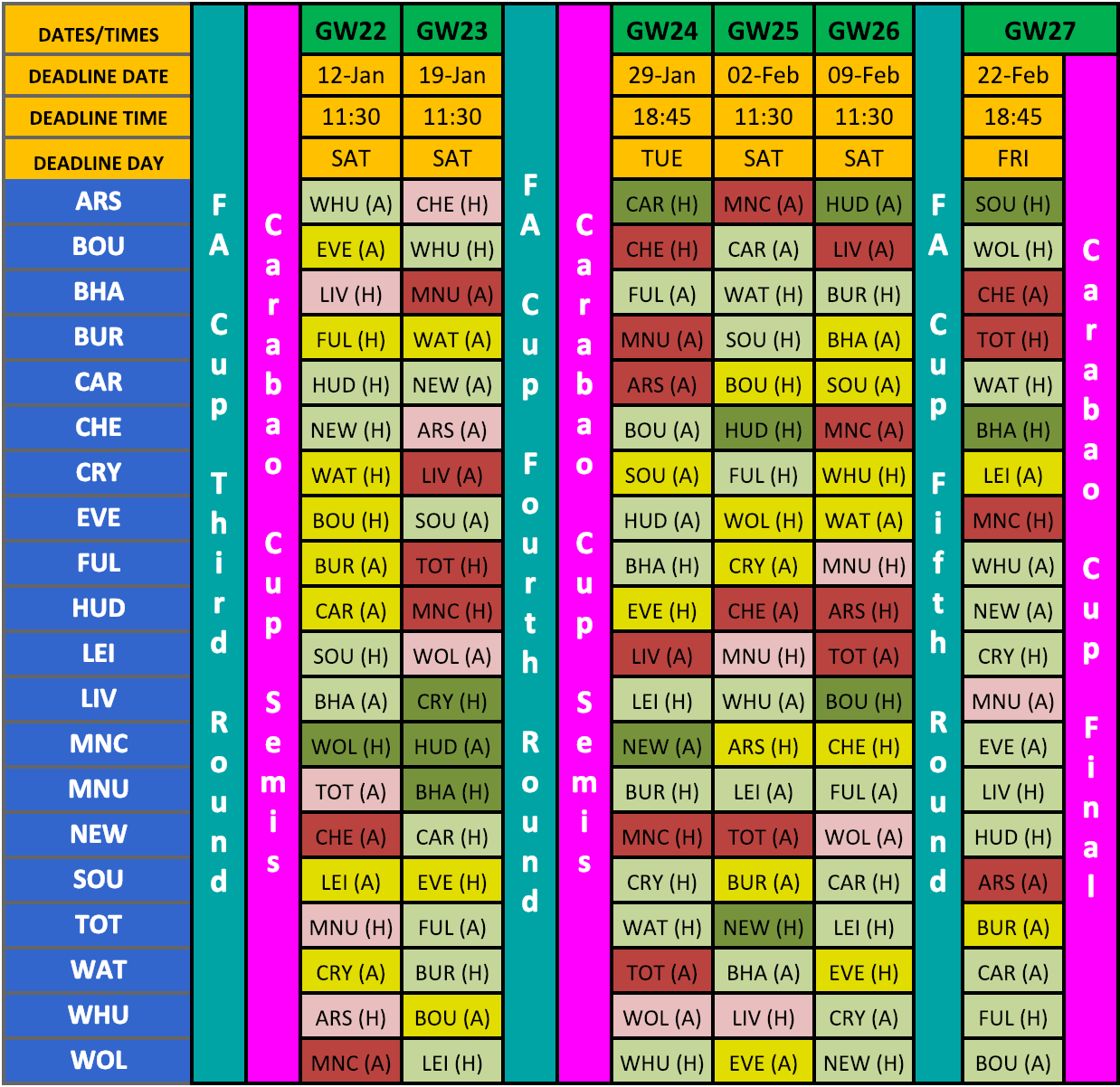 FIXTURE TRACKER LINK
Welcome to our Fantasy Football leagues section.
The League Codes for FF247 for the 2018/19 season are as follows –