We continue our look at the promoted teams with Fulham. It was only when Lucas Piazon returned from injury, Aleksandar Mitrović was brought in on loan, and Ryan Sessegnon was pushed further up the field that Fulham began to turn last season around. With the recent announcement that the club has agreed terms with Newcastle United for Mitrović, things are starting to look up for Fulham after a nervy start to the transfer window. Let us have a look at their fantasy prospects.
FIXTURES (Crystal Palace (H), Spurs (A), Burnley (H), Brighton (A), Manchester City (A), Watford (H))
The visit of Crystal Palace to kick-start the campaign is, on paper at least, probably Fulham's easiest fixture until Watford in Gameweek 6. Early road trips to Spurs, Brighton and Manchester City do not provide favourable conditions for a strong start to Premier League life for the Cottagers. Cardiff (A), Bournemouth (H) and Huddersfield (A) from Gameweek 9-11 are followed by away trips to Liverpool, Chelsea and Manchester United. Father Christmas has been kind to the London club this year with matches against West Ham (H), Newcastle (A), Wolves (H) and Huddersfield (H) across the festivities.
DEFENSIVE PROSPECTS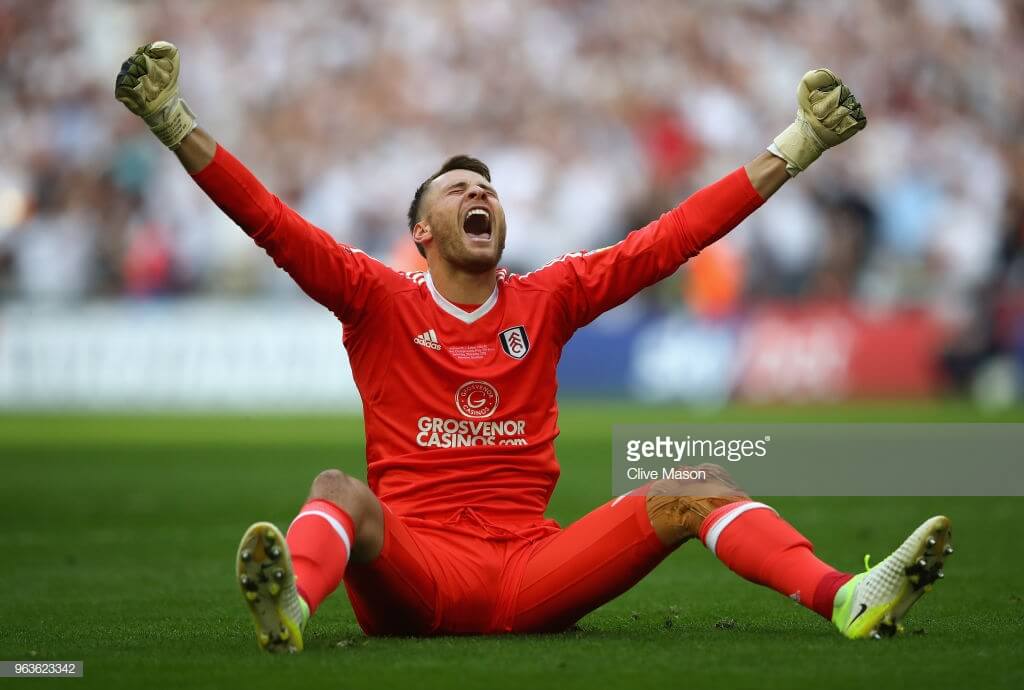 Having offloaded out-of-favour David Button to Brighton, Jokanović finds himself with four goalkeepers: Marcus Bettinelli, new signing Fabri, youth Marek Rodák and youth-youth Taye Ashby-Hammond (I wonder how many acres his family own). Rodák, who spent last season on loan at Rotherham United, started the first three of Fulham's four friendlies so far, keeping one clean sheet against Reading. Bettinelli was reintroduced against Lyon in which Fulham shipped four goals. Expect a battle for the starting berth with Fabri; the new signing has been voted as the best goalkeeper in the Super Lig with Besiktas for the last two seasons. It is not clear who will be victorious yet although hopefully pre-season will provide the answer. My gut feeling is that the gloves are Bettinelli's to lose given his large role in getting the club promoted last season. Let us be realistic though, we are not turning to the promoted sides for clean sheets. Wolves might be an exception mind, given that Mendes FC can and will buy just about anyone.
Fulham fans were probably hoping for a similar agent-cum-demigod to arrive at Craven Cottage a few weeks ago with the club's thread-bare roster looking worse than Rosco's dignity after last weekend but they have strengthened well in some of their weak positions in the closing stages of this window. From a Fantasy perspective, Maxime Le Marchand will probably not attract much attention. The defender started last season in centre-back for Nice but was deployed in left-back for his final 15 games, a position which saw him rack up three assists. Based on pre-season, Le Marchand looks set to start the season in left-back alongside Tim Ream, Denis Odoi, and Cyrus Christie, although loanee from last season Tomáš Kalas could yet return to the club. If the club brings in another centre-back, it would seem that Odoi would be the first to lose his place; the 30-year-old spent much of last season like a 'temp', hopping around the back four as cover for suspensions and injuries.
The rest of the defence also offers little offensively. Ream has scored a solitary goal for Fulham in each of his last two seasons at the club, and right-back Christie, who played second fiddle to West Ham new boy Ryan Fredericks after the former's arrival from Middlesbrough in January and saw just 134 minutes for the Cottagers, managed just one goal and three assists in the 2015/16 Championship campaign for Derby, which was the last time he played regularly throughout an entire season. If Kalas is reunited with his old teammates, his three goals and six assists across his nine-year career suggest he will not be getting Harry Maguire-style chants sung about him any time soon.
OFFENSIVE PROSPECTS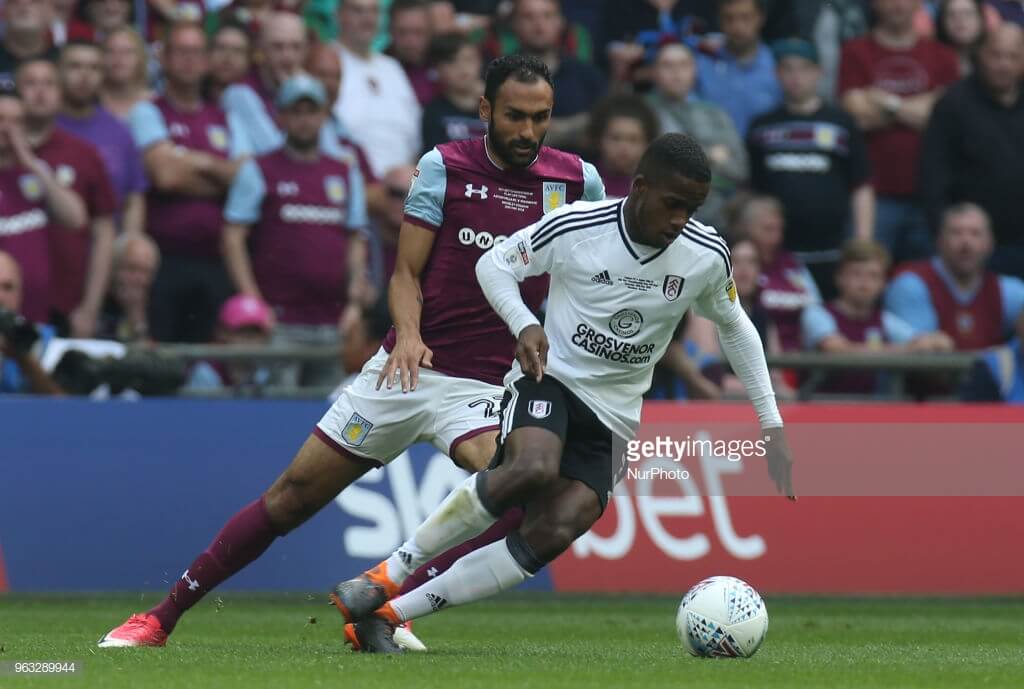 Getting to the business end of things, Ryan Sessegnon has been landed with an almost crippling £6.5m price tag, although I still think he is a solid option and certainly one I am considering (so you probably shouldn't)! Sessegnon scored 15 and assisted six in the Championship last season and added another goal and two assists to these totals during the playoffs, so the bright lights of the Premier League are unlikely to faze him. What is perhaps most enticing is that he spent the first chunk of last season in left-back. Removing those matches from the data, the youngster managed nine goals and three assists in just 13 games whilst on the left-hand side of a front three in a 4-3-3 formation, which Jokanović has used without deviation during pre-season. The manager did use other formations such as 4-2-3-1 and 3-5-2 last season too though which saw a deeper Sessegnon only manage to score four goals and one assist across 14 matches. Although Sessegnon was at left-back for the first pre-season game of the year against Crawley Town, he has found himself in the attacking left-wing role he was so devastating in last season ever since, albeit sometimes off the bench (which is, of course, to be expected in pre-season).
New boy Jean Michaël Seri (£5.5m) cost the club £27m, so he is probably your bog-standard centre-mid in today's climate. Kevin McDonald, a mainstay in the Fulham midfield for the past two seasons, will probably see his game time diminished by the 5'6" Ivorian who will most likely be deployed in the centre of the park alongside Stefan Johansen and Tom Cairney, which is how the manager started proceedings in a recent friendly against Lyon. Seri scored two goals and created seven more for Nice last season, and the year before that – in Nice's impressive third-place Ligue 1 finish – he scored seven and assisted ten. If we have learned one thing from transfers from Ligue 1 though it is that the impressive stats boasted by the likes of Memphis Depay, Steve Mounié, and Alexandre Lacazette do not always (indeed, rarely do) translate into FPL points, at least in their first season. This is the same for most players coming to play in the Premier League. Last year I suggested that Pascal Groß might be worth grabbing at £5.5m, and he is now valued at a whopping £7.0m. Given that Groß only scored five and assisted six in a relegated Ingolstadt side before moving to the south coast of England, it might be hoped that Seri can emulate the German. Like a s**t fourth wise man, I come with bad news rather than gold. Even in Nice's third-place campaign, Seri was only involved in 28.7% of goals when he was on the pitch. Groß was involved in 47.1% of Ingolstadt's goals in their relegation season when he was played in the same attacking position that Hughton deployed him in at Brighton.
At £5.0m and £5.5m, Tom Cairney and Stefan Johansen, respectively, could prove to be cheap fourth midfielder options. Last season Cairney managed five goals and five assists, a significant decrease in returns on his 2016-17 campaign in which he managed 12 goals and 11 assists. A knee injury reduced his game time and loanee Oliver Norwood took penalty duties from him last season (which we expect Cairney to now regain), but his numbers were disproportionately down too; he registered half the number of shots despite still playing ¾ of the minutes he managed in 2016/17 and was about 17% down on projected key passes for his minutes too. The knee injury might have been a factor, but more significantly it seems that Stefan Johansen's central midfield role of 2016/17 became more offensively-oriented last season (causing Cairney to take defensive responsibilities more seriously than before) and he also ousted Cairney from almost all of his corner and free-kick responsibilities too. Johansen's eight goals and eight assists last season were also down in comparison to his eleven goals and eight assists the season before, despite playing 600 more minutes. It might be a case of waiting to see how Seri's playstyle affects the pair's returns; Seri is more offensively-minded than McDonald. I expect the McDonald to still play a role in the Fuham midfield, so it might be a case of waiting to see how the manager sets up in his remaining pre-season games.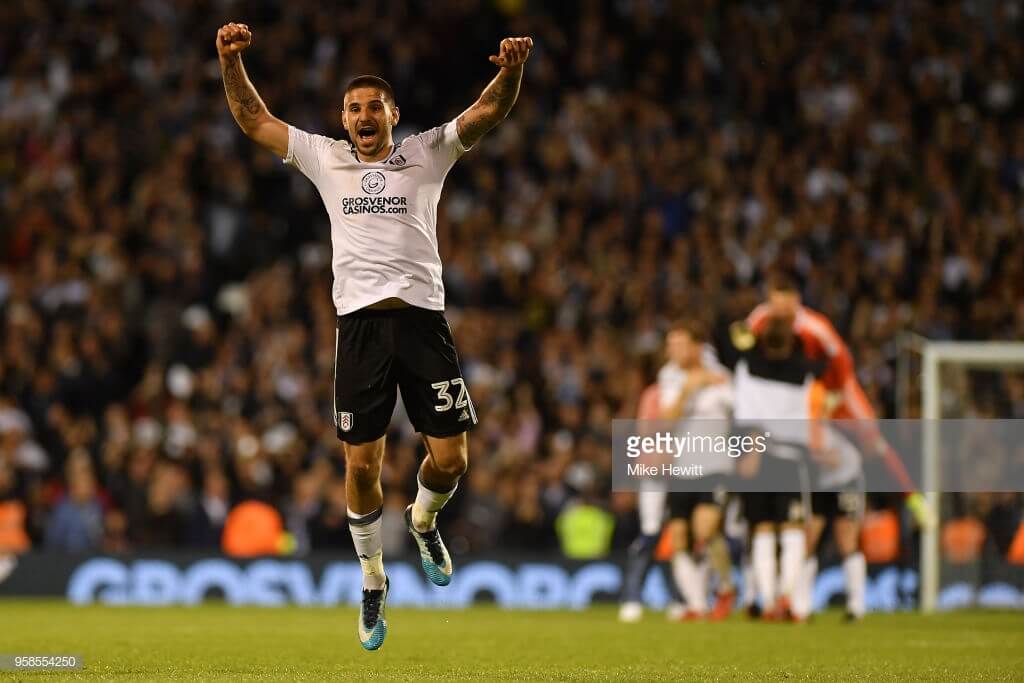 Aleksandar Mitrović is back. He got the first plane back from Portugal either in a bid to get away from his Newcastle teammates or, probably more accurately, to escape from a club that has been callously and dishearteningly torn apart by the owner of a sh*te sports shop (Newcastle and Rangers fans alike have given me permission to berate him). Last season, Aboubakar Kamara, Rui Fonte and Floyd Ayité shared the striker responsibilities before Mitrovic's loan spell began in January and are all listed at £4.5m, the latter two as midfielders. The former two have both started one pre-season game upfront each, Kamara starting on the right-hand side when Fonte was up top. Given that Kamara and Fonte only managed ten goals between them last season (in over 50 appearances), it is no surprise to see the Serbian international return to the central London club after his impressive 12 goals and an assist undoubtedly propelled them to play-offs glory. Despite being just 23, the striker has a full Premier League season under his belt already with Newcastle where he racked up nine goals and four assists in around 2000 minutes of football in the 2015/16 campaign. Cunningly, FPL have not put Mitrović into the game yet which allows them to factor his sure starting spot into his price. I would expect him to be priced at £6.0m (perhaps £6.5m, although identical to Charlie Austin seems fair), which still makes him a worthy candidate for a third-choice striker, although Charlie Austin's more favourable opening fixtures and repeatedly-proven goalscoring ability tip the balance for me, at this stage.
Last season the right wing spot was chiefly covered by two loanees: Lucas Piazon and Sheyi Ojo. André Schürrle (£6.0m) comes into the side primarily as a left winger although he is capable of playing up front and even played on the right for Chelsea with great success (nine goals and an assist in just over 900 minutes of football). As there will be a dedicated article on Schürrle soon, suffice it to say here that I expect Ryan Sessegnon to play on the left of a front three with Schürrle on the right.
Thanks for reading Fantasy Premier League Promoted Teams Analysis FPL 2018/19 Fulham. This article was written by AT
HELPFUL LINKS –
PRE-SEASON FRIENDLIES
Usually we run an article and ask people to get involved and cover the friendlies with any info they can gather. And it's usually fun but in all honesty it's usually also a bit messy and difficult to refer back to. This season we have one link that you will need need for all such info, courtesy of Mito –
Here you will find all the pre-season info you could ever wish for in one place – line-ups, scorers, assists, match info, sarcastic comments…
SET-PIECE TAKERS LIST
This is a work in progress as we make our way through pre-season but again Mito is all over it as it's an invaluable resource and can be found here
FPL FIXTURE TRACKER
(It's scrollable btw, just swipe left or right)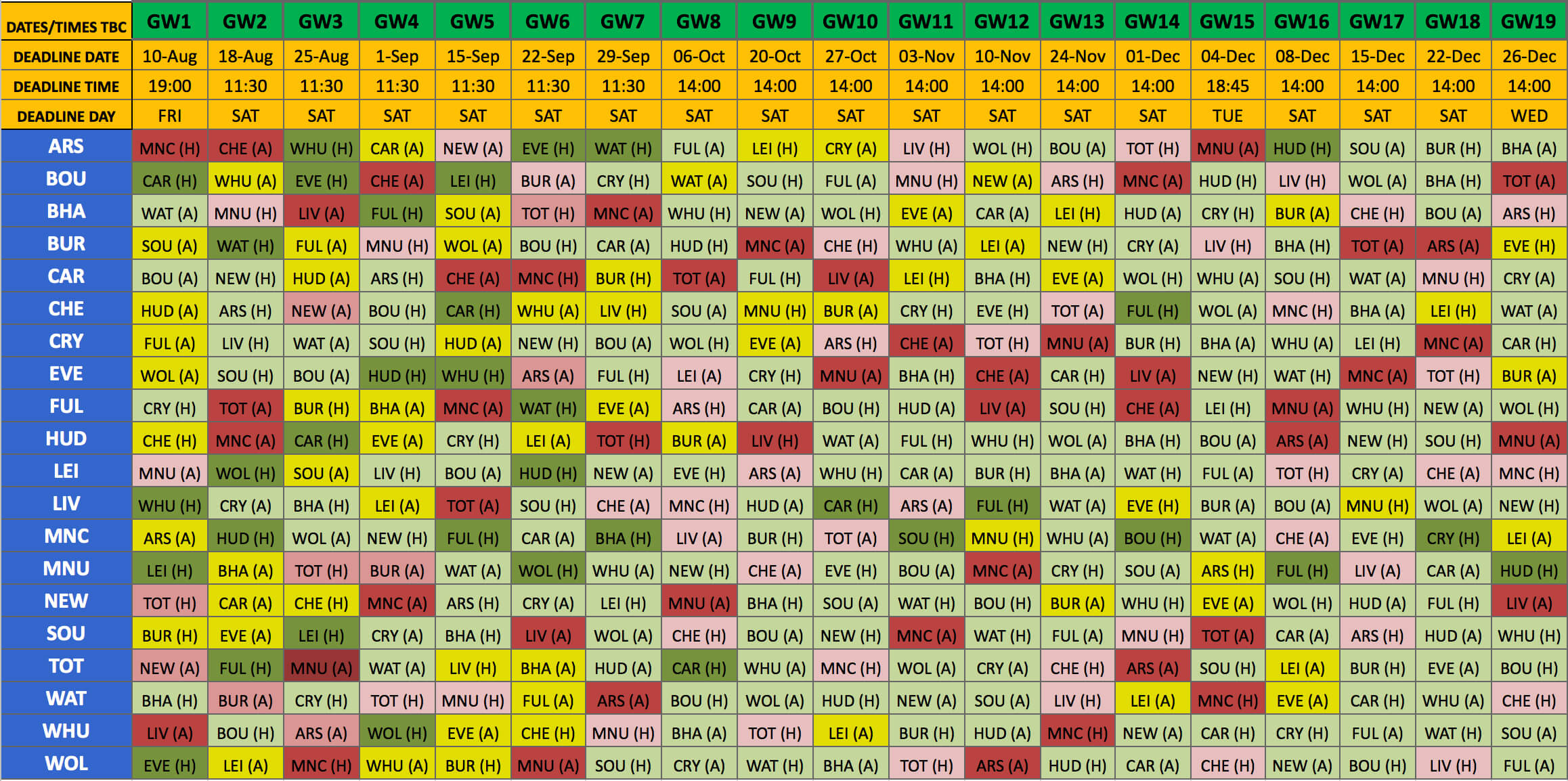 FIXTURE TRACKER LINK
The League Codes for FF247 for the 2018/19 season are as follows –