We look at the reigning Championship winners Wolves who lit up the second tier of English football by winning 30 of their 46 games, scoring 82 goals and conceding 39. This saw them finish on 99 points and so close to breaking the 100 mark. The Wolves ownership have been showing their intent and ambition in recent seasons with the big-name signings of Diogo Jota, Ruben Neves, Rui Patricio and Joao Moutinho so a similar season to last wouldn't be too much of a surprise. This team is full of youth and is led by Nuno Espirito Santo, a Portuguese manager, who has organised a well-oiled machine and I would hazard to call them the poor man's Man City (no disrespect intended!). What I mean by this is Wolves are a side that plays attractive football and if they can make a smooth step up in class to the Premier League then they could easily be finishing in the top half of the table.
Rundown of how they set up –
This well-organised team is set up in a way we have gotten familiar with in recent weeks, that is they set up like Gareth Southgate's England. A 3-4-3 formation with 2 wing-backs but instead of one sitting midfielder like Henderson, Wolves have two. This offers a very solid midfield that protects the back three and makes it easier for the wing-backs to focus on supplying the front line. Everything I have read about Nuno Espirito Santo makes me compare him more and more to a Pep-mould manager. He wants attacking football, where his team keep the ball on the ground and keep possession. As long as nothing changes and with the new signings that Nuno has brought in I can see Wolves doing very well.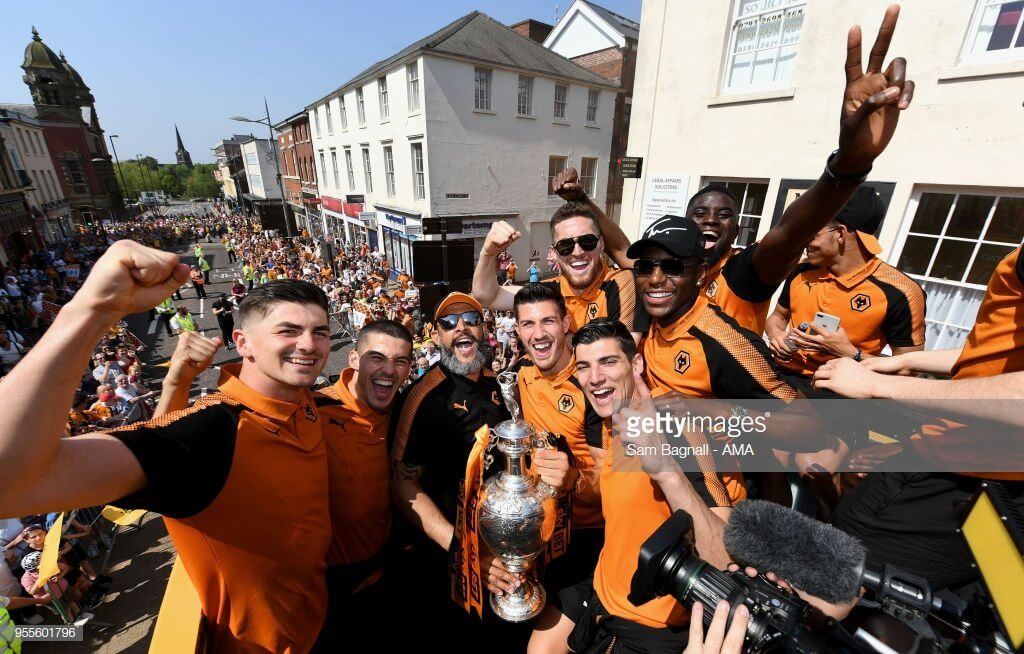 Players to look at –
Rui Patricio – 4.5 mil
This was a massive, MASSIVE coup for Wolves as the turmoil in the Portuguese capital has been a blessing for the English team who have snapped up a World Cup starting goalkeeper who also won the Euros only two years ago. What more could you ask for?! Patricio and Wolves start the season against Everton, West Ham, Leicester and Man City so four games which could prove rather tough but if Patricio does not keep a clean sheet you can definitely count on him grabbing save points and maybe even bonus points. If you are looking for a rotating keeper, he is one I would keep an eye on; his stats in Portugal show 23 clean sheets out of 56 games in all competitions so that is decent going. He is unproven in England which we all know can prove difficult for new goalkeepers trying to get used to the physicality of the game but being proven on a European and International stage makes me feel a bit more confident about him.
Defensive assets
Ones to keep an eye on in the Wolves defence are Ryan Bennett and Matt Doherty who are priced 4.0 and 4.5 respectively. Doherty and Bennett are cheap options into this team with Doherty being a right wing-back and Bennett being a 4.0 starting center-back but keep an eye on the transfer window in case Wolves bring in a new CB. Bennett was brought in and a lot felt he would rot in the reserves and was only there to make up the numbers but last season he was amazingly solid and even grabbed a few goals so he definitely feels like the best 4.0m option. Wolves have also just signed Jonny Castro Otto on loan from Athletico Madrid and he can play RB or LB which should see him playing on the left to replace Barry Douglas who many felt was Wolves best defender. Otto has played 222 times in Spain scoring 5 goals and getting 13 assists in that time so has both an eye for goal and a team mate. Wolves seem to have brought in a very experienced youngster here so depending on his price could be a nice way into the team. If he is 4.5 or less I would consider him.
Helder Costa – 5.0 mil
The Wolves midfield options for FPL are absolutely stacked! With the likes of Cavaleiro, Costa, Neves, Enobakhare, and Moutinho. It may be difficult to know which players may actually start in that midfield so keeping an eye on the pre-season friendlies is absolutely essential! You may be surprised I didn't select Ruben Neves here as the only reason I got selected for this article was that I said how amazing he was and I'm not wrong! Neves is incredible to watch and really should be playing in the Champions League he is that skilled, but it just shows the ambition this Wolves side have! Without Neves, Wolves would be lost! He is the lynchpin, the dynamo, the magic in the centre, the… you get the idea. I have ranted about him but now for the reasons against and that is the fact he is a defensive midfielder who can be quite the card magnet. For this reason, I am suggesting Helder Costa for the same price. Costa plays as the right winger but from what I understand he is very much a form player so if he is not in form he might be dropped but will tend to come on as a sub. I wouldn't be too mad to go for a Wolves midfielder due to the uncertainty over who plays in the middle but the one exception to that is this next man…
Diogo Jota – 6.5 mil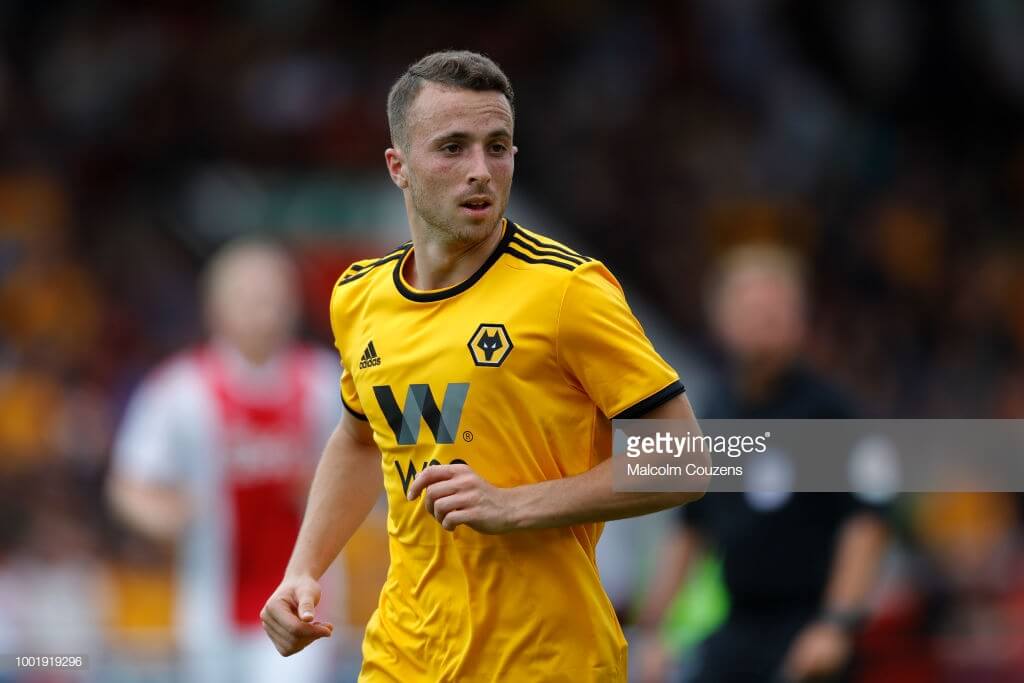 This one has caused some raised eyebrows in those who know the Wolves team as Jota plays as a striker or as a left winger and was the top scorer for Wolves with 17 goals yet the powers that be at FPL have listed him as a midfielder. This is very good news as it gives us a very nice OOP player in an attacking promoted side. Anyone who is reading this could have a step up on their rivals that don't know about the strange decision by FPL and bring in a "fourth" striker. At 6.5 he may be a bit outside the bargain range but if he was classified as a striker, would you turn down a striker that banged in 17 goals and has the talent that he does behind him? This season also sees him getting a partner in Raul Jimenez who some may recognise from his exploits with Mexico in the World Cup. This partnership could lessen Jota's goals but may increase his assists or it could flip and actually increase his goals. It is one to keep an eye on to see who is the main man with the other being his supporting act but a gut feeling could see Jota permanently move out to the left wing with Raul Jimenez taking the central role, but we shall see!
Thanks for reading Fantasy Premier League Promoted Teams Analysis FPL 2018/19 Wolves. This article was written by Matt
HELPFUL LINKS –
PRE-SEASON FRIENDLIES
Usually we run an article and ask people to get involved and cover the friendlies with any info they can gather. And it's usually fun but in all honesty it's usually also a bit messy and difficult to refer back to. This season we have one link that you will need need for all such info, courtesy of Mito –
Here you will find all the pre-season info you could ever wish for in one place – line-ups, scorers, assists, match info, sarcastic comments…
SET-PIECE TAKERS LIST
This is a work in progress as we make our way through pre-season but again Mito is all over it as it's an invaluable resource and can be found here
FPL FIXTURE TRACKER
(It's scrollable btw, just swipe left or right)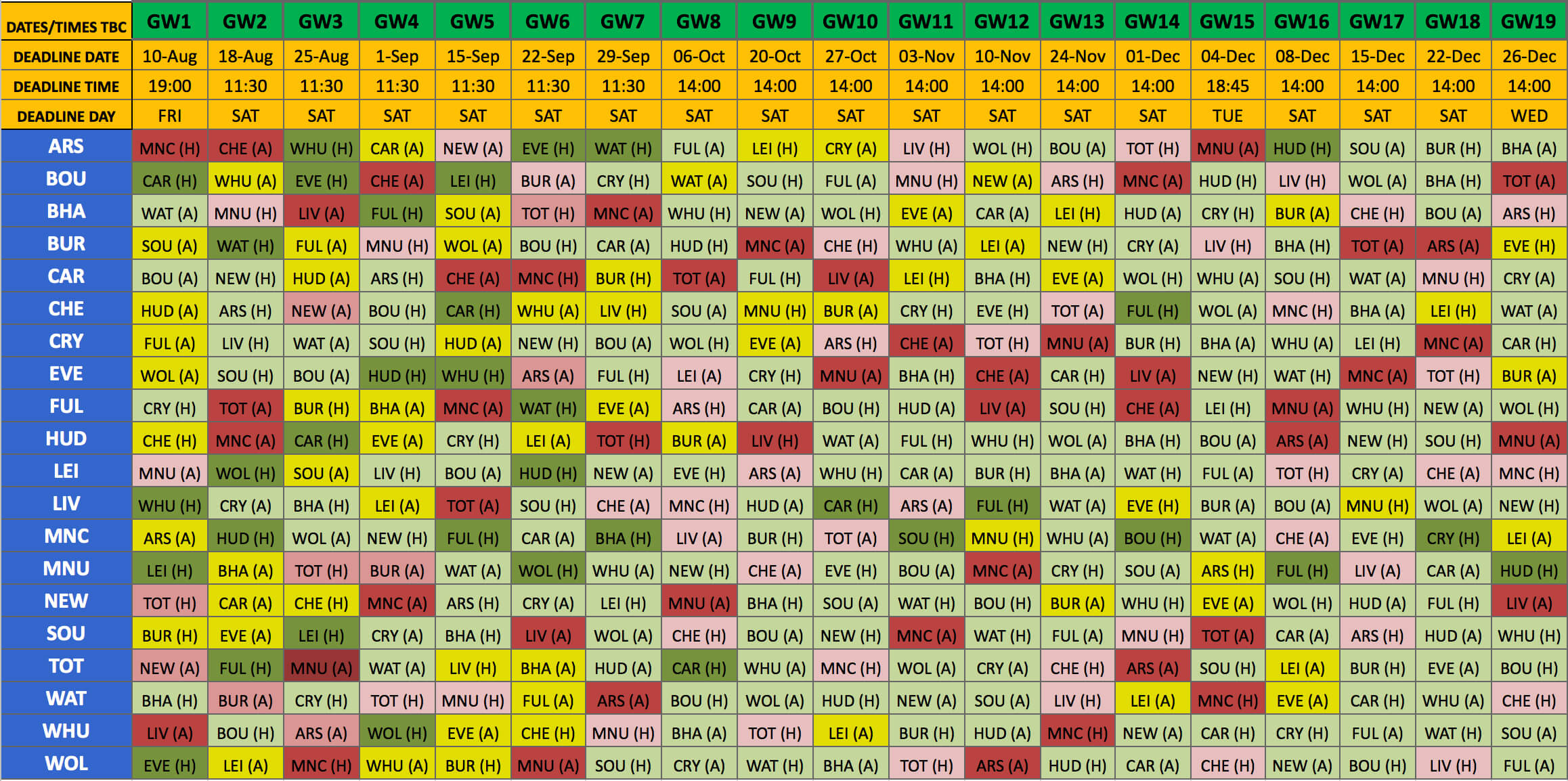 FIXTURE TRACKER LINK
It's been a busy summer already with Arsenal, Everton, West Ham and Chelsea appointing new managers, Manchester City adding to their already dominant squad, Man Utd continuing to splash the cash and Liverpool trying to protect Karius by beefing up their midfield. Spurs may even have a new home soon.
And FPL wise, this is the place to discuss strategy, learn about the promoted teams and their players while in the days and weeks to come we'll have plenty of articles, interviews, player analysis, Bore Offs, Tips, etc, etc.
So be sure to get involved in the discussions, the RMTs and the banter as we look forward to another season of Fantasy fun!
The League Codes for FF247 for the 2018/19 season are as follows –