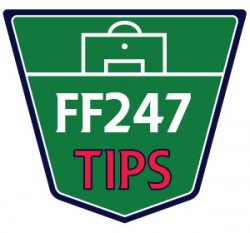 Welcome to Fantasy Premier League Tips Gameweek 7.So, here we are then, at the end of another gameweek that saw many people wildcarding – myself included! I hope you're not sat there with your head in your hands, wondering why you picked that differential who flopped and are, instead, gleefully looking at the points that players including Aguero, Sanchez and Son have accrued. Unfortunately, I didn't have Son in my team – I just wanted to include an anagram of ass in this opening paragraph to grab your attention.
This gameweek is, I'm afraid, followed by an international break. Yes, another one of those weekends where it feels like part of you is missing as you pretend to be interested in the few football matches that are looming. Don't worry though, just imagine how Big Sam feels! I know that Sky's own Super 6 is harder than normal as I frantically look at the League One table at 14:57 and try to work out who will win which match. Of course, the one bit of excitement is how England will play following the exposing of Sam Allardyce – not physically, thankfully (sorry if I got that image in your head, somehow), but through his dealings. If the Sky Sports News reports of eight other managers being approached and secretly videoed by a newspaper are true, we could see a whole load of chaos in the football world ahead of us!
Anyway, I was always told when I was younger that, if you fail to prepare, you should prepare to fail. With that in mind, sit back, relax and see what you think to my tips for players based on not only this but the following gameweeks too.
[clear]
Goalkeepers
[three_fourth padding="0 20px 0 0″]
[/three_fourth]First on my list of recommended goalkeepers is Petr Cech, owned by just 19.3 per cent of managers. The Arsenal goalkeeper kept his second clean sheet of the season in the Gunners' 3-0 win over Chelsea – a match that also didn't see him called into that much action.
Burnley are ranked 20th out of the 20 Premier League teams for shots on target so far (at just nine in total), however their result against Watford shows they are seemingly relying on their home form in their bid to stay up. Cech may actually be called into more action at Turf Moor than he was against Chelsea, however the Gunners then face Swansea and then Middlesbrough at home, followed by Sunderland.
Looking into more detail, Swansea have been a bit of a bogey team for Arsenal at the Emirates in the Premier League in recent years, coming away 1-0 victors last season, drawing 2-2 the season before that and winning 2-0 on 1st December 2012 – two goals from a certain Michu, if you remember him. That said, Swansea are a different team to how they have been in past seasons and I would expect the Gunners to break that spell and do better.
One of the biggest draws for me in choosing Cech is the fact that he's the cheapest way into Arsenal's defence at £5.5m. Of course, he's not going to offer any attacking threat like Koscielny and co., however clean sheets are rare across a lot of teams at the moment.
Next up on the list is Everton's Maarten Stekelenburg who costs £5.0m and is owned by just 3.4 per cent of managers, putting him into good differential territory. The Toffees are currently going through a good run of fixtures and, as much as things didn't go to plan for them away at Bournemouth, I think this fella would be a good buy for the next few games. Like Cech, he has two clean sheets to his name already this season and he'll be facing Crystal Palace this week, a team that Everton has had a mixed bag of results with in recent years – in the last three years, they've played six times and two of those have finished 0-0.
After that game, you'd probably want to play your other goalkeeper as Stekelenburg is away to Aguero and co at the Etihad, however matches against Burnley and horrendously underperforming West Ham follow on from that.
For those of you who have splashed out big on the rest of your squad will probably be thinking that there's no way they can afford the likes of Cech and Stekelenburg. Well, if that's the case, fear not – here are a few cheap goalkeepers worth a good look at.
Artur Boruc (£4.5m) got his second clean sheet of the season at home to Everton and already has a penalty save to his name (away at Crystal Palace last month). Bournemouth are away at Watford this gameweek which, after what we saw in the Burnley match, could go either way. The Polish shot stopper has a good defence in front of him and could frustrate Watford's efforts – going into that match, Bournemouth have conceded nine goals to Watford's 11 so far. Looking ahead, it's Hull, Spurs and Sunderland at home and Middlesbrough away – not a bad bunch of games.
You want a cheaper goalkeeper still?! Well, OK, take a look at Sunderland's Jordan Pickford at just £4.0m; owned by 10.7 per cent of managers. His team may have defensively capitulated at home to Crystal Palace, but this lad has shown himself to be more than capable of a good few saves. In fact, he managed eight saves against Spurs – accruing four points in total that day – and stopped six shots in each of the matches against Everton and Southampton. This gameweek, he's at home to West Brom who are 13th in the Premier League, if it was based on the amount of shots on target.
[divider_1px]
Defenders
[three_fourth padding="0 20px 0 0″]
[/three_fourth]Following on from the tip last week to look at any of Liverpool's midfield, I'm afraid I'm going to go with Arsenal's defence as an overall pick. Costing between £6.0m and £6.5m, the likes of Mustafi, Monreal, Koscielny and Bellerin are the most expensive defence in Fantasy Premier League, however another thing I've learned through many dodgy eBay purchases is that you get what you pay for. These fellas won't be the phone holder that'll keep falling off your windscreen or the phone charger that'll burn your house down – they offer excellent defensive and attacking capabilities which present excellent opportunities to bring in the points. Koscielny, for example, is the third highest points scorer (out of the defenders) already.
Also following in the goalkeeper's footsteps, it'll come as no surprise that my next defender tip is from Everton. Seamus Coleman has hit the ground running since he returned in Gameweek 4, notching up six, 10 and four points to set up a great run of form. Costing £5.5m, you are buying yourself a defender who isn't afraid to get forward and either put in a great cross or even score a goal, with his shot finding the back of the net against Middlesbrough. If, however, you don't want to spend that much on an Everton defender, take a look at Phil Jagielka. Jags has scored more points than his colleagues at the back and, at just £5.1m and owned by 5.1 per cent of managers, there's a good chance he's not in your rivals' teams. What's more, he's played in all of the Toffees' games so far and, I would say, would continue to be a nailed on starter. When Leighton Baines returns from injury as well, his and Coleman's chances of a clean sheet will then increase.
As previously mentioned, expensive forwards and midfielders probably mean you have saved (or are planning to save) money on your defence. If that's the case, take a look at Watford's Jose Holebas at £4.5m. After the Hornets conceded two away at Burnley and still haven't kept a clean sheet, it may come as a bit of a surprise that he's been included, however you can't look past the fact he's a very attack-minded player and is on set-piece duty. That and the fact Watford play Bournemouth at home, a team who have scored the least amount of goals so far this season (just four). After that, they face Middlesbrough and Swansea away and then Hull at Vicarage Road. Not bad fixtures at all and any points lost by conceding goals could easily be made up by goals scored or assisted.
Another defender to look at around the same price range as Holebas is Bournemouth's Adam Smith at £4.6m. As mentioned in the case for Boruc, the Cherries have got some good fixtures coming up and, in Smith, you're also buying a player who has already got an assist and goal to his name and is level with Koscielny at third place on the defenders' fantasy football points table. One word of warning, however, he is currently on a 75% chance of playing status, thanks to a facial injury and so maybe hold fire on bringing him in until we hear more in the press conferences later this week.
It's still the case that super cheap defenders who are actually playing are still hard to come across until injuries start creeping in to various teams. Until then, the players to use to free up funds are Jordi Amat and Stephen Kingsley of Swansea, both costing £4.1m. Playing at home against Liverpool, followed by Arsenal away (as good as their previous results have been) would definitely root them to the third substitute place in your fantasy football team.
A one-week punt to consider that I'll finish this section with is Antonio Valencia or Daley Blind. Both costing £5.6m, you'd probably only want to bring one of them in for one week if you are planning on using your wildcard in the international break, as Man United's next two fixtures aren't very good (Liverpool and Chelsea away). It could really pay off, however, as they play a Stoke team that are 19th in the shots on target table (just 13 in six games). Neither players are scared to go forward either – as Blind particularly demonstrated with two assists against Leicester – and, if it's going to be another goal fest like against Leicester, don't be surprised if this duo get amongst the points.
[divider_1px]
Midfielders
[three_fourth padding="0 20px 0 0″]
[/three_fourth]Having had an Arsenal-themed goalkeeper and defender first pick, I didn't want to seem biased and so have therefore picked Philippe Coutinho as my first pick. Costing just £8.2m, the Brazilian already has 41 points to his name, of which 14 of those were accrued in the last match against Hull when he scored and got an assist. That followed on from scoring two goals away at Arsenal on the opening day of the season and getting an assist in the win away at Chelsea, contributing to Liverpool's status as the team with the most shots on target this season (43) and the second most scored goals. His next opponent? Swansea, who conceded three against Man City last weekend.
Coutinho also benefits from the fact that he is joined in midfield by the likes of Firmino, Mane and Lallana, the latter of whom has been given a new lease of life from Jurgen Klopp. If his colleagues aren't scoring, they're setting them up for the Brazilian to slot into the goal. After Swansea, Liverpool face Man United which could be tricky, however they then have West Brom, Crystal Palace and Watford between now and the middle of November and I wouldn't be surprised if the reds' excellent form continued into these matches.
Next in line is, of course, Alexis Sanchez. OK, OK, he was going to be my first choice – I admit it! Chosen by many (myself included) to replace Eden Hazard in their teams, the Chilean immediately repaid owners as he dispossessed Gary Cahill and helped to dismantle Chelsea to score 14 points in the process (whilst Hazard scored two). In 467 minutes, he's managed to score four and assist two which is pretty impressive to say the very least. Next up for him is Burnley, which I'm sure – with no disrespect meant to the Clarets – Sanchez will love playing against. That, coupled with the great fixtures in Gameweeks eight, nine and 10, means he's an essential player to have in your team if you can afford the £11.1m like 17.2 per cent of managers can. If, however, you can't afford to put in Sanchez, perhaps consider his colleagues Mesut Ozil or Theo Walcott at £9.5m and £7.5m respectively. Ozil looks to be finding the kind of form that made him a fantasy football essential last season, he has two goals to his name and I wouldn't be shocked if his season really starts now. Walcott, on the other hand, has scored in his last two Premier League matches and had a belter against FC Basel in the Champions League when he found the back of the net twice. What's more, at £7.5m, he's excellent value for money if he keeps up his current form.
Whilst the Hammers continue to keep struggling, sitting 18th in the Premier League table, it may come as a surprise that I'm going to suggest one of their players for your perusal. Michail Antonio is, however, the top scoring midfielder in the league with five goals in six games and, costing just £7.3m, he's a player you could slot into your team quite easily. You look at West Ham and think that they must surely turn it around – next up is Middlesbrough at home and both teams share the same sad statistic that they haven't won a game since 21st August. After that, Antonio and co face Crystal Palace, Sunderland, Everton and Stoke and, whilst his teammates have been a disappointment, Antonio is bound to get on to the scoresheet. The last time these two teams met, it was in the Championship in 2012 and ended a draw. With tough fixtures after Stoke, it's absolutely crucial that the Hammers do get the points in the meantime, otherwise they could find themselves beginning the slippery slope back to that league.
It would be impossible to write this article without, of course, mentioning Etienne Capoue. It's hard to believe he was off the radar of so many people (myself included, of course) at the start of the season, picked in just 64,000 teams and costing only £4.5m. Fast forward to now, he costs £5.2m, is in 41 per cent of teams and has the second highest amount of points for a midfielder, with 46 (helped along by four goals in six games). As disappointing as it was that he scored just two points away at Burnley on Monday night, Watford's aforementioned great fixtures will surely see him get among the points once again. Current owners like me certainly hope so anyway!
Like with Valencia and Blind, a good one-week punt could be either Juan Mata or Paul Pogba (£7.4m and £8.3m respectively). I'll be the first to admit that I didn't think I would be including either of these guys prior to the weekend just gone, however against a shocking Stoke defence (they have the worst goal difference in the Premier League), you wouldn't put it past either of the two players to either assist or find the back of the net.
The match between Spurs and Man City this gameweek is certainly one that I will be watching – it's a result I couldn't call. One midfielder starring in this fixture that you'll probably want in your team is Raheem Sterling at £8.6m. After his nightmare first season following the move from Liverpool, Pep Guardiola has picked him up and encouraged him to skip and dance through the defence to get the goals like he used to for the reds. Looking to the team he'll be playing, another player to consider is Heung-Min Son while Harry Kane is injured. Costing £7.5m, the player has hit the ground running since he started playing in Gameweek 4, with four goals scored in the Premier League and the winning one against CSKA Moscow in the Champions League on Tuesday night. The reason I have saved him until last is, however, because of the fact that Spurs face Man City at home – a rather tricky fixture! As much as Spurs did the double over them last season, I can't see it being so clear cut with Pep Guardiola now on the scene.
[divider_1px]
Forwards
[three_fourth padding="0 20px 0 0″]
[/three_fourth]My first pick is the obvious. It's the forward with four goals to his name who is playing Stoke this gameweek. Yes, it's Zlatan Ibrahimovic. Like his Man United colleagues, he's got two tough fixtures after this theoretical goal fest. However, unlike his teammates, Zlatan is a player who could score against any team – don't let the fact so many people have sold him (resulting in a drop in price to £11.5m) put you off. He's scored less than five points in only two games – home against Leicester and away at Hull – and so is far from going through a drought. Besides which, if you do have him in your team, you're not short of company, he's in a whopping 55 per cent of teams.
If you don't fancy having Zlatan in your team (or, like a lot of other managers, you've removed him in favour of Sergio Aguero), then perhaps consider his teammate Marcus Rashford. I'll admit that I was put off the lad when I was on the wildcard due to the amount of gametime he had played (or lack of). Then Mourinho finally did what the fans had been urging him to do and dropped Rooney, with Rashford starting and going on to score. At just £6.9m, he can be a forward in your team that you would be happy with for scoring the points, but wouldn't have the same expectation as some other players. In the same price range is Watford's Troy Deeney who is another Watford player to benefit from a great combination of tasty fixtures and good form.
I would suggest that, if Sergio Aguero isn't in your team, you need to put him in now. Put that custard cream and cup of tea down and put him in your squad. Now. I don't care if his £13.0m price tag means you need to downgrade another player to afford it, you need this guy in your team. Even after missing two games, he is the highest points scorer out of all of the forwards and it wouldn't be a shock if he scored against Spurs too, regardless of the fact that they have a solid defence that has conceded only three goals so far this season – the least out of any Premier League team. Sergio's fixtures after this are Everton and Southampton at home, followed by West Brom away.
As well as one of the defenders, another Everton player you could do well to have in your team is, of course, Romelu Lukaku now at £9.3m, up from the £9.0m he was at the start of the season. Unfortunately he was Blankaku against Bournemouth but managed to get 29 points on the board in just two games before that and so, this gameweek, must be due to find the back of the net again, or at least get an assist. As previously mentioned, Man City are the next team for Everton, who Lukaku is certainly not unfamiliar with scoring against either.
Finally, the last forward I would recommend is Jermain Defoe. Unfortunately, the Sunderland defence let him down and took away his limelight when his two goals (and 13-point haul) ended up accounting for nothing as they went down 3-2 against Crystal Palace last gameweek. Being at home against West Brom, you wouldn't put it past him to get on the scoresheet once again, even if the Baggies have conceded only six goals so far this season. If nothing happens in that game, the next fixture once the international break is out the way is away at Stoke – and you've read the statistics on their defence! Defoe will be the Black Cats' main hope to stay up this season; you can't help but think their main tactic will be to simply get the ball to him and see what he can do.
[divider_1px_dashed]
Thanks for reading Fantasy Premier League Tips Gameweek 7. This article was written by Swirly
[divider_1px_dashed]
[row][span6]

Vote on our Captain Poll Now

[/span6][span6]




[/span6][/row]
[divider_1px]
[alert style="2″]
We are running the main public FF247 League which anyone is welcome to join by using the following code 1147-701 (auto-link below). This one has a prize pool of £250 which is sponsored by @FootballFanager and will be paid into your account on their website. The top 5 places are paid out.
[/alert]
[alert style="3″]
New for the 2016/17 we are delighted to announce we are running a Regulars League which has a cash prize pool of £300 paid directly to the winners from the FF247 management team.
To enter this one you need to be an active and recognised site member and you need to e-mail us for the league code – Elleffcee@fantasyfootball247.co.uk *terms and conditions apply and are available upon request. Management reserve the right to review membership of this league on an ongoing basis.
[/alert]
[divider_1px]
Fixture Tracker – the next 6 games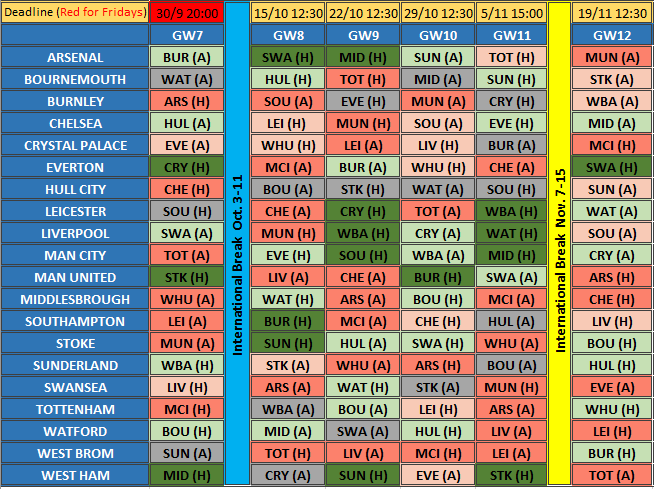 [divider_1px]