Fantasy Success Strategy: Choosing The Right Penalty Taker
At the end of every season, its goals that inevitably win fantasy football prizes. Teams with the most goals usually have the best chance of finishing highly. When you have a player who is an automatic penalty taker, it makes them a sought-after commodity, a potential source of regular points, and a secondary source after your strikers.
How many times do we see a match heading for 0-0 only for one team to come away with all three points after a late penalty decision? It's happened on numerous occasions this season and will surely happen many times again next season too. So, let's take a look at how including the right penalty taker can boost your team too.
Teams With Most Penalties Awarded

Here's a rundown of the most successful penalty takers of the season so far – a valuable resource when considering late transfers for your team this season or compiling a team for next season.
Top of the team penalty charts are Crystal Palace and Manchester United, the latter of which are at odds of 8/1 with the Mr Green App as of 30th April to make the top four this season. Palace's Luka Milivojevic has scored with 10 of his 11 penalties this season alone. And confirming the urban legends that United get more penalties than other teams do is Paul Pogba, whose 7 successful penalties from 10 attempts add to the two other penalties awarded for the Reds this season scored by Jesse Lingard and Anthony Martial. These two are well ahead of every other team in total penalties awarded. Bournemouth has had nine penalties, Leicester has had seven, Liverpool with six, and Brighton, Southampton and Chelsea all awarded five.
Top Penalty Scorers 2018-19
Luka Milivojevic 11 (taken) – 10 (scored)
Paul Pogba 10 – 7
Joshua King 6 – 5
Harry Kane 4 – 4
Eden Hazard 4 – 4
Jamie Vardy 5 – 4
Pierre-Emerick Aubameyang 4 – 3
Other players with a 100% penalty success rate include:
Mo Salah 3 – 3
Mark Noble 3 – 3
Glen Murray 3 – 3
Danny Ings 3 – 3
Sergio Aguero 2 – 2
Raul Jiminez 2 – 2
Ruben Neves 2 – 2
Ashley Barnes 2 – 2
James Milner 2 – 2
Penalty taking can be a double-edged sword; miss and it can cost points. The worst penalty taker in the league is Everton's Gylfi Sigurdsson, who has missed three of his five penalties this season, while Riyad Mahrez failed to score from the spot on his only attempt. Fulham's Aboubakar Kamara, Bournemouth's Callum Wilson, Newcastle's Matt Ritchie and Leicester's James Maddison have all scored and missed a single spot-kick this season.
Points Per Value Ratio
One bonus for a penalty-taking midfielder is the additional points he can accrue. For Milivojevic, at just £6.4 million, it means he outscores practically all other midfielders by scoring 24 points per million pounds of value. This is much more than top of the goal charts Mo Salah (£13.2 million) with just 17 points per million or free-scoring Raheem Sterling (£11.5 million) with 18 points per million, and for that matter more than either Eden Hazard (£11.0 million), Sadio Mane (£10.1 million), or Paul Pogba (£8.7 million), all averaging 19 points per million. He even outscores strikers Sergio Aguero and Harry Kane in this category. In fact, the only player in the game that can match his value when it comes to this stat is Bournemouth's Ryan Fraser, who returns over 25 points per million in spending.
It means fantasy managers should never underestimate the power of an otherwise low-scoring midfielder to amass significant cheap points if he is the designated penalty taker. What also should be factored in is the ability of your forwards, Wilfried Zaha and Michy Batshuayi, to have enough attacking guile to create numerous penalty appeals. As it stands, Zaha is the most-fouled player in the Premier League. So, next time Crystal Palace are playing out another bore draw in the Northeast, watch out for a last-minute penalty to turn your FF fortunes around; it happens more often than you think, and the player can be worth their weight in gold. This season it's been Milivojevic, but next season it could be another surprise. Spot him before others do, get a head start in the goals-scored column and leapfrog your opponents.
FIXTURE TRACKER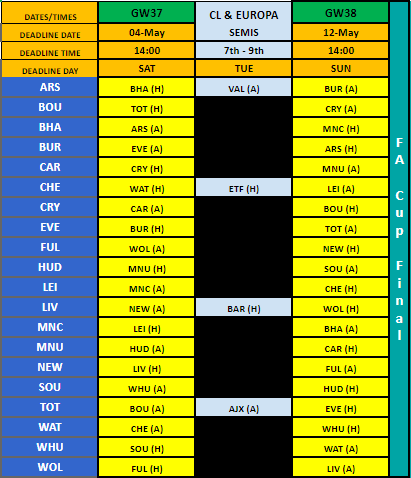 FIXTURE TRACKER LINK