FF247 Christmas Week Bundle – GW's 20 & 21
ARTICLE LAST UPDATED – 31st DEC 8.45pm
In order to give our hard working team a bit of time off over the Christmas period, we have decided to wrap our whole festive week up in one article. Sort of. We shall still update our FF247 Site Team on the article each time, but perhaps without the usual amount of detail. The Predicted Line-Ups will still be live at all times.
LIVE MATCH CHAT DGW21


This will also effectively function as our Live Match Chat for the duration of the week.
DGW21
This one begins on Saturday 1st January, with an 11am deadline (maybe!), and now finishes about a week and a half later on Wednesday 12th.
We were down to 8 games, having lost Leicester vs Norwich and Saints vs Newcastle due to injuries Covid, although the deadline remains for now. That has now been bumped back up to 11 with the three additional games the week after.
DGW 21 in full… as we speak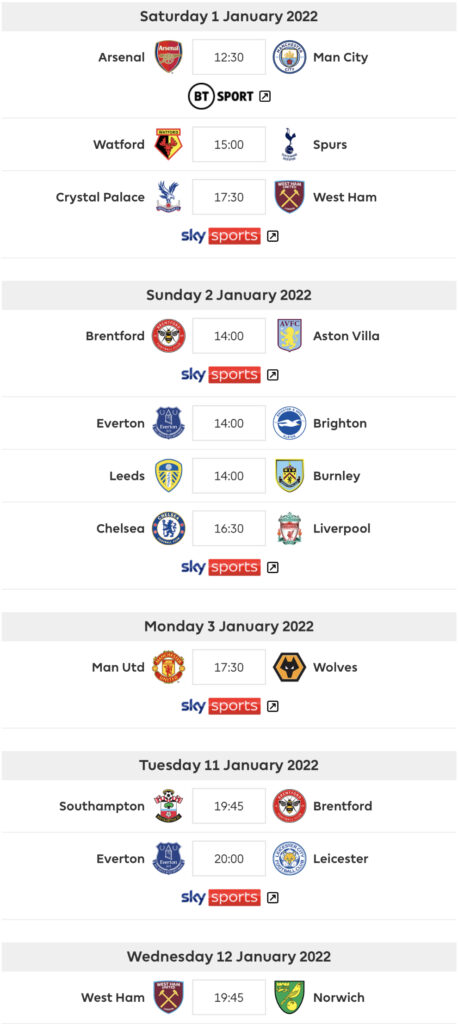 FF247 SITE TEAM GW21
Sticking to the theme of being brief…
Summary of GW20
San Francisco FF247 69ers
There must be something about the number '69' as it is our most scored points tally this season now. It's only a treble, out of 20 weeks and almost 6 months, but hey if you keep asking…
It was a welcome tickle after a recent spate of red arrows and actually saw us post our 2nd best GW rank of the season; 74,929th. That's still a lot of numbers though and probably doesn't sound that impressive but these individual GW ranks are an oddity, as having looked at the rest they are predominantly in the millions. In fact it's difficult to fathom how our overall rank is actually so high (relatively) when you look at them all individually, and indeed collectively.
Anyway, we digress. So how did we come upon this latest satisfying 69? According to some of our own committee it was 'pure blind luck'. According to others it was simply because we played our WC so late that we were able to capitalise on a mixture of latest info, current form and fixtures. It was also down to us holding our nerve a bit over things like not owning Salah, sticking with Ronnie and not doing anything daft (like selling Bowen for a hit ahead of Watford, just as a random example).
Overall that left us at 139,312th, which means we effectively halved our rank.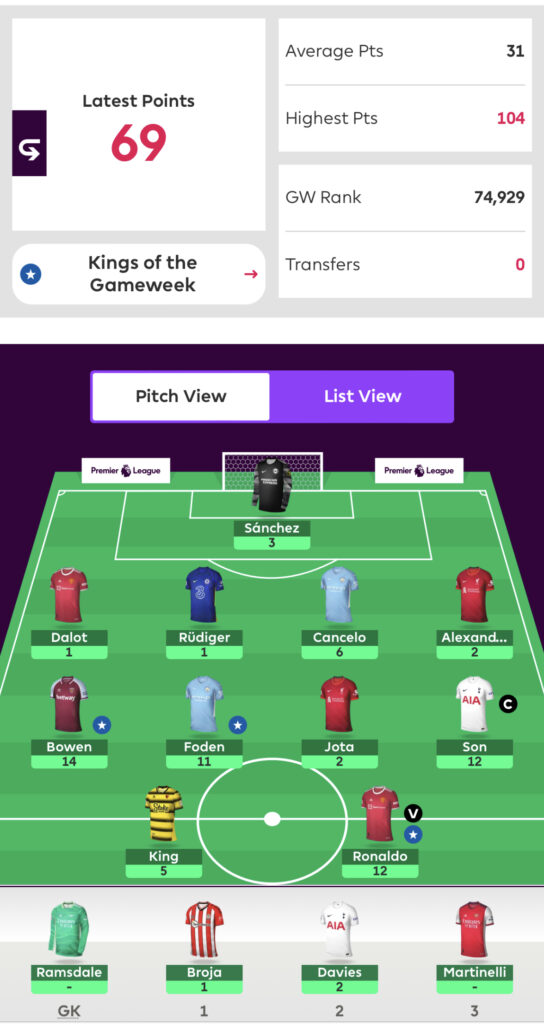 Let's go see what decided ahead of GW21 then with 2 FT's in hand, a DGW looming and another 69er notched. But as we all know…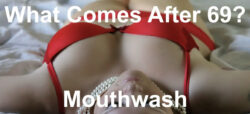 Transfer(s) for GW21
Given that it is NYE and most of our committee seem to be on the piss and unable to commit to any early morning involvement we have decided to make our moves now.
With a token gesture of a nod to the alleged upcoming DGW, combined with a guilt free 2 FT's, we have decided to grab a couple of them and just crack on, come what may and all that.
Rudiger was on thin ice anyway and so he makes way for Diop. We would have preferred Coufal but we couldn't afford both him plus any real decent replacement elsewhere so Diop gets the honour, with the bonus that he is pretty much nailed on, whereas their full-backs aren't so much.
It is also all compromise up top as ideally we would have liked Antonio or even DCL but Toney fitted the budget and his fixtures are hardly the worst for someone also on pens.
It's all a bit punty but let's face it what is these days.
To confirm then we have SOLD Rudiger & Broja and BOUGHT Diop & Toney
GW20 Captain – Bowen
With a DGW in the offing we are playing the percentages here.
Team in full GW20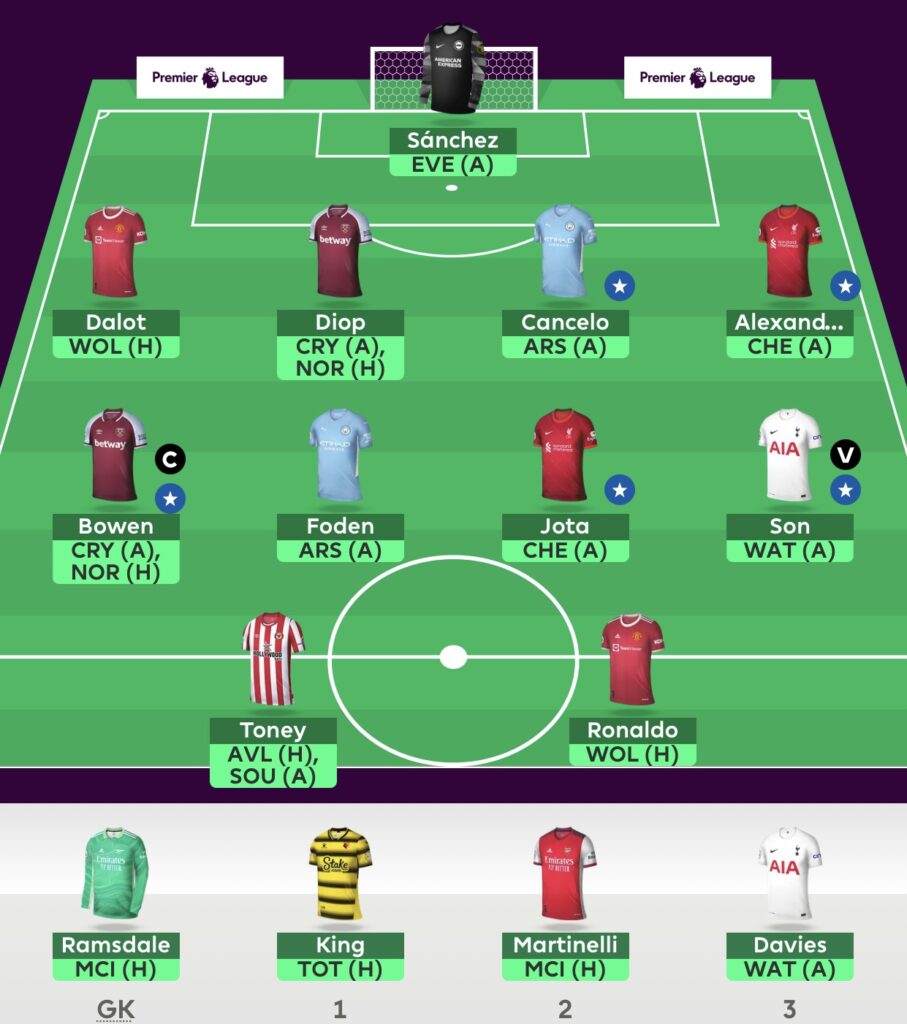 UPDATED AT 8:45pm on 31st DEC
Predicted Line-ups Gameweek 21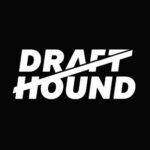 For the busy Christmas period, we are adding this feature to the end of each FF247 Site Team article, as there will be limited time between most of the gameweeks.
As a quick reminder –
There are two versions of this article.
The one below has a drop-down version. It's fairly idiot proof – you simply click on the small arrow to the right of the team name and you get a drop-down list of all the teams. Simply click on the one you want to see and hey presto, etc. This is the published article with the comments section to crack on with.
The other one is permanently live and has the 'nicer' grid layout. If you want to see that version you can click here. This can also be easily accessed at any time via a myriad of links on our homepage – Header link, Hot Topics link, Quick Access link on mobile and it is also linked towards the end of all of our regular articles.
What you see below is a live link to what Drafthound have on their website. Why is that significant? Well, firstly, it now means that the second they make any updates in reaction to live team news then they will also appear on here. Being uber helpful in that respect they also time-stamp all of their line-ups so you can tell to the minute when it was last updated.
As an additional extra if you click on any player icon on the team line-up that will take you to their own page on Drafthound, from where you can see up to date season stats, their upcoming fixture schedule and use a comparison tool to view similar players.
Given their time and effort in providing this content for us it would be rude not to occasionally click on the Drafthound link and check out their own fabulous content as there are FPL articles aplenty on there too.

Thanks for reading FF247 Christmas Week Bundle – GW's 20 & 21
FPL FIXTURE TRACKER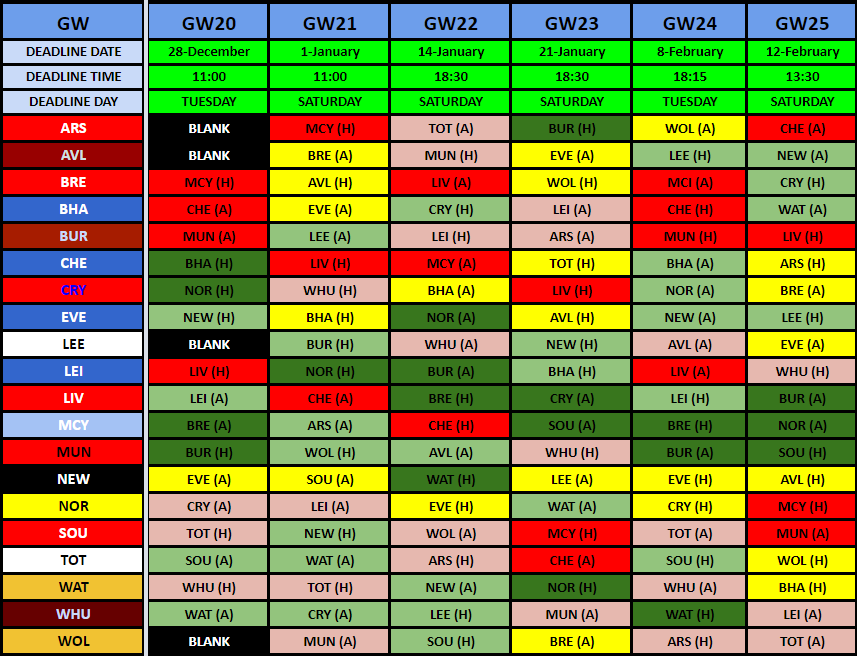 FIXTURE TRACKER LINK
FF247 LEAGUES FOR 2021/22
Fantasy Football 247 League Codes:
Both leagues will be shut to new entrants as of 01/01/22.